This past weekend I had the opportunity to test out Chumba's newest "all mountain" offering, the XCL. This was not simply a test to see how much I liked the bike but a chance to see how someone who rides a Titus MotoLite (the bike the XCL is most often compared to) feels about the XCL.
The first thing I noticed when I actually started setting the XCL up was the fact that, despite their similar geometries, the XCL had a much smaller fit than does the ML. By virtue of this fact, the medium XCL I was riding was a bit too small for me despite the extra long stem (about 140mm) and the fact that I put the seat back and up as far as I reasonably could. This means that for all you "tweeners" out there, you'll really have to do your homework if you're trying to decide between these two bikes (as a side note, I'm a large on Giant, Turner and Specialized bikes and a medium on the Titus so as far as I know, I usually trend towards a large frame).
Looking at the two bikes you notice a big difference with the ML looking sleeker and narrower and the XCL looking a lot stronger and like it could hold up to just about anything you could possibly ever throw at it. The way these bikes look really does reflect their heritage and the way they ride in almost every way. Where the XCL is coming from the freeride/DH heritage of Chumba, the ML is coming from the lightweight, XC racing heritage found over at Titus. Both bikes are impressive but, after spending a decent amount of time on the XCL over the weekend (about 35 miles, 6,000+ feet of climbing, both fireroad and singletrack climbs and descents ranging from smooth and fast to loose and technical) I really felt like I was comparing "apples to oranges" here as they really are vastly different bikes despite their superficial similarities.
That said, I promised a comparison so a comparison I will deliver:
Setups:
• XCL: TALAS 32 RLC fork, DHX Air shock, X-9 shifters, X.0 rear derailleur, Avid Juicy 7 brakes, DT Swiss hubs, DT Swiss 455 rims, WTB Moto Raptor 2.24 tube tires, about 31lbs total bike weight.
• ML: TALAS 32 RLC fork, RP3 shock, X.0 trigger shifters, X.0 rear derailleur, Avid Juicy 7 brakes, Hope Pro II hubs, Mavic 819 rims, WTB Weirwolf 2.1 UST front tire, Maxxis Larsen TT 2.0 UST rear, about 27lbs total bike weight.
Climbing:
Obviously if you look at the setup and bike weight of the two bikes you'll notice a start difference: the ML is set up to be much closer to an XC machine whereas the XCL is trending more towards the burly all mountain side of things. This difference in setup was readily apparent as I tried to keep pace with my buddies who were riding their XC race rigs. While they're a touch faster than me when I'm on the ML, they were easily outpacing me on the long, 13-mile grind of a climb to Santiago Peak in the Saddleback Mountains.
This isn't to say that the XCL is a terrible climber, quite the opposite in fact. The suspension design of the bike does exactly what it's supposed to do by isolating the pedal-force thus allowing the bike to climb very efficiently it just doesn't have the same nimble feeling as the ML. Again, this is probably a reflection upon where the two bikes come from: The ML comes in as a long-travel option to its sister bike the Racer X – a fast paced XC race machine – whereas the Chumba is offered as a shorter travel, more XC oriented sister bike to the outstanding EVO – a 6+ inch travel, true "go anywhere, huck anything" machine.
That said, the edge in the climbing category easily goes to the ML; it's simply made to climb.
Descending:
Where the ML had a clear advantage going uphill, the XCL has a clear advantage going down. With the DHX Air rear shock and the beefier setup, the XCL has plushness dialed in. Despite the fact that XCL has a claimed .5 inch less travel than the ML (4.5" as opposed to a claimed 5" for the ML) the XCL feels like it has quite a bit more give than does the ML.
On the choppy, loose, technical stuff, the XCL easily absorbed and rolled through, over and around the worst of it with surprising smoothness. In contrast, the ML – a capable descender – generally feels a bit choppy over the same terrain.
Where you really get a sense of what the XCL is capable of is when you hit a nice, high-speed, burmed corner. While the ML is a very laterally stiff bike – especially compared to other bikes in its class that I've ridden (Stumpy, Flux, VT1) – the XCL is just stiffer which means that it begs for you to push yourself just a little bit faster down those high speed descents.
Where you'll really notice the difference between the two is in your hands. Yes, that's right, in your hands. Since the XCL feels so sturdy as you cruise it down your favorite high-speed and/or technical trail, you'll find that you use far less brake than you would otherwise. When you reach the bottom of a 3-6 mile descent it doesn't take long to realize that, hey, "my hands aren't stuck into a claw shape…" like they would be after a long descent on many other rides.
This is not to say that the ML doesn't go downhill very well – it does – it's just saying that the XCL does it better.
Obviously the edge in this category goes to the XCL.
Overall:
What can I say, there's really no way for me to say one of these bikes is clearly "better" than the other as they are very from one-another. If you're looking for a bike that might take you a bit longer to climb up a hill but will reward you with an ultra-plush feel when you hit the descents then I'd pick the XCL. If you're looking for a bike that's going to be a faster climber and can be used for the occasional XC or endurance race, then I would probably lean towards the ML.
Again, both are great bikes but, at this point at least, I'd have to say that all of the comparisons that are being made between the two are coming from people who've simply "eyeballed" photos of the frames next to one-another. As someone who's had a chance to throw a leg over both, I can honestly say that their "personalities" are about as different as can be for a couple of bikes that have a similar look to them.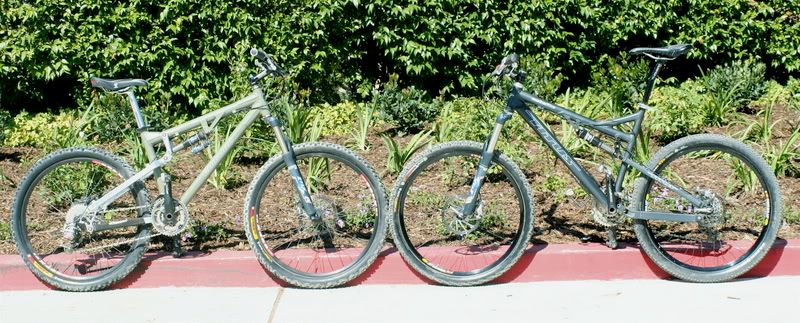 Face to Face