Discussion Starter
·
#1
·
Guys, sorry for the long break between the updates but there's been a lot going on.
First, I went on a windsurfing trip for a 1-1/2 weeks and it took a good month to get everything dialed in to do that. Since then, I've been slowly getting back to the frame thing.
Secondly, I had some issues with my chainstays, or so I thought. I'd gotten them welded on a few posts ago and was pretty much satisfied with them. I seemed to have ok tire clearance, at least for the SM8s that I intend to run and I was ok with them. I wasn't crazy about the fact that one of them was slightly crooked when I welded it to the BB shell. It's not too far off, but it is off a bit. I learned from that and am working on a way to prevent that from happening again.
You guys may remember this jig: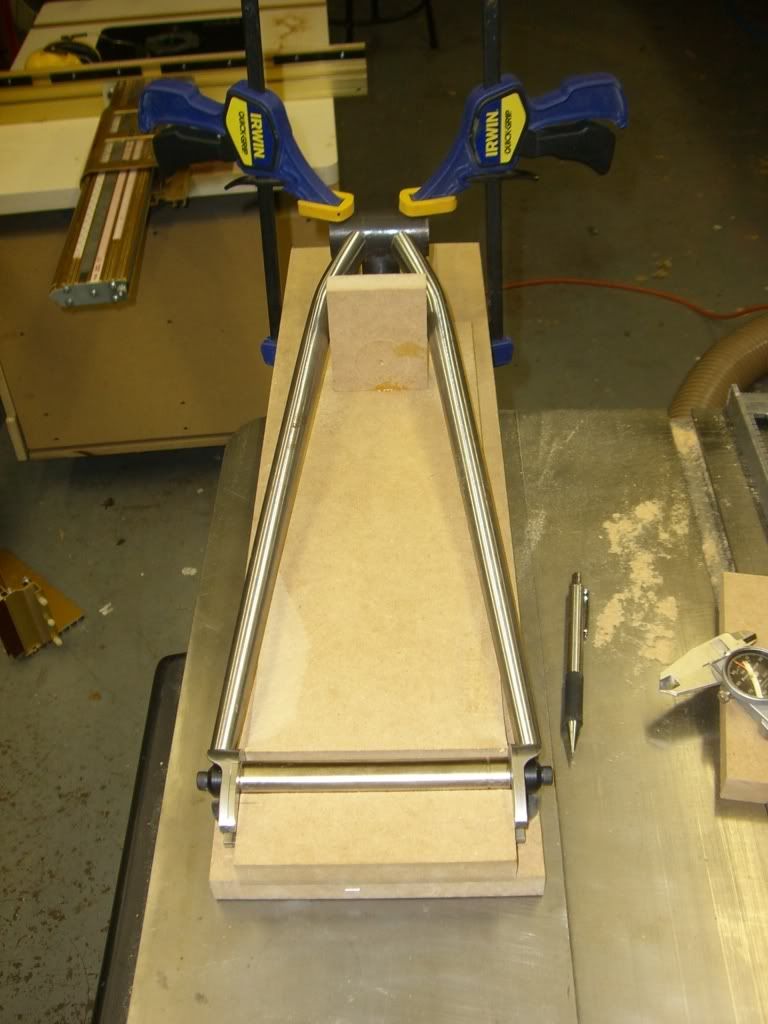 I'm figuring that was a source of a lot of my issues.
What I believe happened is that the BB shell is not straight in this jig. So then I ended up with a very straight front triangle and a slightly off set of stays. I determined that with the string method: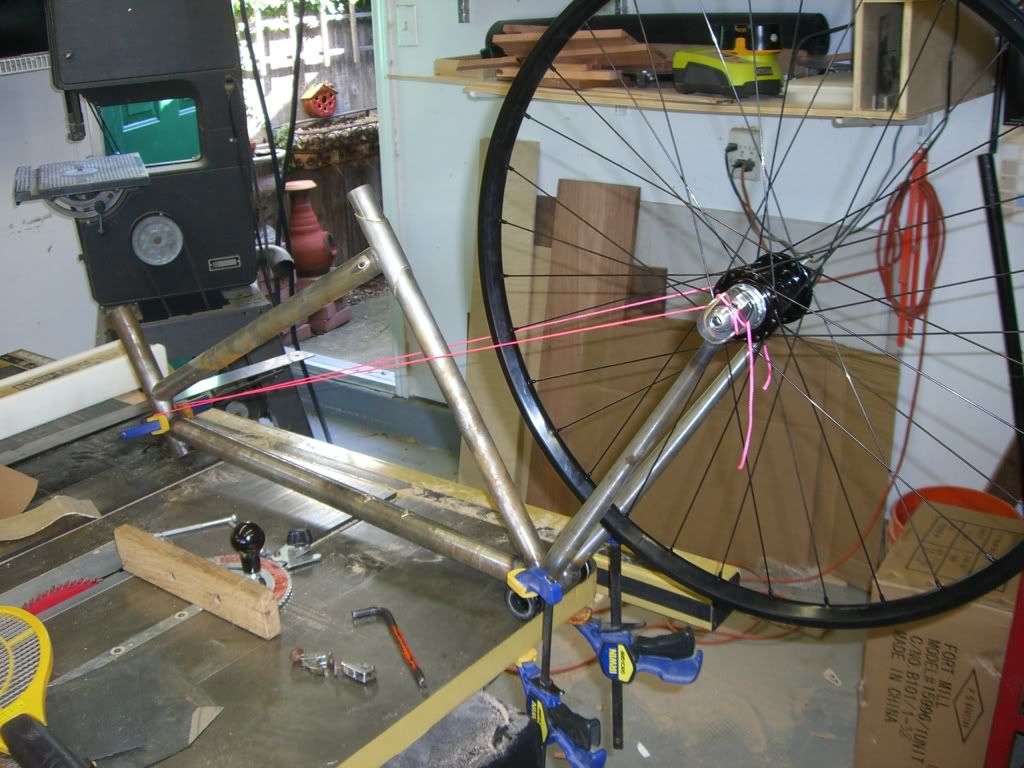 I'm sorry there are no more pictures (actually, there are a lot but they don't show you anything useful) but this is one of those things you just need to try yourself and do it. it's easy, works ok, tells you a lot... There's just no other way to describe what happens here and you'll just have to tweak stuff.
The issue was that when the wheel (brand new, fresh build with all new spokes, rim, hub, and dished and trued to perfection) the tire would come too close to the driveside CS and I knew I'd end up with rub during a ride. That coupled with the slight twist in the NDS CS and I decided I wanted to cut off the stays--I wasn't crazy about my dropout choice either. So I called Walt to talk through it. He encouraged me to get this one done and that cutting the stays off would be ok if I was bent on doing that too. I ordered more stays from Henry James (just like the ones I have on it now) and some Italian ones from Joe that allow more tire clearance. I got a two pairs of drops from Paragon some more stuff that I knew I needed for the next steps. So all that came in and sat while I was on the beach.
I started working on a really nice new CS jig so that I wouldn't have the same problems as before (no pictures of that yet) and just for fun, stuck my current build in there to see what it would look like with the Anvil Dummy Axle (got one of those too since the last post instead of my Park axle that I robbed from my disc tab facer).
What I discovered was that the rear end may be fixable and last night I started to tweak it a little, coldset, check, coldset, check, etc. I ended up with the spacing almost dead even between the tire and both stays and I think I'll be just fine. The wheel is straight though ever so slightly off the center line of the frame but not as bad as it was on my old factory built bike that cost tons of money.
So that's where I am, back to where I thought I was a while back.
Now all that said, WWTP028 you'll remember was the SS and that was a failure with my bender and cost me my stays. What I did to correct that was create a new bender that seems to work a lot better AND bought a bunch of 5/8" 0.035" 4130 from Aircraft Spruce to practice on. Not only to practice bending, but the miters. That's the tougher part I found and of course, ZipZit added that feature in his miter program per a meeting we had when I was in Detroit a few weeks ago. Thanks Zip, it works (sort of). Either my miters were off or the program has a trig problem. I'll keep you posted.
So this brings us to WWTP030 I think.
I wish I had more pictures for this post, but I think it should be noted that there were some problems with prior posts that I didn't recognize until now and wanted to disclose those to all. If there is ANYTHING that isn't clear here, please ask and I'm happy to expand as there was a lot going on even though there is very little to show for it. Make sense?
WWTP030 is next and is going to go on for a bit as I have lots to do. It will be the Seatstay post.