Ok, I have a working solid model...
I've got to say, I learned a lot from this exercise and I'm glad I did it. As I mentioned earlier, building off the front axle was a great direction to go and I'm glad that tidbit of information was shared with me at the North Texas Handmade bike show a few weeks back. It dramatically changed my understanding of the front half.
So let's just jump in with what the model does and how it works.
Here is what a 16" version of the same frame I have in 18" would look as a 2D print: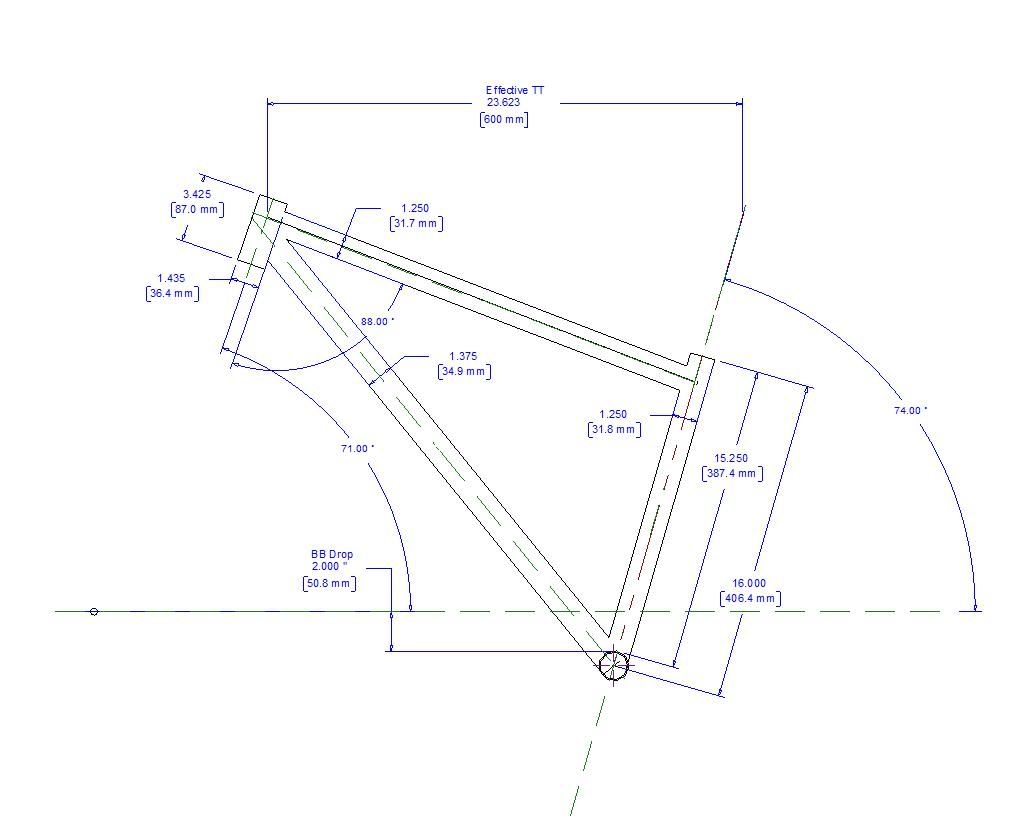 Since the print is associative with the model, this is the 18" version in both the "front view" which is my left side of the frame and the isometric view (note the dummy axle):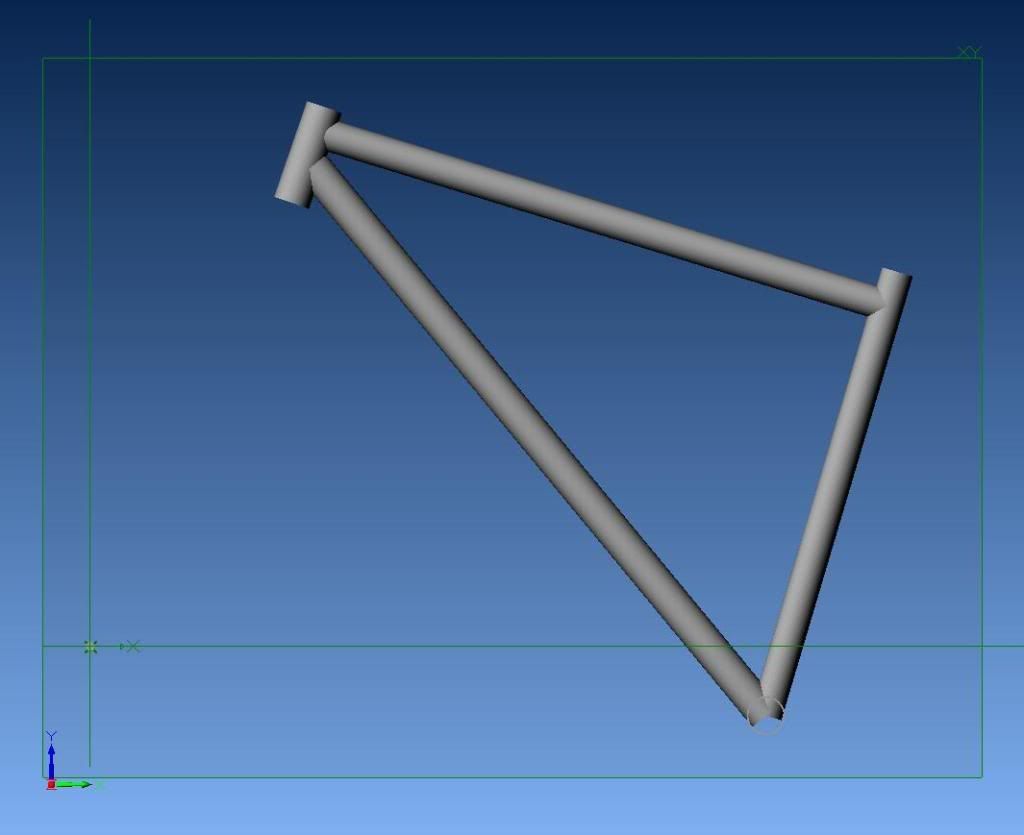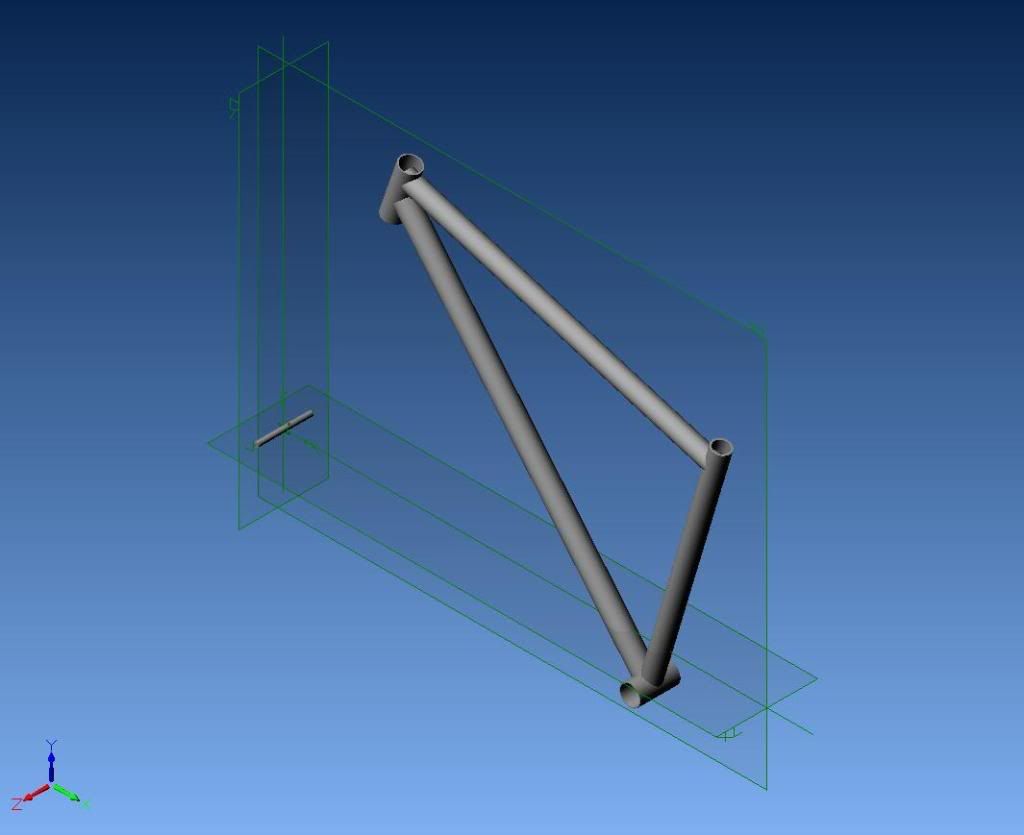 To change the model is simple, I just edit the particular tube, ie, head tube, effective TT, top tube, down tube, seat tube with the parameters I set in the equation editor. The values that start with an "X" are my INPUTS as denoted in the comments section and the values DNM are DO NOT MODIFY values that are associated with those INPUTS. The DNM values are typically involved with reference planes or axes so that I can end up with a sketch plane for the cross section of the tube. Also, values can be entered as mm and the software automatically converts that to inches.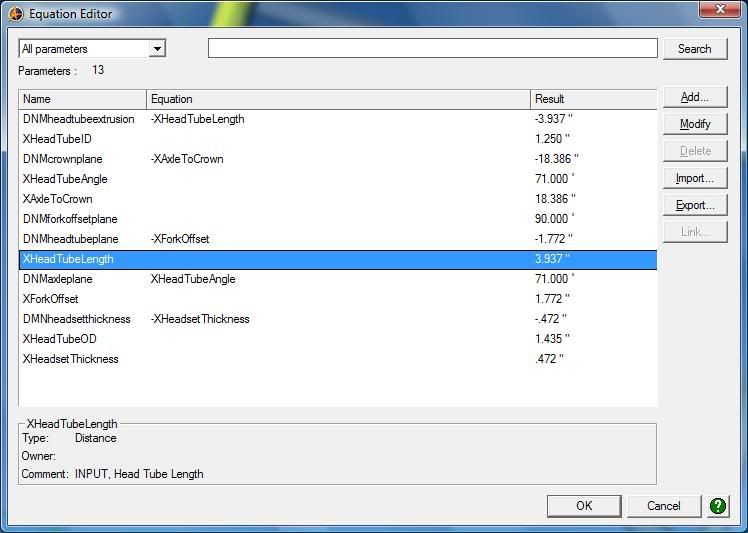 Note that the above is a 100mm head tube. The head tube is also the most complex of the tubes due to locating it via reference planes from the front axle. You'll see a lot of stuff in the DNM values that are used to define where the headtube will be in space.
Once the data is changed, the print updates automagically and this is the result. Note that the seat tube angle, Effective TT, and Head Tube Length are all different: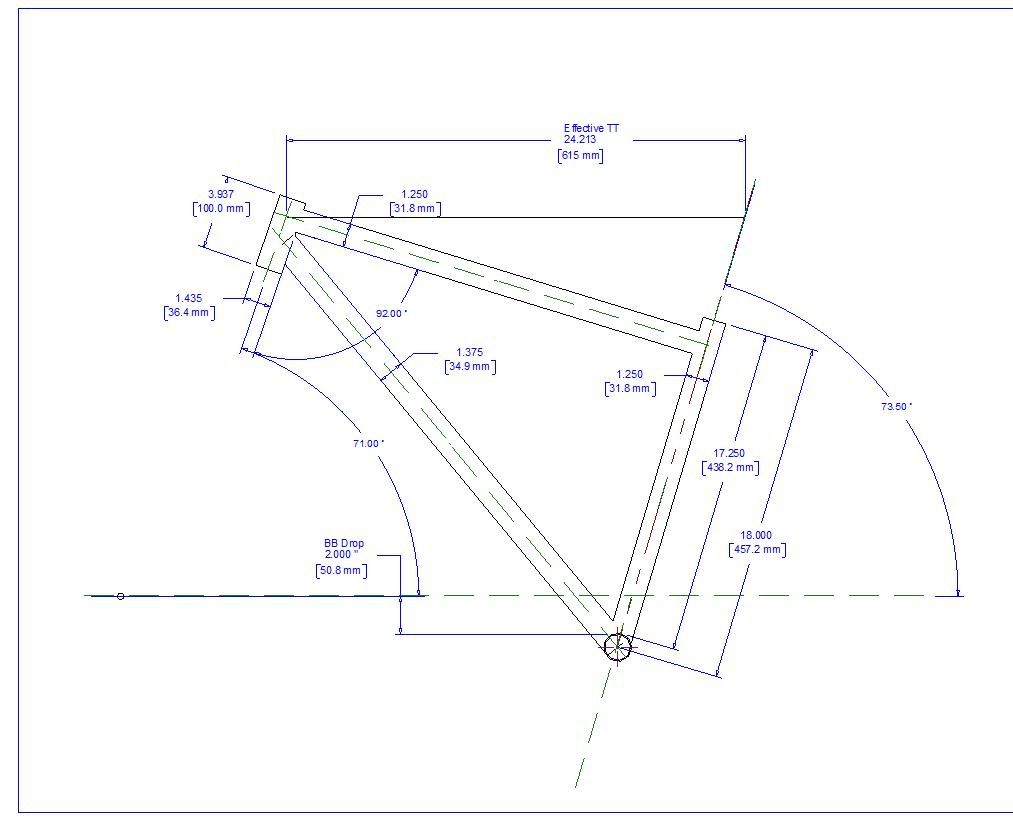 It took 9 minutes to change all the variables and have a new 2d print (I timed it as I thought you guys may find that interesting).
Notable things that may appear strange with this model:
-The tubes start half way and end half way into the next tube. I did this because due to the references that each part has, if the miters are cut, I lose my reference to the tube ends and those are important to me (from a modeling point of view). I may have to do a sister configuration of the final model that has miters cut but it really isn't necessary for anything that I can think of so I'll probably skip it.
-Effective Top Tube is a solid. Well, I hid that from the pictures above (see below) but there is a tube called the Effective Top Tube that defines the location of the Seat Tube. It turns out, and this is something I learned from making the model, that modeling an ETT is easy and really simplifies modeling the seat tube. Furthermore, I learned that the ETT is a function of Head Tube Angle, Head Tube Length and Seat Tube Angle. What's interesting about this is that it essentially means that the ETT is a junk measurement without those other measurements. All parameters equal and a slacker seat tube and suddenly your ETT is different. So guys, if you like the fit of your bike and any one of those values is different, your ETT is different. Now I'm not sure how different yet--may be negligible, but that will be in the next post as I have to recalculate what mine will be since i am changing my head tube length from the stock version (I will not have headset spacers--hate the look) so with the head tube extending, I suspect the ETT will change. To do so, I'll need more information than just the frame geometry (also learned in this exercise). I will need to know where the bars are in relation to the ETT to find that. So expect a solid of the stem and upper race as soon as I can get done with all these Christmas parties.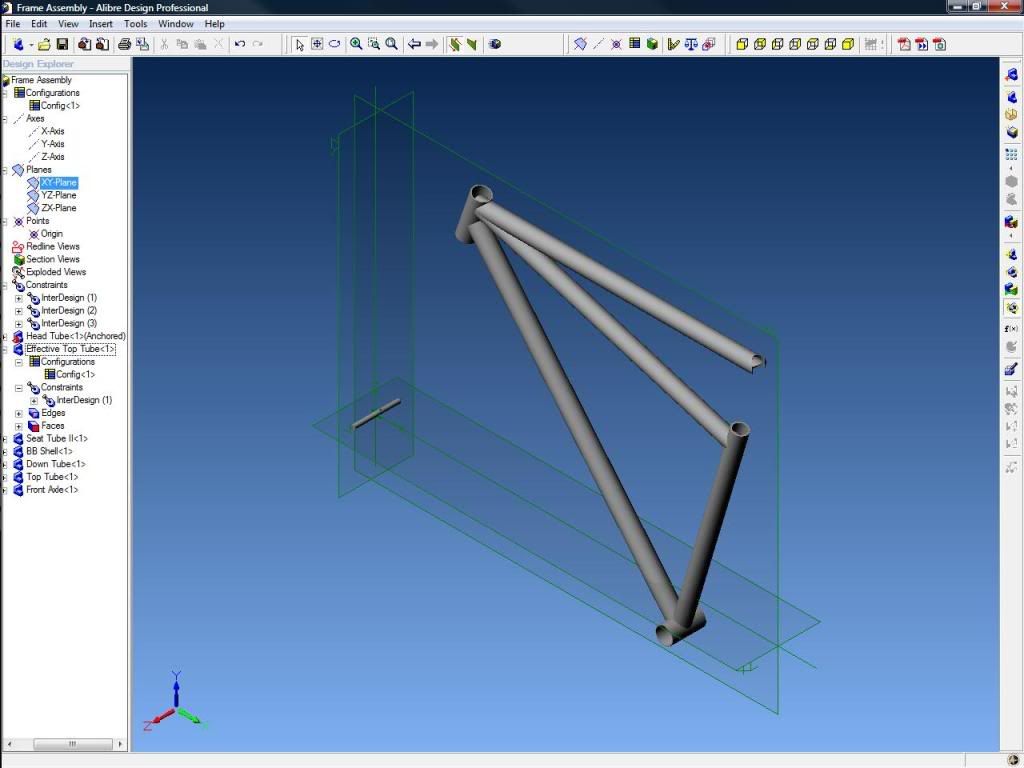 -Chainstays are boring--from a modeling perspective and possibly from a building perspective. There is one value and that's length. That's it, it's that easy. The axle aligns with the front at a given distance from the BB. Obviously tire clearance is the other dimension, but for calculating geometry, those appear to be pretty easy. Make them long enough or make them even a little longer. Obviously, handling is affected by this but am I missing something here?
-Seatstays are even more boring. They just connect to the Chainstays/Seattube. Nothing interesting here either...
For now, that's what I have for you. I'd expect to see an update shortly after Xmas but I don't think I'll have a lot more to offer before then. I'll get the new ETT figured since my head tube will change and update the model and then we can talk more about geometry I hope. If you guys all sign off, I'll get a check to Walt and we can get some tubes sent my way.