Discussion Starter
·
#1
·
After reading about the joys of riding at night on MTBR, I bought myself a TrailTech HID light. It gets pretty hot here in Kalgoorlie during the summer and I wanted a way to beat the heat yet still enjoy my rides. A decent light looked like it could be the answer for me. I emailed some friends and said "Let's go riding next Tuesday night. I want to test out my new toy."
We met at the appointed place at the appointed time: "Are you hunting game?" asked the bloke from Botswana - he had never seen a bike light so bright. The young guy with the home made (and under-powered) halogen just stared in awe: I think he was a rabbit in a former life. (Probably a very short life ….)
As we prepared for launch, some distant flashes of lightning could be seen out to the west. This caused me great concern, not because I'm worried about bad weather but because I own a landscape photography business and photographs of lightning are my "bread & butter". Distant flashes in an evening sky make dollar signs flash before my eyes. My conscience told me I should have been preparing to make some photographs instead of riding.
I chose an easy track for my first night ride. It's a track near home on which I started my mountain biking just under a year ago, so I know it well. It takes me around the edge of town on mining tracks and a few small sections of single track. Great views of the whole town are afforded by several of the hills on the track.
Being new to night riding, I was not ready when I hit my first patch of deep sand. I did not realise that the helmet mounted light effectively hid the sand due to the absence of tell-tale textures. When there are no shadows being cast by ambient lighting, the sand looks exactly like the surrounding rock. I didn't quite come off the bike, but it was a close thing!
Cresting the first hill, I glanced out to the west. BANG! A big flash lit up the sky. Wouldn't you just know it: the first decent storm of the season and I was committed to this ride. Already I could see I was going to enjoy this night riding, but the weather was tugging at my hip pocket. We pushed on.
We set off down the hill and across a couple of roads, heading for the local lookout hill. The dozen or so people up there watching the storm's approach certainly weren't expecting mountain bikes to disturb their contemplation of the weather. The storm was getting closer, and more active.
Down that hill, up the next, scare more sightseers, down again, up again, scare again - so this was what all the fuss was about! All the while, the storm beckoned - however its thunderous, seductive call was of no use: I was becoming addicted to the thrill of riding within the beam of light thrown from my helmet.
By the time we reached the furthest extent of the loop, I was wishing for more. With a tailwind and my tail up, we were flying through the back tracks of Kalgoorlie like madmen on horses of old. Flashes from the sky punctuated the darkness around our journey, briefly outshining the new light I was carrying. It was as if Someone was making His point: "That's not a light …. THIS is a light!"
Finally the dirt track ended and the riders of this storm went their separate ways. I rushed home to grab my camera and my car - maybe it wasn't too late, even though the storm was nearly upon us. I drove to a spot I had previously scouted and set the camera up.
I was still on a high from the ride and the storm was moving fast. There was a danger that I could miss it if I were not calm and efficient about setting up my camera. Experience took over: I was able to quickly compose the shot and insert the film in time to make two exposures, one of which will be a "keeper".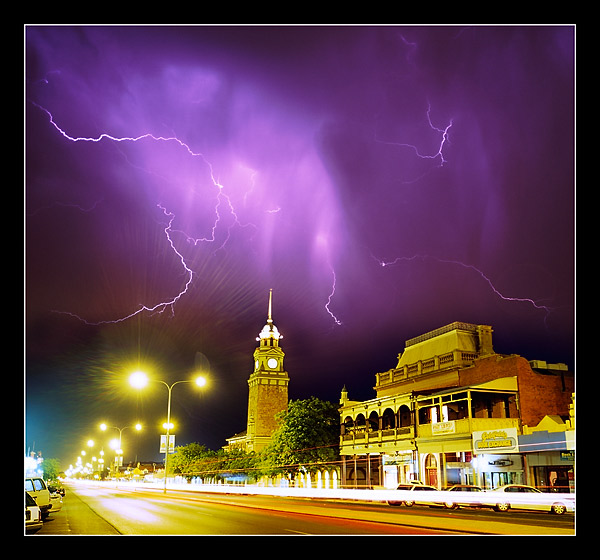 A keeper ....​
When I arrived home after my adventures for the night, my wife commented on the exuberant look upon my face. I had to confess to her that I had been having the time of my life that night. Storms, night riding and photography - all in three short hours of darkness! Passions in collision.
It doesn't get much better than this … does it?
Cheers,
Graeme