Discussion Starter
·
#1
·
About to pull the trigger on a 20" for my just turned 6 year old.
Was pretty sure I was going to go with the Vitus 20, but after some suggestions from members here and from the lbs, disc brakes are looking like the way to go. With the Vitus 20 not offering disc, now looking at the Vitus 20 plus.
Looks nice, good geo, but not so sure on the plus tires all the time. I am thinking they will be nice on the trails, but not so sure about the pump track.
Anyone have experience with switching from plus to standard width tires on their 20" plus bike, whatever brand? What nonplus tires did you switch to?
Also, any thoughts on this Vitus 20 Plus? Any other bikes similar to this you would suggest I check out? Will be starting out on low elevation Lake Tahoe trails and pump track/bike park.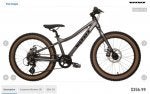 Features:
Material: Lightweight 6061-alloy frame
Brakes: Tektro Mechanical Disc Brakes with adjustable brake levers for small hands
Wheel Size: Quick release 20" front and rear wheels
Tyres: Kenda 2.6" tan wall tyres
Drivetrain: 7-Speed Drivetrain
Cassette Ratio: 12-32t Cassette Ratio
Chainring Teeth Count: 32t
Weight: 9.8kg/21.8lbs
https://www.chainreactioncycles.com/us/en/vitus-20plus-kids-bike/rp-prod168789