Discussion Starter
·
#1
·
This weekend was a great one for riding. It rained like crazy on Friday and I figured I'd be road riding - if anything. When it comes down to a road ride or nothing, I'll sometimes opt for nothing. Over at Bikerag there was a lot of talk about not riding this weekend due to the soft ground, based purely on the rain we got, I was in agreement.
Saturday was West Rock, that place is pretty amazing. The ride starts with a mile long (it could be longer) climb from the parking lot up to the top of the rock. It was brutal. I am what I like to call "winter condition" now. I am getting in rides pretty regularly, but nothing like the summer when I was doing 3-4 rides per week. DNA kicked my butt all around that place. There's some great rocks out there. Just epic rock gardens, steep descents, all good.
Sunday we got going early and rode Case, conditions were fantastic. I think we found one or two soft spots, judging from the deep ruts frozen into the ground, yesterday would not have been a good day to ride Case (apparently many folks don't care and rode anyway). We banged around Case for 3.5 hours doing the 'old school' loop, it was epic. You can tell we were getting into epic territory when Slider jumps off his bike and both thighs cramp up, good times. For whatever reason, the camera remained in the bag for most of the ride.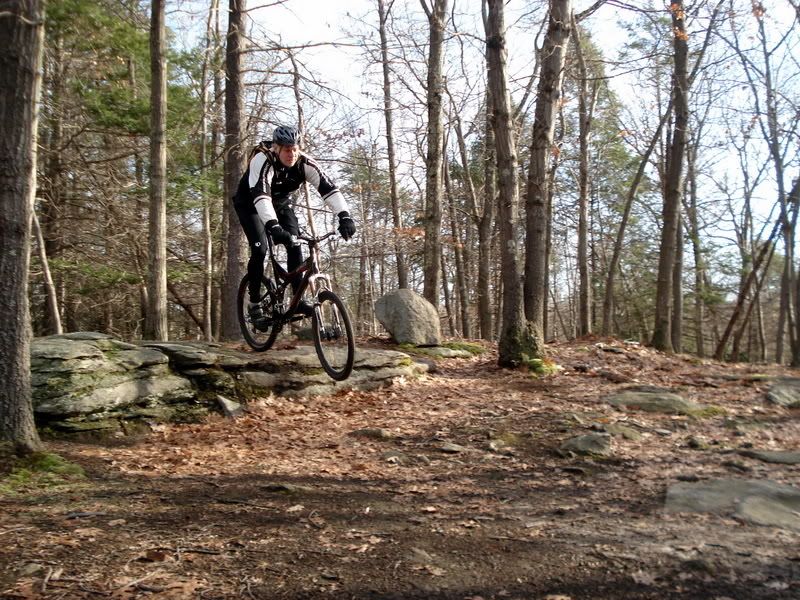 Case was rocking. I'll bet we saw 20 other riders out there. Great conditions, great riding.
I was feeling guilty about not having any pics from yesterday's ride
, so I convinced LRR to take a ride out back to grab a few (I'm saying "convinced" facetiously, LRR was dying for a ride). We spent an hour and a half out back, riding and scoping out some new trail. It was a good time, we rode, hung out and talked a bunch. All good.
I set up a new little rock move - its hard to believe how easy this looks in the pic, in person its difficult to line up and rolling off the little rock onto the slanted rock is not easy. I have the blooper shots to prove it.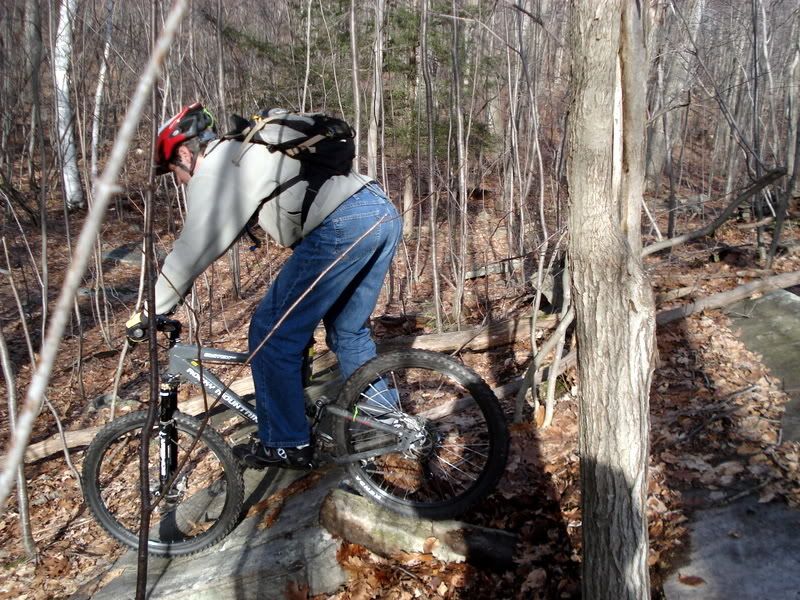 We added a section to the trail last fall, it runs down a narrow rock pathway, its a cool little section
Hope you guys all got out too!
John