Just sharing what I've picked up from reading in this forum. Thanks to everyone for sharing their ideas!!
Object of this build is:
1) Make it as easy as possible so that anyone can do it.
2) Use very little power tools, so no cutting / gluing of metal.
3) To run the XM-L at high power from two to four hrs.
4) Use as little of this $$$ as possible!
The Parts
Led Supply dot com
XM-L Cool White
- $10.05
Optics Carclo 20mm
- Plain Tight Lens for helmet / Medium Ripple Lens on bar - $1.25ea
Optic holder
- $0.23
Deal Extreme (DX)(Free Shipping)
LED Driver
sku#57779
- $5
TrustFire Protected 18650 Lithium Battery (2500mAh 2-Pack Blue)
sku #5790
- $7.99 (if you want to save you can use rechargable AA 8 min. good for ~2hrs but not as bright as using four 18650s).
14.8V 4 x 18650 Battery Holder Case Box with Leads
sku#103855
- $2.80
Universal Adjustable Bicycle Mount for Flashlights (2cm~4cm Diameter)
sku#31871
- $2.39
Clicky Switch for Flashlights (17.8mm 5-Pack)
sku#5602
- $1.90
JST Cables (10-Pair)
SKU#15234
- $2.78
Westburne Electrical Supply (Pricing in CDN$)
1 -
3/4 ALUMINUM CONDUIT COUPLING
- $5.52
2 -
CUP-2 KILLARK 3/4" CLOSE-UP PLUG
- $1.95
1 -
R32 KILLARK CONDULET
- $2.30
Total comes to $52.17
If you have your own batteries - $33.37
Less if you have your own wires and switches.
The Build
Here is a pictures of most of the parts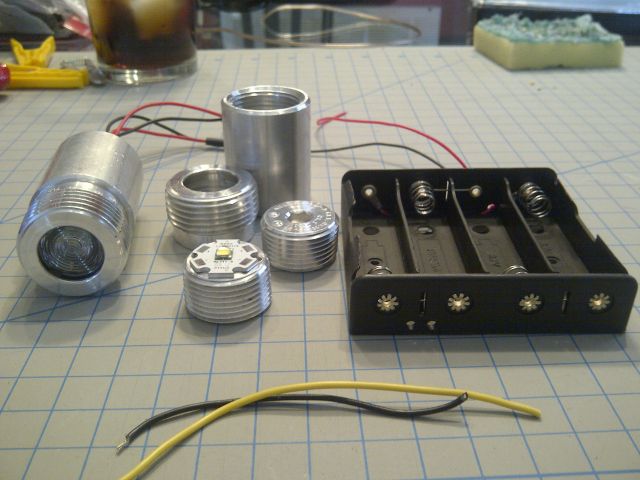 1 - Mark out the holes you need to drill through the heat sink (cup 2 close plug) and drill.
2 - Using a soldering iron, solder the wires to the Led and paste it to the heat sink. ( I used Fujik compond that I got from DX working on other projects).Make sure to press down so that the Led is in good contact with the heat sink. You can use the optic holder and screw the R32 down on top of them. Note: I shaved off the tabs on the optic holder that hold down the optics, the R32 will hold it down for you.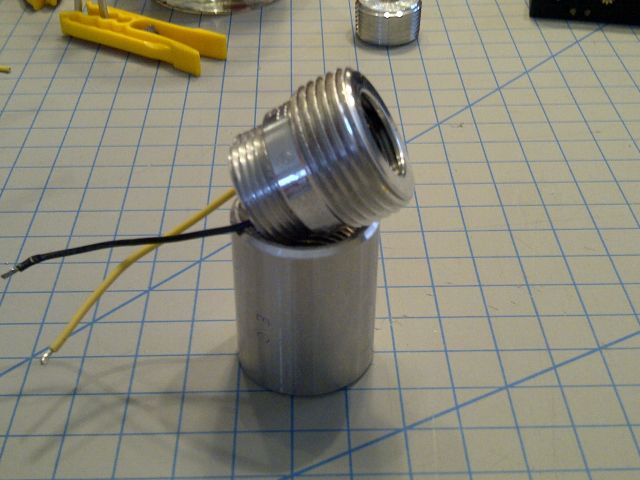 3 - Now solder the Led wires to the Led Driver. Remember to use some heat shrink to cover the expose wires.
4 - The opening of the body (3/4 ALUMINUM CONDUIT COUPLING) is big enough for the driver to fit through.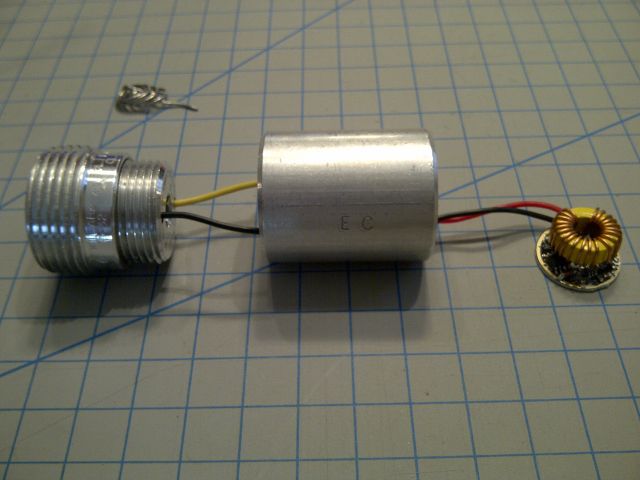 5 - Take the second Cup 2 Close Plug and drill a hole through the middle. Make sure the hole is the same size or a bit larger as the wires you're using for the battery. After this no other power tool is needed. As you can see I have two sets of wires, one for the battery, the other for the remote switch.
6 - Push the wires through the second Cup 2 Close Plug and solder it to the Led Driver. Positive goes in the middle, negative around the edge. I used some heat shrink and a zip tie a cable strain. As you can see I've already screwed on the light head to the body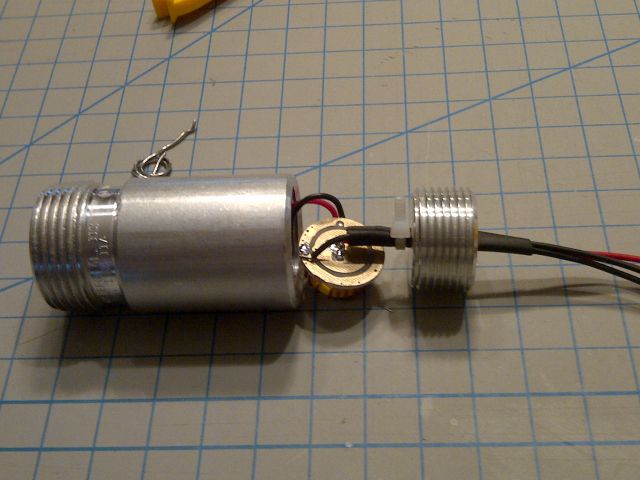 7 - Before closing it up, test to see if it's working!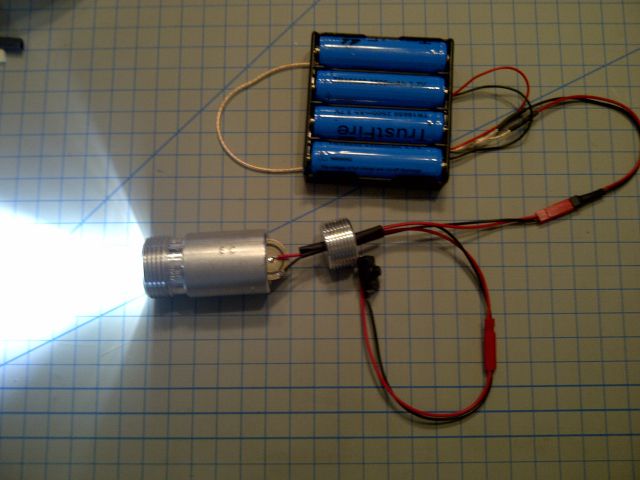 8 - Once it's working, close it up by holding the power / switch wire steady and rotate the Cup 2 Close Plug into the body. Make sure the wires are not rotating also!! You should be able to have the Close Plug flush with the end of the body. When it's done you'll be holding this in your hands.
**There could be a small chance that the soldered points may make contact with inside the light body creating a short. You can wrap it with electrical tape or thermal paste the yellow metal thingy to the inside to secure it. Thanks to "slcpunk".for pointing this out.
9 - Sit back and have a cold one!!
10 - Wait for the darkness to arrive!! Then go out and ride!!
I have used clear RTV Silicone to seal the seams from water especially the back where the power wires are, fill it up with silicone. I'll be using a 30mm lens to cover the front and seal it the same way. All my wire conx are sealed the same way.
Water proofing accessories for the batteries.
The light on my bar and remote switch.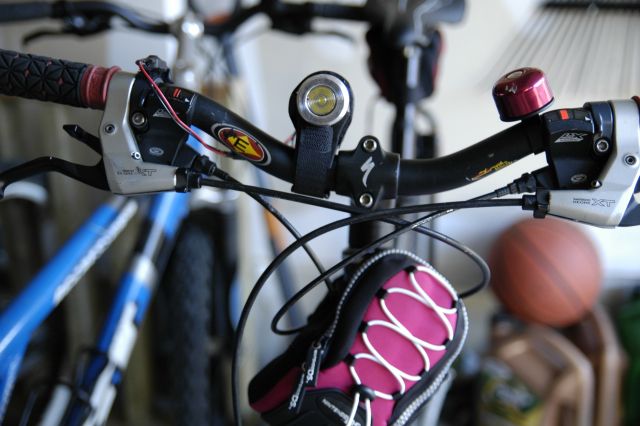 Beam shots
Outside
Camera set to manual
ISO 200
Shutter 4s
WB - Daylight
Jpeg
No post processing
Fence is about 50 feet away.
No Lights "Duh"
Wide on bar "High"
Wide on bar "Low"
Spot on helmet "High"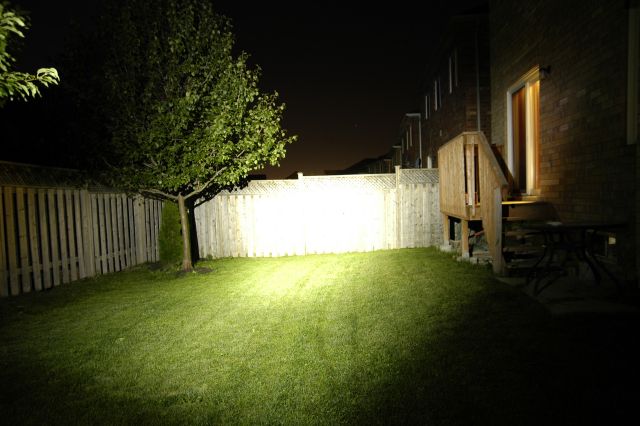 Spot on helmet "Low"
Both "High"
Both "Low"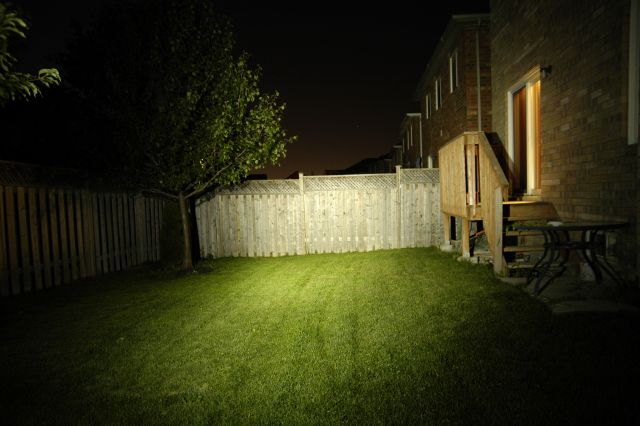 Some other info
Weight - .095lbs according to the scale in the cafe at the place of work.
Been riding for close to two hrs at night and running at high and body only slightly warm to the touch. Lights up the trail pretty darn good!
Don't know what lumens it's producing, I'm guessing around 900? I know XM-L's produces over 1000, I'm happy with 900 hopefully.
Ordering from DX was easy and took about 1 1/2 wks to arrive from the time of odering. Led Supply was much quicker, but then they are only in the US.
Sorry no trail shots, to much of a hasle to bring camera, tripod etc. One of these days, maybe.
Well hope this help anyone looking for an easy DIY light build with little power tools needed. Everything just screws right in!
UPDATE:
Adding this video on how these lights work on the trail. Sorry but the GoPro does not work very well in low light. But well enough when the lights are on high. Enojoy.
Update:
Do you guys wish this build could be a little lighter and smaller? I would also say easier, but this is about as easiest as it gets.
Well you're in luck! Cause meet XM-L's little cozin..."XM-L2"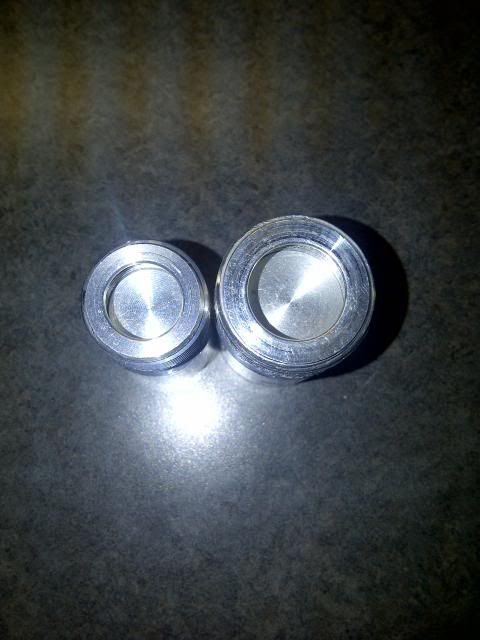 They are about the same in length but the new body has a smaller diameter.
It weights less too!! I assuming it'll weight in at around 81g with driver, optics, emitter and wires in place.
I'm going to be using XM-L2 emitters with AMC7135 3.0A driver on this new build.
Will I really see a difference in light output between a 2.8A and a 3.0A driver?
Anyways here is the info you'll need if you want the smaller body.
Mainbody is
1/2 ALUMINUM CONDUIT COUPLING $5.00
Optic holder is
R-21 $1.83
Heat sink is
CUP-1 KILLARK 1/2" CLOSE-UP PLUG $1.60
To close up the back end, I'll use one of the sliding door thingy with a cable gland through it.