ver·nal adjective \ˈvər-nəl\
Definition of VERNAL
1: of, relating to, or occurring in the spring <vernal equinox=""> <vernal sunshine="">
2: fresh or new like the spring; also : youthful
A new location, new trails, new bike, and a Spring-time tradition continues. How ironic that Vernal can be used as an adjective and as a noun here. A perfect combination.
I thought hard about splitting this trip into two parts, but the theme carries through and I'll keep it together. I saw parts of Colorado I have never seen, and spent a few days in Vernal, Utah and then almost directly south in Fruita, Colorado.
Why Vernal, Utah? Well, over the past few years, there has been some hyping of the area. Moab without the crowds, singletrack everywhere, lot's of Dinosaurs, and a bike shop owner who's poured his heart and soul into developing a destination. This northeastern town is actually larger than Moab, so there are quite a few more amenities than usual. Heck, we counted six Subway shops. Oil and gas booms create towns out here and while I wouldn't say that the industry brings mountain bikers, they have made it a part of their tourism plan.
We arrived in town on Friday afternoon, after driving from Golden via Rifle, Co. We unloaded the Beast, surveyed the cabin, drank a beer, and decided a ride in the remaining daylight was in order. A quick stop at Altitude Bike Shop, and Troy Lupcho gave us the skinny, maps, and some admiration for the Rocky Mountain Altitudes sitting on my car rack. Yes, we spent some money there as well. I think it's good to support the local guy.
Our stop for the day was McCoy Flats. This BLM area has miles of handcrafted cross-country singletrack. Troy has lead the charge to build here and he has done a great job in defining and signing the trails.
They certainly didn't send out the welcome brigade, but that is one of the reasons we wanted to try Vernal. No crowds!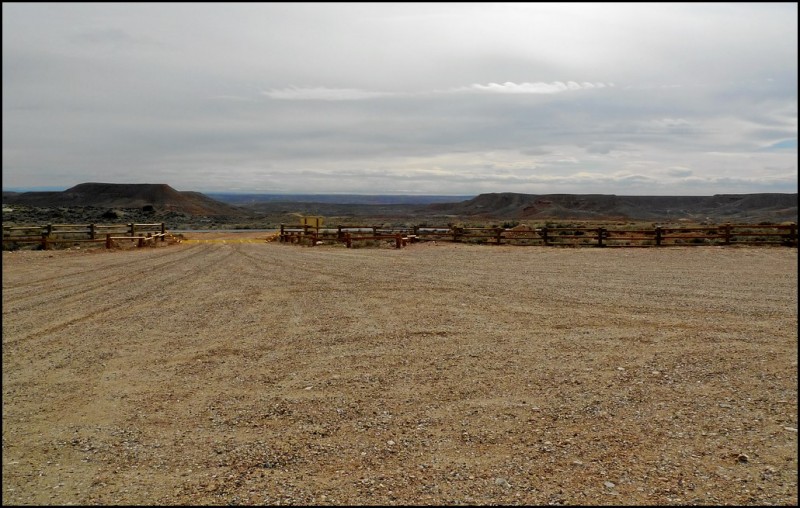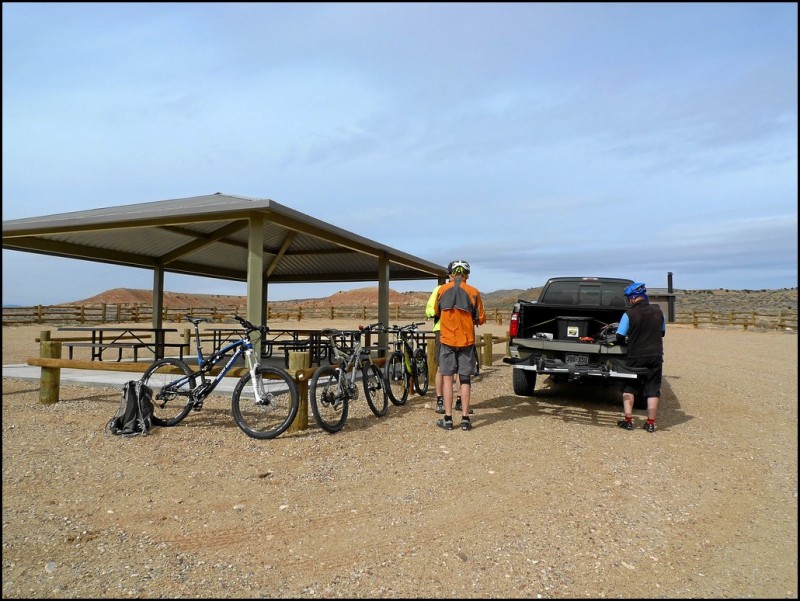 Everything seems to start from this lot, with two huge loops. One to the West (Got Milk) and One to the East ( And Cookies). Each of these have off-shoots as well. We decided on the Western side, in search of some more "techy" trail.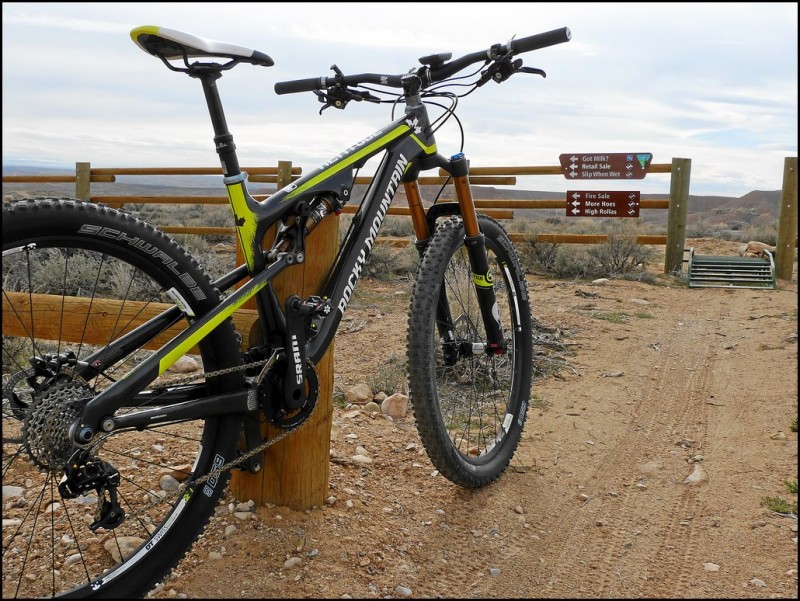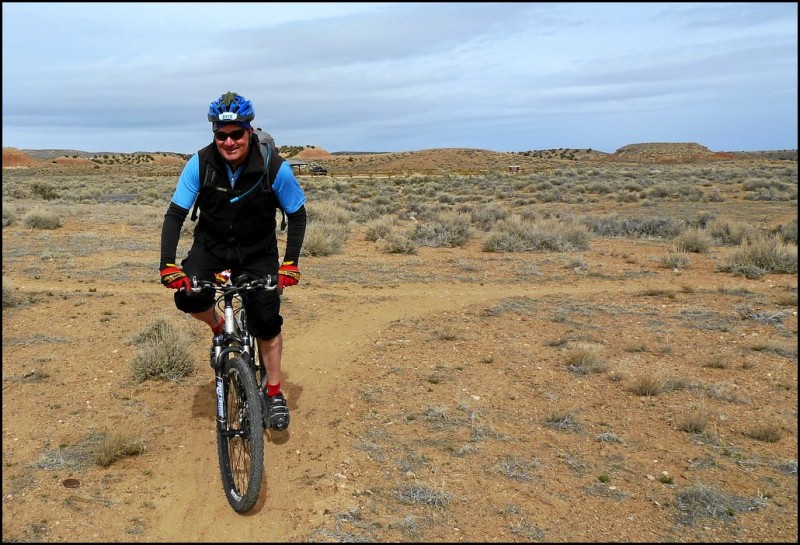 And we searched singletrack that seemed go go on forever.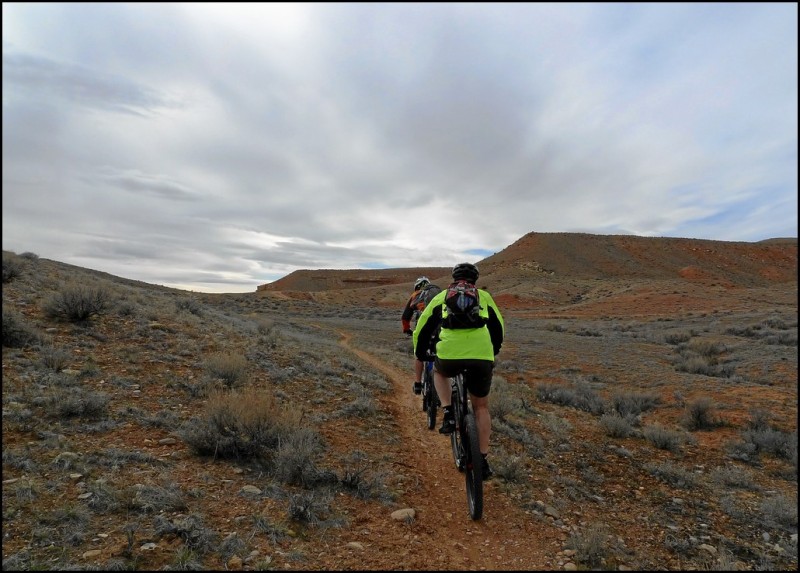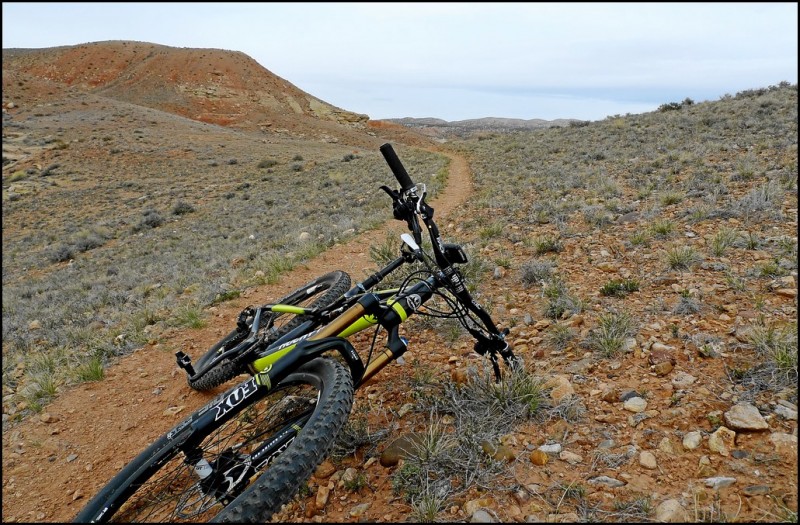 Check the map, Keith! It has to go into the hills somewhere.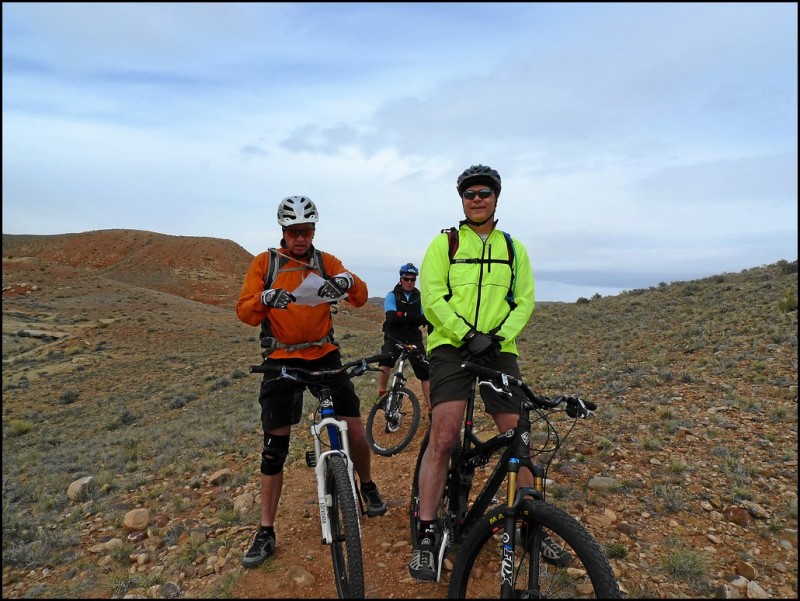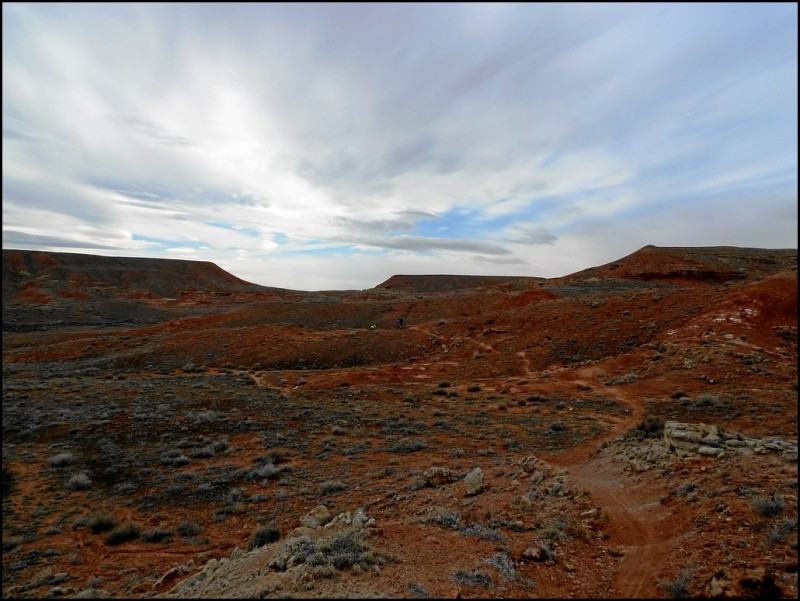 While we didn't find overly technical trails, we did enjoy the fast buffed singletrack. We tried to hit as many as we could. Ultimately, we settled on trails like More Hoes, Retail Sale, and Fire Sale.
We put together a nice loop with some ups...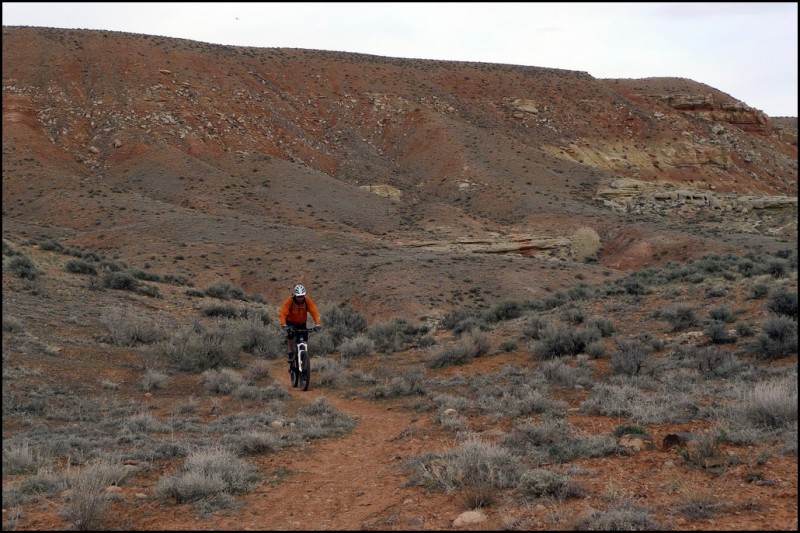 and downs.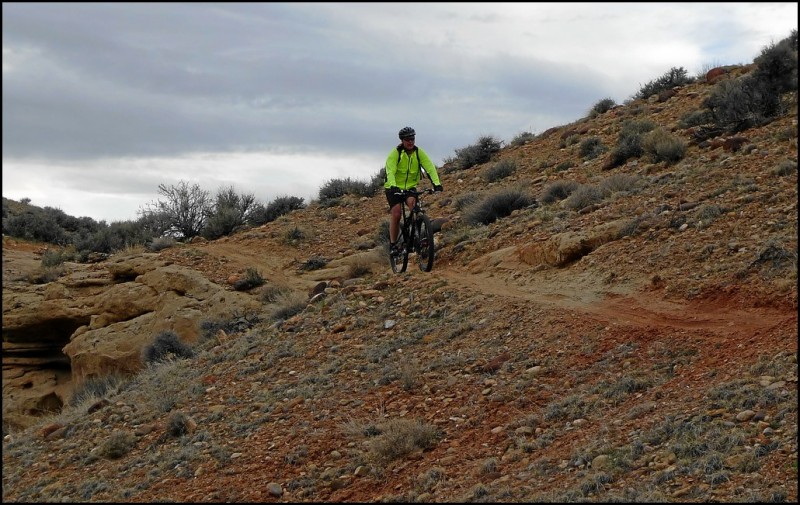 While not every trail has a sign, you know you are on the right path when you see landmarks. They've done a unique job of marking trails with old bike parts and tools (More "Hoes").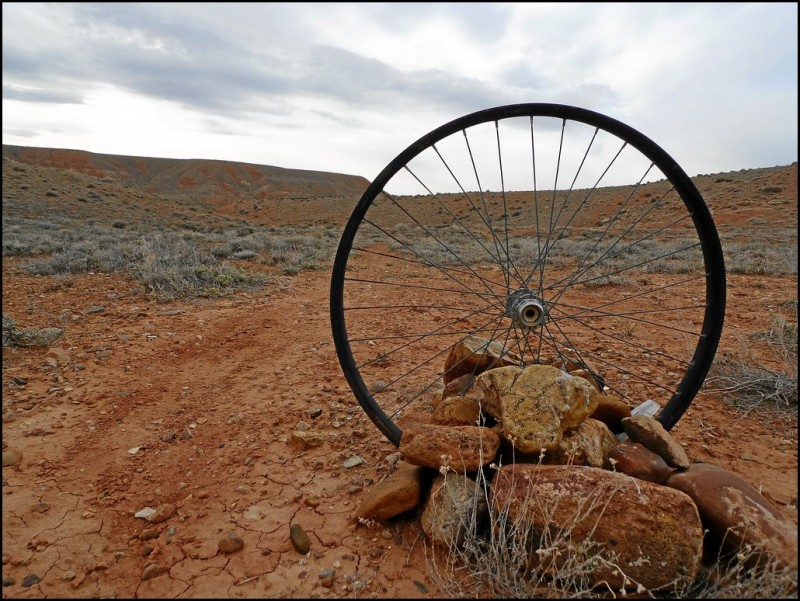 We were all feeling good and the occasional rock was always attempted.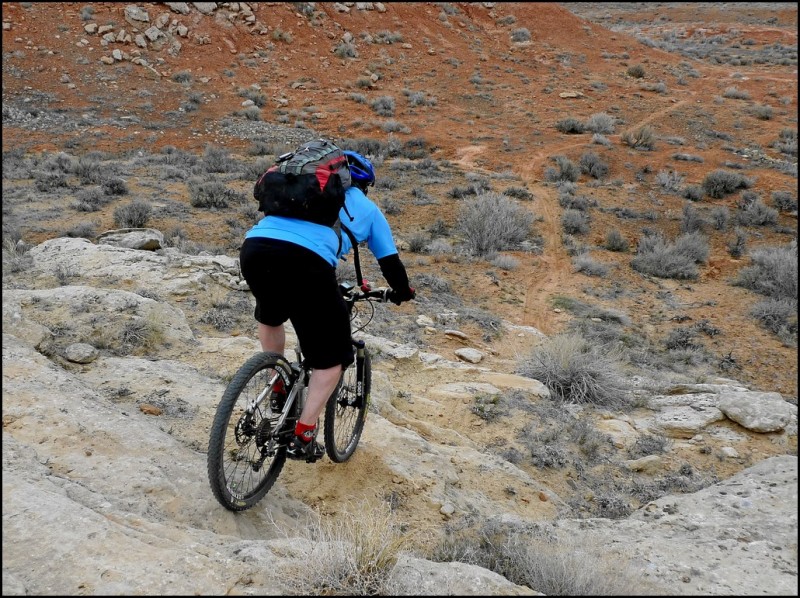 At some point (after a LONG steep climb), we made it to the top of the mesa. Do you know when you have reached perfect signletrack? When you can't even see it.
I am pretty sure this was the view from the top of the mesa.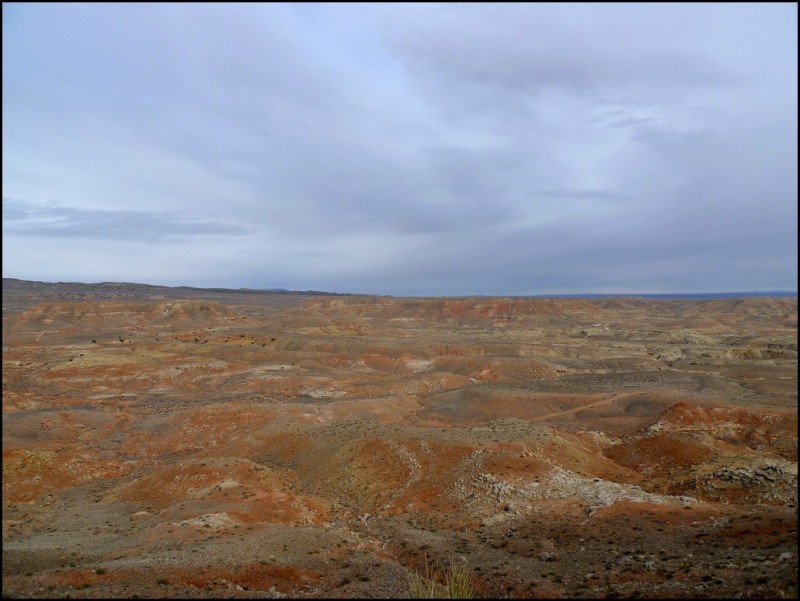 After an unnerving ride along a narrow ridge (I think it was worse that Zippadee Doo Dah, but others disagreed), we did a steep decent down the ridge and back to the truck.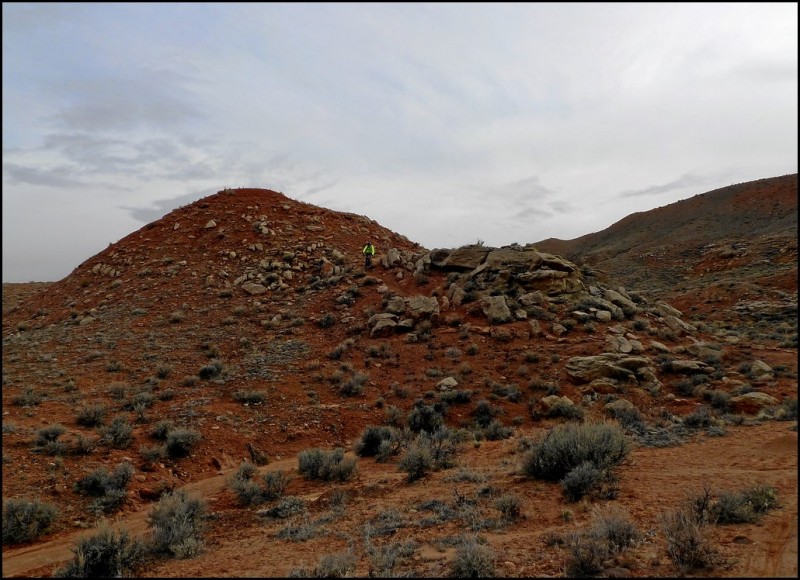 Day 2 in Vernal and the weather wasn't looking so hot, but we gave it the fighting chance. Figuring that we hit the perfect opportunity in the cloud formations, we headed to a dry (to start) Red Fleet Reservoir. A quick stop for some Uinta Mountains scenery and onto the red dirt trails.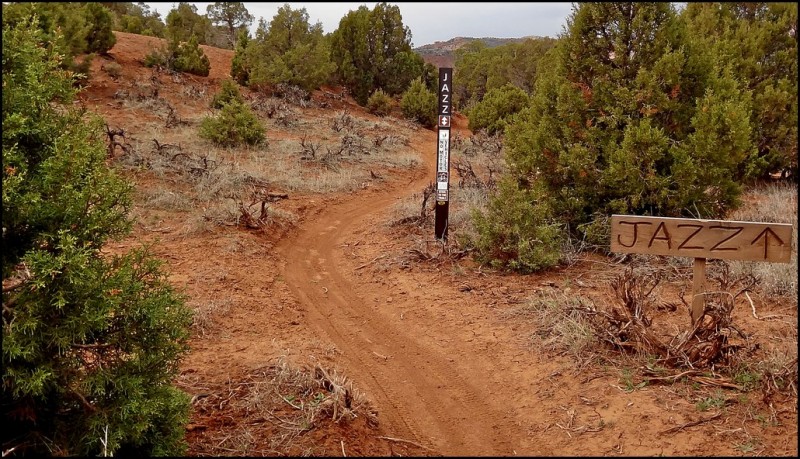 The trails here are relatively new. Some of them weren't even on the map we had, though they were signed. I couldn't remember all of the trails, though I think most of what we rode was Handsome Cabin Boy and JBoy (which I am sure is short for something not-so-nice). The colors were spectacular which more than made up for the route-finding. These two trails seemed to criss-cross each other multiple times.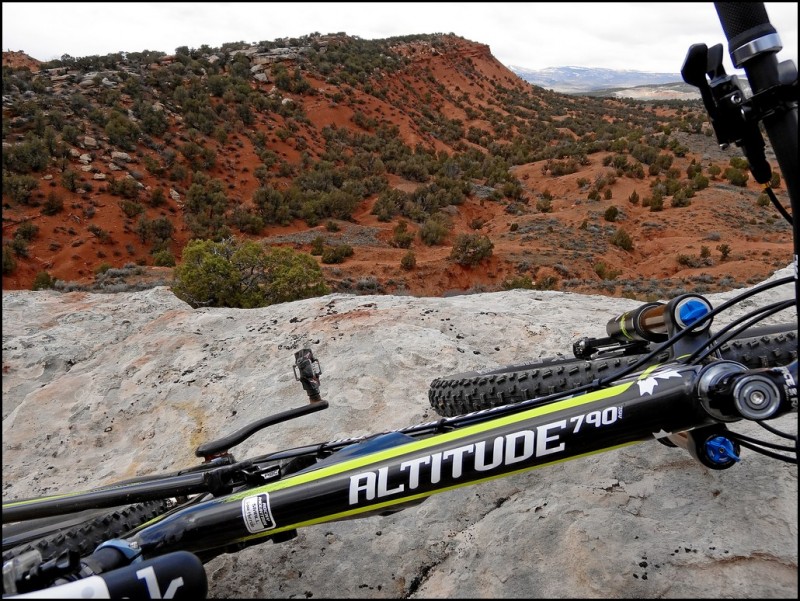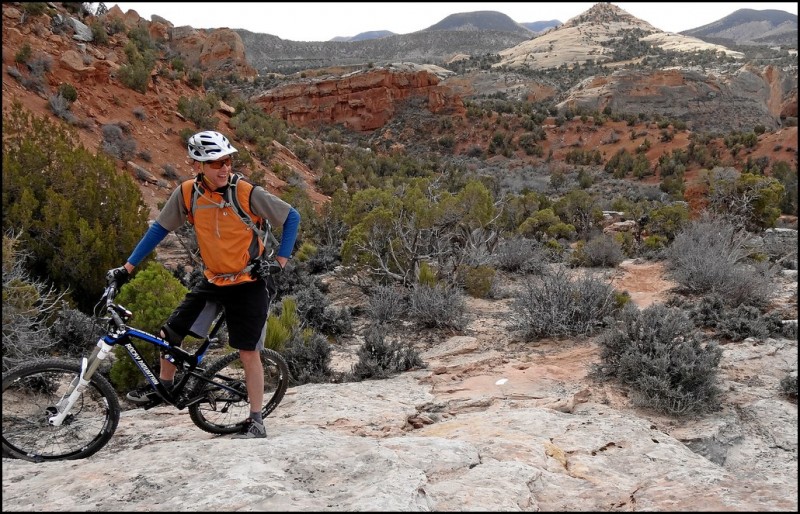 Much of the riding here, reminded me of Sedona, Arizona.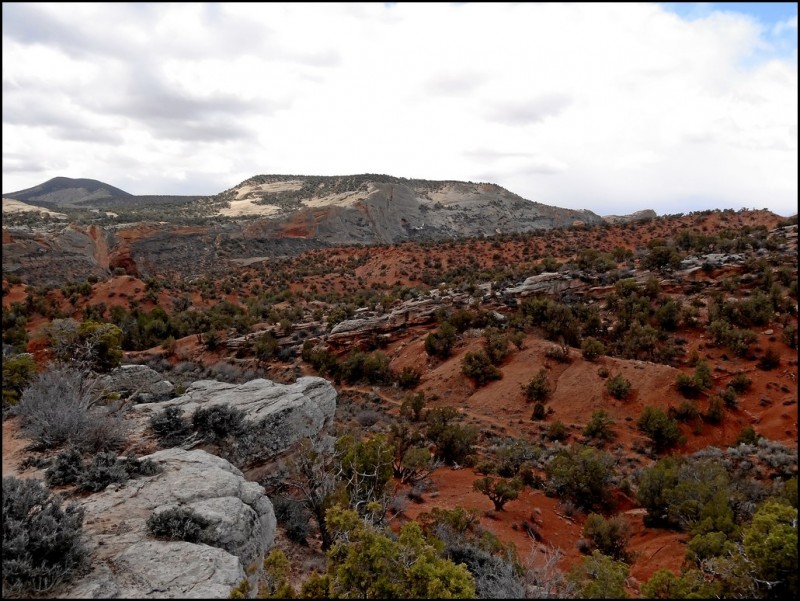 We were fighting the weather by now. A light grapple was falling and we knew once this soil collected moisture, we'd be stuck in clay.
We waited out the worst part under a pinion tree and then left in a hurry. It would have been nice to explore some more, but it wasn't in the cards.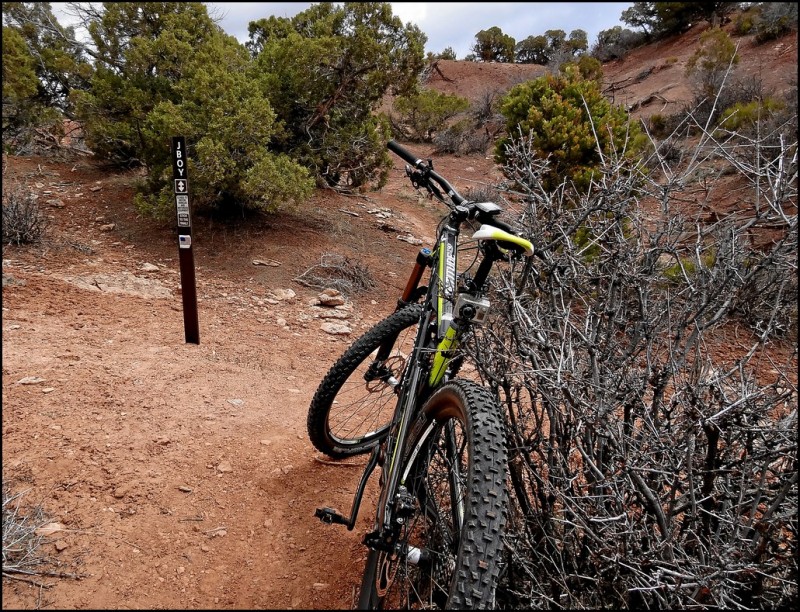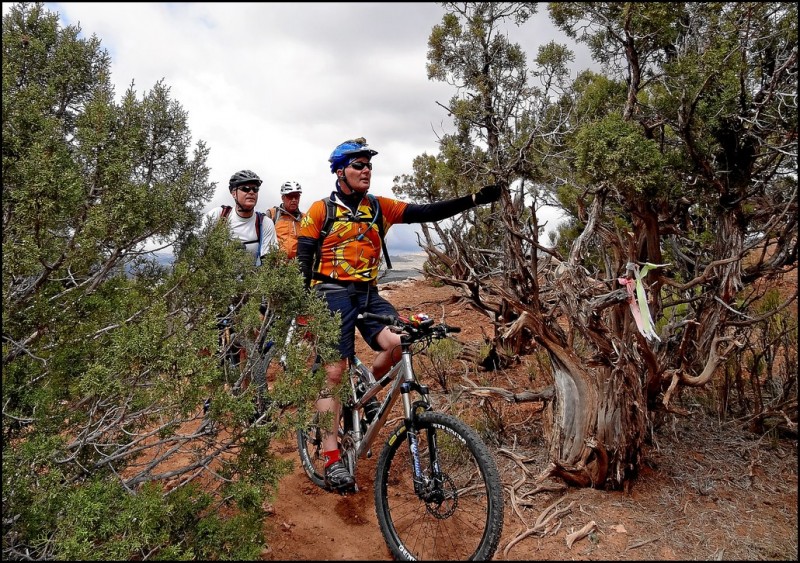 Day 3 in Vernal brought improved weather. So much so, that we did two rides. The first ride was just west of McCoy flats at a set of trails known as the Racetrack and Corkscrew. We put both of these loops together for one ride. The first half (Racetrack) was just constant pedal buffed singletrack.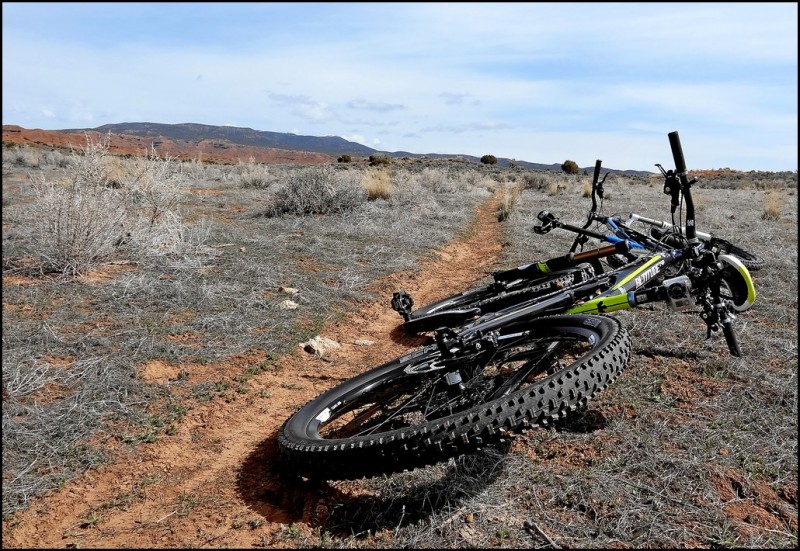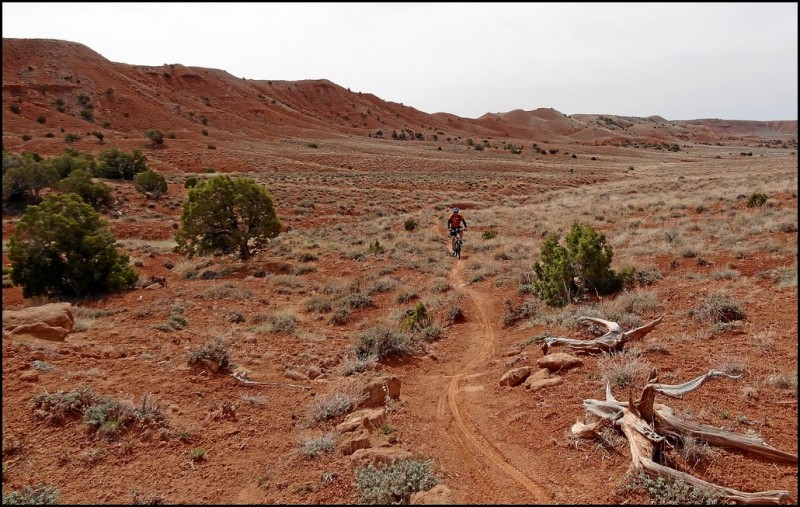 Like most of the other trails in this area, expect to see some unique "lawn art" along the way.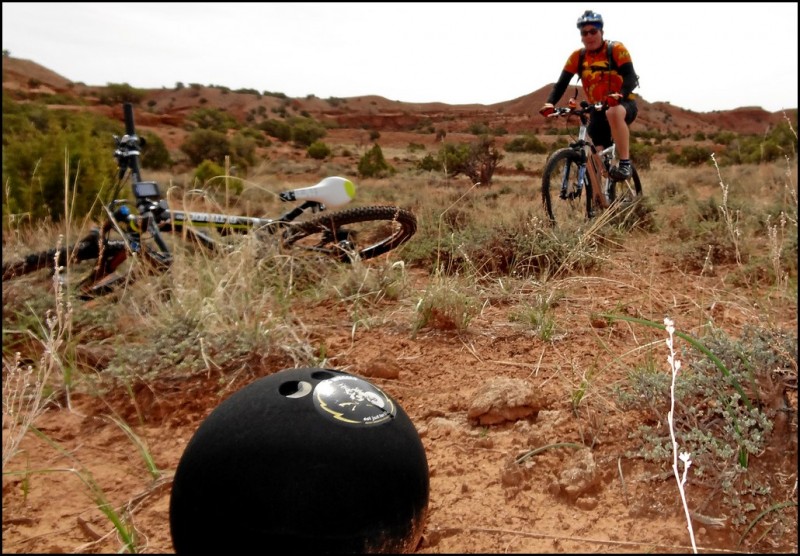 The second half (Corkscrew) starts with some long singletrack, followed by a gentle climb, and then a steep final push.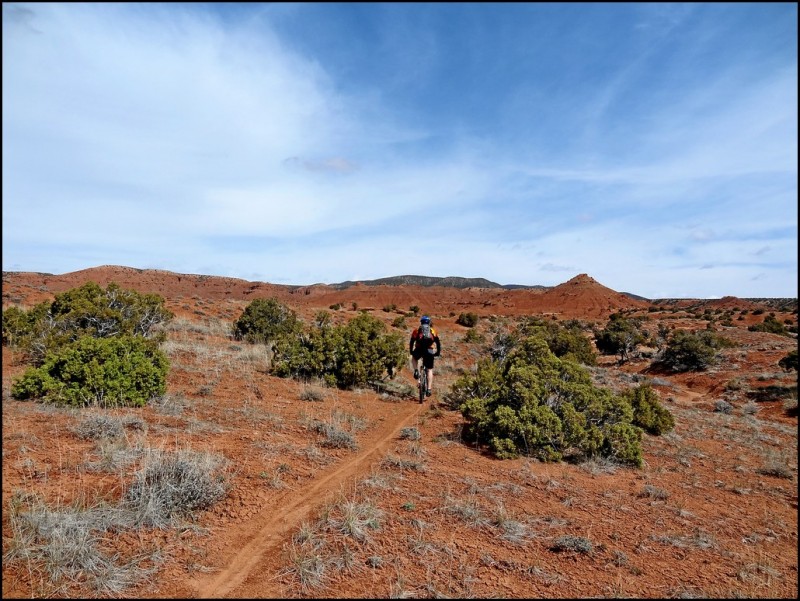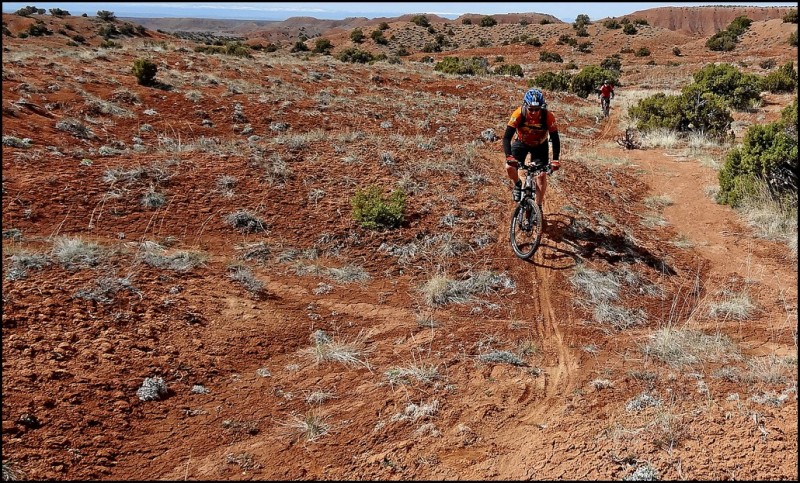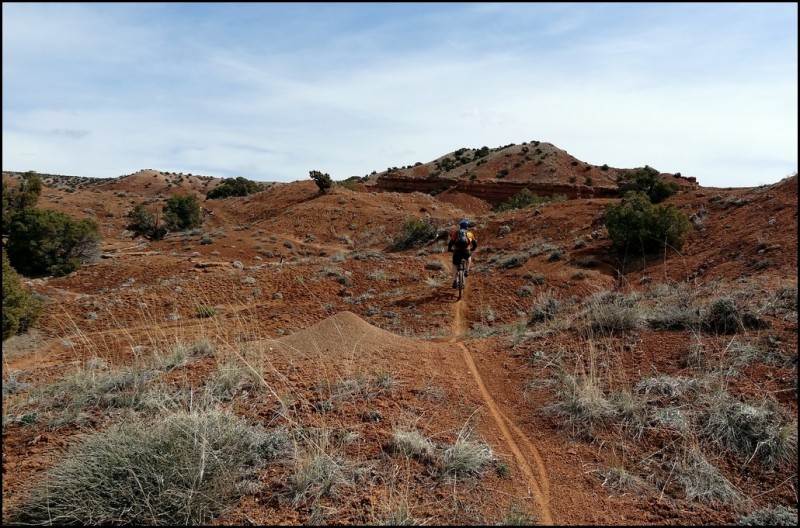 Eventually, we make it to the top of a beautiful mesa pasture with fantastic views.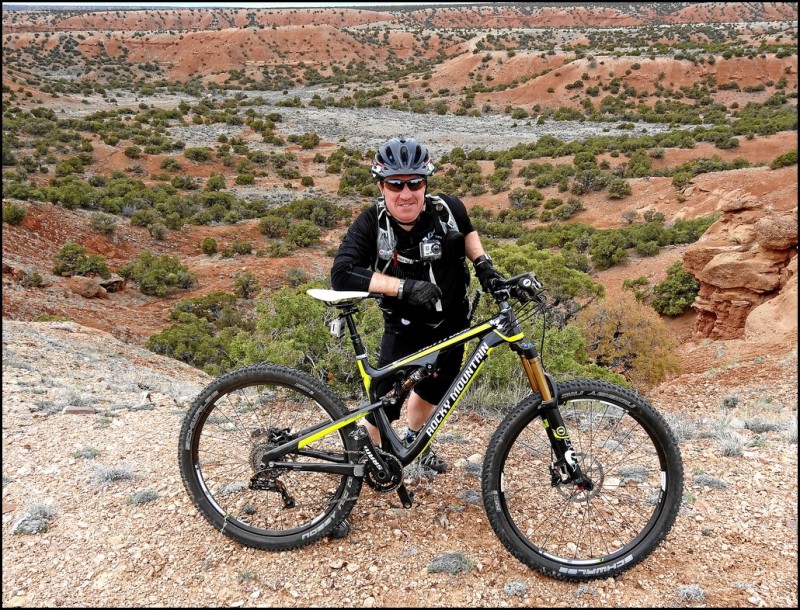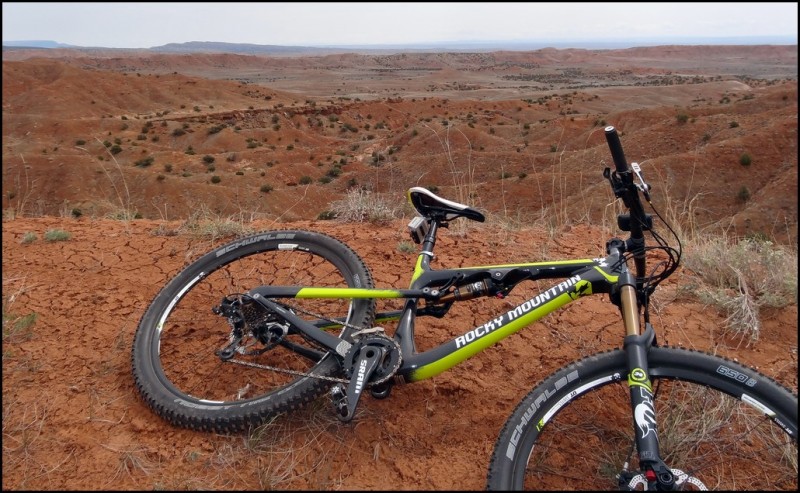 And a rip roaring downhill back to the trailhead!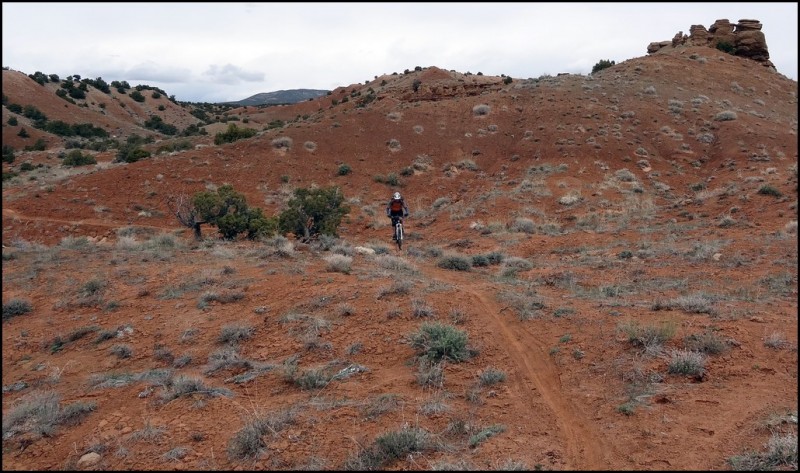 While some would say it wasn't worth the climb, I liked it.
</vernal></vernal>