Discussion Starter
·
#1
·
To keep it short: Are flat bars or bullhorn bars a bad idea on a gravel / commuter / everything bike?
Long Story: I have ridden road and mountain for a while. Haven't owned a real "road bike" for a few years, but my commuter was an older steel road frame, converted to 1x10 with mt bike handlebars. Fun bike (everyone who rides it asks if I will sell it).
Anyway after building a gravel bike for my wife I'm going to build one for myself (my commuter barely fits 28c tires). I'm thinking about handlebar choices. I'm not racing it but would like to do longer rides occasionally. Probably will do 1x again.
Any downsides to doing a flat mt bike handlebar again? Other option I thought was using an aero base bar, something like this: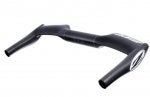 Possibly could throw on aero extensions occasionally. With electronic shifting and blip buttons this seems more do-able.