Discussion Starter
·
#1
·
I had an interesting weekend. Saturday evening I decided to enter a 4-cross bike race at a nearby ski mountain. I've heard about this race for years although I have never attended. I'm no downhiller and most of the participants are half my age (or less), but I figured what the heck, it will build character. My trail bike has studded Nokians but I chose to bring my big bike with slack geometry. I didn't expect much ice and there wasn't any.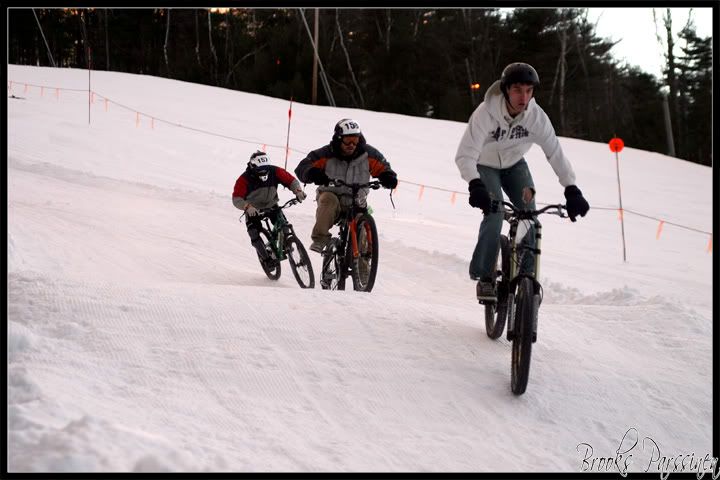 It was a typical biker-cross format, with 4 riders duking it out around gates and over a couple humps (not really jumps). Everyone got a practice run and it was kinda dicy. I tried putting out my inside foot on one gate, which resulted in that foot catching on the snow and flying out behind me. Hang on! OK, scratch that tactic. My "race" strategy was to sit in the back and hopefully pass those who crashed. This didn't work in the qualifier as no one went down so I finished last. This meant I had to finish 1st or 2nd on the elimination round to advance (which I didn't really want to do as I was afraid my beer was going to freeze; did I mention it was really cold?).
Anyway, back to the top in the snowcat trailer and do it all again. I stayed with my proven(?) tactic and let the kids grab the holeshot, then tried not to get left too far behind. Again there was all sorts of carnage, but in my excitement to get through I went down also and finished 3rd. Ah well, the beer was whispering my name. Psst.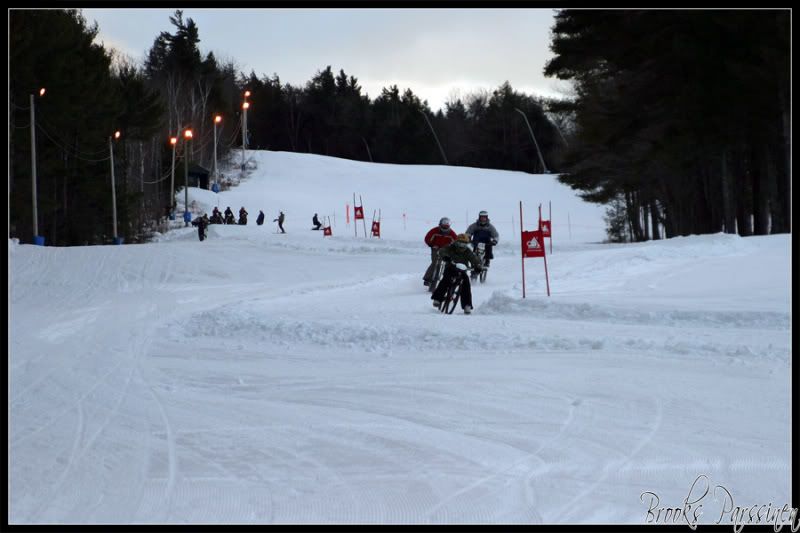 All in all it was great fun and worth doing. Plus I got to see some friends and make new ones, always a good time. These pics courtesy of Jell-oe from bustedspoke.com. More photos at
https://www.bustedspoke.com/Forum/viewtopic.php?t=32880
and
https://www.shawneepeak.com/Photo_Gallery/
.
On Sunday I joined some friends for an ice ride on the Brownfield (ME) Bog. The Bog is thousands of acres of mosquito-infested swamp. But not at this time of year. With studded tires, you can ride pretty much anywhere. While it is dead flat and offers no technical challenge, save for a few boulders we found sticking out of the ice, the beauty of the place and views of the Presidential Range are impressive.
One of the ladies on the ride was blown away by the place and couldn't stop giggling.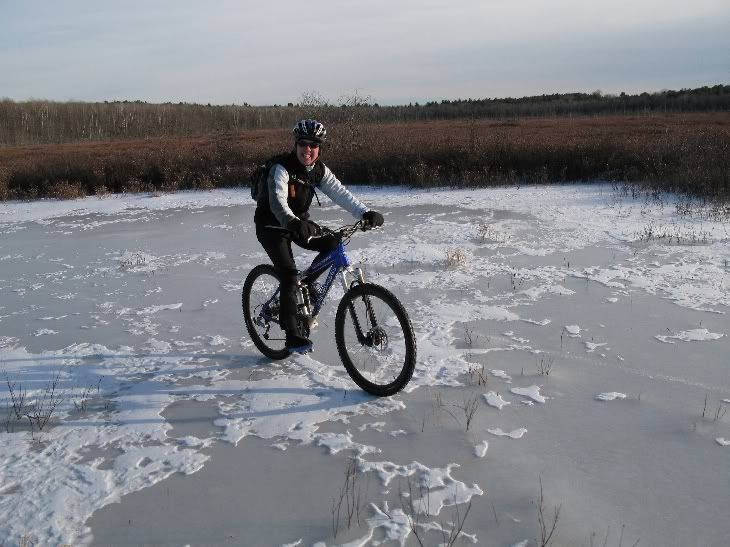 Mostly it was just free form bombing around, trying to find thin ice for a thrill.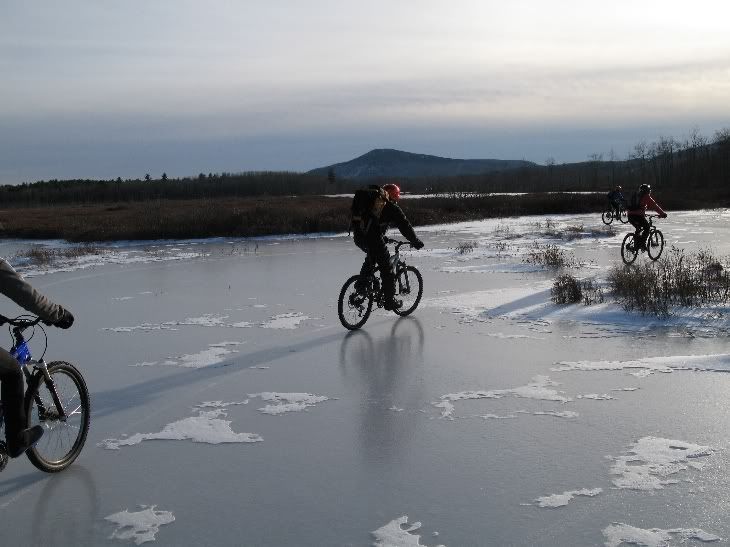 Bonus points to anyone who can guess the source of these tracks:
Overall it was a great weekend even if the skiing is not yet up to par. One parting shot of one of the cool places on the bog, this one from last January.