Discussion Starter
·
#1
·
Hi all,
Like the title says, I'm a long time bmx'er wanting to make the transition into mtb. I've got a couple friends who have been a great resource for answering noob-type questions (they started in the bmx world as well), but I wanted to join an online community to learn more about the scene soak up knowledge from a larger pool.
My love of the bike dates back to the late 90's, and I started riding trails on a 20" bmx in the early 00's. From there I progressed into some heavy street riding and then into park. All of the street and park has sort of lost it's allure and I've been longing to do some trails riding, only now on a different type of bike. I'm not having nearly as much fun riding the short bike now as I was just a couple years ago.
It may also be important to mention that about two years ago, while unemployed and uninsured, I suffered my first anterior shoulder dislocation. I was executing an absolutely beautiful footjam whip at my local outdoor park on a clear, cool, sunny summer day. I completed the whip and tried to hop back into riding position and finish the trick, at which point the tire rolled forward under my left foot and I fell backwards directly onto my right elbow. Hard. I don't expect mtb to be any easier on my shoulder by any means, but I do hope trail riding will be a little more enjoyable while wearing a brace than street riding is.
Comments, suggestions, and wisdom from those who have made this transition are all greatly welcome. I'm looking forward to learning from some of the veterans and becoming an active part of the forums and mtb scene.
Here are a couple pictures showcasing my mediocre riding ability:
Practice; hop, rotate, repeat:
Grind steep rails with many hazards: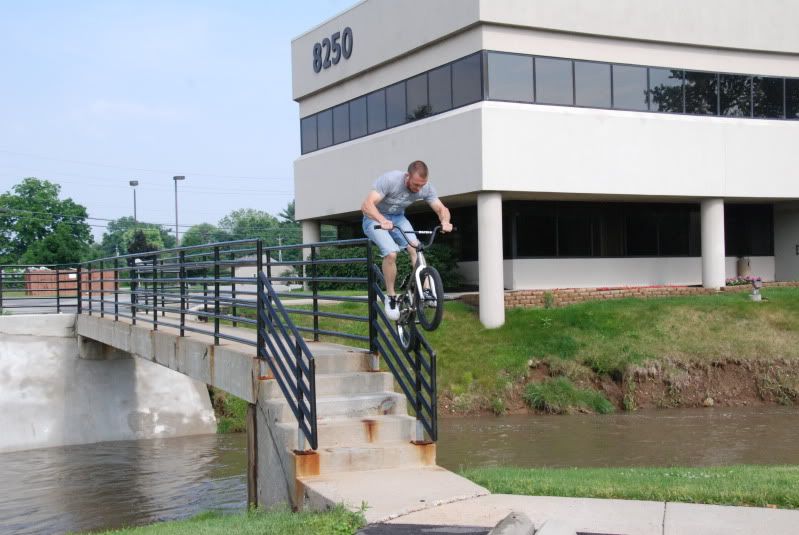 And grind rough ledges: