Discussion Starter
·
#1
·
So I've been looking for a Giant Trance 2 for a long long time.
My LBS hasn't been able to provide me info about deliver-date or pricing for some time.
I've been looking on the web and I found what it seems like an amazing offer.
It's the Trance as seen on the picture: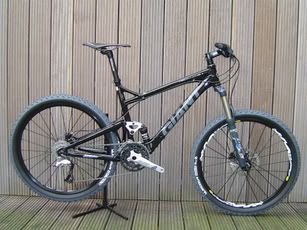 Here's the link for the picture in large:
https://www.s-tec-sports.de/media/cases/giant_trance_blk_gross.jpg
The website says it comes with a FOX Talas RL, Ritchey Pro, XT, Magura Louise FR and optional Mavic Crossmax. The price is €2399,- or €2699,- if you want it with the Crossmaxes. (€2399,- is $2835,- USD).
The bike looks absolutely amazing. Well-equipped, plus I find this the best-looking Giant Trance 2 I've seen thusfar. I don't see many downsides, except that the shop is located in Germany about 250 miles from where I live.
Are there any other things to consider? Do you see any conspicuous things? Do the components look like 2006 components to you? Good deal?
Replies are much appreciated!