Tracer VP and Cane Creek DB Air - fitment issues RESOLVED
Hi all. I got bored and since I couldn't afford a new 275 this year, I thought I'd freshen up my Tracer VP with a new shock. After getting dimensions from Cane Creek (they sent me the drawing for the shock with all the dimensions on it - very nice!) and doing what I thought were enough measurements on the bike, it appeared like it would fit. I got a good deal on a used CCDBA, which arrived this past week.
The good news: You CAN fit a CCDBA on your Tracer VP.
The bad news: You can ONLY fit it in 5.5" travel mode.
NOTE: Apparently sizes large and bigger will fit the shock without this issue, based on info below. Mine is a medium.
Here are some pictures showing what does and doesn't work the the Tracer VP and a CCDBA.
Shock mounted can-up in 5.5" mode:
Full compression in 5.5" mode:
Shock mounted can-up in 6" mode:
Shock mounted can-down in 6" mode: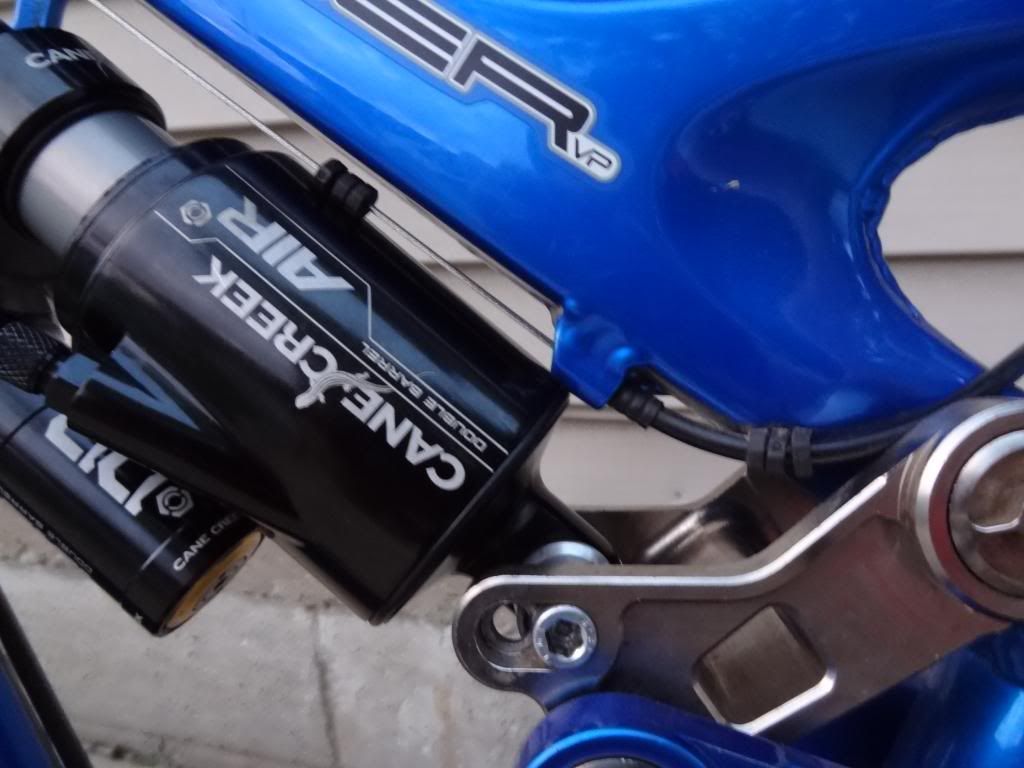 I also compressed the shock before mounting it to clear the front derailleur cable stop in 6" mode, and the can then proceeds to hit the top tube even harder than when can-up at full compression. I couldn't get a picture of that.
I always keep my bike in the 6" mode because it rides completely differently (and how I like) from the 5.5" mode. If anyone has any ideas on how to make this fly in 6" mode without cutting and welding the bike, I'd love to hear them. I've been noodling on this for a few days now and haven't come up with a feasible idea. I'm pretty disappointed, as I really wanted to get this shock on the bike. As it is, I'll still mount the shock and tune it in 5.5" mode to see what I can do with it. All the future frames I'm considering use this same size shock, so I plan on keeping it for future use, even if it isn't on this frame.