Discussion Starter
·
#1
·
Seems this is becoming an annual thing. A couple of friends fly in from the East Coast and the Tour de Goat commences. Last year it was
Crested Butte
but with the fellas flying in at the end of September/ 1st week of October and a threat of snow ever present we decided to take it to Moab and some destinations inbetween.
I've been back to the real world since last Wednesday but the Tour De Goat Hangover still lingers. Seven days of riding with a couple of cool cats including
Guacamole
, Mark,
Big Ring
, and
Dicky
on trails that railed and weather that couldn't have been more perfect.
The trip was awesome but it left me mentally and physically exhausted. The old cliche of, "I need a vacation from my vacation". So when a snowstorm hit in the mountains this past weekend and all we got here on the Front Range was a light dusting, I took the girls up for a good ol snow ball fight and snowman building right off the Continental Divide Trail near Alice.
a brief photo tour of the Tour de Goat....
Wednesday: Golden,CO...Chimney Gulch> Enchanted Forest> Apex
Thursday: Vail, CO... Bowmans> Two Elks
Friday: Moab, UT...The Whole Enchilada: a shuttle ride of 30+ miles starting in the La Sal Mtns with a short climb to 11,600 ft and dropping to the desert of Porcupine Rim and finally Moab at 4026 ft.
Saturday: Moab, UT; Amasa Back to Jackson's in the am
to Pipedream in the afternoon
Sunday: Moab, UT; Slickrock in the am
Trans La Sals to Hells Canyon in the PM
it can't be a tour with my name attached to it without some hike a bike
Monday: Fruita, CO; Kokopelli Loops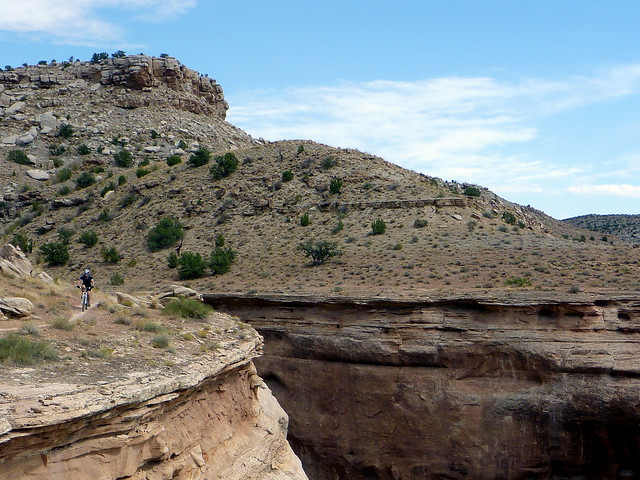 Tuesday at Buffalo Creek, CO....30 miles of buff n fast singletrack. Just what we needed to end the Tour
all of the
Tour de Goat pictures are here