After looking around on the web I didn't find much in terms of how to rebuild Time ATAC pedals. I decided to take mine apart and service them so here are some pics to walk anyone through the process. Go ahead... it's easy!
While not required, it makes this job go a lot easier if you have some sort of axle vice to put the pedal in like a Park AV4.
Gather up the necessary tools for the job. 10mm socket, c-ring pliers, pedal wrench, center punch, mallet, small screwdriver, some prep m or suitable bushing grease, penerating oil for pivots and optionally a drill and scotch brite pad.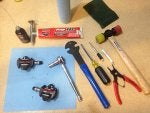 Clamp the pedal in he vice and loosen the end cap with your c-ring pliers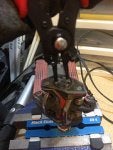 remove the nylon lock nut with your 10mm socket
Supporting the pedal in a vice or someting that will let the axle come out, tap out the axle with a center punch.
before
after
pop out the seal with a small screwdriver and clean off all the old grease and dirt with a shop towel
clean and ready for assembly
These pedals were on my winter commuter and the axles didn't look very nice. Corrosion from all the road salt left them looking worse for wear. I put the axle in my drill and spun while pinched in a scotch brite pad and it got everything back to near-new appearance.
all cleaned up and ready for reassembly
put a good amount of grease inside the pedal on the bushings as well as some around the top before pressing the seal back in place. Slide the axle in, tighten up the 10mm nut and re-install the end cap (reverse of what you did to take them apart). Don't forget to put a drop of penetrating oil on the 4 corners of the pedal where the bales pivot on the pins and you are ready to ride.