...a shitload of headaches.
A seal that I didn't need, a crush washer, and a nut.
However, I needed the U-cup for my Float conversion, and it wasn't there. However, the box was big enough to hold a laptop, and I found out why- they had to pack a catalog for me.
So now that I don't have the U-cup, despite sending the Fox distro several pictures, parts numbered, with arrows, and spoke in no less than TWO languages, I had to do this on my own. Oh yeah, I leave for a near 1 month biking vacation tomorrow night, and I have a lung and sinus infection.
So they will send me my u-cup, but I won't get it until part way into the vacation, as they will be sending it to a family member I'll be meeting later. So I had to make my own u-cup. I no longer have access to lathes, so it was all handwork with a flat file, and a dremel with three different attachments. Originally, I used a concave plastic cap from a tube of something, and it seemed ok, but flexy. I didn't want to take the chance, and then I saw a small pocket jar of my lip balm. The container has THICK walls, and a lot to work with, so I went at it.
I'm really not happy with this experience with the distributor.
First pic: This **** cost €21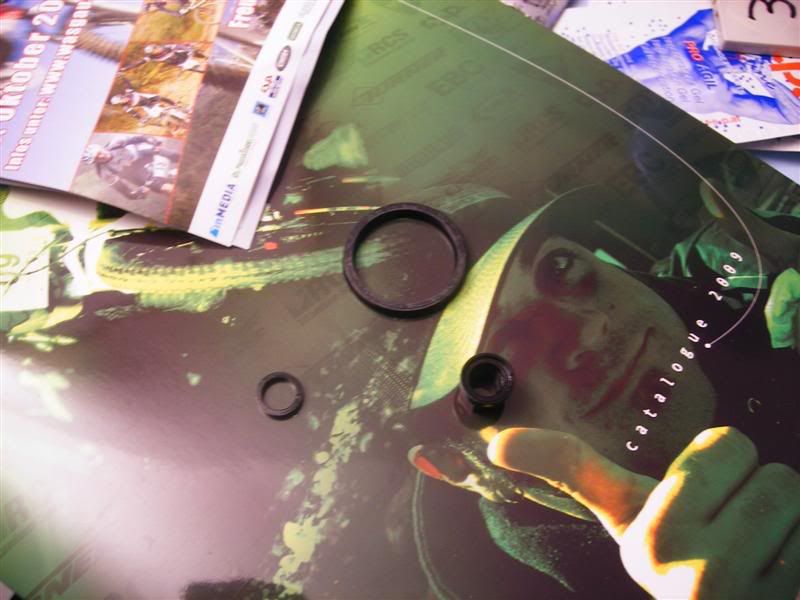 The subject: