Discussion Starter
•
#1
•
This is not A BD bash thread, nor is it a BD pro thread. Well...not yet...
I am an avid mountain biker. I'm no pro but I used to race in my teens and have been riding since 1989. I have gone through a lot of bikes, some good, some bad. I by no means know everything, but I consider myself fairly knowledgeable.
This thread will chronicle my adventures in getting my Windsor Cliff 29er Comp frame warrantied. I will relay information as it happens.
Two years ago I bought this bike from Bikes Direct. It has seen a fair amount of miles (maybe 2000). Probably 90% of those are trail miles. Never raced. The stem, handlebars, tires, and drivetrain have been upgraded. Otherwise the bike is stock. The bike resides in the mountains of Colorado. Rocky singletrack is the terrain of choice.
On Sunday, 6/26/2011, I heard a loud "ping" while descending back to the trail head after a 15 mile ride. Thinking it was just a spoke breaking or maybe a rock coming up from my tire, I didn't worry too much and decided to wipe down the bike and inspect the next morning.
On monday morning I cleaned the bike really well and couldn't find any amiss. So I loaded it on the car so I could meet some friends for a nice morning ride. That's where I noticed a nice shiny crack about 4cm long on the top, right seat post/rear triangle weld on the seat post side. Its a hairline crack that was hard to notice unless the light hit it right. Taking pictures of it proves difficult due to the shine of the frame finish and the small size of the
crack.
This first blurry picture shows the crack well because it picks up the shine the crack gives off to show exactly where it is.
This second picture is a little better focus and if you look closely you can see it along the base of the weld.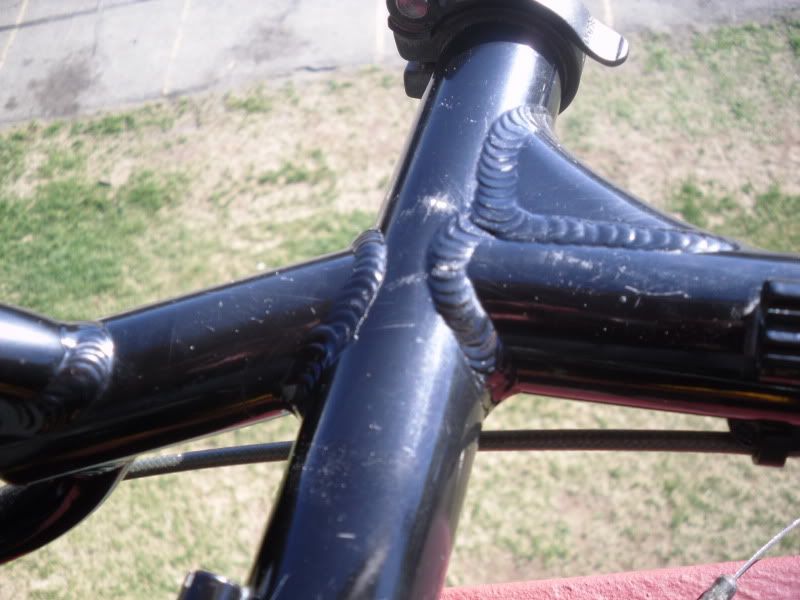 So I emailed Windsor, per the instructions on both the Windsor and Bikes direct website about this issue. I have not heard anything at all from Windsor. It seems to me that they would at least inquire as to what exactly the damage is.
Any bets on how long this takes to get resolved?
I hope Windsor/Bikes direct steps up and takes care of this. I have referred many people to them and have generally been a huge fan of this bike.
I will email BD directly if Windsor continues to be silent at the end of the week.
I will update this thread as more information become available. I have already stripped the frame and built up another. I have a very short riding season here and don't want to lose any days dues to a cracked frame.
Hopefully this thread will help to let people know how good/bad a buying experience BD/Windsor is after the sale compared with a LBS. We all know how polarizing this issue is on this site.