·
Singlespeed Enduro Poser
Discussion Starter
•
#1
•
Day 1 Gale Force winds
The mountains of San Diego, CA has been experiencing a winterless winter. For months, the weather has been pretty mellow with guaranteed sunny skies. Of course, at the day of our big bikepacking adventure, winter decided to show up....besides rain makes for a good adventure right?
Here we are t minus 5 seconds before take off. Our bikepacking gears are waterproof but we are not taking any chances. It has been raining off and on and the rain were dropping pretty heavy from the skies. So, we wrapped our bags with good ol' fashion trashbags.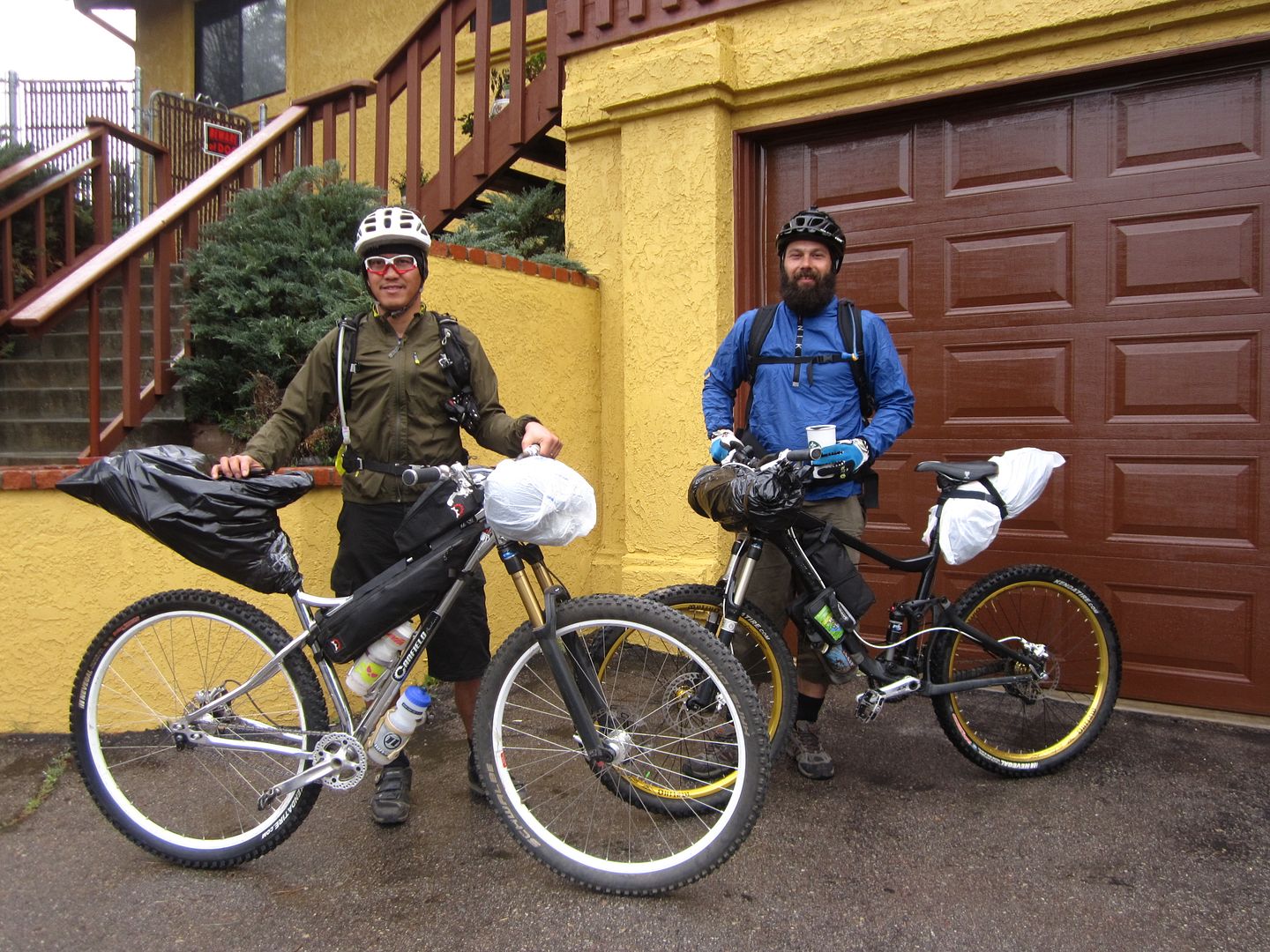 We had a loose route planned out but the constant rain kept us in enroute to Noble Canyon which isn't far from the house.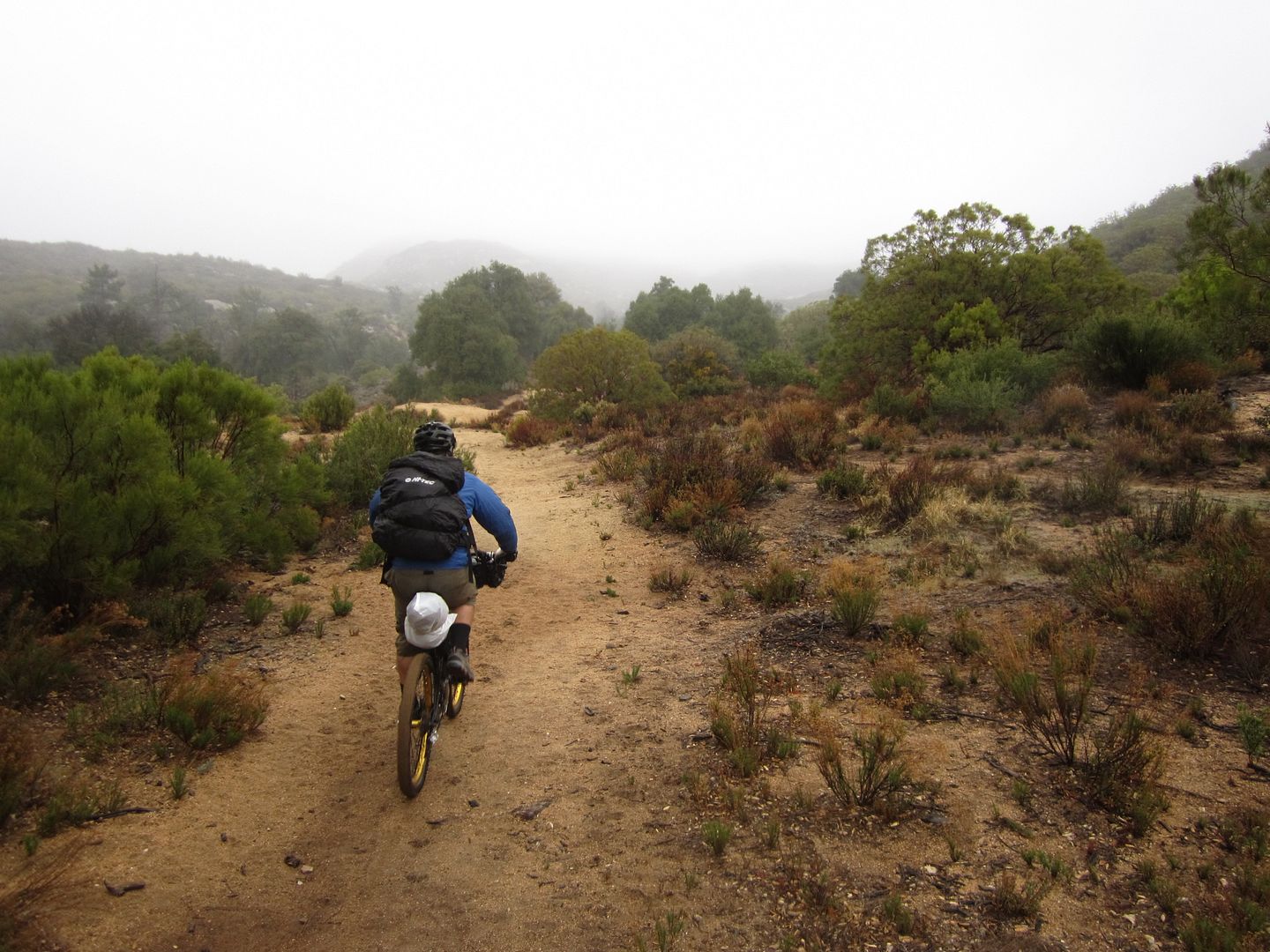 Photo by Gabe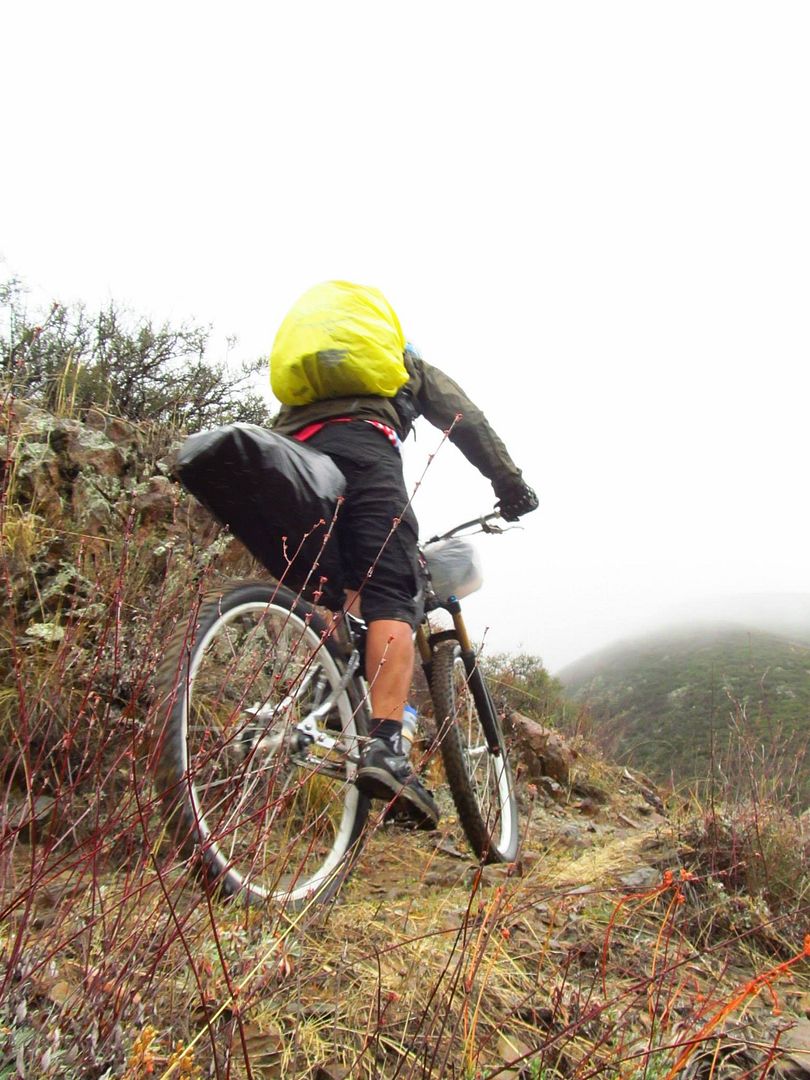 At this point the rain has gotten pretty heavy but we pushed on.
The forest through Noble Canyon was just exploding in vibrancy. I can not seem to recall a day in the canyon where it has been so lush.
Photo by Gabe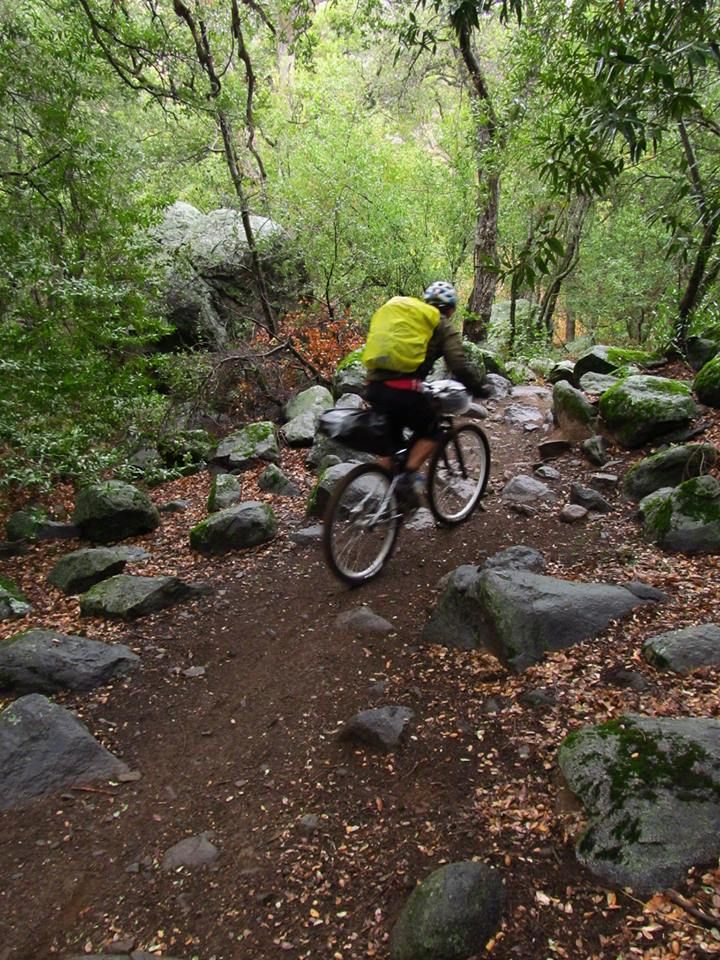 Photo by Gabe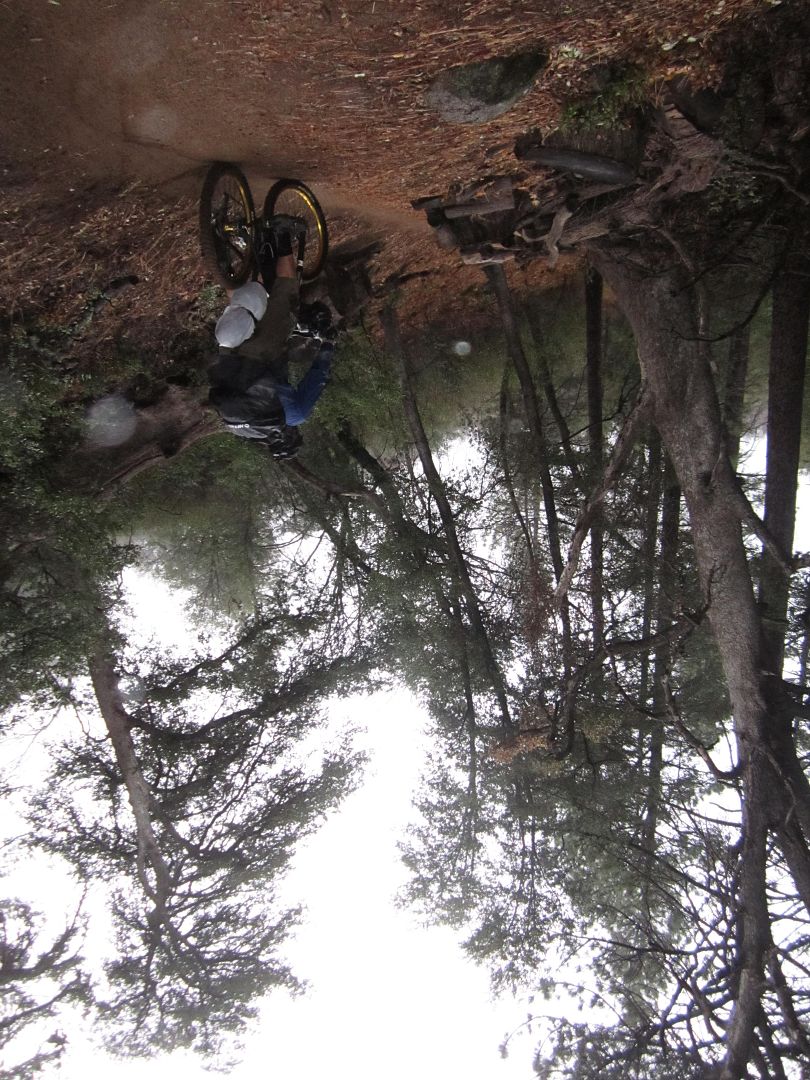 As we get further up in elevation our immediate forseeable future is pretty imminent. WINTER STORM!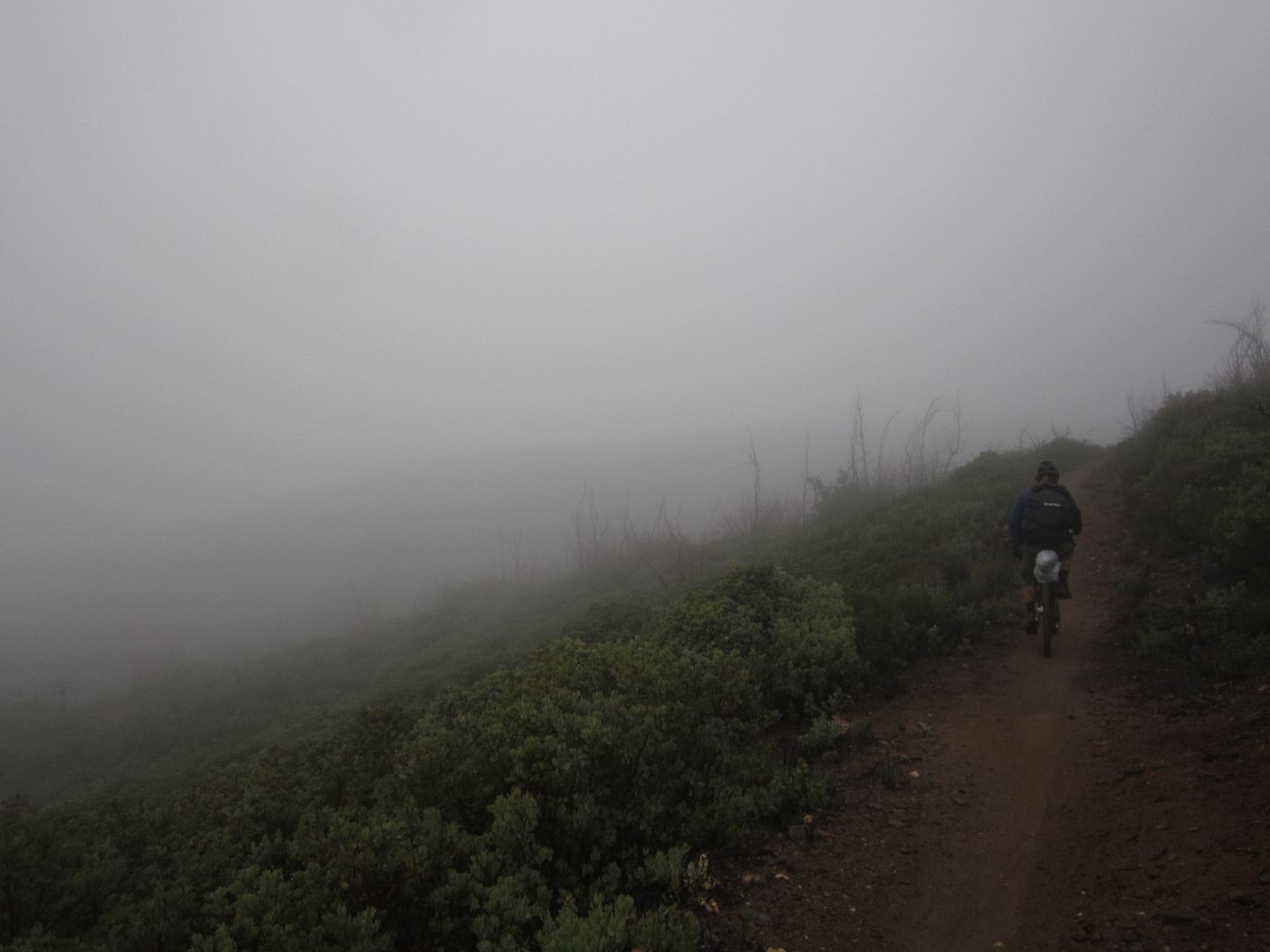 We get to the top of Penny Pines trailhead and the wind was somewhere in the 60mph winds that howled like a possessed evil spirit. The adventure gods peppered us with marble sized hails and the cold, it was a bitter cold.
We were soaked and battered from the wind and hail. We are not even remotely close to where we are supposed to camp.
Here at Penny Pines we stopped for a short break and hoping to fill up our water for the next 2 days.
We purposely only brought enough water to carry with us to Penny Pines and the plan was to fill up here for the rest of our trip.
We get to the pump and lo and behold the Mother #$#$ er is not working. So, we decided okay lets pedal to the campground which is several miles away and we will fill up there.
As we began to pedal to the Big Laguna Trail, the wind has picked up even more, pretty much enabling us to pedal that direction.
So we made a crucial decision to turn around and basically conserve water until we are in the desert which seems from where we are is a gazillion miles away.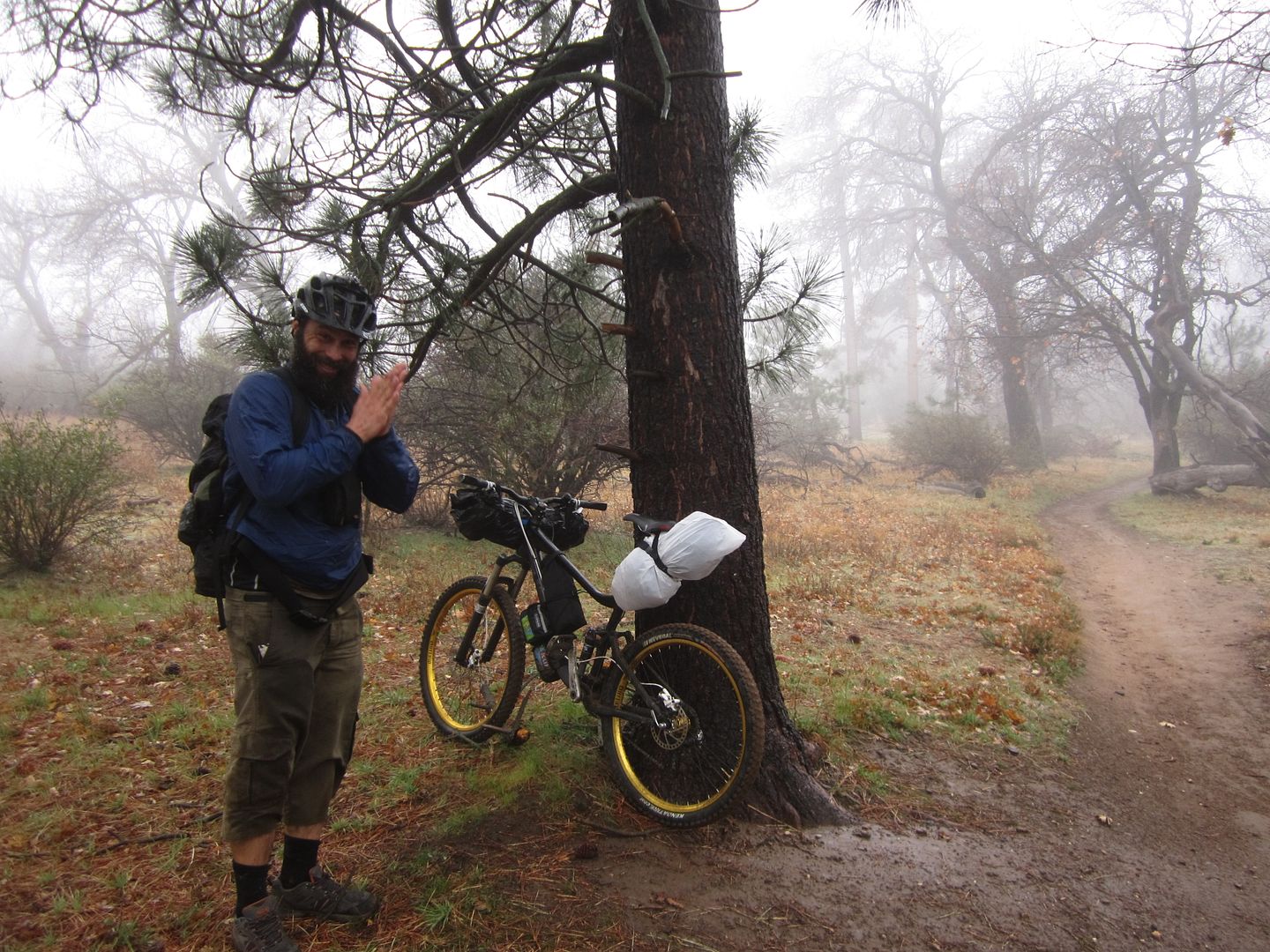 We tough it out and carry on, on our adventure.
This section and part of the ride really tested my resolve like hasn't before. The Gale force wind was unbearable. It delivered numbing pain on my face, eyes, hands and feet. For 1.5 hours we battled with mother nature and honestly she might have won this one.
Gabe is a real trooper. I think, i honestly think if he said let's turn around i might've obliged to his request/demand.
He was battling cramped legs and i was battling with my own demons.
After 1.5 hours we took shelter at Pioneer Mail trailhead which has an enclosed bathroom. There we seek protection from the elements.
My hands and feet were so numb and painful at the same time, i thought they were frost-bitten. My eyes were frozen and my face was so numb that it was pretty impossible to talk because my jaw/cheeks wouldn't move.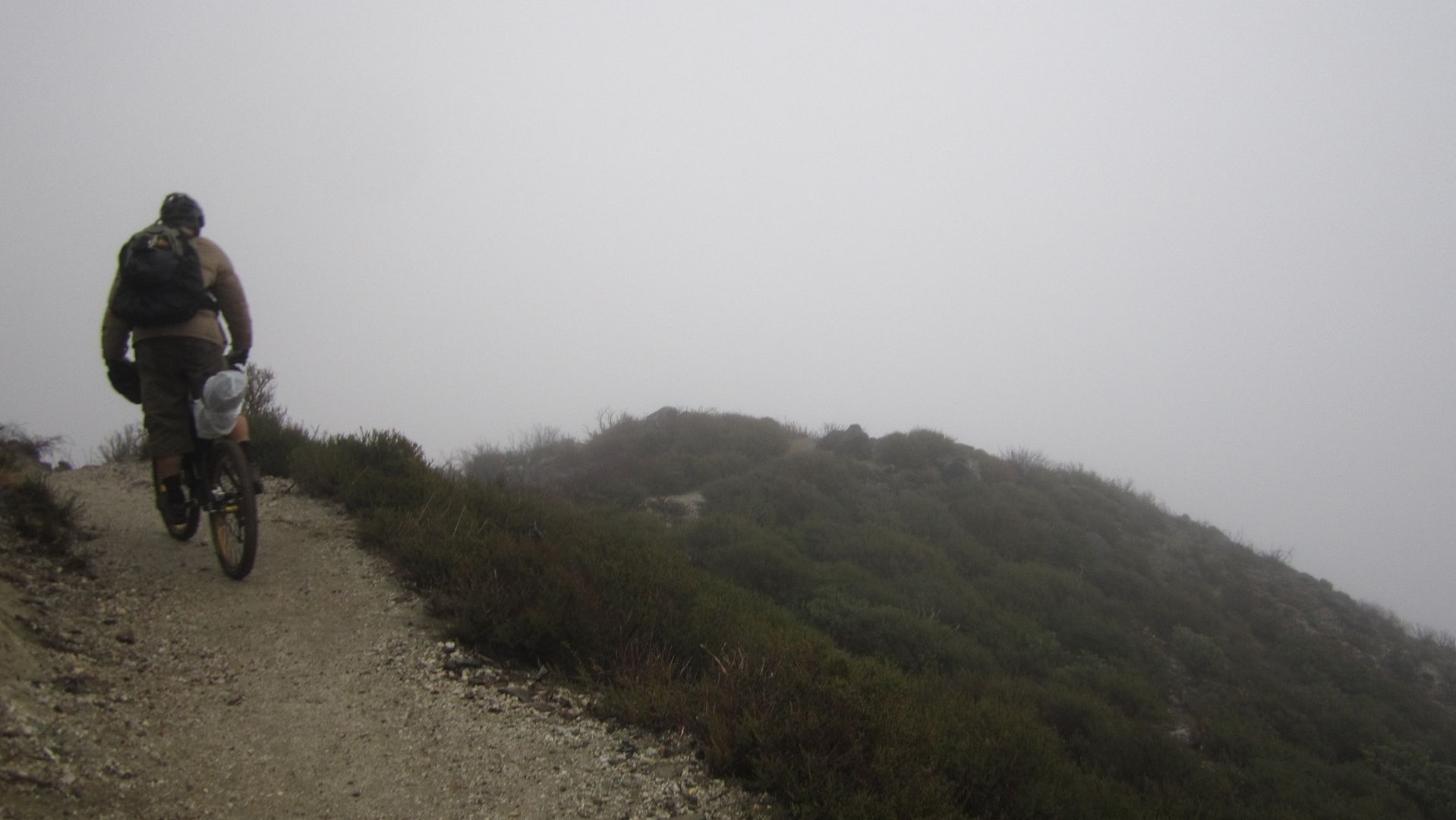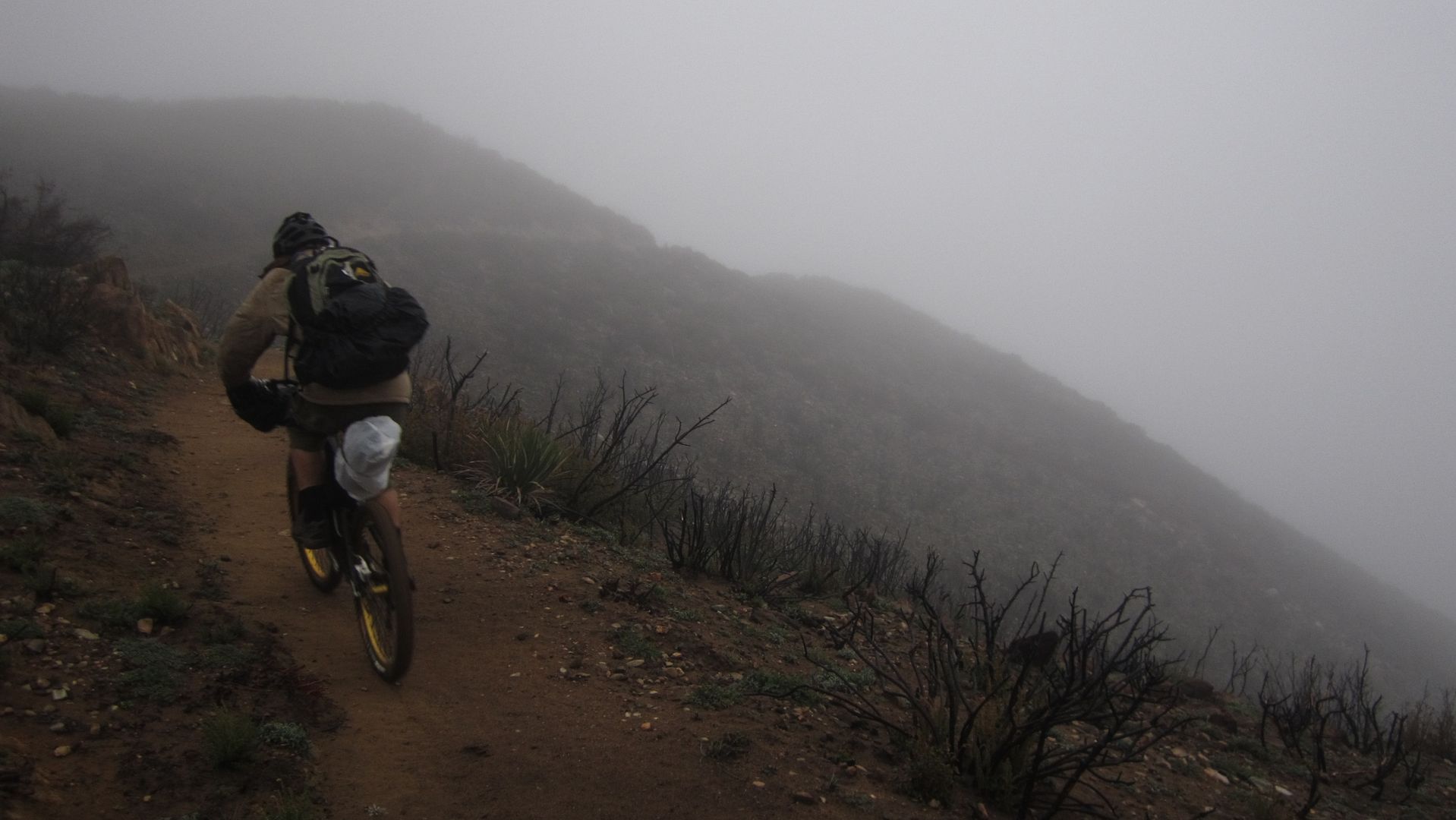 As soon as we started feeling our extremities again and somewhat ready continue we began our battles with mother nature once more.
Here is Gabe in the middle of the Gale Force wind storm.
after a few hundred feet of elevation loss, the weather receded just a tad and progressively got better.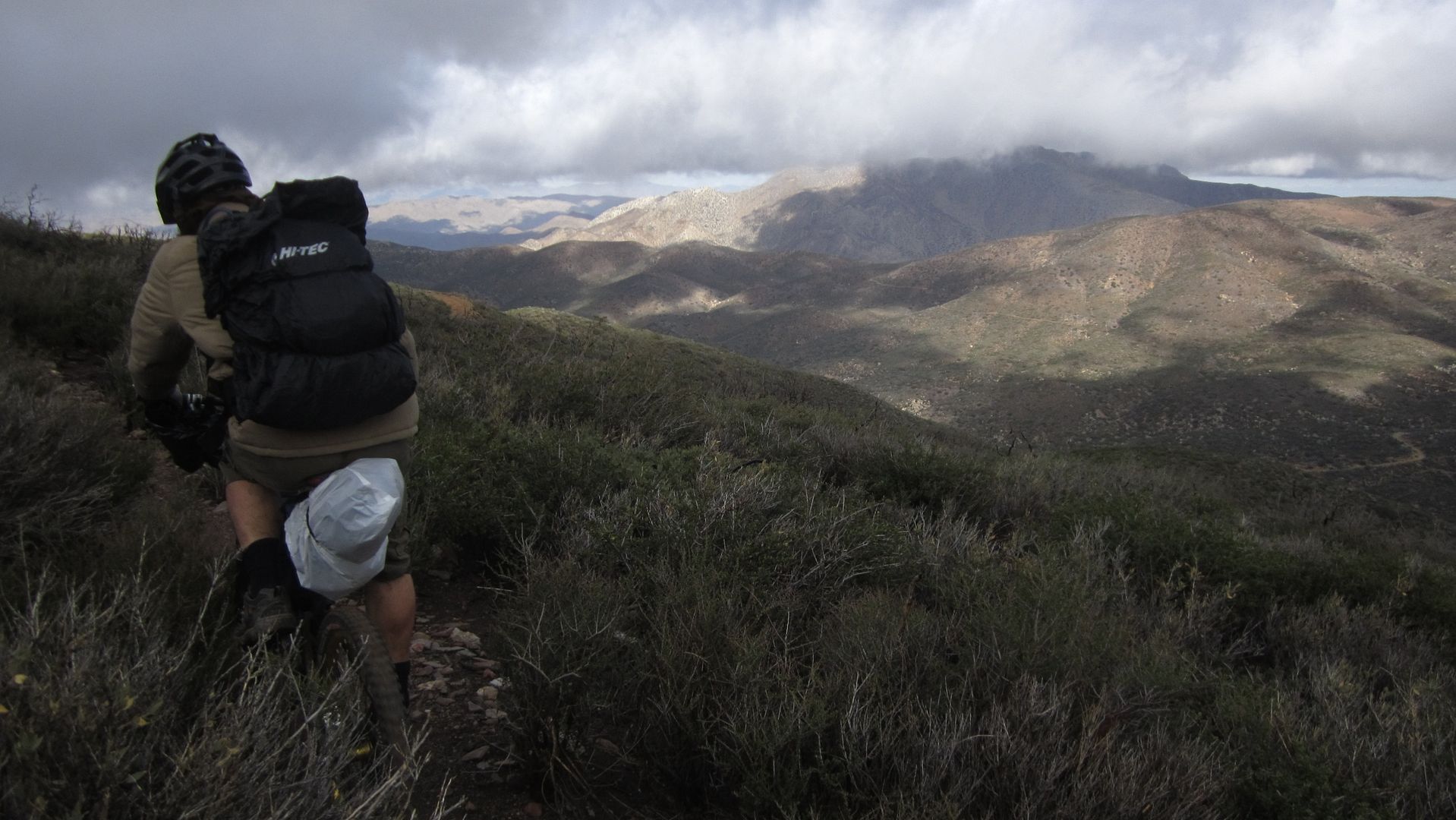 Photo by Gabe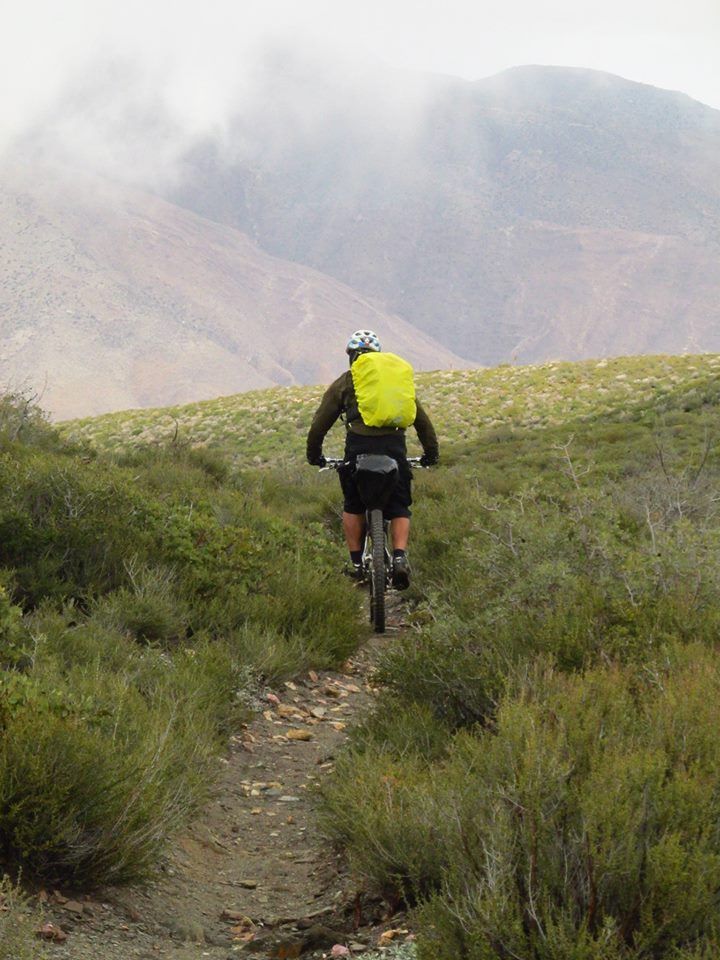 With some serious elevation loss to the desert, the weather got nicer so, nice that we had to remove our soaked jackets and let them hang dry on our packs.
Gabe feeling ecstatic from having survived that nasty storm we just encountered. Now we are off to our resupply point.
After filling up all reserves with water, we each enjoyed a bottle of mexican coke before heading out our primitive campsite.
Once at camp, we quickly set up, had dinner and collected some wood for our fire. We can't help but look out into the horizon where we came from and noticed the thick storm brewing storm above the mountains.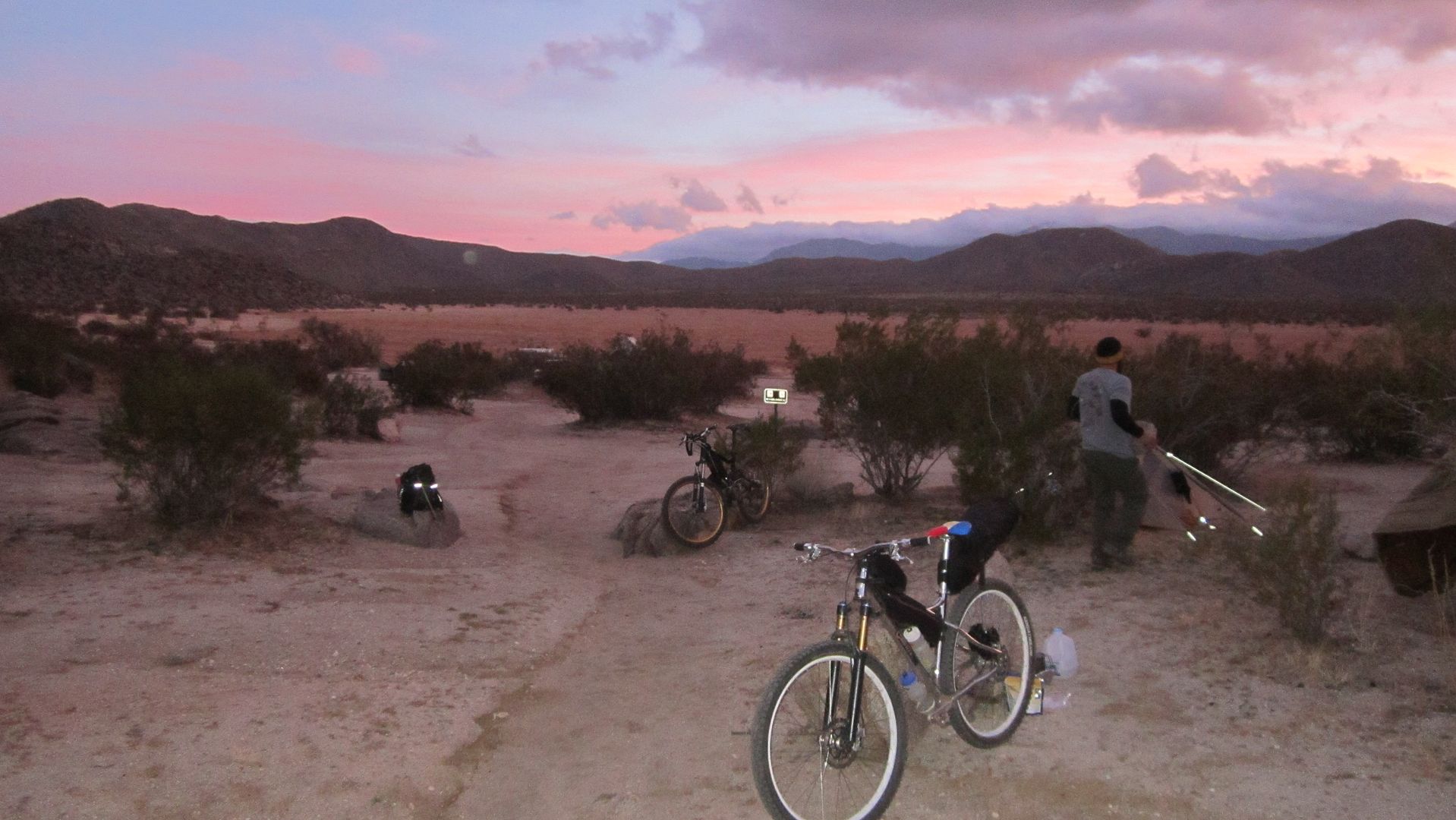 Photo by Gabe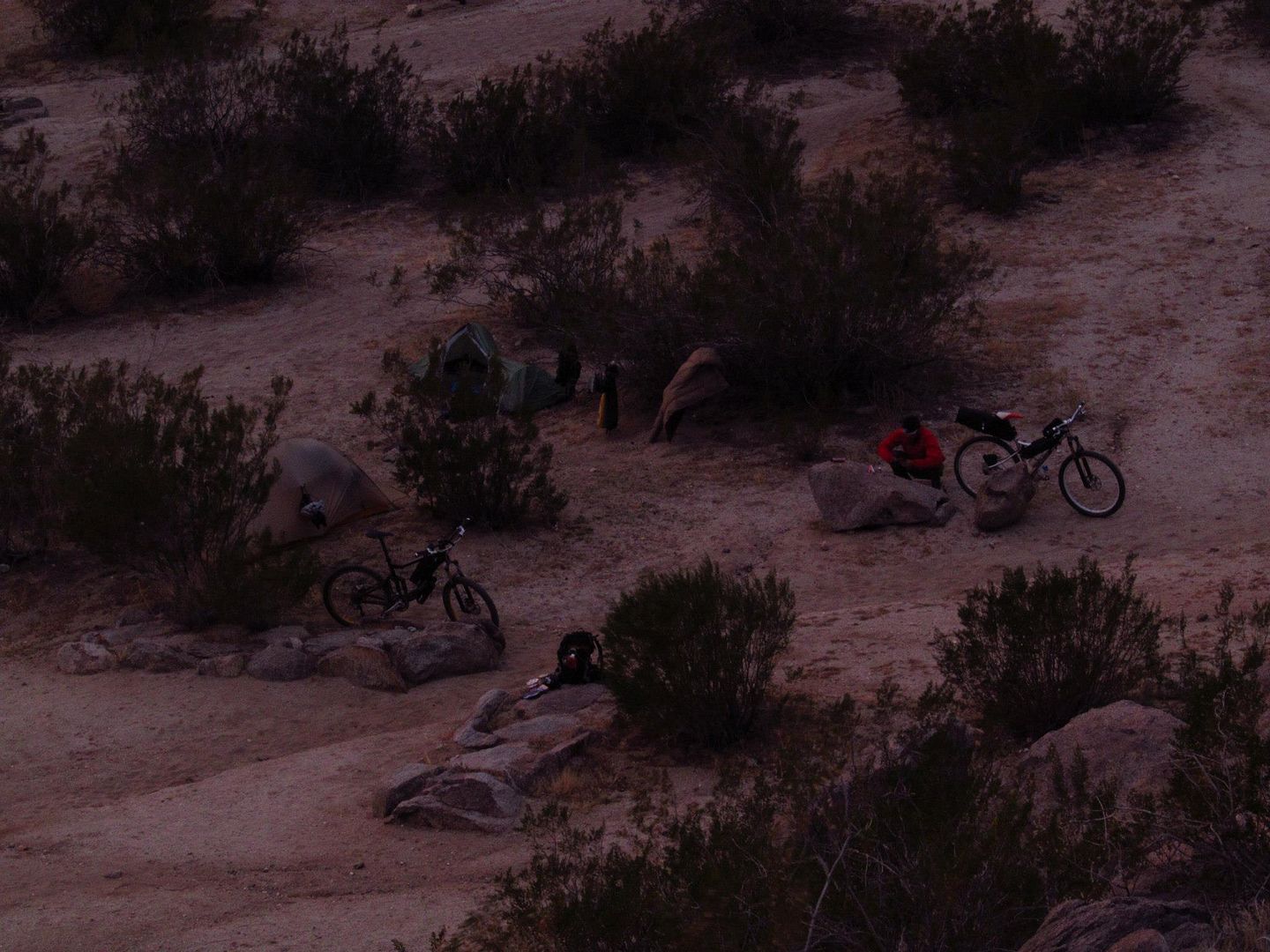 Phot by Gabe
At night we hang out by the fire for a bit and sipped our whiskies. The first day was quite the adventure and both Gabe and I are excited to see what is in store for us the next few days.
I brought a fortune cookie and i thought that fortune that came out was pretty cool.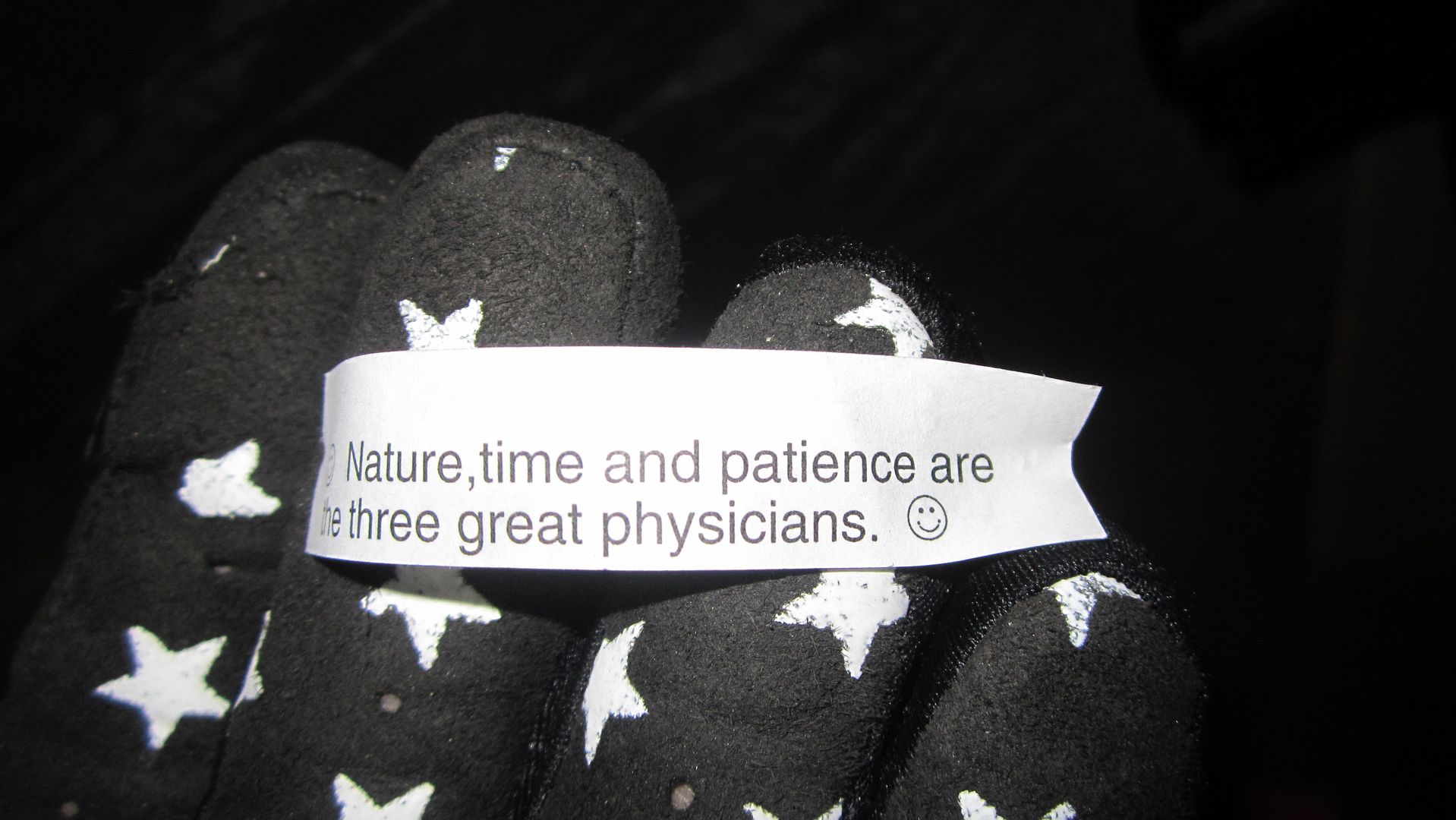 Day 2 to be continued