Mountain biking is a rough and tumble sport. Even the most skilled riders wreck every now and again. As riders, we're accustomed to wearing helmets, eyewear, and often knee and elbow pads, but what about the bikes we ride? How do you protect your mountain bike from crash damage?
Mountain bikes aren't getting any cheaper. If you want to keep your bike looking new and prevent needless damage, adding protection to your frame is the way to go. As Benjamin Franklin wrote, "an ounce of prevention is worth a pound of cure." We're pretty sure old Ben wasn't a mountain biker, but in the case of mountain bike frame protection, it's completely true. Adding a few ounces of protective tape or downtube armor can prevent scratches, gouges, dents, and even cracks that can ruin both carbon and aluminum frames.
Here are the best ways to protect your mountain bike from trail damage.
The Best MTB Frame Protection​
RideWrap Tailored Protection Kits
RideWrap is a rider-owned brand based in Whistler, Canada. Their products are precisely engineered and ensure the best protection for your bike. The Tailored Protection kit is specifically designed for each model and size and provides up to 95% coverage. Unlike other options, each kit includes all the tools you need for installation (microfiber cloth, squeegee, cleaning wipes, and install solution concentrate). Kits are available in clear gloss or matte finish. The film has low surface energy, which deflects dirt, and is self-healing, so minor scuffs and scratches disappear with a little heat.
Pros:
Complete, tailored protection from the head tube to the rear axle.
Includes installation tools.
Cons:
Time-consuming to install. (Expect to spend 2-3 hours.)
Expensive.
Price: $95
All Mountain Style Frame Protection XL
​
All Mountain Style's frame protectors work on any mountain bike frame. These frame guards can be placed on the top tube, downtube seat- and chainstays. They're constructed from a semi-rigid PVC material with an adhesive backing. All Mountain Style's frame protectors stand out with an internal honeycomb structure that provides protection from impacts without adding excessive weight. These customizable protective pads are easy to customize to the contours of your frame and can be cut down if necessary. They also come in a rainbow of colors and cool patterns to make your bike stand out. if that's not your thing, they also come in clear
Pros:
Affordable.
Targeted protection for the areas of your frame most at risk of damage.
Wide range of colors, and patterns.
Cons:
Doesn't protect the entire frame.
Large logos aren't may turn off riders looking for a stealthy look.
Price: $36
Lizard Skins Carbon Leather Frame Protector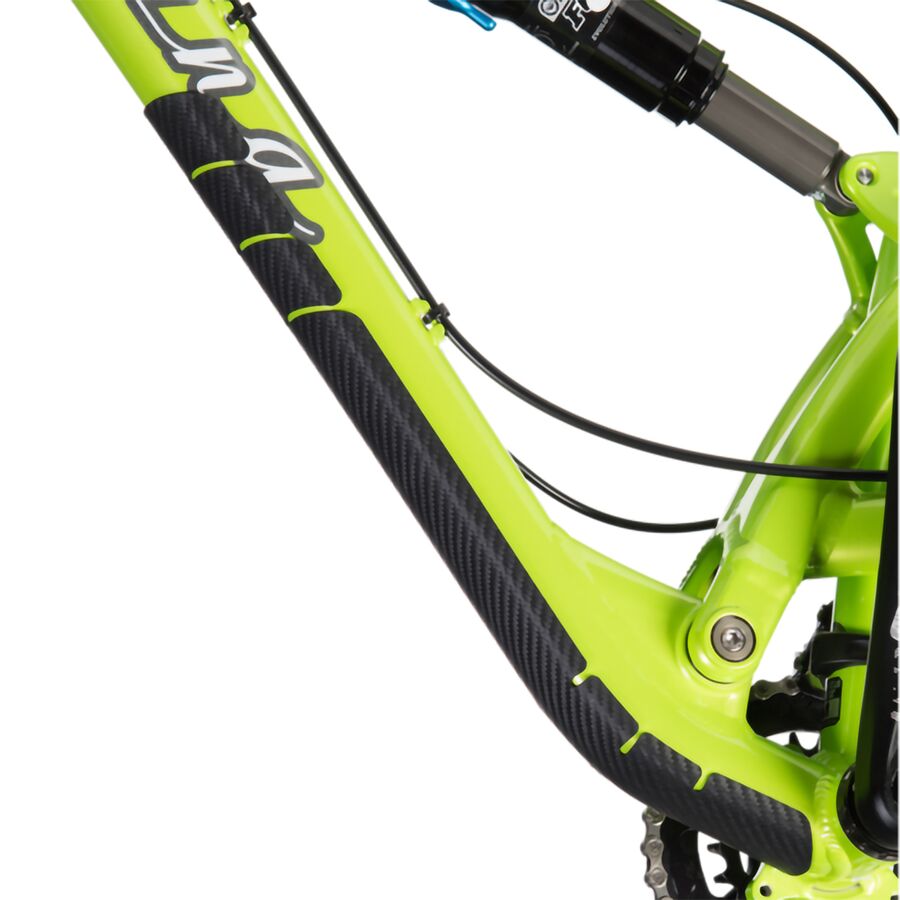 ​
Lizard Skins has been in the frame protection game longer than anyone else. The company's Carbon Leather Frame Protector won't shield your entire frame from damage, but it will thwart rock strikes to the downtube-the most likely spot to receive damage. It's available in small and large sizes and articulated to wrap around straight or curved downtubes.
Pros:
Budget-friendly.
Fits any mountain bike.
Cons:
No protection on the upper portion of the downtube for shuttling.
Price: $10.99
Dyedbro Frame Protection
​
Professional enduro racer Iago Garay created Dyedbro (Do You Even Drift Bro) to protect bikes with a bit of his own artistic flair. The Dyedbro kits come in many different designs and one size with customizable segments to fit any mountain bike. There are eight pieces in total to protect the top tube, downtube, seatstays, and chainstays from any abuse you might dish out.
Pros:
Affordable.
Targeted protection for the areas of your frame most at risk of damage.
Wide range of colors, and patterns.
Cons:
Doesn't protect the entire frame.
No plain option for riders who want a low-key look.
Price: $44.95
Foundation Frame Protection
​
Jenson USA offers its own frame protection kit under the Foundation brand. This kit is similar to the excellent All Mountain Style frame protection kit, but lacks the option to personalize it with different colors and patterns. The best part? The incredibly affordable price.
Pros:
Affordable
Easy to install
Cons:
Doesn't offer complete frame protection
No cool colors or graphics to choose from
Price: $10.80
invisiFRAME Custom Frame Kits
​
The UK-based invisiFRAME offers protective kits that wrap the entire bike from head tube to derailleur hanger. Each kit matches up to the make, model, and frame size. The protective tape is wet-transfer, so prepare for a long evening of mounting this kit. The protection is impressive, but it will cost you. The kits range in price based on the size of the frame and how many pieces the kit includes.
Pros:
Complete frame protection.
Custom kits are available for a wide range of mountain bikes.
Cons:
Expensive.
Time-consuming to install. (Expect to spend 2-3 hours.)
Price: $95-$120 (Varies by make and model)
DIY Mountain Bike Frame Protection Solutions
If you're more of a do-it-yourselfer, there are a number of solutions to protect your mountain bike. Riders in our
forums
have shared a number of clever homemade frame protection options. Here are a few options if you want to take things into your own hands.
VViViD 3M Scotchgard Clear Paint Protection Vinyl Film
Designed for automotive use, this 3M Scotchgard paint protection film is virtually invisible once installed and will shield your bike from paint chips and scrapes. The clear polyurethane film is 8mil thick with adhesive backing.
Pros:
Very affordable.
Can be used to protect your entire fleet of bikes.
Cons:
Time consumer to cut out the exact sizes you need to fit your frame.
Price: $19.88
Kydex Carbon Fiber Pattern Thermoform Sheet
This is a great material to use if you're looking to construct a heavy-duty downtube guard. Kydex is easy to work with and form into a wide range of shapes.
Mtbr members
cut the sheets into the desired form and heat the material with a heat gun or even in an oven to make the material pliable-as long as you don't heat it above 350-degrees. Once it cools, it become rigid and maintains the shape you formed it into.
Pros:
Rock-solid protection against impacts.
Cons:
Can only be used on certain portions of the frame.
Heavier than other frame protection products.
Price:
$15.00-$25.00
Frame Protection FAQ

​
Q: Is it worth it to wrap my frame?
A: This will depend on your specific needs. Do you crash frequently? Do you ride somewhere with lots of sharp rocks that can easily damage your frame. Do you want to preserve your bike's resale value? If you answered yes to any of these questions, then it's probably worth investing in some level of frame protection.
Q: How long does it take to wrap a bike frame?
A: A full-frame protection kit like those from RideWrap and invisiFRAME can take several hours to install. Protective kits that just shield the downtube or portions of the frame can be installed in less than 30 minutes.
Q: Can I wrap a complete bike frame, or do I have to do it before assembling/installing parts?
A: It's easier to wrap a frame that doesn't have parts on it, but you can wrap a complete bike as well. If using a full-frame kit, we recommend removing the wheels to make it easier to work around the frame.
Q: Are bike wraps just for carbon frames?
A: No, these kits are a good investment for aluminum and steel frames as well. They can protect paint and prevent scuffs that could severely damage the frame.
Q: How should I prep my bike frame before installing a wrap kit?
A: Prior to installing any protective kit, you should wash your bike to remove any dirt or debris. Let the frame dry and wipe the frame down a lint-free cloth. Some manufacturers also suggest cleaning the frame with isopropyl alcohol right before installation to remove any oils that could prevent the kit from adhering to the frame.
Mtbr is committed to finding, researching, and recommending the best products. We earn commissions from purchases you make using the retail links in our product reviews. Learn more about how this works.