It's not just about style. A quality pair of mountain bike shorts will make your time in the saddle more comfortable.​
A good pair of cycling shorts is essential for getting the most out of your rides. If you want to hit the trail in a pair of board shorts or cut-off jean shorts there's nothing stopping you, but if you prefer a more purpose-built approach that will fit better in a riding position, provide better articulation while you pedal, and shed water, mountain bike shorts are the way to go.
Lycra or baggies for mountain biking?
While road cyclists generally wear form-fit Lycra cycling kits, most mountain bikers wear looser-fitting jerseys paired with baggy shorts. There are exceptions, of course. Cross-country racing places and premium on weight and breathability, so Lycra is almost always preferred.
Why choose one over the other? Lycra shorts are lighter, more breathable, and completely non-restrictive. Baggies are more durable, offer more protection, provide the option of storage, and have a casual style that transitions easily from the trail to post-ride activities such as grabbing dinner or a drink.
What to look for in mountain bike shorts
Even within the world of so-called "baggies," there is a range of fits to choose from. As kneepads have become more streamlined and stretch fabrics have become commonplace, baggy shorts have become slimmer. Some baggies have a slim, tailored look, while others feature a more relaxed fit. Features to consider when selecting mountain bike shorts include fit, pocket placement, and durability.
Many baggy shorts include an inner liner with a chamois pad in addition to the outer shell. Liners that are not sewn into the shell generally work better, as the liner doesn't shift when the shell moves, keeping the chamois in place. These floating liners can be replaced with a pair of Lycra shorts or bibs you already own. Chamois quality is a big deal in any cycling short, and the more expensive shorts usually come with a higher quality chamois.
Freedom of movement is crucial, and some shorts enable more movement than others. A fabric's flexibility usually comes at the expense of abrasion resistance, something to consider if you crash often, or ride trails with encroaching vegetation that you could snag your shorts. Less restriction is always better, which is why heavy-duty shorts have stretch panels in critical areas. Protection and durability must be weighed against flexibility.
If you wear knee pads, look for shorts that won't bunch or hang up on your pads. Generally, if a short sits at mid-knee when standing off the bike, they won't ride up above your pads when pedaling.
Pockets provide useful storage and are generally found in three different configurations: side cargo, front slash, and rear center. Pocket storage is best used for small, light items such as an energy bar. Rear-center zipped pockets located just below the waistband are relatively safe and unobtrusive place keys or a wallet. Side pockets are a good location to carry a smartphone, but not all pockets are created equal. Pockets that sit on the side toward the back of the thigh are the best place to store items such as a phone as they don't get in the way while pedaling and are unlikely to be damaged in a crash. Speaking of crashing. We recommend against carrying large multi-tools in your pockets when riding, as they can cause nasty bruises and contusions when you wreck.
The best mountain bike shorts of 2020
Pearl iZUMi Elevate Short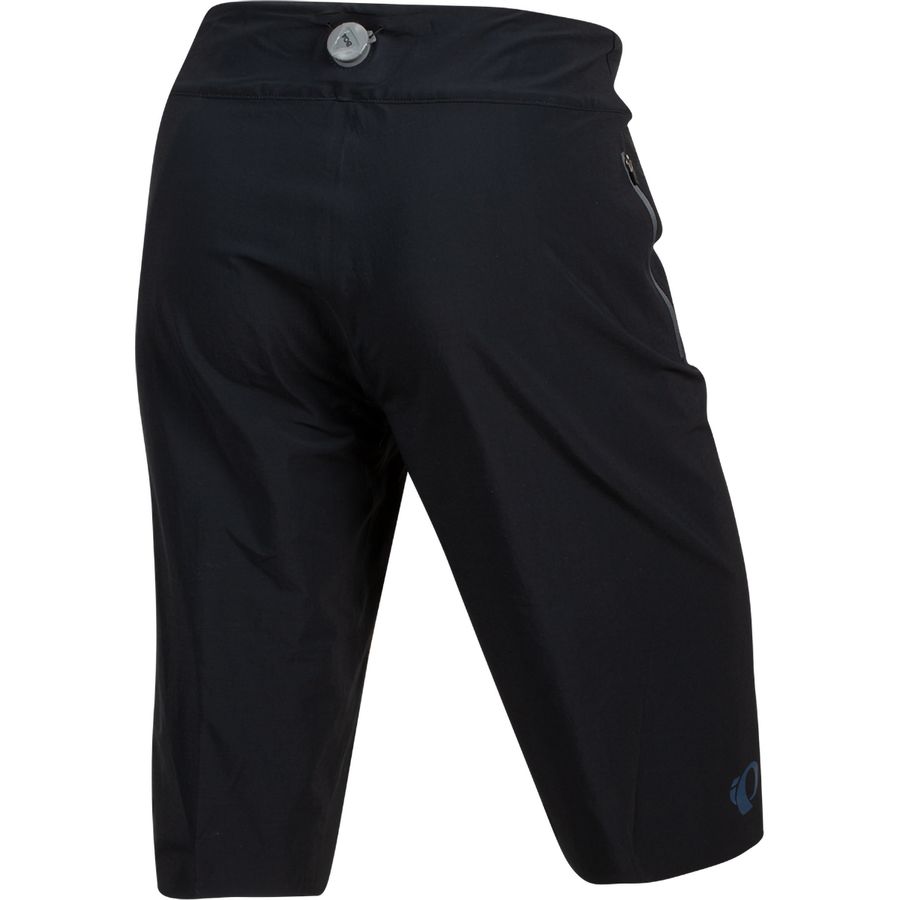 For 2020, Pearl iZUMi completely redesigned its flagship mountain bike short with a slimmer profile, durable four-way stretch fabric, and a BOA dial mounted at the back of the waistband that allows the wearer to literally dial in the fit. We were initially skeptical of how well this fit system would work and especially how well the dial would play with hip packs. But after several months of testing, this proved to be a non-issue. The dial virtually disappears under waist-mounted hydration packs but is there when you need to make minor fit adjustments. On the trail, the four-way stretch fabric allows for great freedom of movement. The perforations on the inner thighs improve airflow on hot days and a DWR coating sheds light rain and tire spray. These shorts include a ventilated liner short with Pearl's Elite chamois.
Price: $175
Troy Lee Designs Skyline Short
The Troy Lee Designs Skyline Short is a great option for every type of riding. They're durable, the fit works well with kneepads, and they have plenty of stretch to move with you on the bike. Fit adjustments are handled by a pair of Velcro straps on the sides. An inner waistband with silicone grip aids in keeping the shorts from sagging, even when wearing a hip pack. The Coolmax fabric does a great job of keeping the Skyline feeling airy, even in hot and humid weather.
Price: $109
Fox Ranger Rawtec
Fox's Rawtec is what happens when you strip a short down to the bare essentials. Every panel, seam, and stitch has been examined, tested, and proven or eliminated until only the essential ingredients remain. The Rawtec features abrasion-resistant side panels for durability and a ratchet closure system that's easy to use while you ride. This short is at the fitted end of the spectrum, but stretch fabric ensures it doesn't inhibit movement.
Price: $149.95
Leatt DBX 3.0 Short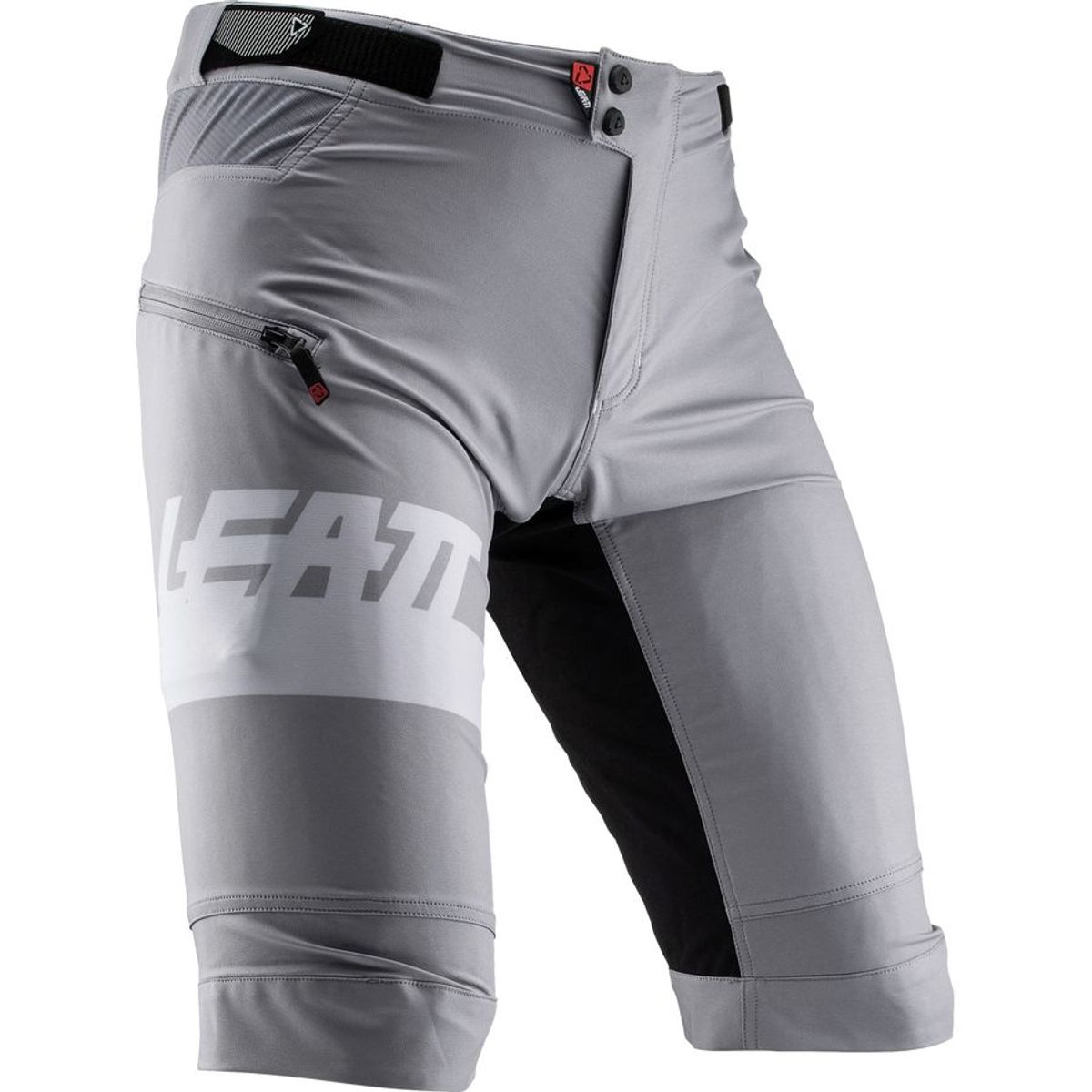 The Leatt DBX 3.0 Short is a lighter-weight version of the brands 5.0 and 4.0 shorts. The fabric is lightweight and breathable with reinforced seams for durability. The 3.0 features a single side pocket large enough for a smartphone and a centrally-positioned rear pocket that sits below the waist. We like the stretch panels on the front of the short just above the knees that allow them to work extremely well with today's low-profile kneepads. They're also one of the most affordable options on the market.
Price: $79.95
Velocio Trail Short
Velocio is best known for its road line of cycling apparel, but this brand is making inroads to the mountain bike world with thoughtful touches and attention to detail. The Trail Short has a simple, understated look with a streamlined profile that's not too techy. The zippered side pockets are large enough to hold a smartphone and snacks. We appreciate these pockets are perfectly positioned to keep their contents from inhibiting your ride.
Price: $159.99
Mtbr is committed to finding, researching, and recommending the best products. We earn commissions from purchases you make using the retail links in our product reviews. Learn more about how this works.