Kids' bikes have changed a lot since most adults were skidding down their parents' driveway a few decades ago. Today's best kids' bikes are designed to help new riders develop confidence and skills, but they also come built to last and are strong enough to pass along when it's time for a bigger bike. But what makes the best kids bikes the best?
Related: The Best Balance Bikes
You've come to the right place for answers. What follows are what we at Mtbr feel are among the best of what the bike industry has to offer, ranging from balance bikes to legit enduro racers. As advocates for the sport, our goal is to help create the next generation of lifelong cyclists, and there is no better way to do that than to start them off with the right gear. In this case, the best kids' bikes are not so different from their big kid cousins that you and I ride. Here are some of the key considerations.
What to Look for in Children's Bicycles
No matter what age you are, there is nothing like the joy of riding bikes.​
Fit
Yes, if a bike is too big, your child will ultimately grow into it. But that's an inherently bad plan, as in the interim a bike that's too big will cause myriad problems. Thus you really need to choose a bike that fits perfectly now and accept the fact that junior may be too big for it in 6 months. Most of the best kid's bikes are sized based on inseam length, but make sure to check the bike maker's website and then get accurate measurements of your little one before pulling the trigger.
Geometry
As complex as it is for mountain and road bikes alike, kids' bike geometry is not all that different, requiring the same care and consideration. Since this may be their first or second bike, confidence and ease of handling are vital. For instance, a lower bottom bracket makes the bike more stable and easier to get on and off, while longer wheelbases make the bike less twitchy and more stable. The same goes for slack head angles.
Look for bikes with thoughtful features such as the color-coded brake levers on the Woom 3, which reminds tiny tots not to grab a fist full of the front brake.​
Frame Material
There's obviously no need to buy your kid a carbon fiber balance bike (
but you can if you want to
), but bike weight is arguably the most important factor for young riders who aren't as strong, meaning the impact of extra pounds is drastically magnified. Chances are they will be picking up and pushing this bike around over and over again, so look for a bike that doesn't weigh as much as a downhill bike.
Tires
Though solid tires might sound great, promising no flats and zero maintenance, they do have a significant downside in performance. Better to opt for traditional air-filled tires, which will offer better grip and cushion when shredding singletrack. The downside is you'll likely have to stock more tubes in your garage. But that's a small price to pay to ensure a more enjoyable experience for your little one. Plus you can start teaching them how to change flats on their own.
There is no substitute for real rubber tires with air inside.​
The Best Kids Bikes for 2020
Now that we've covered some of the basics, it's time to get into the best kids bikes. We've ordered this list in a logical way, starting with balance bikes. Is your little one walking around confidently? Then it's time to introduce them to the wonderful world of cycling with a balance bike. (That right skips the training wheels, please. They teach bad habits.) Conversely, balance bikes do just that, teach kids how to balance on two wheels without the need for clumsy training wheels. These pedal-less bikes a designed without a crankset (or come with removable ones) to help kids walk freely with the bike underneath them. And most kids will start by merely walking around with the balance bike between their legs, then eventually graduate to gliding.
Best Balance Bikes
For those who are new to the idea, a balance bicycle is a training bicycle that helps children learn balance and gain confidence steering. It has no foot pedals, no drivetrain, no chain, no gears, just pure push and roll fun. This eliminates the need for training wheels and instills balance at a very young age.
Strider 12 Sport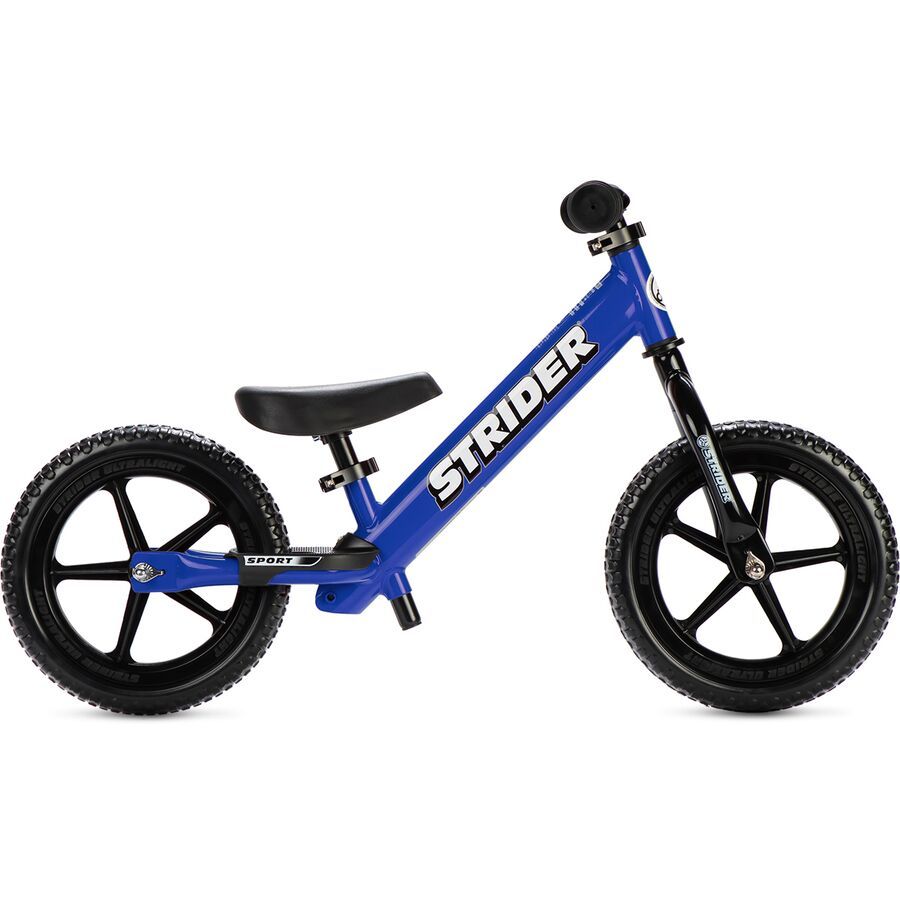 The Strider 12 Sport is your gateway to riding. Strider makes three different versions of 12in-wheeled balance bikes, with the Sport model sitting smack dab in the middle and serving as their best all-around model. While it lacks the ultra-lightweight aluminum frame of the Strider 12 Pro, it does offer several important features over the entry-level 12 Classic, such as performance footrests, no-tool assembly with easy-adjust clamps, and two sizes of seatposts that let you adapt the bike to fit your child as they grow.
Price: $109.99
Early Rider Charger 12" Kids' Balance Bike
The Early Rider Limited Charger 12 in. kids' balance bike has a low-slung top tube to give kids the earliest of starts, while quality construction offers years of use. The aluminum frame is lightweight and the brushed finish will keep it looking great so you can hand it down to the next little one in line.
Price: $199.99
Strider 14x
From the company that got thousands if not millions of children rolling on their first bicycle comes this great modular option. The Strider 14x is a 2-in-1 two-wheeler that starts as a balance bike and then can transform to a single-speed pedal bike when your tiny tot is ready. The Strider 14x is aimed at kids 3-7, has a suggested rider height of 37"-49" with an inseam range of 16"-23". Out of the box, you get an easy-to-build 14" balance bike that weighs a comparatively wispy 12.5 pounds.
Price: $150
Best Basic Pedal Bikes for Kids
When junior is ready to graduate to pedals, here are the best kids' bikes for taking that next step on the progression to becoming a lifelong two-wheeled adventurer.
Trek PreCaliber 12
Precaliber 12 is the perfect first bike for little riders who are ahead of the curve and ready for two wheels at a younger age than most. It has a handle built into the saddle so you can guide them as they ride, and tool-free training wheels that are super easy to install and remove. It's a great fit for kids ages 3-4, between 36-40˝ tall.
Price: $209.99
Cleary Gecko 12
A real bicycle in every sense, the Cleary Gecko 12 has front and rear brakes, the option for a freewheel that a child can quickly turn over, and crankarms that will not scrape when pedaling through turns. Available in Very Orange, Cool Moss Green, Sorta Pink and Deep Blue, the bike weighs 15 pounds with the freewheel option or 17 pounds with a coaster wheel. The Gecko 12 also comes with a compact vegan leather saddle with an integrated seat post designed to accommodate the earliest of early riders. Best fit for riders with 15" to 18" inseam
Price: $310


Woom 2
The Woom 2 provides a bike developed exclusively for children that are new to or have only recently begun pedaling; short cranks and a low bottom bracket to enable your child to always put their feet on the ground without losing balance. This bike represents the ideal link between the balance bike and a pedal bike and enables fast learning of the movement process, even without training wheels.
Price: $359
Specialized Riprock Coaster 16
If you love Specialized, look no further for your kid's next ride. The Riprock Coaster 16 is designed for teaching and progression, with a slight lean toward off-road adventures. Equipped with a coaster brake for simple stopping, 16x2.3 air-filled tires, and components that will stand up to years of abuse. It also comes in a bunch of fun color options, which is always critical when buying the best kids' bikes. And yes, you can take the training wheels off.
Price: $250
Co-op Cycles REV 20 Kids' Bike
Developing riders can comfortably transition to hand brakes with the Co-op Cycles REV 20 bike-it has coaster brakes, too, as well as a light aluminum frame and familiar BMX-inspired handlebar. The two brake options let kids learn to use hand brakes while offering the familiarity of a coaster brake while they adjust.
Price: $209.99
Best Geared Kids Bikes
After adding pedals the next logical progression to add gears and hand brakes. But you don't have to spend the family vacation fund to get a new bike for your little one. When buying a bike for your child think of the use it will receive and the abuse it will take. Will it be passed down to a sister, brother or neighbor? The quality of build and attention to detail is paramount when shopping for a geared kids bike.
Co-op Cycles REV 24 Plus Kids' Bike
Big tires, big fun. This junior-sized mountain bike has loads of traction and stability, giving younger riders confidence to improve their skills and have more fun riding off-road. The 24+ is designed to give young riders more confidence and control. Featuring a lightweight aluminum frame with a low stand-over height and geometry designed for smaller bodies, it has stable handling to help ride tricky sections of trail.
Its specially sized, smaller diameter 24-inch wheels come with extra-wide 2.6" tires, which add comfort and traction. The soft, cushy tires can be ridden with lower air pressure, giving the bike a smooth ride on rocky, bumpy trails. It also features a lightweight, easy-to-use grip shift drivetrain, powerful disc brakes, and youth-sized components for added comfort and control.
Price: $379
Trek Roscoe 24
Precaliber 24 8-speed Boy's is a classic kids' bike with great style, performance, and durability. It has the simplicity of an 8-speed drivetrain and intuitive twist shift that makes it easy for kids to ride varied terrain. Plus, the strong yet lightweight aluminum frame stands up to even the roughest riders. For kids ages 8-12, between 51-59˝ tall
More Info
:
www.trekbikes.com
Price
: $369
Cleary Bikes Meerkat 24in 5-Speed Bike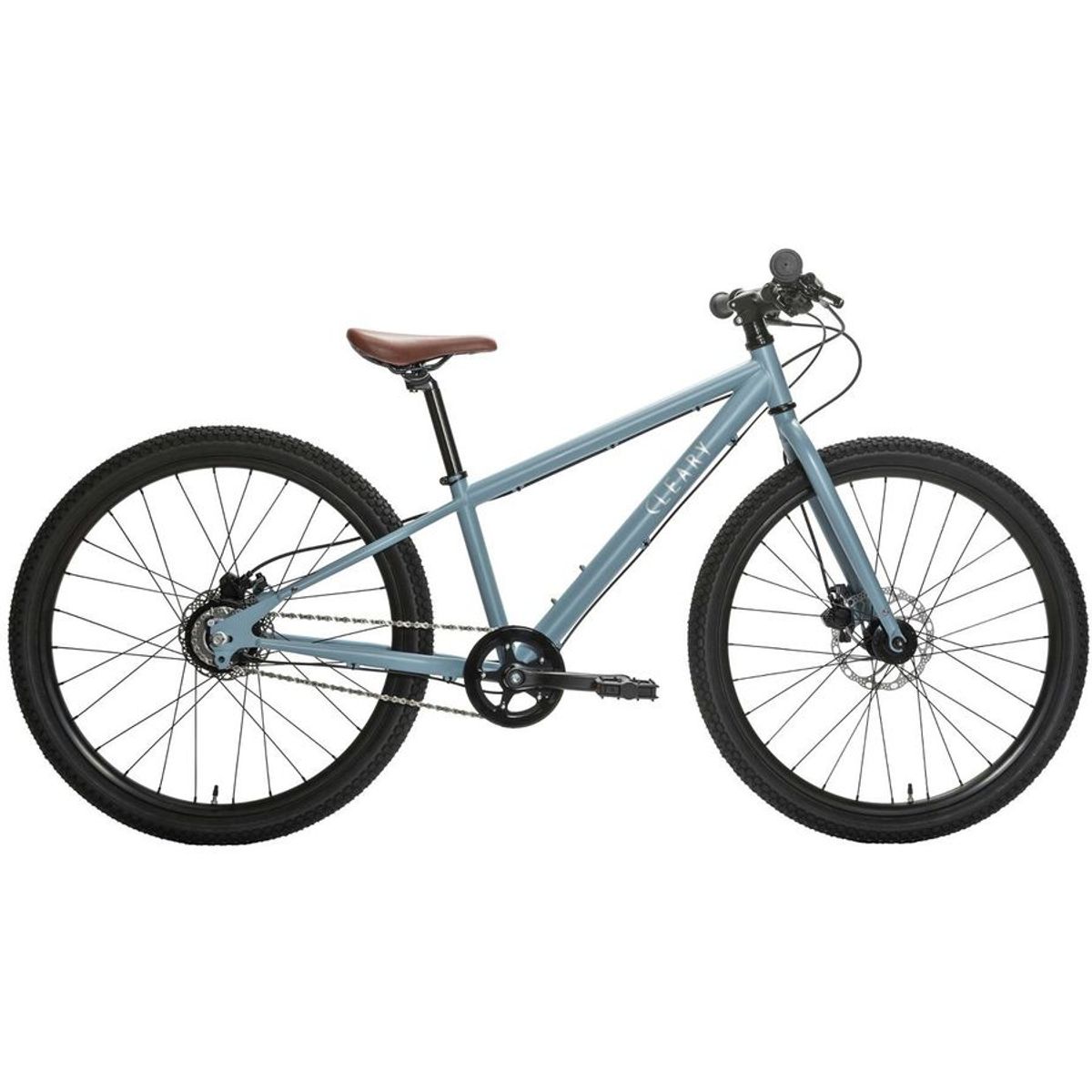 Fuel your aspiring grom's burgeoning love of bikes by upgrading them to the Cleary Bikes Meerkat 24in 5-speed Kids' Bike. The Meerkat fits riders with 22 to 30in inseams best and uses an internally-geared hub with 5-speeds to help young legs pedal up just about any hills they encounter. Whether your little one dreams of a future like the pros or ends up going the way of the casual cruiser, they'll be set up to love bikes in one way or another with the Meerkat as their childhood rig.
Price: $594
Best kids mountain bikes
When your junior shred-head is ready to tackle some legitimate trail, best outfit them with a bike that's just as capable as they are. And that means adding some suspension to the equation. These rides are so sweet they will have Mom and Dad jealous!
Commencal Meta HT 20
The META HT 20 is real mountain bike based on the adult version. Some well-known and super reliable brands adorn this 20-inch BoXXer red beauty. Lines are kept clean and simple with internal cable routing from the kid-specific brakes. The Manitou Junit 20 100mm travel fork is designed for very light riders and the short axle to crown length equals a great geometry. There's a SRAM 10-speed drivetrain on and child-friendly short crank arms.
Price: $949
Trailcraft Cycles Bluesky 20
Direct-to-consumer kids bike brand Trailcraft Cycles Blue Sky 20 is a 20" kids bike that's designed for little rippers 5-8 years old or about 3'8" to 4'2" tall. Focused on keeping weight low, the Trailcraft Cycles Blue Sky 20 will take budding young riders to the next level on mountain bike trails thanks to premium level components found on adult level bikes. Internal cable routing keeps little riders snag-free and the 7005 series aluminum tubing frame features modern geometry.
All Trailcraft Cycles Blue Sky 20 bikes are assembled in Fort Collins, Colorado. This means you get to configure the bike you want in three color options, two build level options, and two chainring size options to best suit your local terrain. Full custom is also possible for parents wanting to go beyond our stock level builds. Premium adult-level components shrunk down to kid-size helps keep weight low and performance high. Trailcraft's own TC30 suspension fork features carbon/alloy lowers, 80mm of travel, cartridge air damper, and low 1400-gram weight. Trailcraft's 127mm direct mount cranks with alloy spindle, narrow-wide style chainring in 28 or 30 tooth size is another feature that helps keep the weight low.
Price: $1449-$1699
Salsa Timberjack 24" Plus Kids' Bike
The Salsa Timberjack 24 is plus-sized kids shredder designed to encourage rides that will make young explorers into lifelong ones. The durable aluminum frame is equipped rigid fork featuring cargo mounts so little campers can carry their own gear. The 24x3" wide tires help riders stay upright with maximum stability and traction. The Timberjack 24 will be there on family camp adventures and solo missions in the nearby woods, fostering independence all the way.
Price
:
$509
Cannondale Trail 20
For a more affordable entry into the suspended kid's bike realm, check out the Cannondale Trail 20. It's reasonably light, agile and fun, making this sporty machine is up for anything from sidewalk cruising to trailblazing. Features include a 40mm suspension fork that will eat up bumps in the trail, Shimano Revo Twist shifters for smooth shifting between 7 gears, and multi-surface 20x1.95 tires that can handle pavement or trail riding. The claimed weight is just under 25 pounds.
Price
:
$375
Best kids full suspension mountain bikes
Are you the parent or guardian of a precocious child that maybe the next star of Red Bull Rampage? Looking for something that will develop them into the best rider they can be and take the hammering they'll handout. Look no further, these rides are just like the boy bikes ridden by the stars, only downsized to fit the littlest of shredders. Take a look at the best full suspension mountain bike that a kid could dream of.
Spawn Rokk 24
The Rokk 24 may be expensive, but it can grow with your kid. This 140mm full suspension shredder is able to accommodate 24 and 26-inch wheels, so you'll get more mileage out of it before it's time to upgrade. Component highlights include a 140mm RockShox Reba fork, tubeless wheels and tires, and an 11-speed SRAM NX drivetrain.
Price
:
$2,350
Trailcraft Cycles Maxwell 26
Trailcraft created arguably the ultimate kids' trail shredding machine with new Maxwell 26. Dominate the trails going both down and up with this amazing bike - the name Maxwell comes from Maxwell trail in Fort Collins, Colorado where the Trailcraft crew loves to ride. It's a super technical, steep and rocky trail but the reward down is so nice. It can be done on a hardtail, but it is so much more fun on a full-suspension bike! If your local riding area requires climbing for the really good stuff going back down, then the Maxwell 26 is your next bike.
Maxwell 26 comes in at 25 pounds with best in category components. Attention to detail with top-shelf level components includes Stans Crest MK3 wheels, 85-gram ultralight rotors, an extended range 11-42 cassette and 152 mm direct-mount cranks with aluminum spindle typically found on much more expensive bikes. Trailcraft built the best bike with the best components so you and your kiddo can spend more time riding and less time pushing uphill.
Price: $1,450.00 - $3,299.00 (depending on build)
Transition Ripcord Kids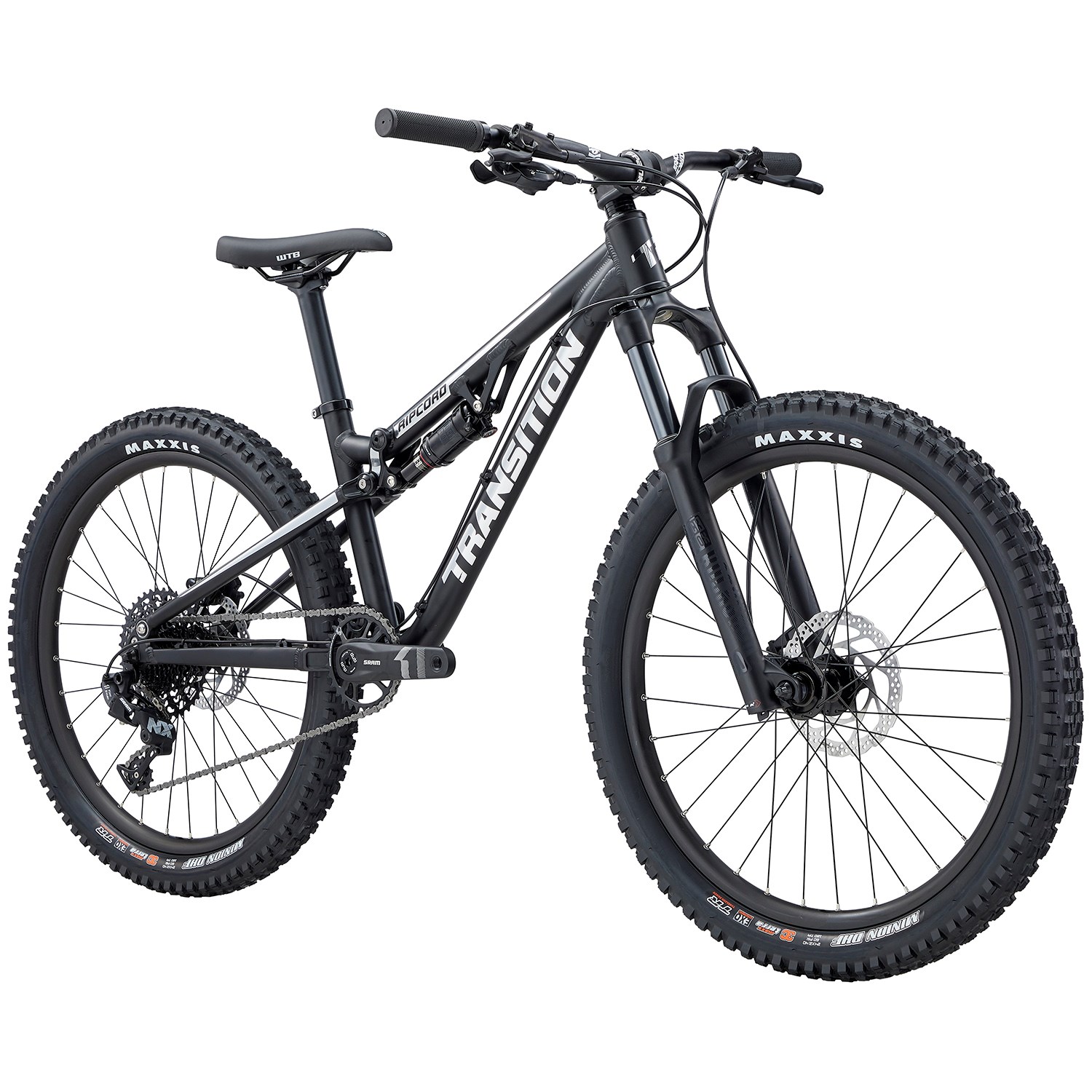 Pull the ripcord and jump! The
Transition
Ripcord Complete Mountain Bike, when viewed from across the street, looks just like a ripping adult bike, with beefy tires, a 1x drivetrain, and modern geo. It's not until you get closer and gain some sense of scale that you realize this is a kids' bike. Built for everything from school commuting to lift-served runs, this is one sweet bike. Start them off right and they might wait around for you when they're faster than you in a few years.
Price: $1,699
Best Road Bikes For Kids
If your kids are more into Le Tour de France than Red Bull Rampage, perhaps a road bike makes more sense than a suspension mountain bike. If that's the case there are plenty of good options.
Frog Road 58
Frog is known for producing some of the best kids bikes around, especially in the skinny tire realm. Those familiar with Team Sky and Chris Froome will recognize this bike like the one the multi-time Tour de France winner's son rides. The Frog Road 58 is a 20" kids road bike best suited for riders 6-7 years old. Highlights include 20" inch wheels, narrow and short-drop child-specific handlebars, a 9-speed drivetrain with Microshift short-reach brake levers and auxiliary brake levers for added confidence. The patented short 114mm Frog cranks help get the road machine rolling at max speed, and the bike has a quick-release seat post collar for easy height adjustment. The Frog Road 58 also comes with a five-year warranty on frame and fork.
More Info
:
www.frogbikes.com
Price
:
$670
Norco Valence Aluminum 24
When your kid is ready to tackle longer rides and bigger hills, the Norco Valence can help. Norco designed the Valence with the same technology as their adult bikes, featuring a carbon fork and ARC technology to help dampen road vibrations while delivering a stiff pedaling platform for punchy accelerations. Realize your little rider's dreams by providing them with enhanced endurance geometry to help them build confidence and control at high speeds to get them stoked to get out and go fast more often.
More Info
:
www.norco.com
Price
: $679
Mtbr is committed to finding, researching, and recommending the best products. We earn commissions from purchases you make using the retail links in our product reviews. Learn more about how this works.