Discussion Starter
·
#1
·
My friend Dylan and I tried to see how many bonafide Alaska sportsman activities we could combine into a bike ride. So we set off to do Hope to Homer via the coast. This point to point route is an old Alaska Mountain Wilderness Classic adventure race route, but by packrafting and biking the beach we could mostly avoid the haneous bushwacks and that the rest of the rest of the Kenai Peninsula has to offer. Our friends Pat and his wife Kathy did a similar trip a while back, pretty much planting the idea seeds for this trip . read about that one
here
!:
We also wanted to get more experience using fat tire bikes with packrafts, building a bit on
this
adventure.
With bikes less than 24 hours old, so the adventure began..
all good rides start at a bar:
We rode the wet and rooty gull rock trail out 5 miles.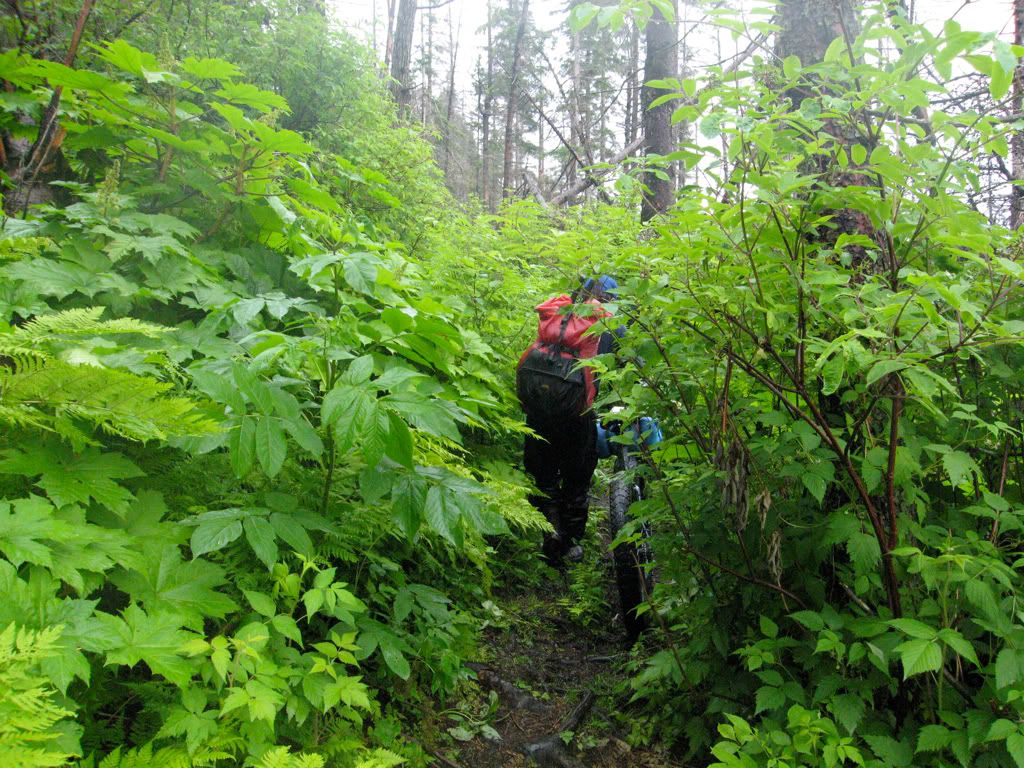 Then blew up our packrafts and put in on Turnagin Arm at a high tide: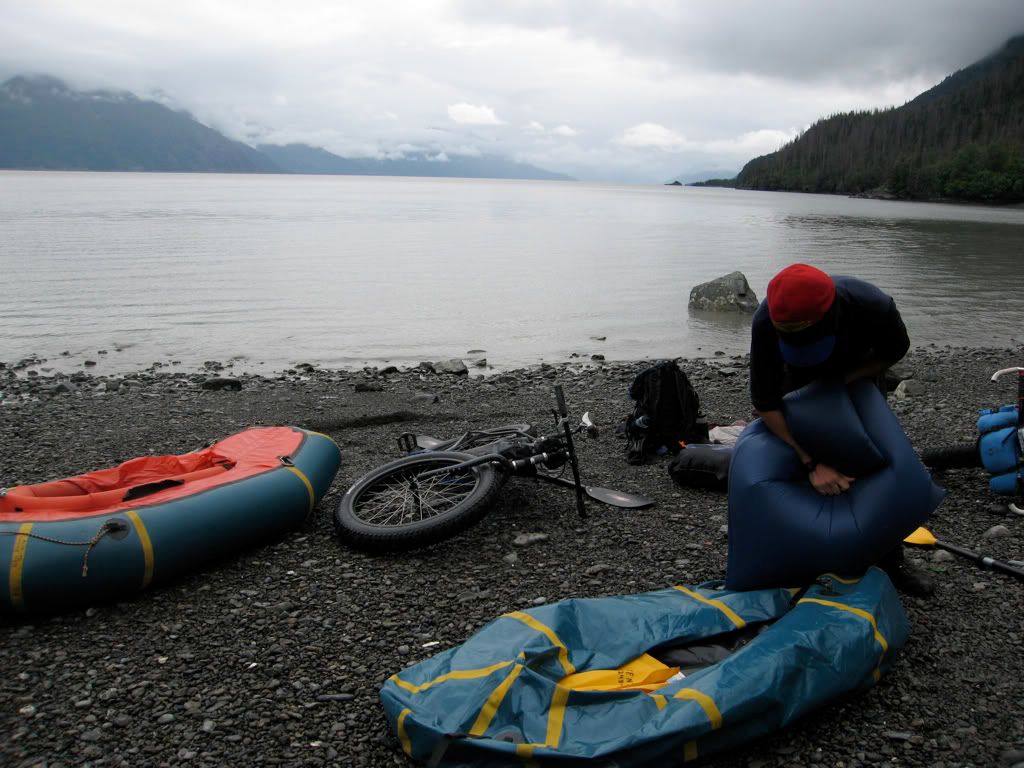 Turnagin arm, with its sever tidal currents and danger of getting sucked out to sea is nothing to mess around with in a packraft, however with no wind and timing the tide well we were pretty comfortable in the water, and quickly founded the Turnagin arm Yacht club.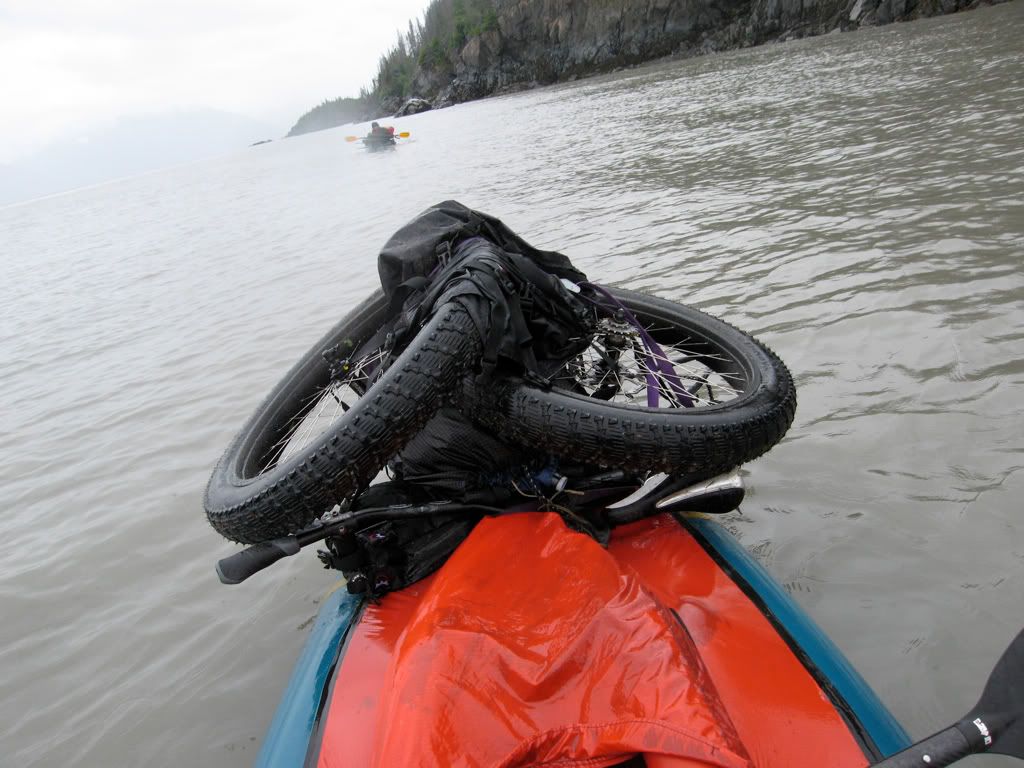 Just under 3 hours of paddling later we made it to the mouth of the massive expansive mud flat of Chickaloon bay. We knew this would be a challenge for sure and were just hoping to make it across by the end of the day.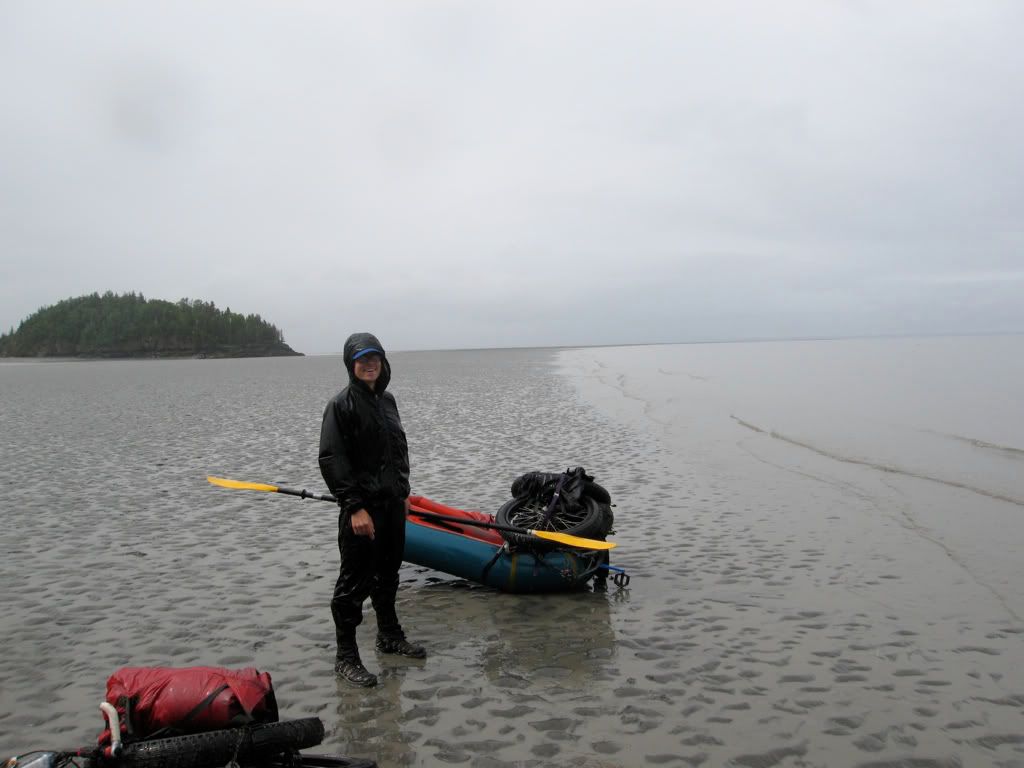 Through the marsh, we headed inland to try to short cut the delta a bit, through swampy grass which we could ride a little here and there...
a wet version of the sarangetti, only with mosquitos...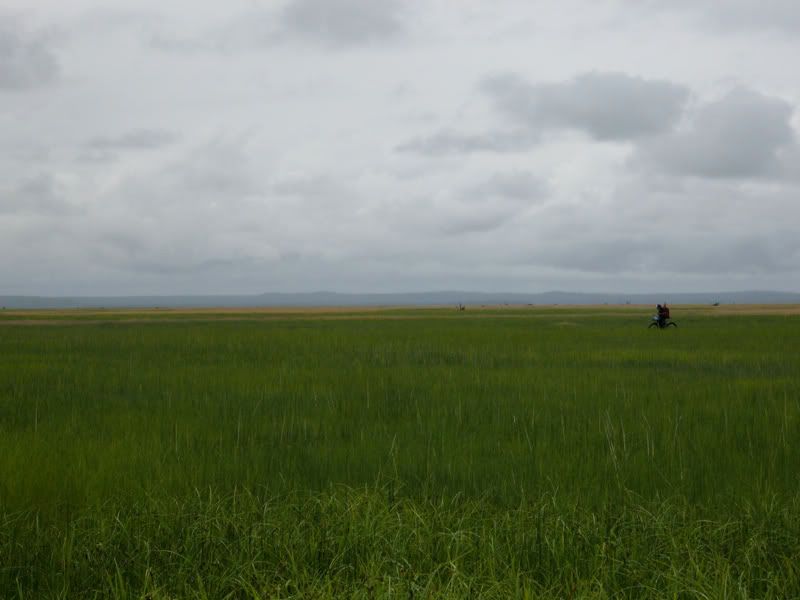 We picked up a gas pipeline service trail and rode that southbound, it was a bit overgrown, but no match for the massive tires!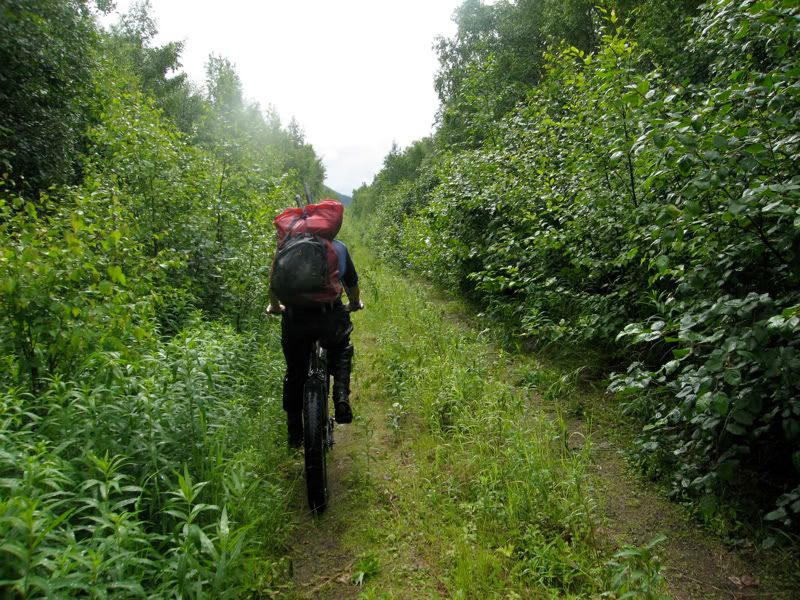 ok maybe a little bit of a match...
yeah..
After 3 hours of riding on the trail we decided that we were going too far south, we were off the map I brought and we couldent see jack out of the wooded brush, so we backtracked and made our way back the direct route to the bay. The direct route in this case was a genuine Kenai peninsula bushwack with devils club the full spectrum of wild vegetables!
past the thick brush, through the swamp, and into what we really came for - the birding.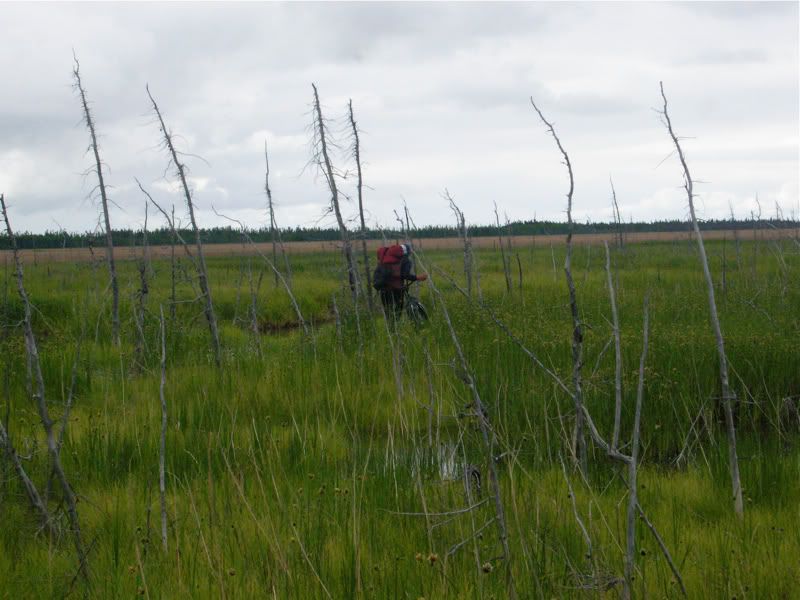 This is when we thought knee deep water was "deep" ha haa! how foolish we were!
Yeah, birding rocks... we gotta come back for the duck hunting.
Finally though we broke out into the mud, put the pedals back on and could ride once again..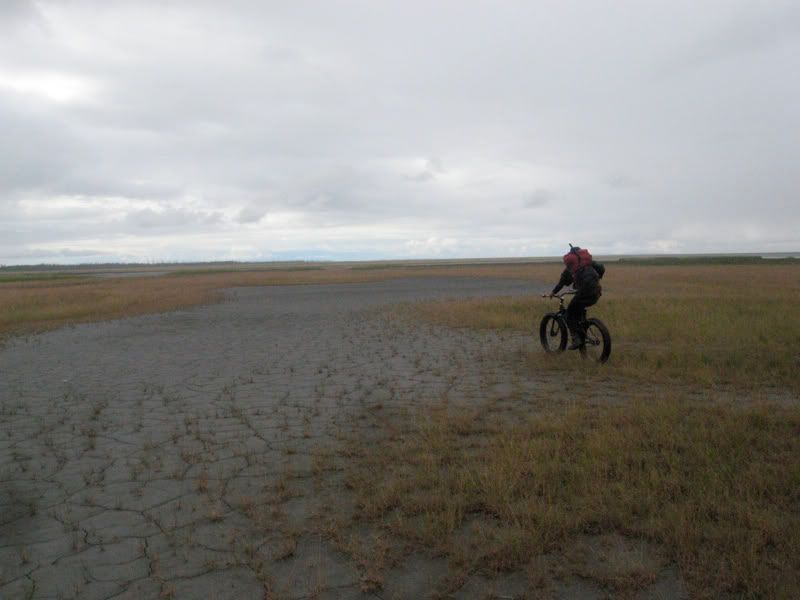 Being a mudflat river delta there were about 50 sloughs to cross, some were kinda deep: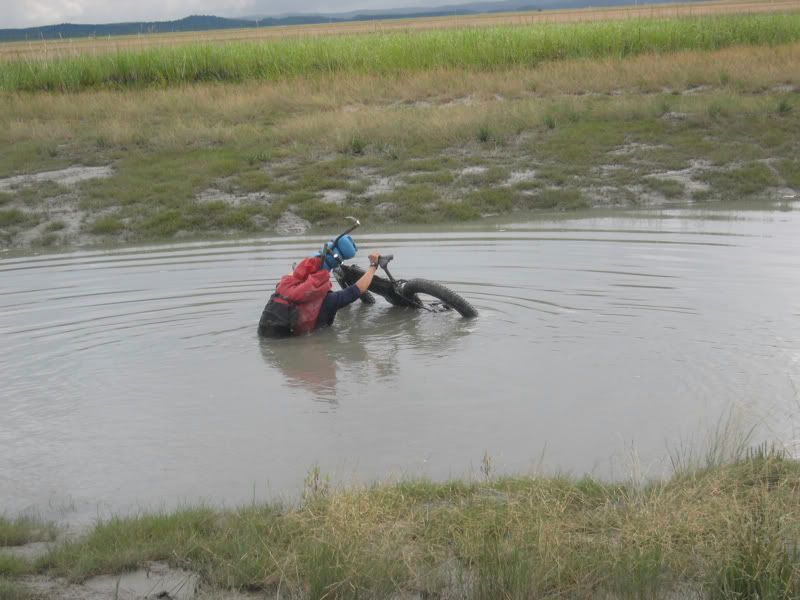 Some we used a packraft to ferry everything across:
The night wore on, the humor started to fade, the hours ticked by, the mud thickened.
At dusk around midnight were were almost to the other side, to the promised land - the beach when I steped into a slough, judged it too deep and inflated my boat, in the 3 minutes it took me to do that I had sunk almost knee deep in quick sand. it was the real deal! I had to use the freshly inflated boat to get out of it which was quite unnerving. in that time my bike lying on its side had met the same fate and was half sunken also. It was the worst slough crossing of the day and a pretty sketchy one at that. Past the slough and whats that under my feet? gravel?? it cant be! We were stoked and hammered with new found speed until the first water, made camp and crashed. It was 2:00 am.
The next morning, bikes getting a tough break-in period.
Finally on the beach, the riding was pretty good in spots, with some slow gravel mixed in.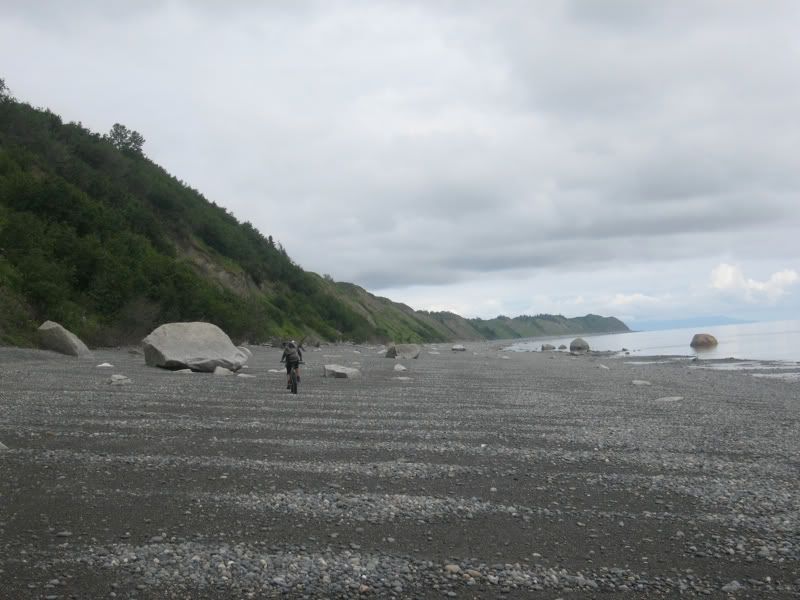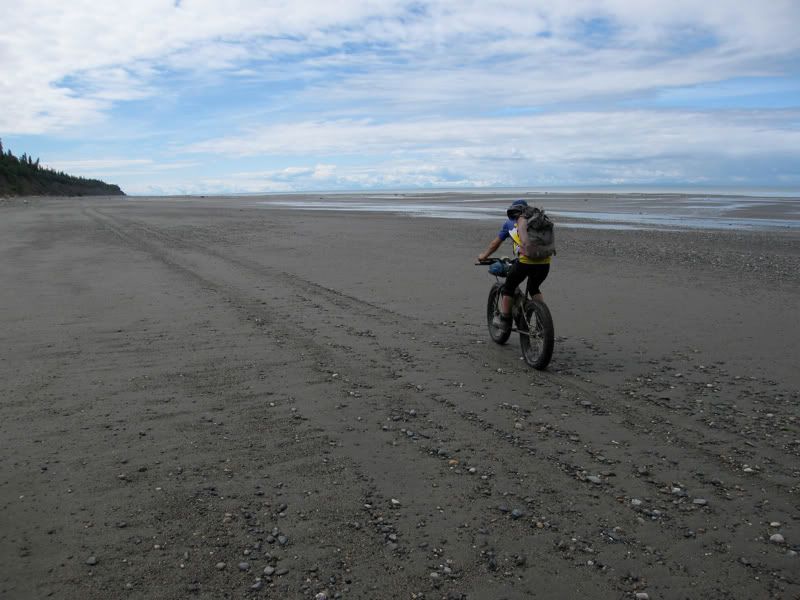 Some prime real estate:
The beach riding was great, stunning weather, it was actually hot! a beautiful thing after several other rather cold trips this summer.
Miles ticked by and we re-entered civilization with set-net sites for salmon fishing and getting close to the road system again. Waiting out a high tide, we tried scavenging a campround for handouts, but came up empty, back on the beach however we made some friends and scored a side of salmon complete with foil! sweet! a few miles later we made bonfired it up and had butter salmon, with potatoes, cheese and bacon. Best backcountry meal in our lives...
With a pile of food in our bellies we rode a few more hours onward with the setting sun..
Had a pretty funny drunken 'wheeler' encounter to complete the day... before crashing around 1:00am
The next and final day was characterized by strong wind and an industrial nature of the beach. Offshore oil and gas platforms in the Cook Inlet have terminals and processing plants on shore, so we had to get around the docks and other crap. It was not a fun section as the wind had picked up strongly in our faces, the beach was slow and the scenery... rather industrial..
Mt. Redoubt: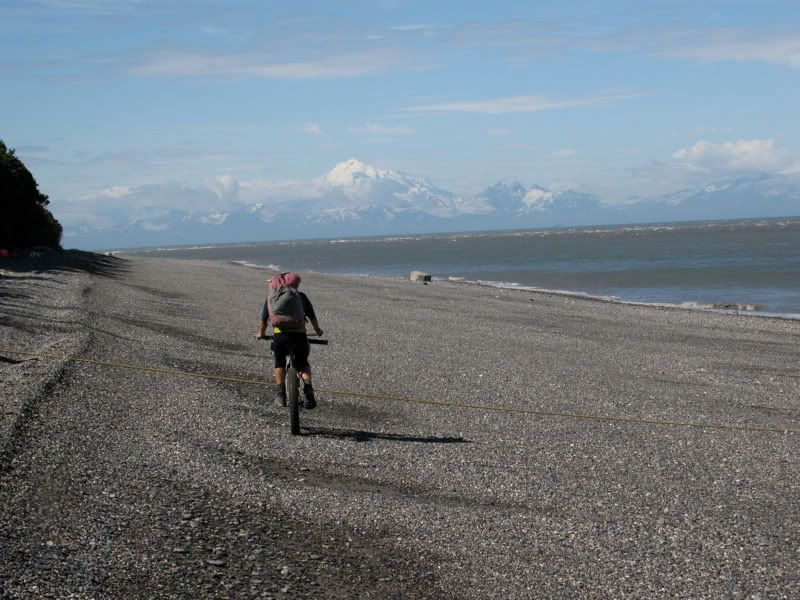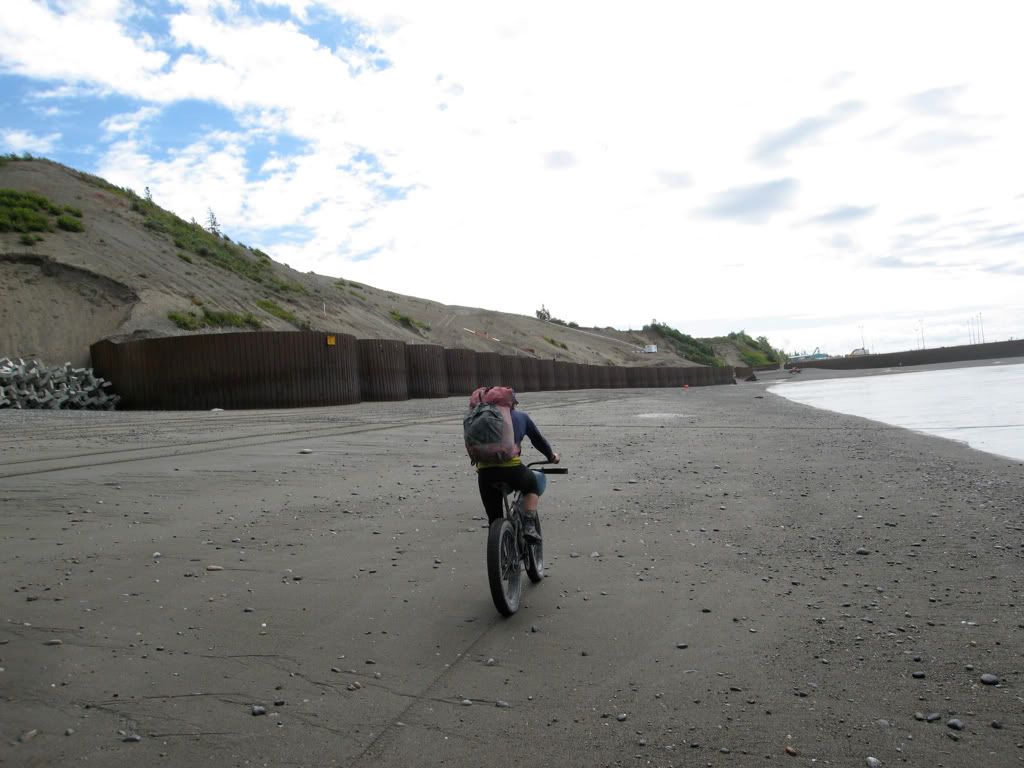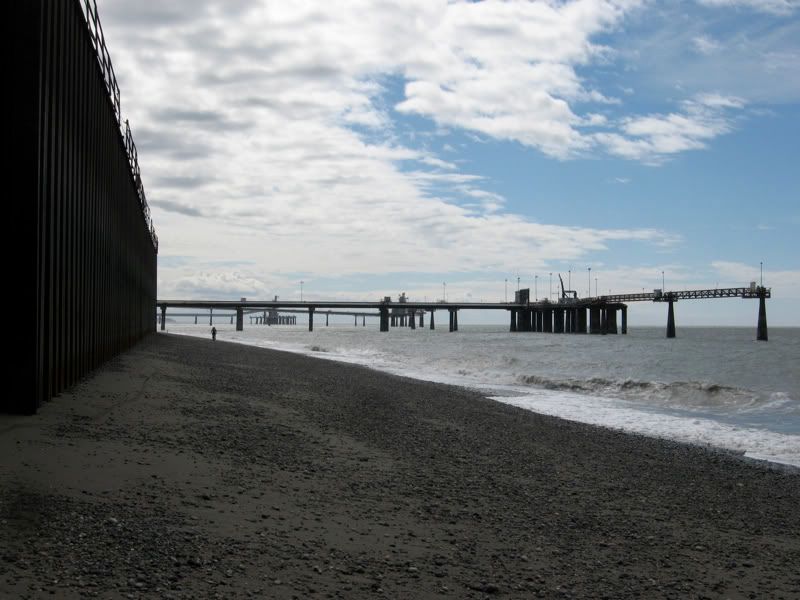 Generally sick of it, we bailed out and hit the road and the first gas station we could find...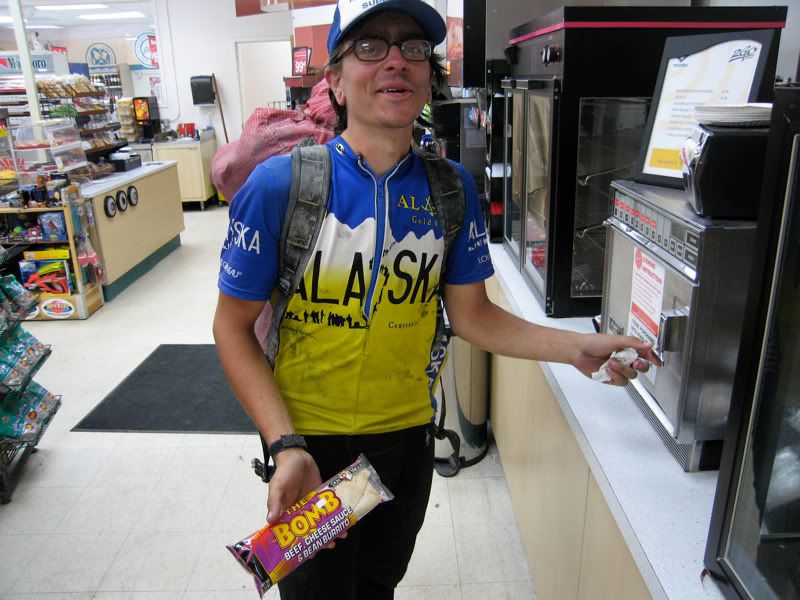 power fuel..
On to the Kenai river and the ZOO of dipnet season. Holy cow, these people are nuts, fighting breaking waves with nets to catch fish, what a strange subculture we thought.. oh wait, this is actually normal, its us, the freaks covered in mud with rafts and moster bikes that is the subculture.. anyway that's Alaska for you..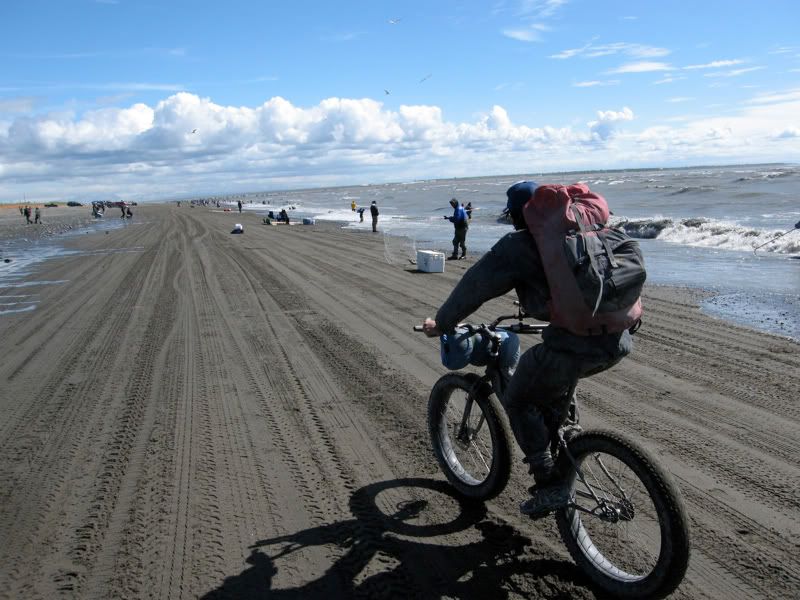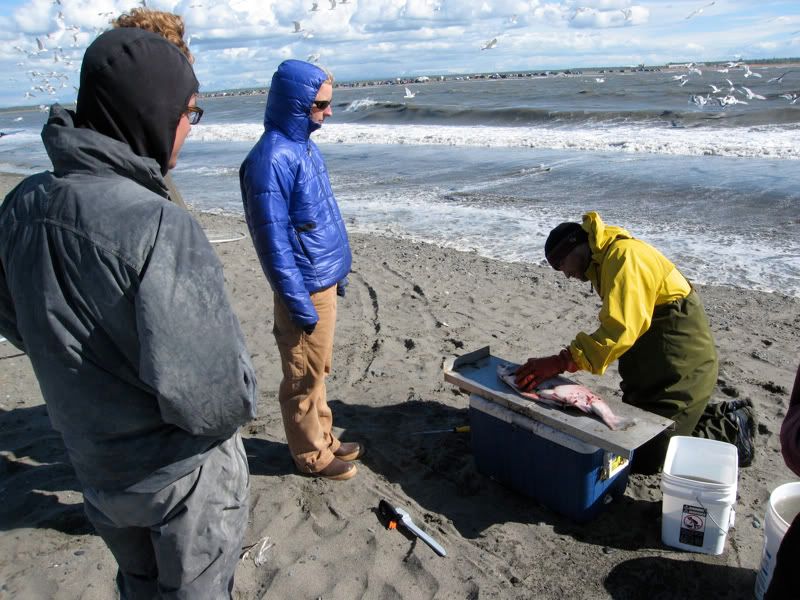 With time commitments to get back too, we ended the ride there, meeting some friends for the ride back through the Kenai peninsula, finishing the trip with a 16 mile pavement ride to Hope which took almost 2 hours on the bikes.
Great trip, cant wait to go back and finish it.
A special thanks to Surly and Speedway Cycles for help with the bikes.