Discussion Starter
·
#1
·
Extremely happy with how this came out so I thought I would do a little show and tell for the freaks out there.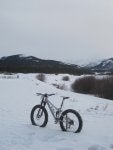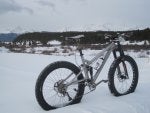 -09 turner sultan w/ modified rear triangle by Samsara Cycles
-Fits a 170mm salsa rear hub
-Currently using 26" 50mm speedway uma/ larry 3.8" on front and 50mm uma/endomorph 3.7" rear
-Profile cranks w/ 6 7/8" inch chromoly spindle to give the chainstay and seatstay clearance
-For the weight weiners out there it's 36.17 lbs. as seen here
Purpose: Snowbike all difficulties of xc ski/ multi-use trails near Lyons, Colorado and hit normal trails when there is <6" of snow. Have a snowbike at my disposal for the Leadville Winter Race Series. Have the ability to switch quickly back to 29er config.
Budget: Build it for less than the cost of a Salsa Mukluk.
Why? Got the snowbiking bug but I didn't want another bike in the stable. Weather on the front range really doesn't justify it. I've been extremely happy with my sultan and thought the sultan would be a great candidate due to its geometry and dw-link suspension design. Plus having a full suspension snowbike would be unique and add more to the fun that's already had with snowbiking.
I've gotten 2 rides on dirt, 1 ride at Buchanan Pass in the snow, and 1 snow race at Leadville. Couldn't be happier with how this project turned out and how it rides. Just would like to say thanks to:
Matt @ Samsara for doing a kick ass job on the rear triangle modification
Turner for making such a great bike
Redstone Cyclery for helping locate a donor rear triangle, building the wheels, and getting me hooked on snowbiking during the shop Tuesday Night rides.
:thumbsup: