Discussion Starter
·
#1
·
Well I was thinking that my 1000th post was coming up, and I also thought that I should do a big write up about the rides I've been on, places I've been to, and people I've met since I've joined MTBR. I'm not a good story teller, so I figured I'd do a photo essay/write about it all. Some of these photos weren't taken by me, but I'll try hard to give credit where it is due.
I joined MTBR in March 2004 while I was just getting back into mountain biking. I lurked around for a while soaking up information.
After joining I started riding more and more as I learned about different trails in the Bay Area. I didn't start taking a camera with me out riding until me and a friend went out to the Nationals at Mammoth Mtn in August of 2004. There we had fun shooting the races and the scenery around Mammoth & Yosemite.
The lake just outside of Yosemite
Photo courtesy of Rockcrawler53 (taken with my camera though
I had so much fun with that, I started to goto some of the local college races in the area for some images as well-
Santa Teresa Park
Boggs Mountain
Soon after I started to bring my camera to a fair amount of rides, shooting at the different parks in the area
Henry Coe
Photo credit to Rockcrawler53
Soon I went on my first MTBR group ride was the December 4th ride at Henry Coe park, the ride of the now famous "Boys playing on Ice" ride.
Photo Credits goto Big Larry
Some of us playing with the ice on the frozen pond/creek (I'm in the yellow jersey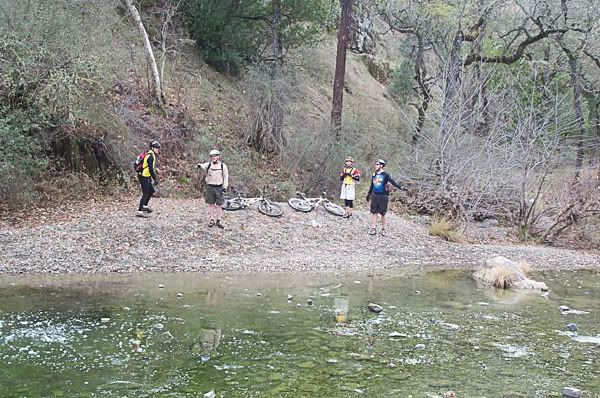 Photo Credits goto Rumpfy
Me walking on water. I walked about 6 feet out to a rock
Crossing the creek after the Middle Ridge Downhill in Henry Coe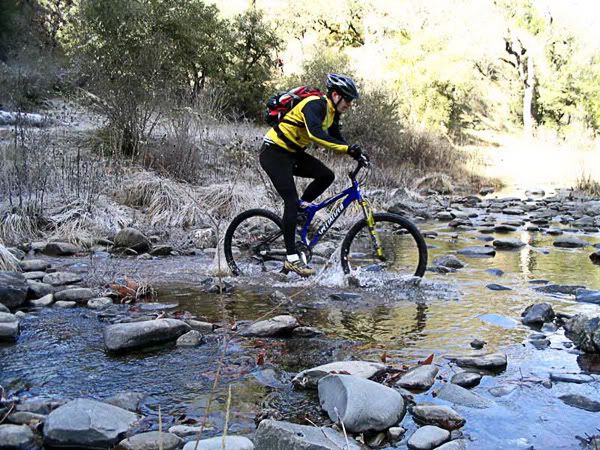 Shortly after that ride I decided to buy myself a Christmas present
That March I was able to get some time off of work to go on a road trip. Rockcrawler53 & me spent about a week riding in Auburn, CA & Moab, Ut. Despite a nasty case of poison oak, one broken toe, and numerous cuts & bruises we had a blast.
This has to be the steepest thing I have ever ridden. The camera is actually level, but because of the traction that is available on Slickrock, its possible
One of the awsome views from Porcupine Rim
The reason I bought some armour when I got to Moab
And it came in handy. After the crash, I did the only thing I could do- got up, checked the bike, and hit it again- landing it the second time.
A few random shots:
Anza/Jackson climb in Henry Coe State Park
Santa Teresa Park
A week or so after the last image was shot, I drove about 45 mins to a trail, rode the trail for about 1 mile, started climbing a hill, and I heard a snap and realized I had no seat. Turns out the seatpost weld had a hairline fracture, and from the stress of me pushing on the seat while climbing, it gave out. So thank you specialized for a warranty replacement!!
While I was bikeless, I needed something to do to keep me occupied. So I decided that I would buy an expensive present for someone special in my life
Our wedding cake topper since she doesn't ride