Discussion Starter
·
#1
·
Cross-posted from 29ers as I'm sure other tall guys would find some use in a test ride of a 23" bike for a 6'7" tall guy:
Right - a few words about my test ride of the Turner Sultan - XXL (23" frame) ridden. I'm 6'7" tall, weigh in at 250lbs, so a rare treat to actually get to test ride a bike of this size!
I was in the USA visiting family and found out that Competitive Cyclist were 200 miles from my mother in law - then that they were 25 miles from my brother in law! When they confirmed they had an XXL Sultan on the test fleet, I tweaked our visit so I could get there and ride. A massive thanks to Ryan and the guys at CS - made me feel really welcome, nothing was too much bother and the directions to the trails very accurate. So, on a day of high 90s temperatures and humidity, I rode a genuine monster truck of a bike.
Initially, the bike looks right at that size - even 29er haters would have to agree on that one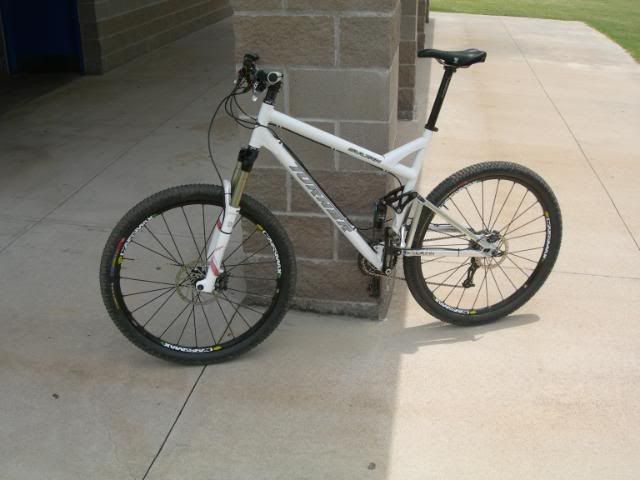 It always helps when something looks right. I'd have wider bars, but the rest felt pretty good. Initial mile on tarmac was smooth and almost no pedal bob even when trying. It felt like it picked up speed more than my own 29er and really span along with little effort. Once I found the singletrack (twisty, turny, up & down, rooty, rocky) I could give it a blast.
The bike really responded well from the off. I noticed the sharp steering straight away and this continued as a theme throughout. I guess this goes with the newer geometry of the bike and the forks and I loved it. As expected, 29er wheels with 2.3 tyres on just ate up the trail (but the clearance is there on the frame)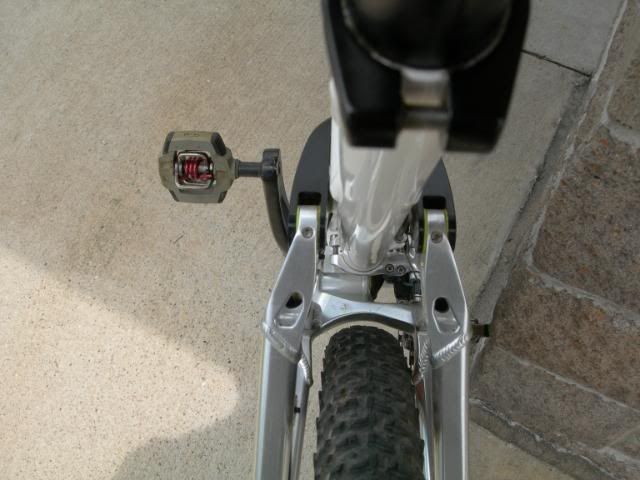 and rolled over small stuff without it registering. The suspension added to that so much that I could remain seated for far more of the ride and pile on the pedalling - which led to me having to stop as my lungs couldn't cope with full on riding in that heat and humidity! When not drinking water, I played with the air in the sus - dropping the pressure a little bit to feel how the bike would be when sitting further down. It was better for pointing it down hills but still rode very well overall.
I did my best to throw it around and the stiffness was noticeable - even my tubby ass couldn't force any flex in the frame or the wheels and that added to the growing confidence in the bike. I did my best to put myself in awkward positions with the bike (oo-er) and it never flickered - held the line, responded and climbed superbly - standing or seated. The front end felt a little light, but with 20mm more travel than my own bike I expected that
Overall, I got the ride down to this:
In the 'forward, up and down' directions, this felt like a great 29er with all the advantages that brings. In the 'left, right, turny' directions, this felt like a great 26er with all the responsiveness that brings. The competent suspension ate up so much of the smaller stuff and enabled me to pedal more, which in turn made me ride quicker - so I wanted to push faster. I hope this is a good thing - it may end up hurting more!
Yes - I'll be buying one - but I have some things to sell and trips to unfortunate places to make first - before 2010 I hope!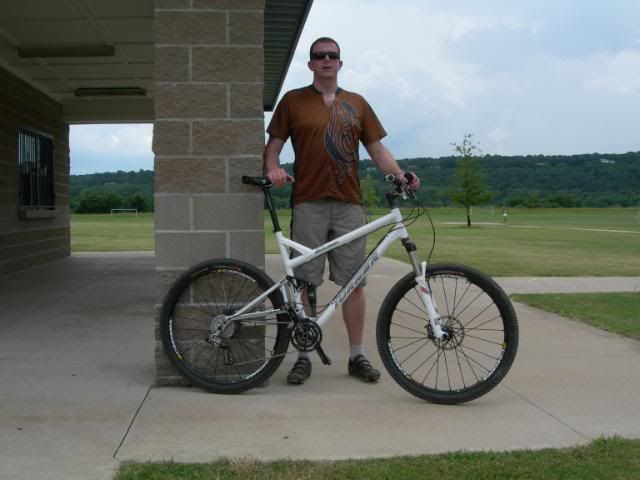 I was suffering by the time this picture was taken - sweating like a fat lass in a chocolate factory and breathing was laboured! Not my optimum riding temperature.