Discussion Starter
·
#1
·
Decided to try the lower ridge route and see just how slow I really am.
Since it's supposed to get up to 100F today I laid everything I could out last night, got up with the dogs, and rumbled out of here fairly early. It was just before 8AM when I got started.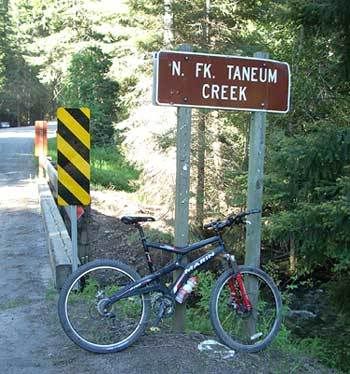 The oft-pictured cabin along the riverbottom:
This section had a few mud puddles that spanned the entire width. I ended up not making it quite through one without dabbing, disturbed a bunch of good sized frogs, and rolling along after picked up so many pine needles and little sticks on my tires that I was thinking I'd just grown curb feelers.
The steep section popping back onto the road had so much loose dirt and rocks on it that I opted to just hoof it up. The road up to the ridge kinda stunk... just one long slow grind up, and in full blast of the ever-warmer sun. I kept playing head games with myself just to keep moving at a decent enough clip to get it over with. This junction was a VERY welcome sight.
However bad the dirt road climb was, the rest of the trail was great. Some loose rocks and dust (which will get worse later in the season I'm sure) and I had to spend some time here and there waiting for some motos to pass me heading the opposite direction. But did I mention the ridge-top-awesomeness? Views were SPECTACULAR, the forest floor carpeted with thick grass and lupine and paint brush, and most of the trail could be rolled and swooped at a decent (to me) clip.
Um, yeah, that's most definately a mud spattering... Oh, and I only fell once on the way down, although I have no idea how or why. Here's to leather gloves- AGAIN.
Before even halfway through this section I'd forgotten completely about doing this ride 'fast'. I was just having a hoot. There was even a couple on motos that were applauding me as I came down the last hill.
Turns out they ride mountain bikes also and were exploring the area for the first time. I got them to take this picture of me, all full to the brim with nummy yummy Traily-Os and grinning like an idiot.
Final time? 1:55. I think the Blue Fairy just made me A Real Mountain Biker.
Side note: I've had major issues with heat in the past no matter how much I drank. Then back in January someone took my blood pressure and it was 85/62 (no, not a fluke- they took it 3 times). Kinda got me thinking about all those times I'd felt like I was going to black out while riding on a hot day. Thanks to some great advice on this board I've been experimenting w/ Hammer's endurolytes, and I think they're going to be a permanent summer time addition- today I felt like I could turn around and do it all again.