Discussion Starter
·
#1
·
After using a few variants of hitch racks on my previous SUV, and using either a hitch rack or hauling the bikes "moto" style in my truck, I feel like I've finally found the most convenient method of hauling my bikes around.
After getting the truck, I found myself using my 4bike hitch rack less and less. Most of the time I would just tie down the bikes moto style by the handlebars. It was a big PITA if I had more than 2 bikes and would take forever figuring out the spaghetti mess of straps. I then started draping the bikes over the tailgate method with a moving blanket. This in itself caused issues because of potential for damage to downtubes on rough shuttle roads and the bikes just moving around if the road wasn't perfectly smooth.
I started looking into getting a DaKine pad my buddy had, but it didn't solve the issue of the bikes bouncing around on rough shuttle roads. Then late last year, I saw an ad in MBA for the ShuttlePad which had individual straps built into the pad. This seemed like the answer to preventing the bikes from bouncing around. After waiting a few months, they finally released the ShuttlePad. However, no one seemed to have any reviews on it so I decided to be the guinea pig.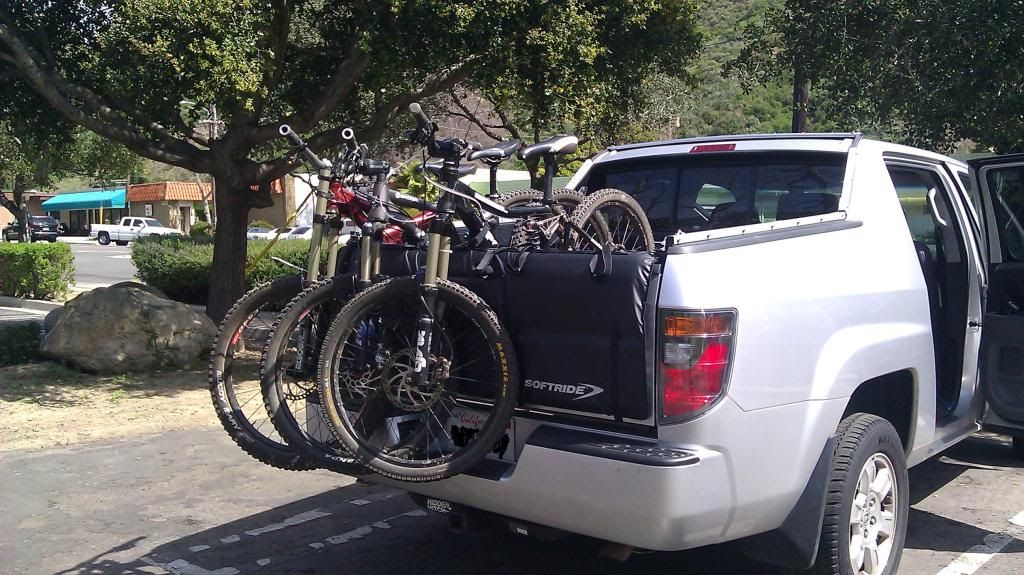 Unfortunately, I was only riding with 2 other buddies, but I put the bikes all the one side to show I could easily fit 5 bikes over the tailgate. The padding is super thick, and even without the straps, I don't think it would dent the downtubes. With the straps, I can pull the bikes up by hand, and they don't lift at all off the tailgate. No bouncing. The material seems pretty heavy duty. I dragged my pedals on accident on the pad multiple times, each time wincing and checking for tears. The pad took it like a champ. Some people worried about stitches ripping which I guess is common in the DaKine pad. I didn't have any issues with that, and I snugged the straps to the tailgate pretty snug too. All in all, I would highly recommend this pad for those of you on the fence or trying to figure out how to best use your truck bed to haul bikes around. It literally takes a minute to load and unload 5 bikes.
EDIT:
Oh yeah, I ordered the pad direct through Softride. Ask for Jeff.
https://www.softride.com/rack-products/specifications/shuttle_pad_truck_tail_gate_pad