2017 Transition Smuggler XL
I decided to upgrade from XP-G to XM-L and the cooling seemed to be my only problem. The light was too hot with XM-L, but I was not sure how hot. I needed a thermometer to test different heatsink combinations. Instead of buying a new multimeter with thermal probe, I found a cheaper solution.
Here is an idea for simple DIY digital thermometer:
https://sci-toys.com/scitoys/scitoys/computers/thermometer/thermometer.html
It works really well. I measured and graphed my XP-G light and XM-L test rig. Ambient temperature was around 26 degrees and air was still. The XM-L is attached to L-profile aluminium stock that has around 112cm2 (17sq-in) cooling area. XP-G is inside the 1" aluminium tube with 73 cm2 (11sq-in) cooling area. XM-L is running at 2,8A and XP-G at 1,4A.
First, the picture of the test rig: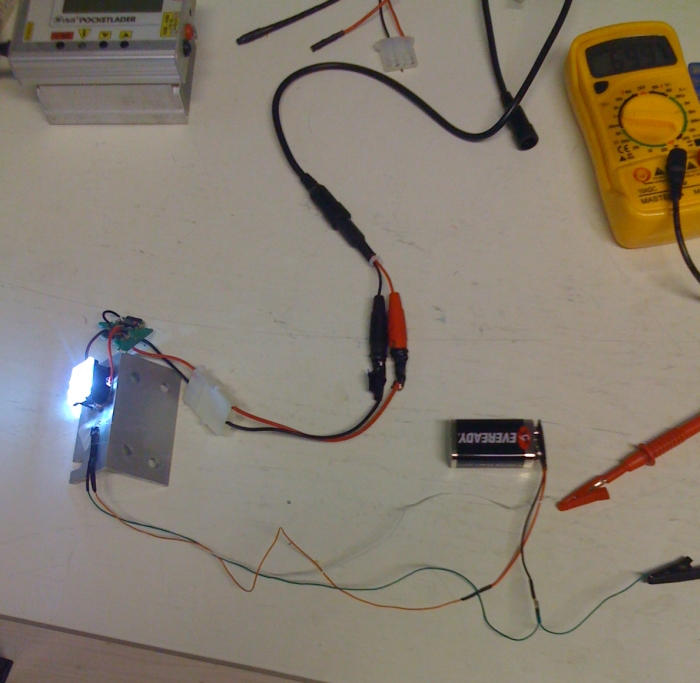 The heatsink, XM-L, Laura RS, two DealExtreme 4xAMC7135 drivers for 2.8A, thermal probe attached with thermal compound and tape, battery for powering the thermal probe and multimeter that measures the temperature (in tens of millivolts).
XM-L graph: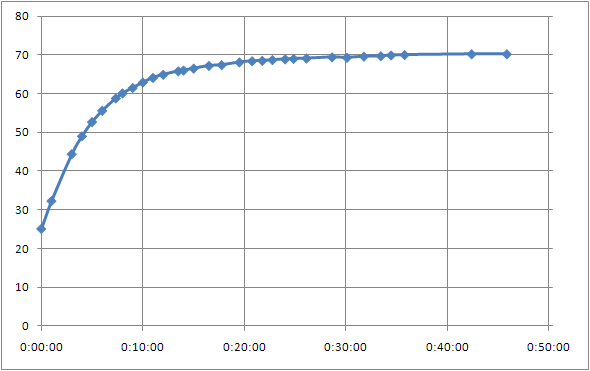 The temperature stabilized around 70C after 45 minutes.
XP-G graph: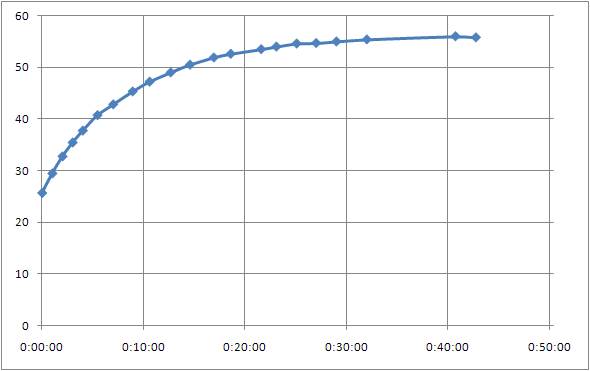 The temparature stabilized around 56C after 40 minutes
Now, the tempareture of the LED die.
XP-G dissipates 4,4W and XM-L around 8,8W. Thermal resistance of the XP-G is 6C/W and XM-L has thermal resistance 2.5C/W. I searched the forum and found that the thermal resistance of the MCPCB is probably ~1C/W and the inside temperature of the case is ~12C higher than the outside. The last number is most dubious.
So, my XP-G is currently running at 56+4,4*(6+1)+12 = 98,8C and XM-L at 70+8,8*(2,5+1) = 100,8C (it is the test rig, there is no inside-to-outside transition).
If I put the XM-L inside the XP-G case, then it would run at 70*17/11 + 8,8*(2,5+1) + 12 = 150C.
This is already at the limit of the specifications, so I need to increase the size of the heatsink. I have couple of heatsinks, I will try to measure their effectivness.
Edit: I made a mistake in the last calculation, by not accounting the ambient temperature. Correct calculation would be 26 + 44*17/11 + 8,8*(2,5+1) + 12 = 136,8C.
Arne