I have been visiting this forum long enough to come to the conclusion that a good percentage of mountain-bikers also ride road bikes. I ride 5000-6000 miles on the road each year and do so for several reasons. One is the convenience; rather than having to load up and drive to a trail system, I simply hop aboard my bike and hit the road. That encourages me to ride more often than I would if I did not have a road bike.
I find that putting lots of miles on the road makes me stronger on my mountain bike. I also ride a road bike when the trails are too wet to mountain bike. Still, I am a trailie at heart.
With that said, I think its time we mountain-bikers bring our road bikes out of the closets for the world to see and I'll go first with my three.
Happy trails everyone
This 10-speed LeMond Croix de Fer has a steel frame and is my favorite road bike. I really take care of my bikes so the condition you see is not indicative of its age. I ride this one more than my other two combined. It has a classic look not seen in todays plastic bikes. Steel is real!!
My serious mountain-climbing road bike is a 9-speed steel-frame LeMond Alpe D' Huez with a triple up front and a mountain bike deraillieur with 12-34 cassette out back. It has conquered Assault on Mount Mitchell twice and it is my favorite for riding anytime a lot of climbing is involved.
This 17-pound Cervelo R3 iis my Sunday-go-to meeting bike. I bought it because I wanted to try carbon fiber plus the fact that its geometry is much like that of my two LeMonds. It sprints like a rocket but since I am not into racing a lot of its qualities are wasted on me. When I bought it I figured my times for various distances would be a bit quicker but it takes me just as long to ride a century on it as on either of my two LeMonds. Absorbs road buzz much better than an aluminum frame but is no more comfortable than a steel frame.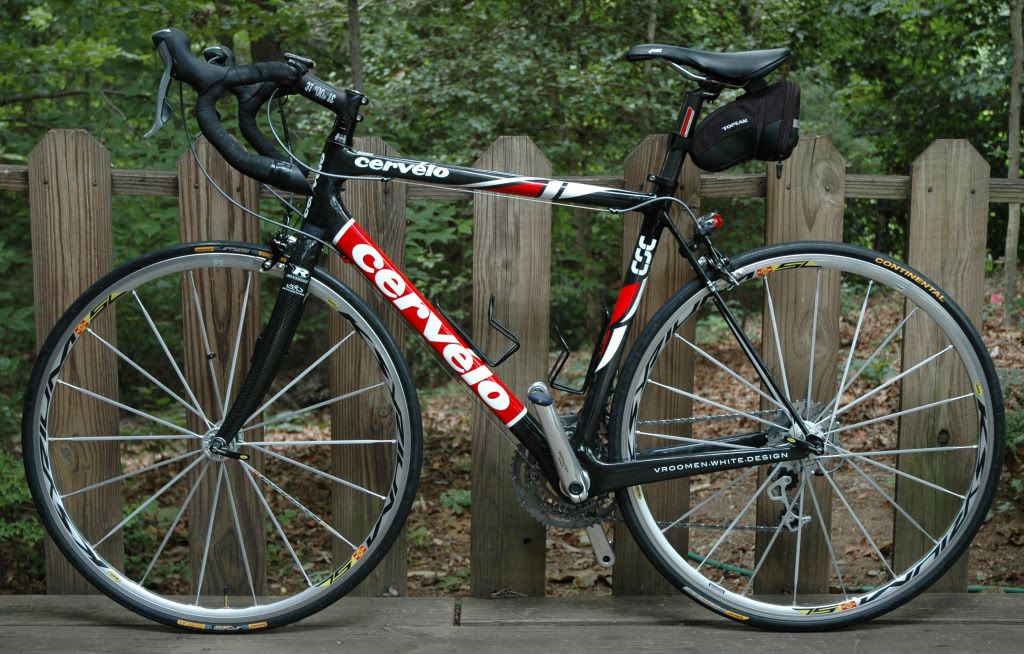 Okay, you've seen mine now let me see yours. :eekster: