Discussion Starter
·
#1
·
Yesterday we rode a there-and-back on Section 2 of the Enoree Passage of the Palmetto trail. The wheel magnet for my computer became loose and I did not notice it until we had been on trail for awhile but we probably had about a 26-mile day. We started at the Brickhouse Recreational Area and rode north and since it was getting a bit late we turned back shortly before reaching the Enoree River. There was one trail sign at the parking area but spotted we no sign or blaze to tell us which way to go once we got to HWY 66. Naturally, we turned in the wrong direction. Three miles later we were on the trail. Simply turn right on Hwy 66, go about 50 yards and turn left on Stomp Springs Road (also hard surface). Go only a short piece and exit right onto the trail. As the trail goes, I actually like this section better than Section 3 due to more single track. A bit more scenic as well.
About a zillion limbs and trees were down across the trail, some small enough to simply ride over or bunny-hop but many large enough to require a dismount and climb over. The worst place was a section immediately after we crossed the Whitmire Hwy and in total we probably had to carry our bikes a good ¼ mile. All those blowdowns made for a grueling ride and they are there because the USDA Forest Service does not crank up the chainsaws until spring of each year. They obviously do not realize that many MTBers ride year-round.
Prior to riding Section 3 (which I reported on several weeks back) I spoke with one of the officials with USDA in Union, SC and she said considering the amount of money that had been spent on the trail, she was disappointed that more MTBrs did not use it. When I told her we planned to eventually ride all three sections, she asked me to please get back to her with opinions and suggestions. I plan to do just that and high up on the list is doing a better job of keeping the trail clear of blowdowns year-round and better directions to the trail from the various campgrounds. The Enoree Passage has the potential of being a great trail and I for one would not mind giving the USDA an occasional helping hand in clearing the trail. Anyone else interested in volunteering a few hours each year?.
Considering the tremendous amount of money they have spent on bridges over the entire 36 miles of the three sections, it is a real pity that the trail is not better maintained. My guess is they mean well but really don't understand what we MTBers want and need. They will know after I file my report. The Enoree Passage of The Palmetto Trail could rank right up there with FATS as a MTBng destination in South Carolina and in some ways it could be even better. Hopefully they will listen and react in a positive way.
Happy trails everyone
The turnoff to the Brickhouse Rec Area is about seven miles west of I-26 on Hwy 66 and not far from Whitmire, SC.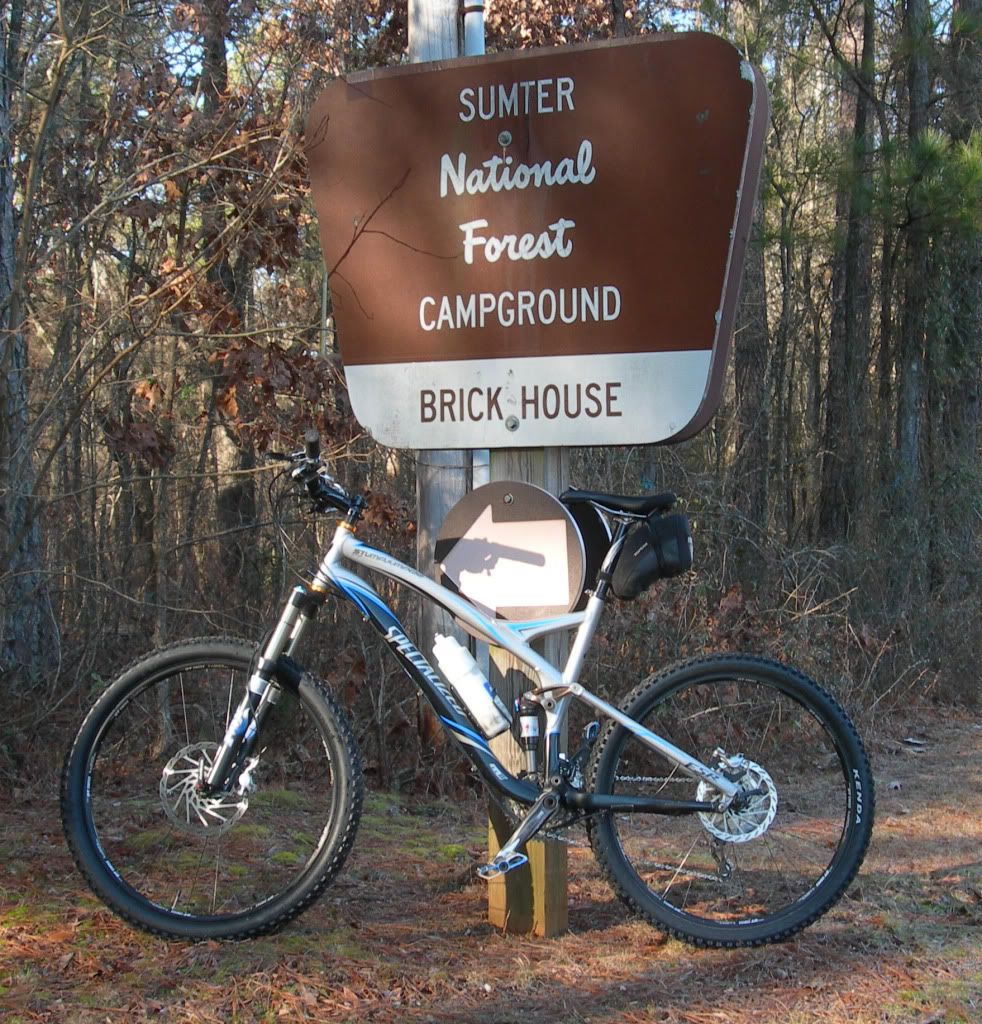 Now you know why the campground is called Brickhouse. The trail goes right by it.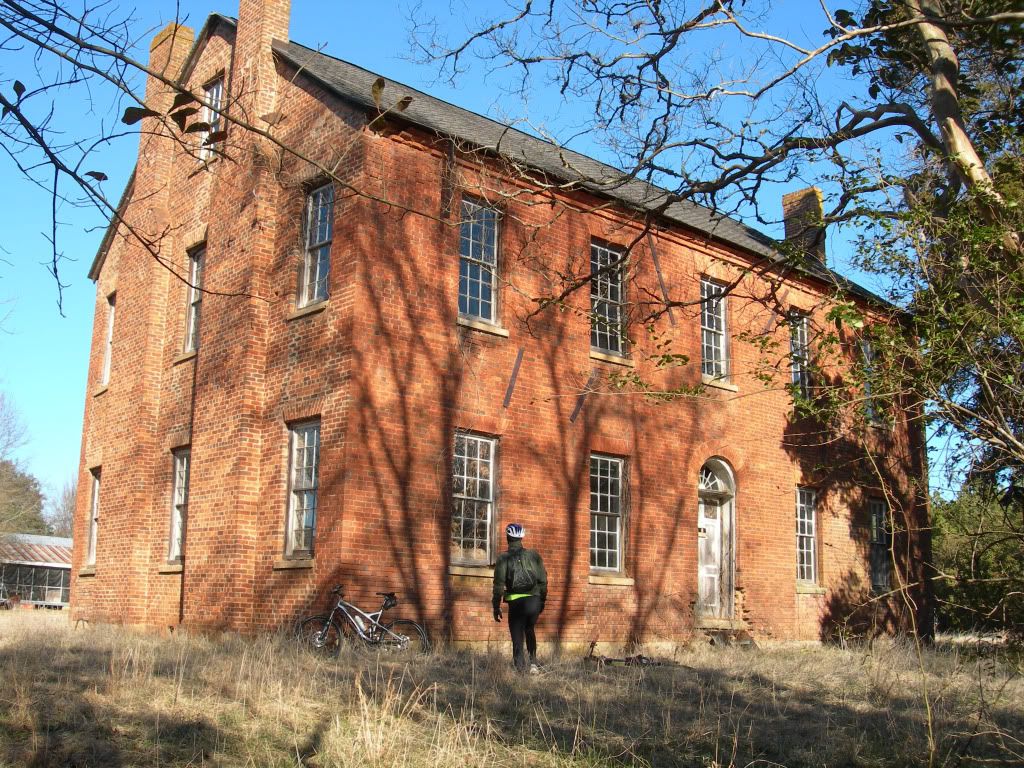 Go north from the campground for Section 2 of the Palmetto Trail or go south for Section 1. About 10 miles of the southern section joins up with the Buncombe Horse trail, only section of the entire 36 miles where horses are allowed.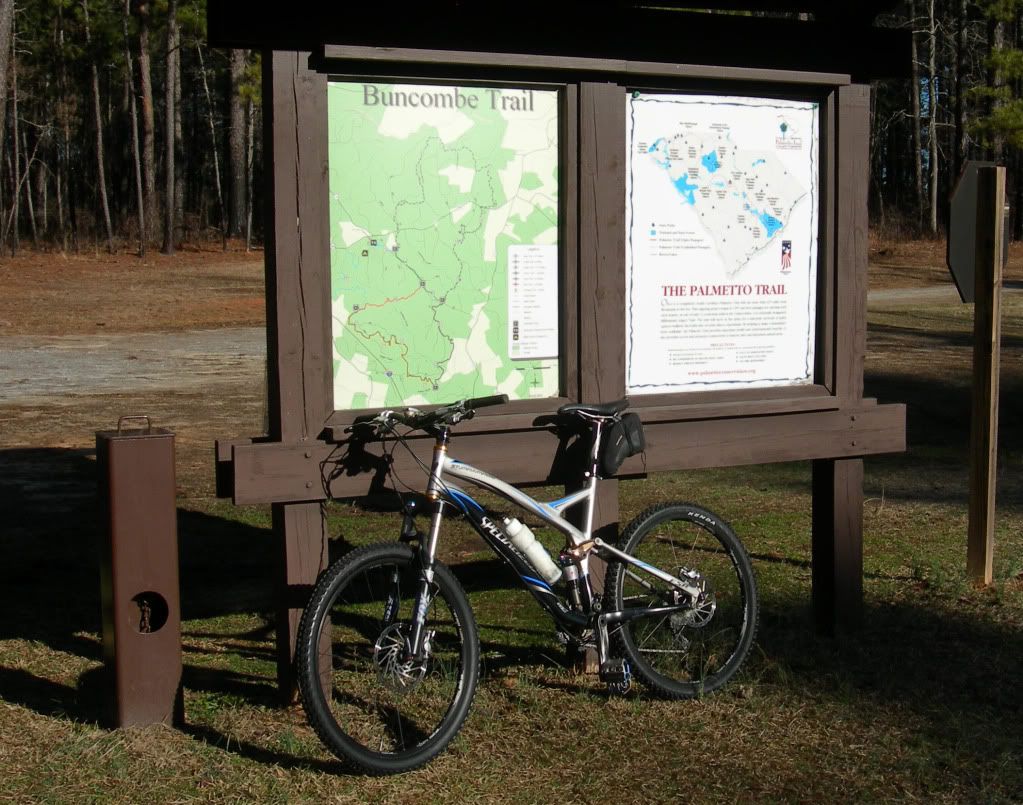 Coed facilities at the parking-only area---boys and girls in the camping area have their own.
Frost on the pumpkin and ice in the puddles early Saturday morning but we were soon shedding a layer of clothing.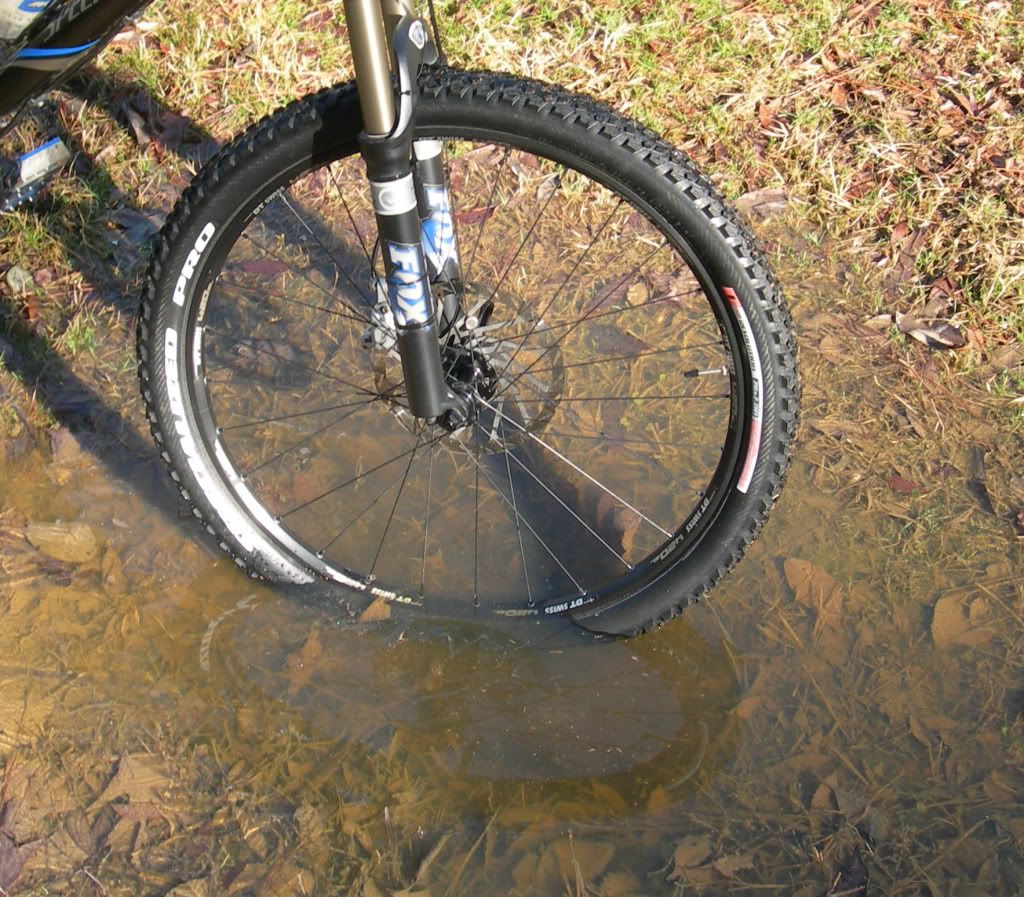 They could definitely use a couple more of these where Brickhouse Road from the parking area stops at Hwy 66.
Except for a short section with briars early on, the fireroads were a blast.
More singletrack than fireroads make Section 2 Better for MTBing than Section 3. A bit more scenic too.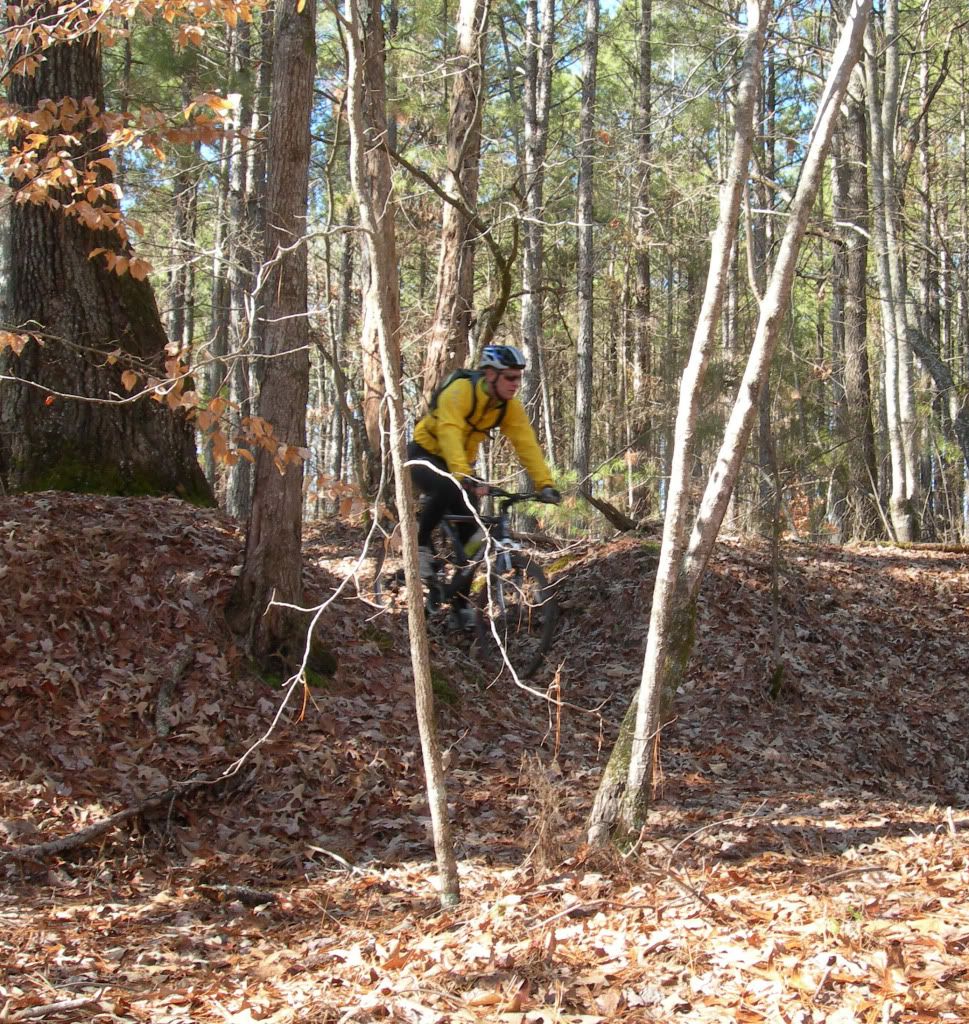 About a zillion blowdowns, many too big to ride over or bunny-hop made for a rather grueling ride.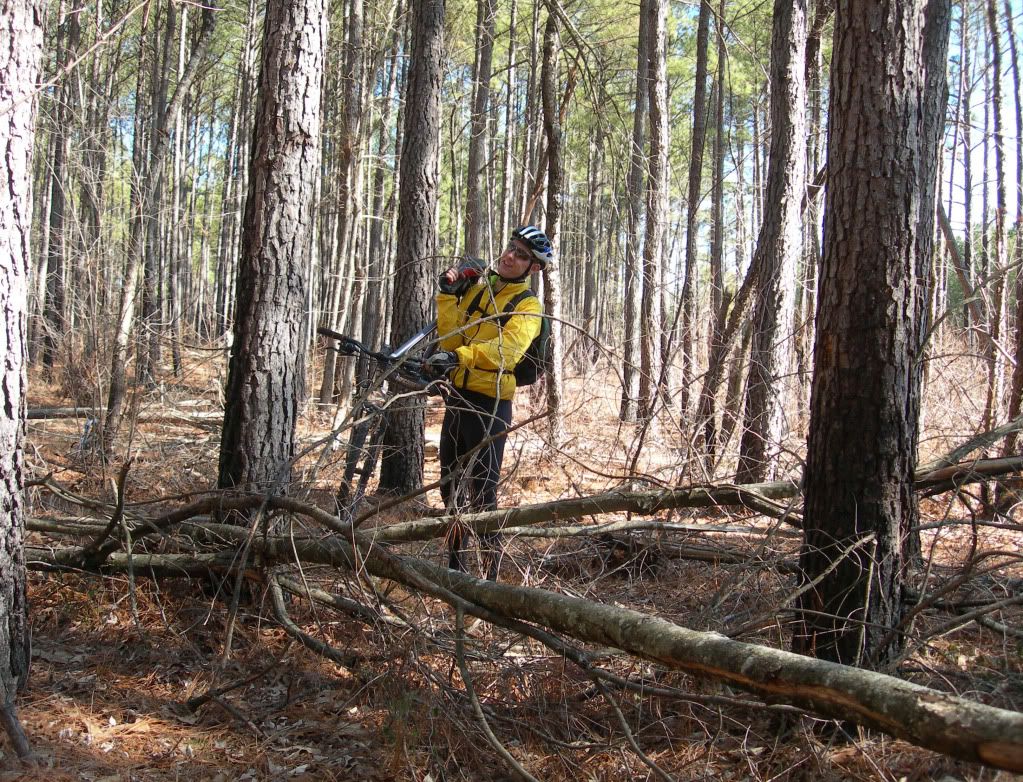 Like I just said---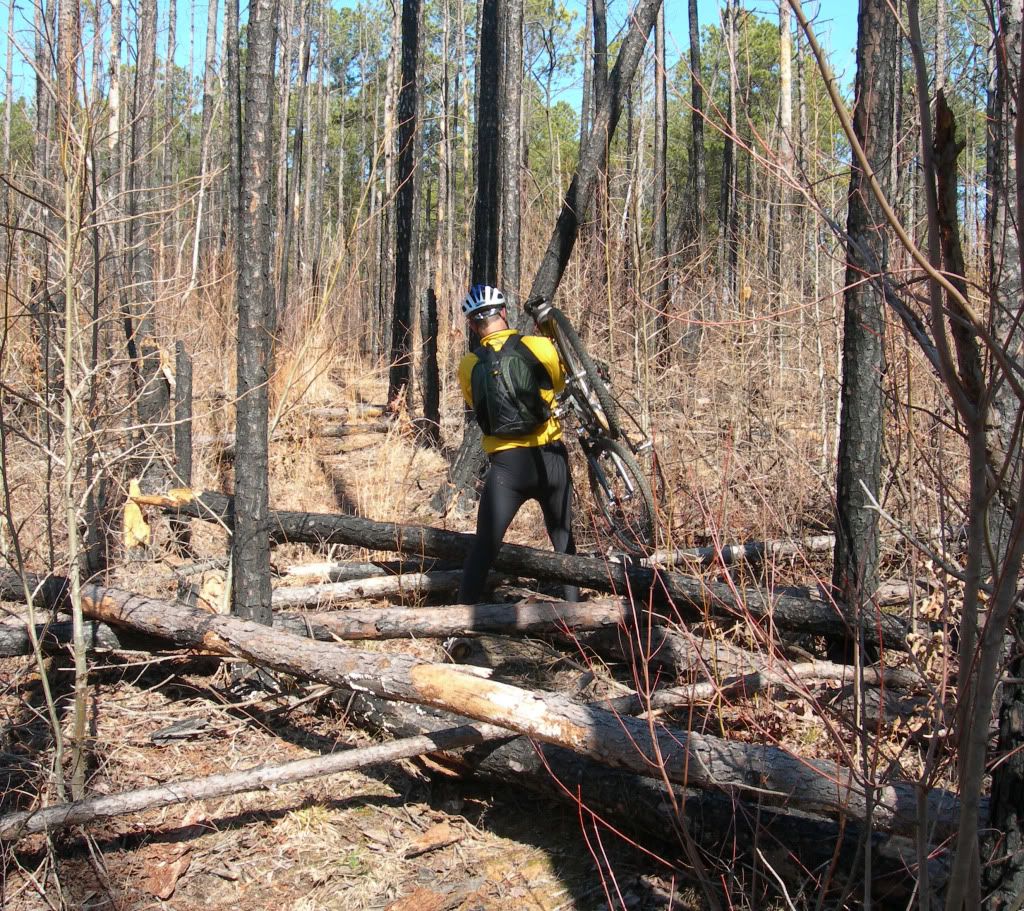 A short section of hardsurface at the railroad crossing at about mile 5. Then about another two miles of
singletrack before crossing the Whitmire Hwy.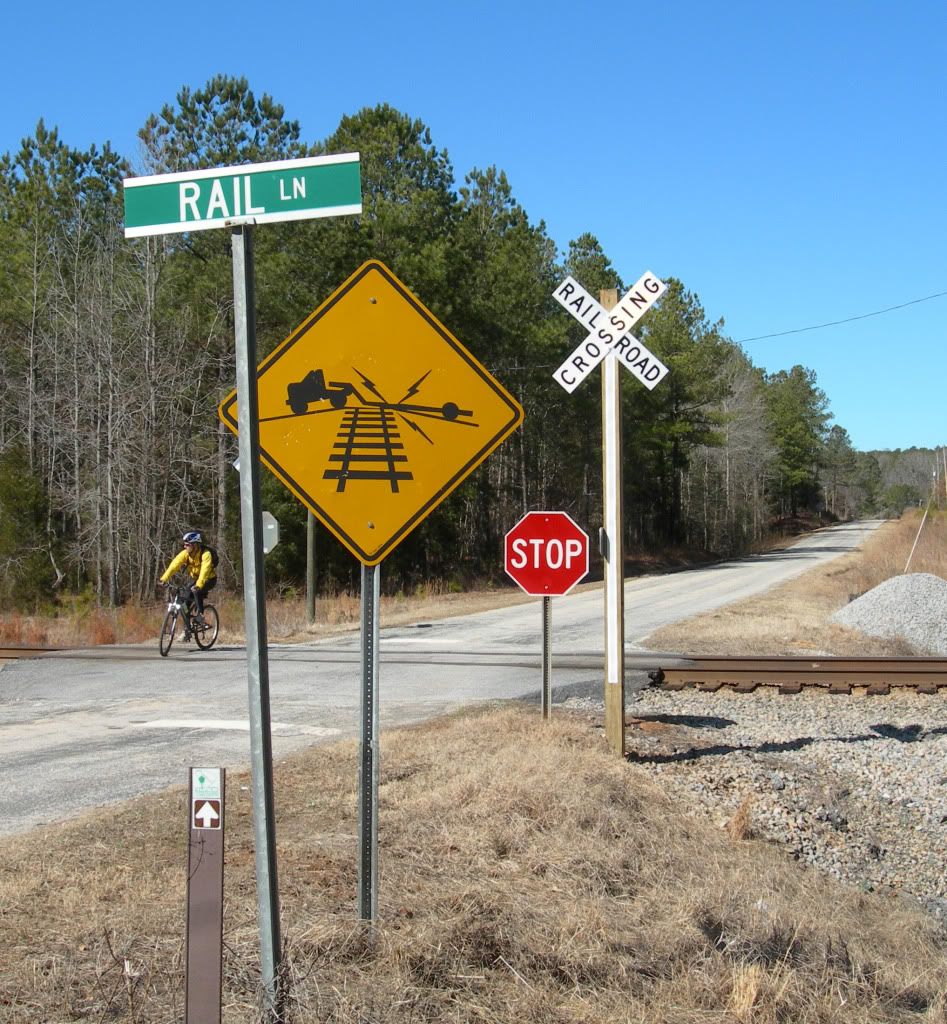 The only foot-log crossing we encountered on the two sections.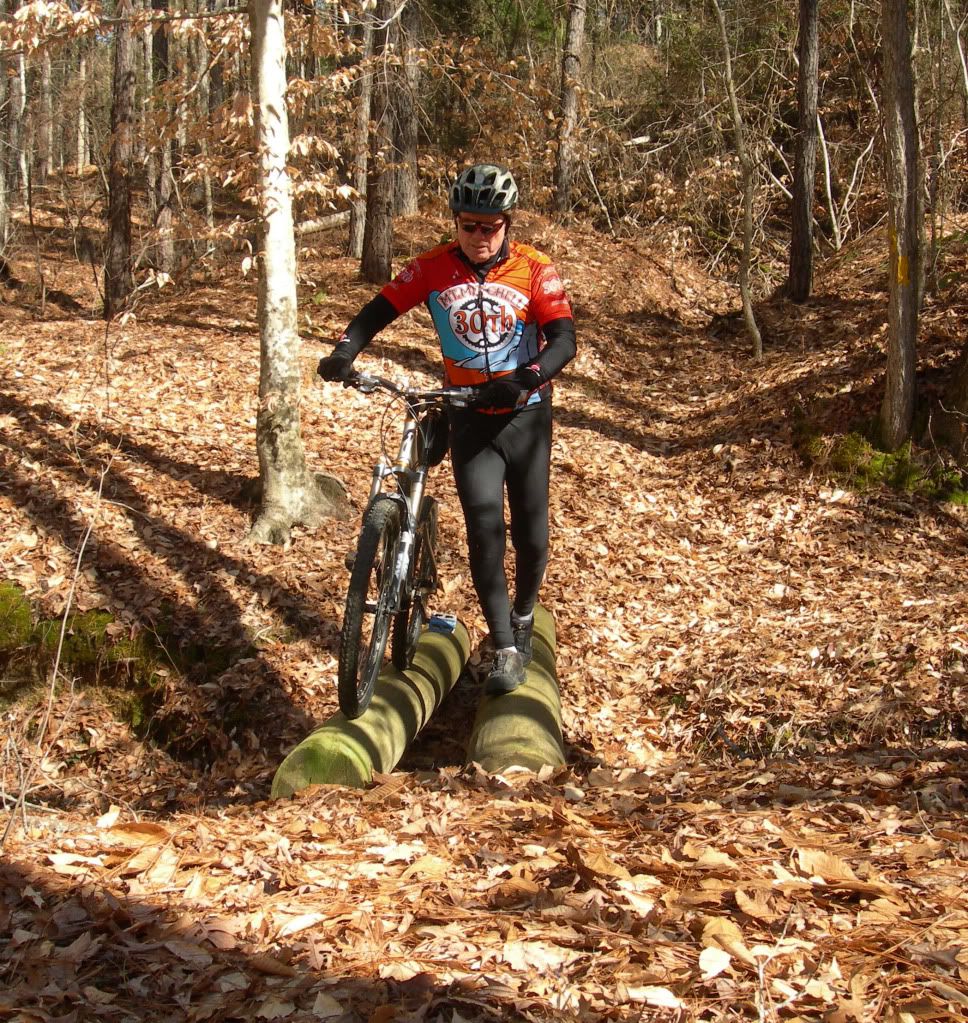 Five bridges and a great deal of boardwalk across low areas on Section 2 alone.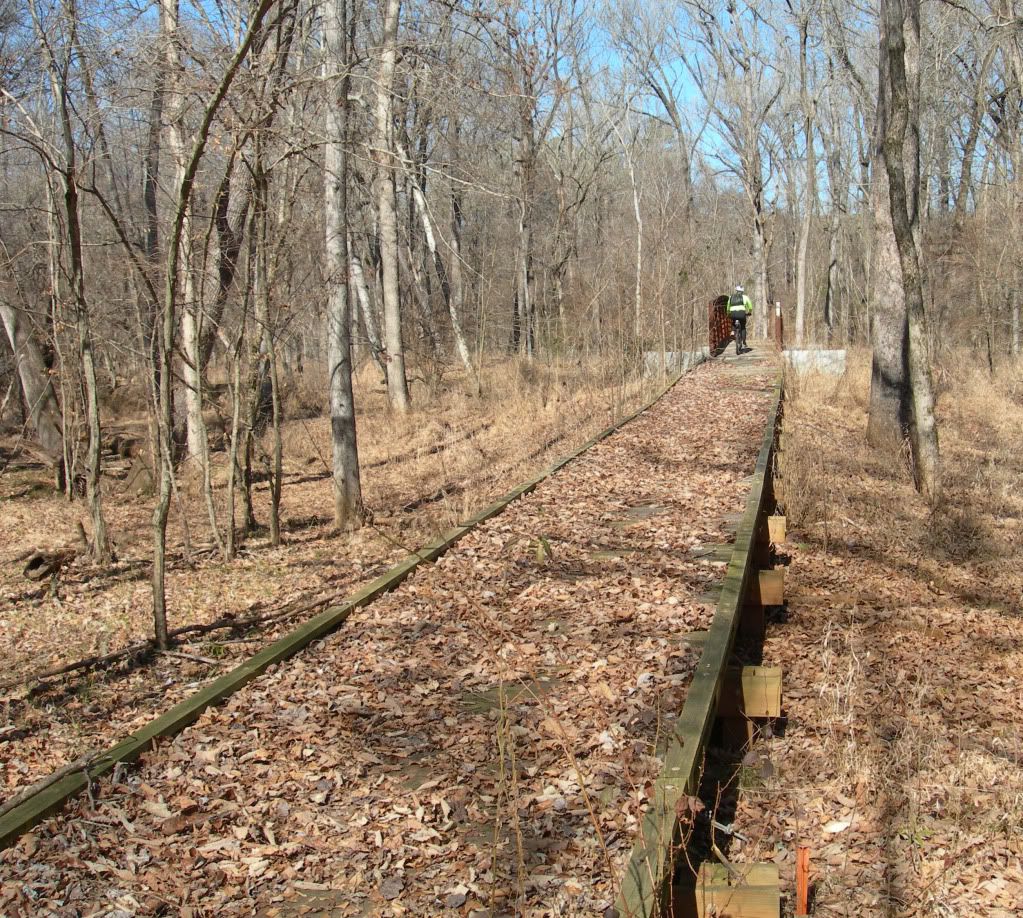 A variety of scenery including this area called home by quite a few wood ducks.