Discussion Starter
•
#1
•
Sardinia is pretty big meditarenean island south of Corsica, it's Italian soil. So far the geography lesson
. We drove to the port of Genua in the north of Italy and took the nightboat to Olbia. Once off the ferry, we drove a bit more south to Cala Gonone where we unloaded the bikes and the fun could begin.
We spent a week biking in the central-eastern part of the island, for me the region with the most impressive scenery of Sardinia - beaches & mountains blending into each other.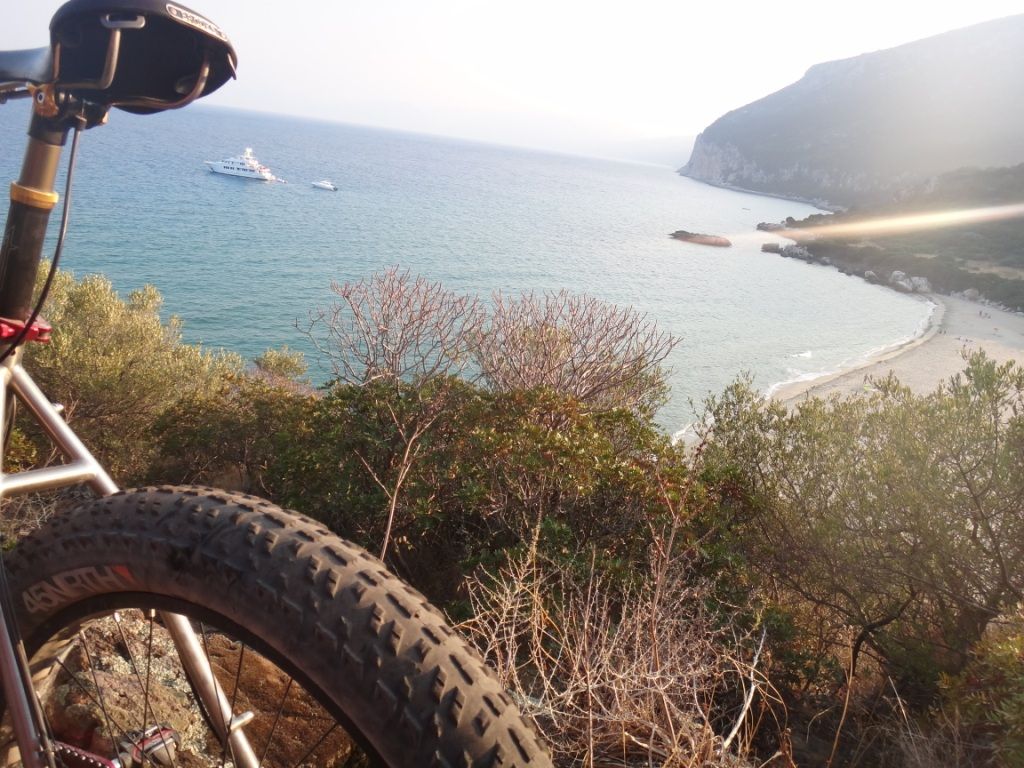 Here're we're about to dive down to Cala Gonone, it's getting quite late (again...).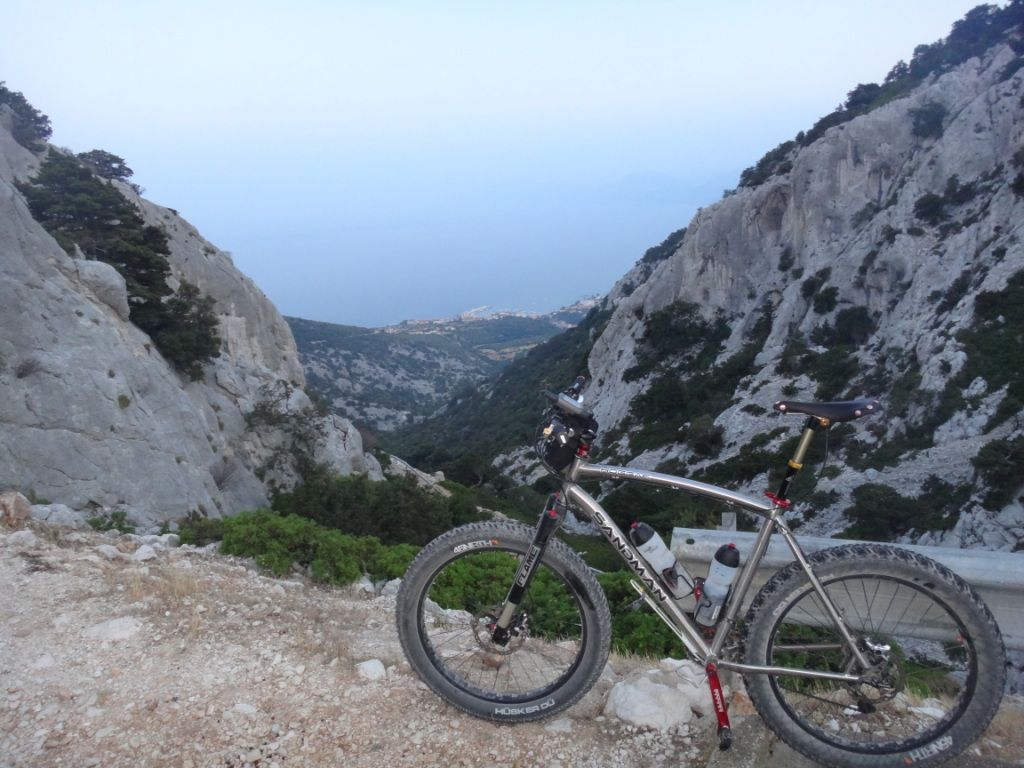 After the "warming up ride" along the coast we went for a 5-day loop into the mountains. The guy with the big grin is Karl, the current financial guy behind Sandman. He doesn't bike as often as he'd like, but when he does it's all fun & good food and wine in the evenings
- way to go Karl !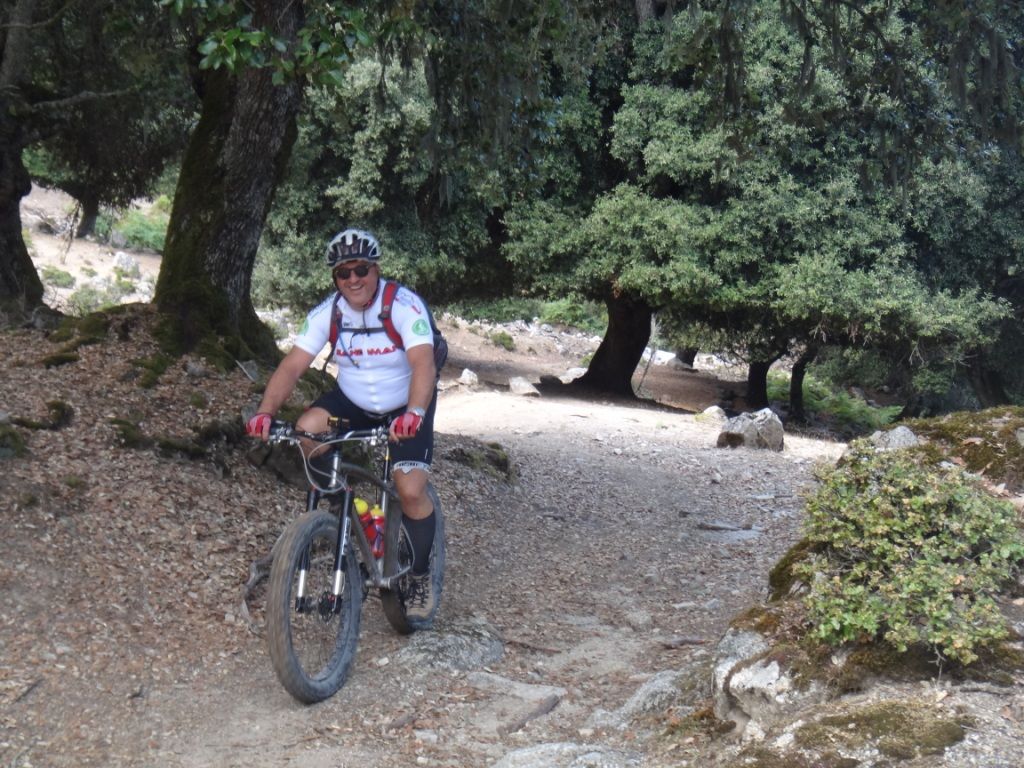 The typical shepherders sheds which dot the island. A rather weird and time consuming affair to make a roof if you ask me, but it sure makes for good pictures !
Prime fabike terrain !
A herd of free-roaming pigs getting in Karl's way. There are lots of them on Sardinia, the smoked hams are delicious - better than Parma ham and pretty close to the pata negra jamon in southern Spain.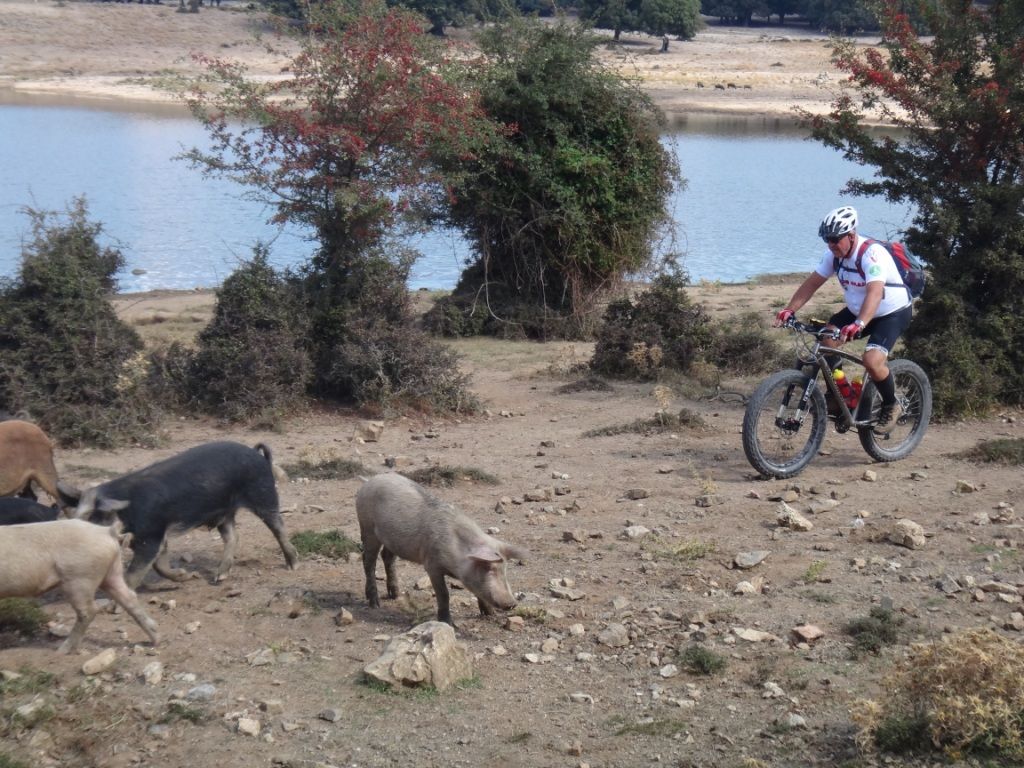 We spent a week co-guiding a group of skinny-tired bikers and then went exploring other "trails" on our own.
For this kind of work a fatbike is extremely suited, all fun & awe at the beauty of the surroundings.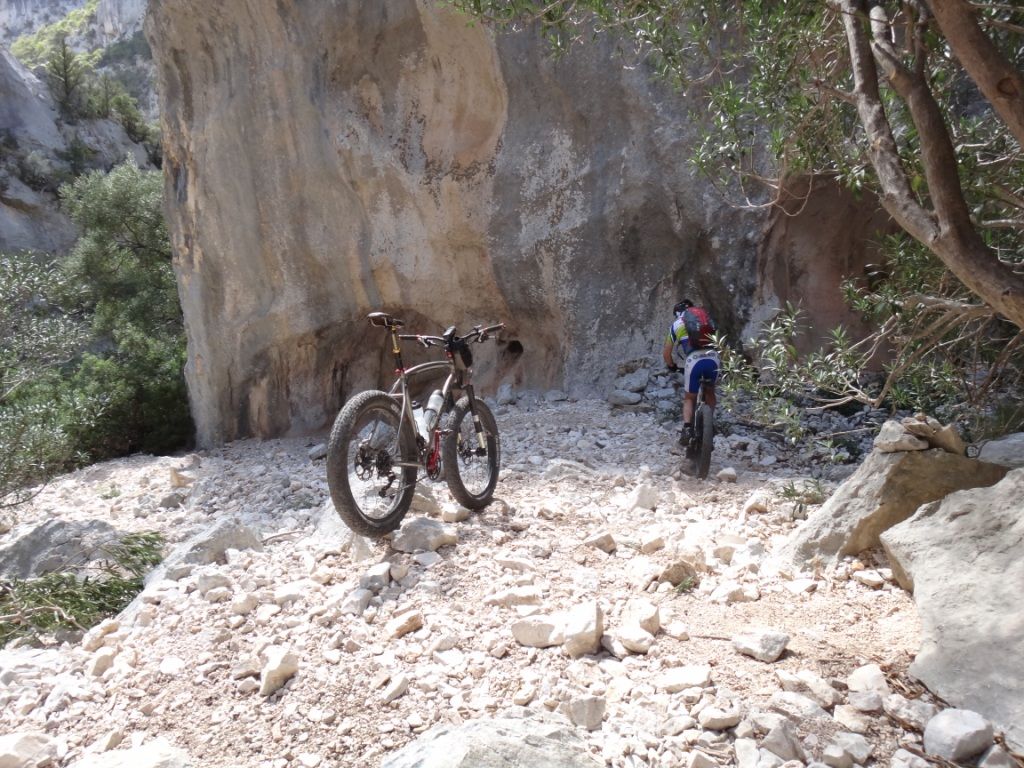 The side canyon dropped us into the sandy wash of a bigger one, niiice
.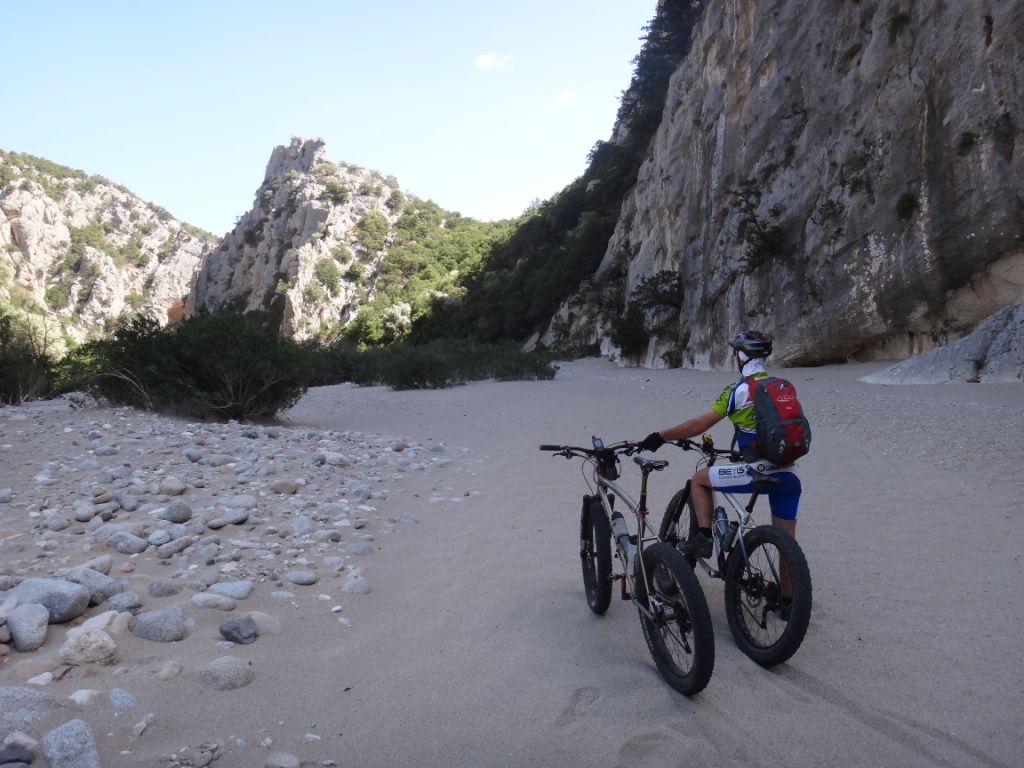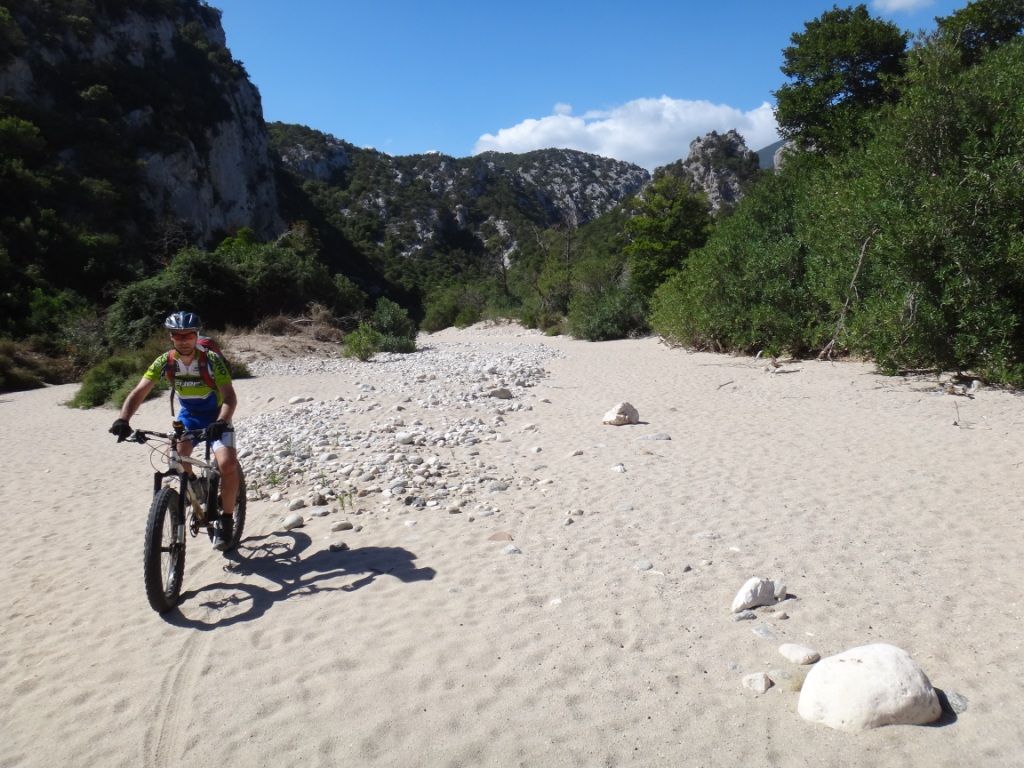 We hadn't seen a soul all day, and when you finally meet someone you don't complain. Definitely not when you round a turn and you notice by the passer-by's attire that you're approaching the beach
.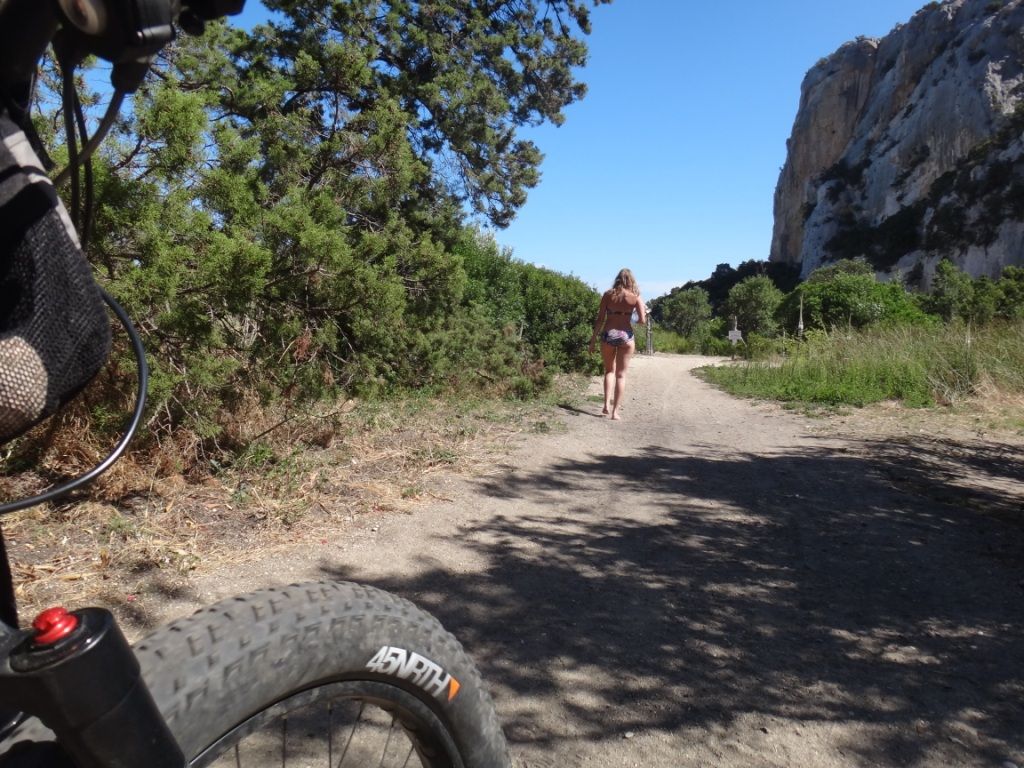 Group hug, a Gobi and a Hoggar cuddling on the beach.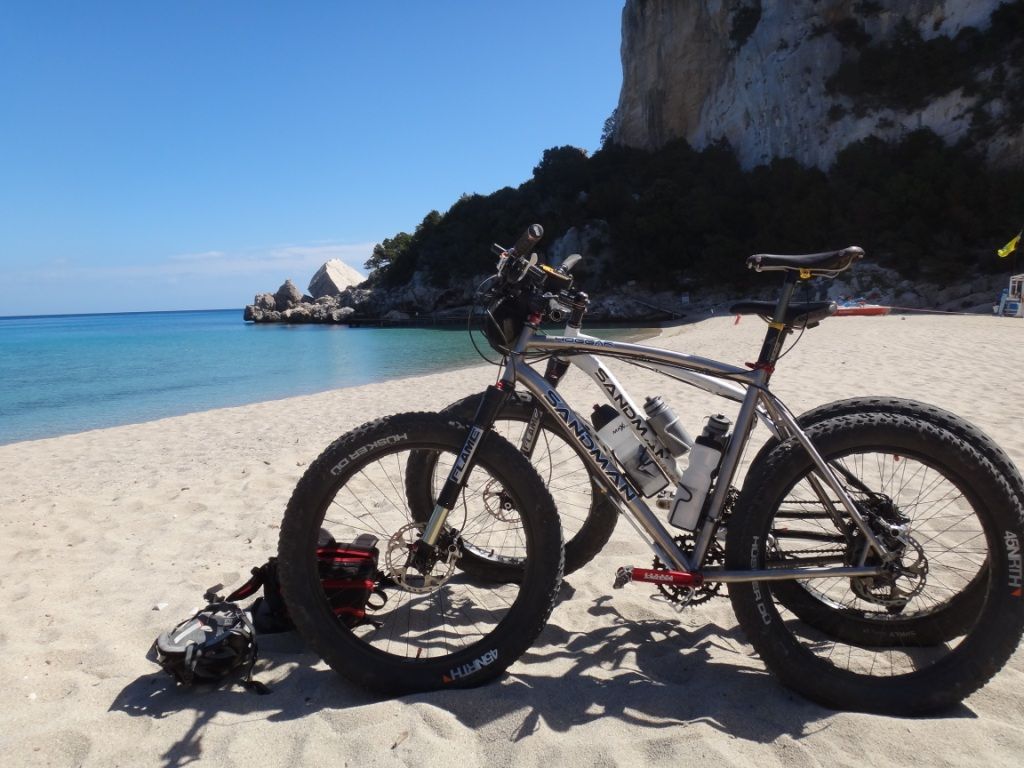 We ended up on a secluded beach with this most impressive yacht anchored right in front of us. The thing looked more like a stealth warship than a private yacht (I googled it back home and it belongs to some Russion billionaire, the thing is more than 300 ft long... google yacht & starck if you're interested). It sure made a perfect background for a nice picture.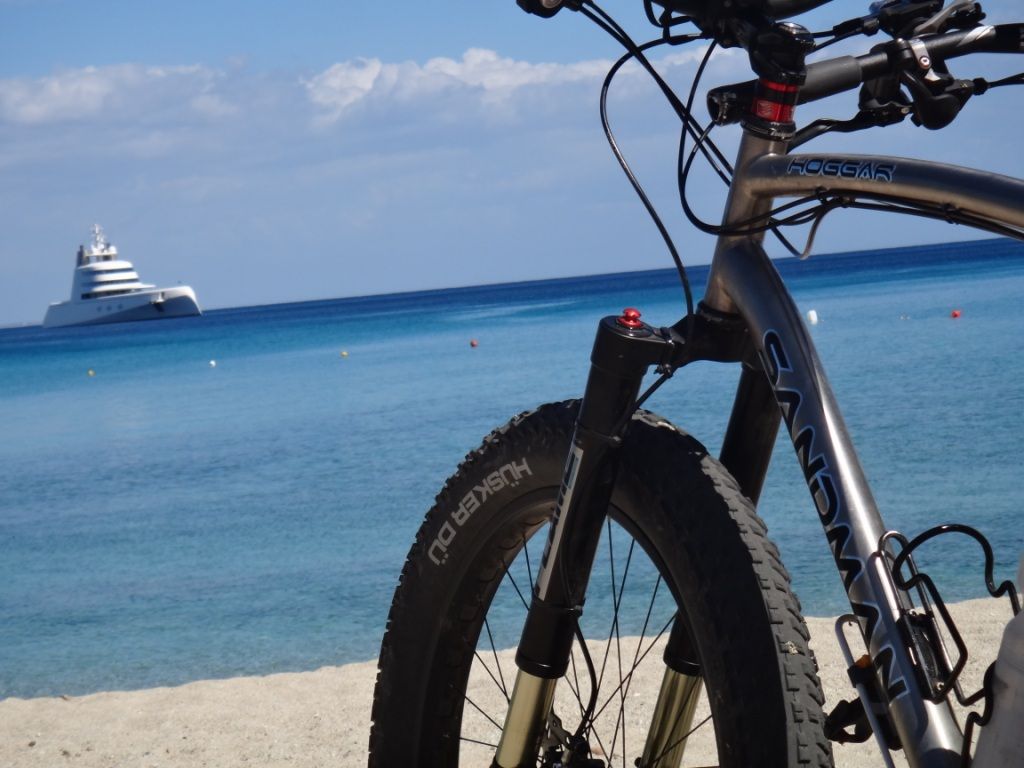 Then we were off to the mountains again, canyons, rock arches, the works...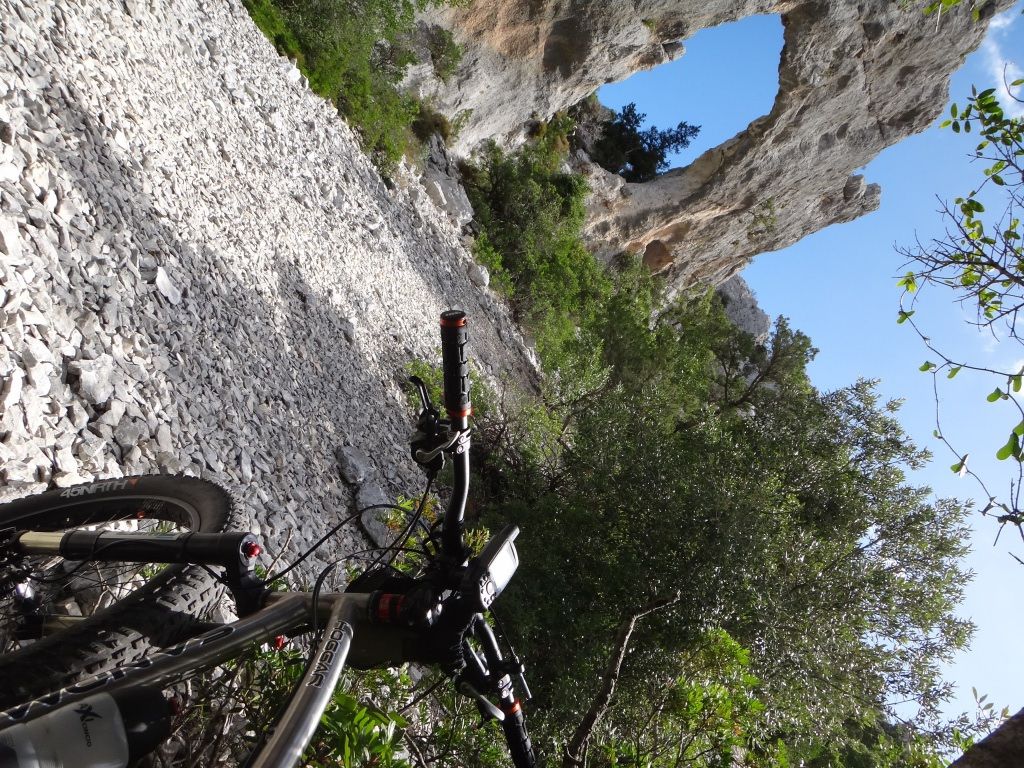 We found ourselves a dream of a trail, almost 1000 meter above sea level and with grandiose views.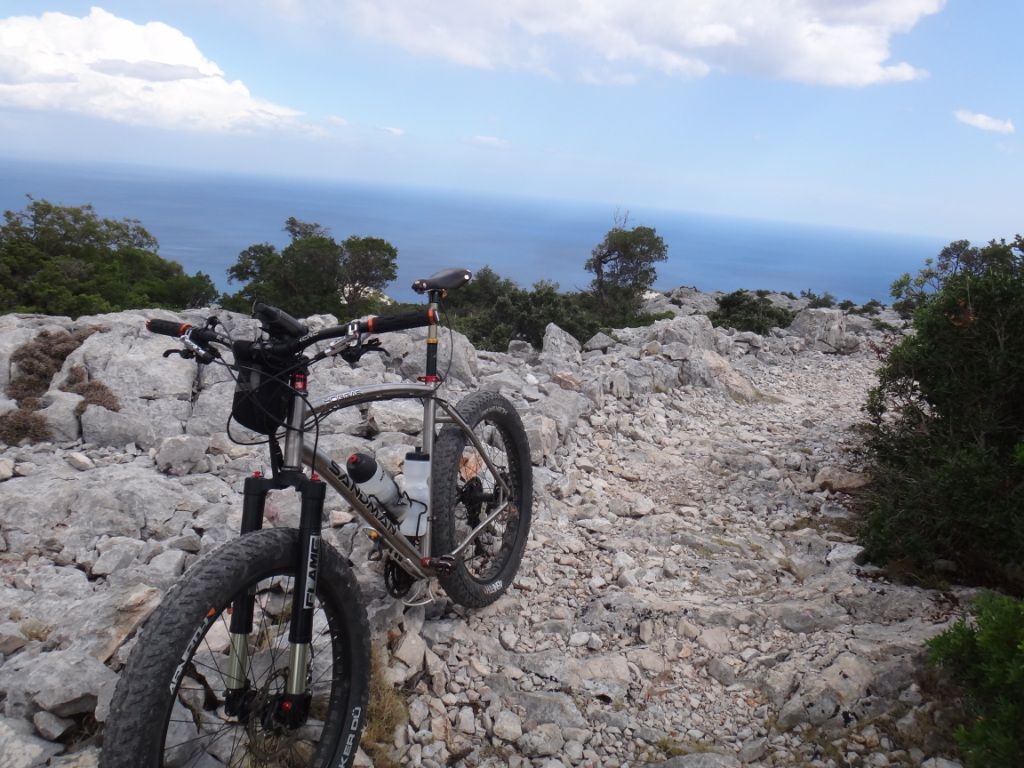 Which were soon obscured by a thunderstorm rolling in... it caught us just at a rim ofcourse. The "mist" you see on the rocks is actually pulverised rain, driven by a gale over the rim. I stayed reasonably dry huddling behind a rock, the rain and hail were driving by almost horizontally. The bike got bowled over...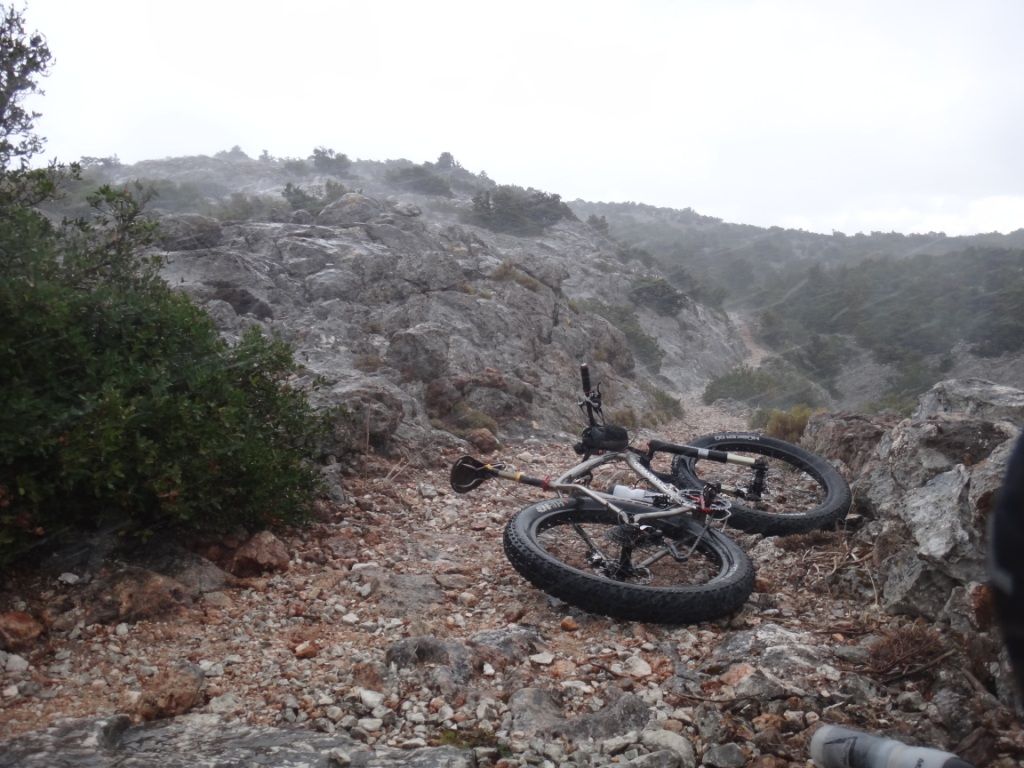 After rain comes sunshine, and one of the most incredible downhills I've ever had the pleasure to bike. It would have been no fun on a skinny tired bike (loose rocks, gravel & sand) but it was heaven on our fatbikes
. Sorry I didn't take any more pictures, I was having too much fun.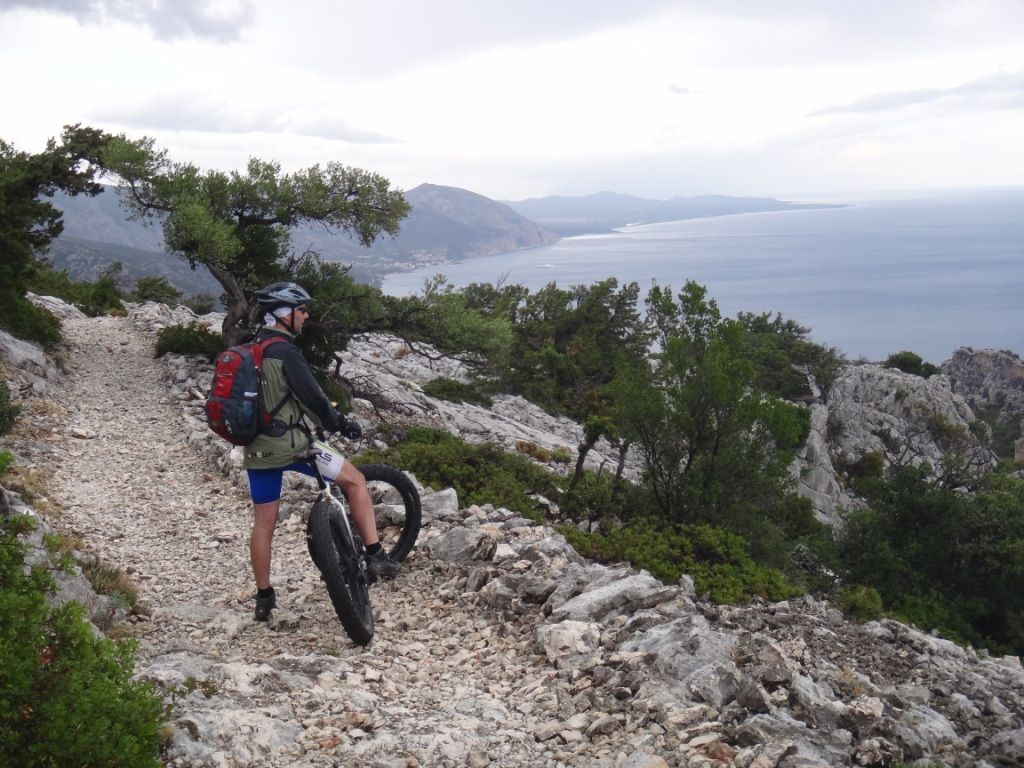 We arrived at another beach, where there were regular boat shuttles to Cala Gonone. The skipper didn't even blink an eye when we asked if he could take our bikes
.
Now this is biking ;-) !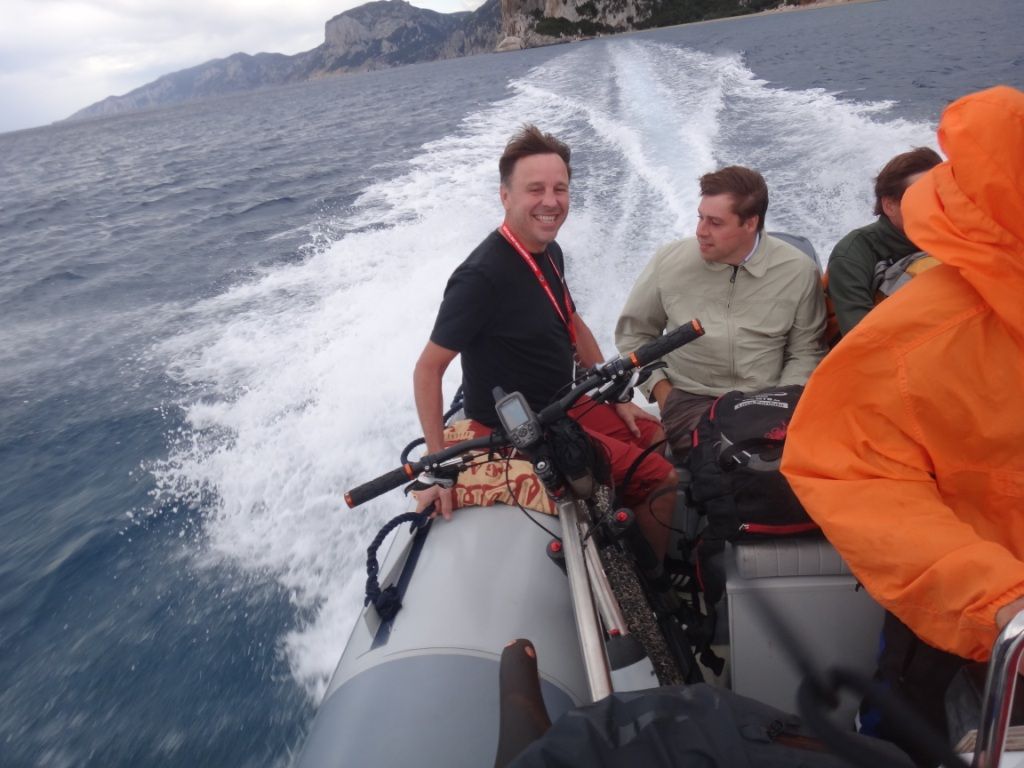 The skipper made short work of it, really letting his RIB fly. These two couples in the bow were trying to get out of the breeze and the spray - wimps ;-).
At the port, some nice murals...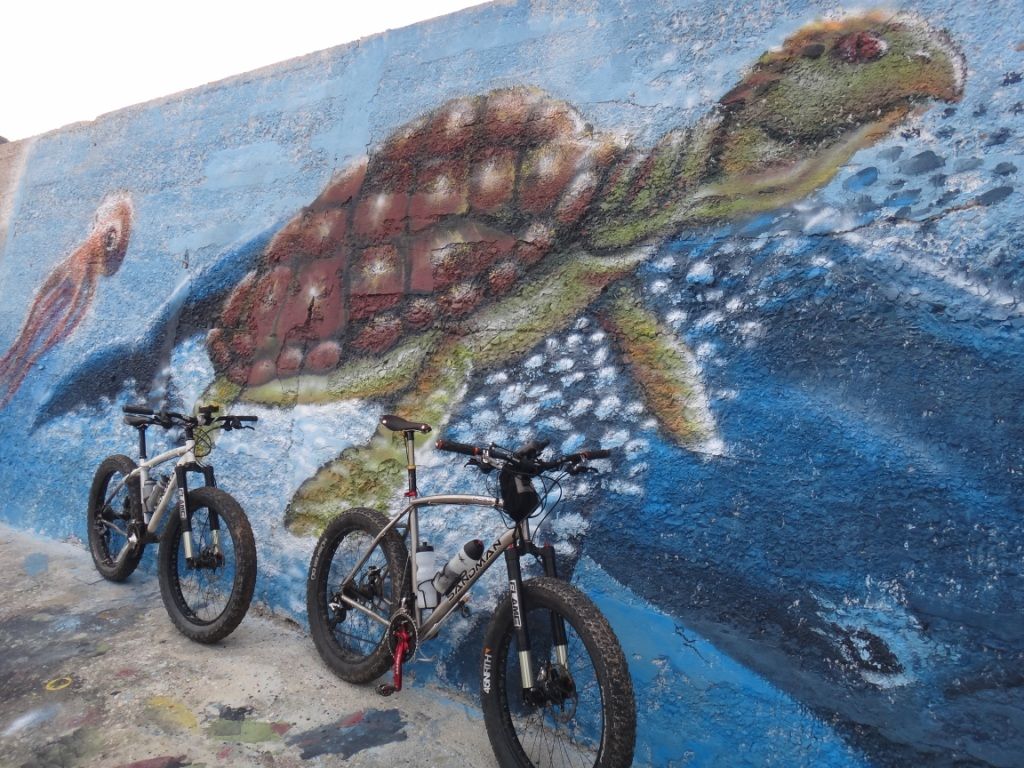 The artist still at work ;-).
And a seal checking out a weird bike. If you've got the opportunity, do check out Sardinia: beautiful island, good trails, nice people and delicious food. What more does a biker need
?