Discussion Starter
·
#1
·
The Roc d'Azur is one of the biggest biking events in Europe, if not the world. Think about an offroad racing category and chances are they'll have a race for you during this 5-day event right at the coast between Cannes and Saint Tropez.
Sandman bikes wanted to have their bikes run a race gauntlet one last time before the office presentation of their fatbike line (one ti, two alu, one steel and a tandem fatbike). Nothing beats real world racing as to find out if a product is up to par, so we took off to the French riviera to participate in a bunch of races with 3 guys from all over Europe as the special "wrecking crew".
Simon, a German with a penchant for downhilling, be it on skis or on a bike. Martin, a crazy Spaniard who handles a bike like he was born on one and Milton, also from Spain, a guy who loves his races long & tough !
The first race in which all three entered was the enduro race on thursday. Since they had never participated in such a race (timed downhill specials and lazy "on your own" climbs) they spent the day getting to know each other, waiting on each other to film while biking. According to the filmed material I saw with the stops for fixing the flat tire and picking each other up after crashes, they would have had an easy top-3 finish had they taken it as a race and each for himself. Now they finished 25th, 27th and 124th (due to the flat) out of 154 finishers.
Not too bad, considering. And in a way great that they acted as a team, not a bunch of individuals. Nice, I much prefer that spirit !
That Roc Enduro race proved to be a good warmer-up, the three guys got along really well - this was going to be a fun week !
The next day things started to get serious with the Roc Marathon: 83 kms and 2700 m denivelation. Translated gives that 52 miles and 8900 ft positive.
Sandman had prepared the very first Hoggar model (titanium frame) as a race bike for Milton. The name comes from the desert where the very first prototype was tested some years ago.
We got it in France so new that the stickers weren't even applied yet.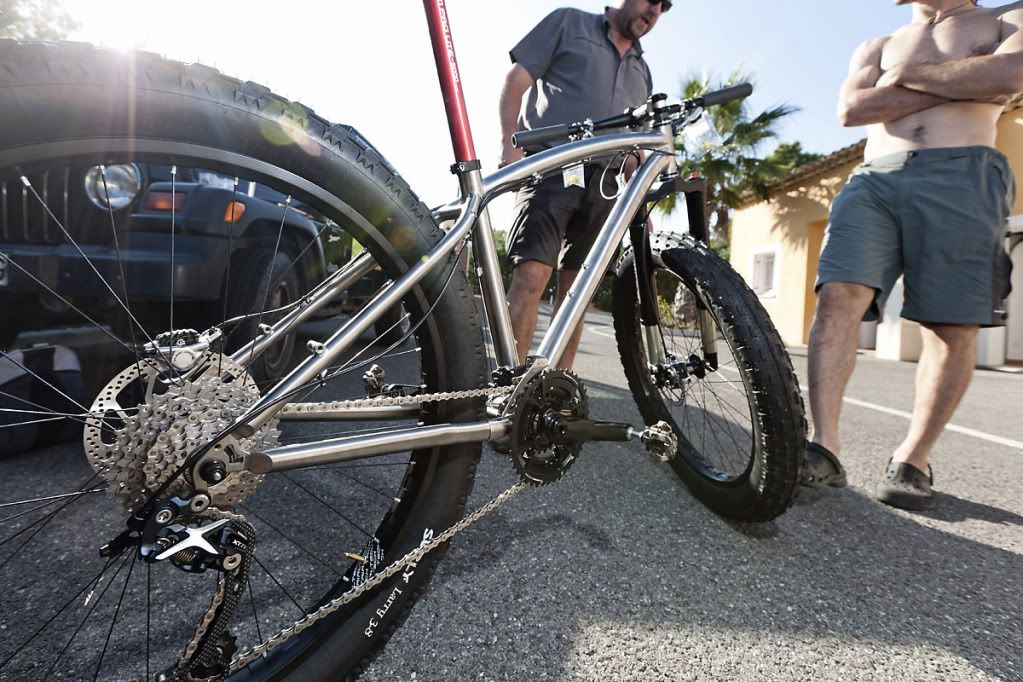 But they were included, so here is the finished result. VERY nice bike in the flesh, weighed in at 12.5 kg or 27.5 lbs without pedals. Not bad considering what the bike is capable of.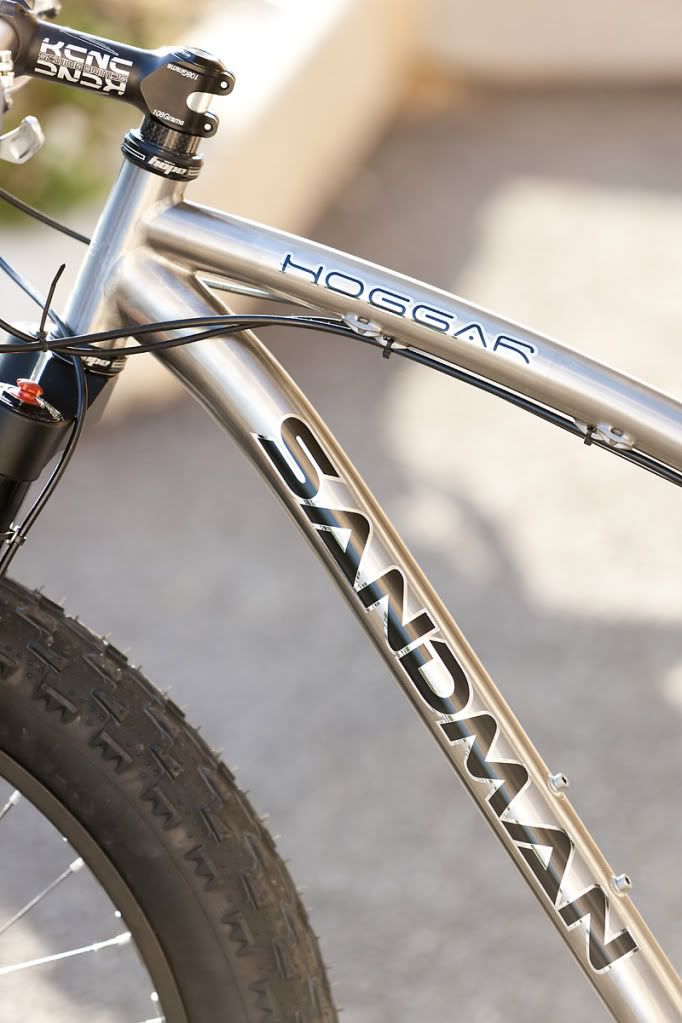 Milton feeling right at home on the bike...
The only really special part on the bike compared to the series model is the prototype of the new rear hub, a raw beauty. The rear wheel weighed an astonishing 1.1 kg or 2.4 lbs without cassette nor tire.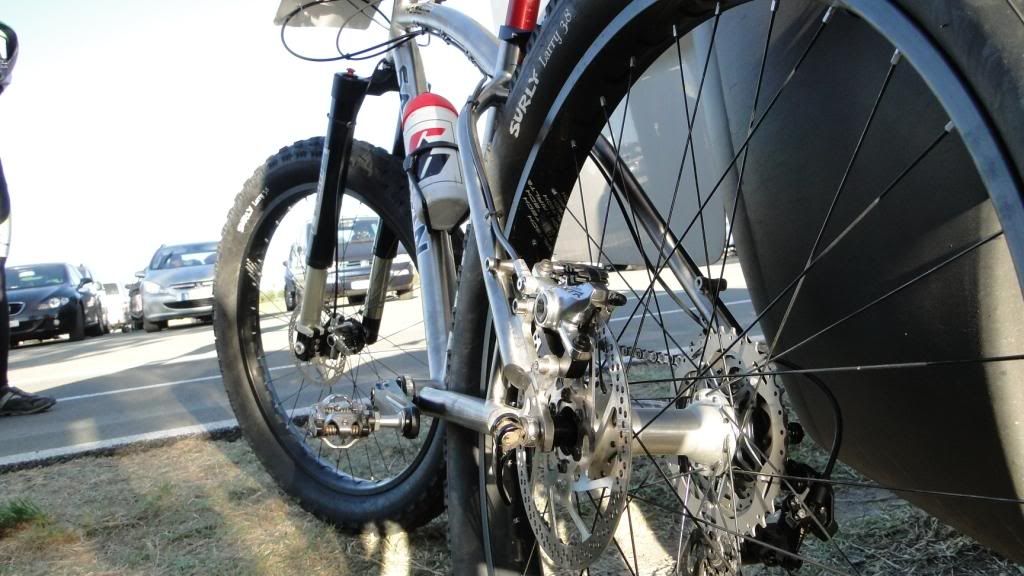 Here Milton rolls over the finish of the marathon, in 28th place out of 1478 (!) finishers. If anybody ever tells you that fat bikes can't be fast, have them reconsider. Now. A properly designed and built fatbike runs with the best of the world out there.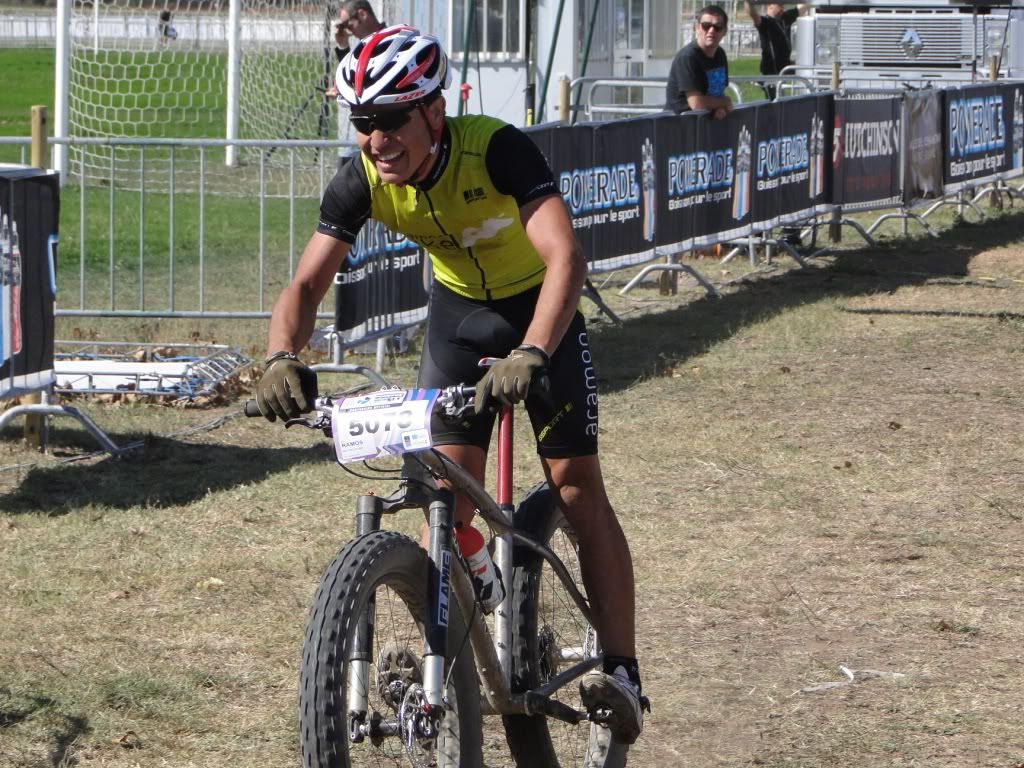 After the race Milton told us that at first other racers were passing him at all sides on the climbs. Some out of pure denial that such a bike could be in front of them. They'd rush past him, only to slow down right afterwards, not being able to sustain the effort.
But he caught them all back on each descent. After a while some racers got so frustrated at this game that they took to "lesser tactics" to keep him from passing: not giving room, closing the door, even pushing him aside...
But he kept at it and saw the leads they took on the climbs shrinking as the miles passed. At the end there was no lead anymore and he left the group he had been racing with behind until the finish line.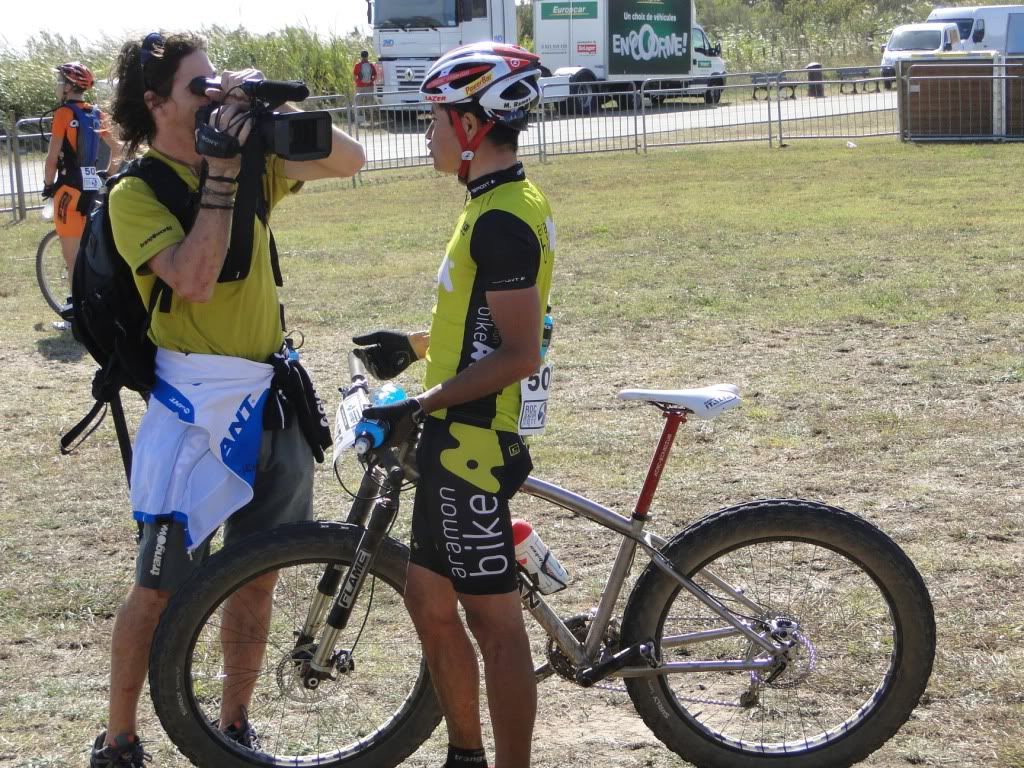 In the afternoon it was Simon's turn, for the downhill race training.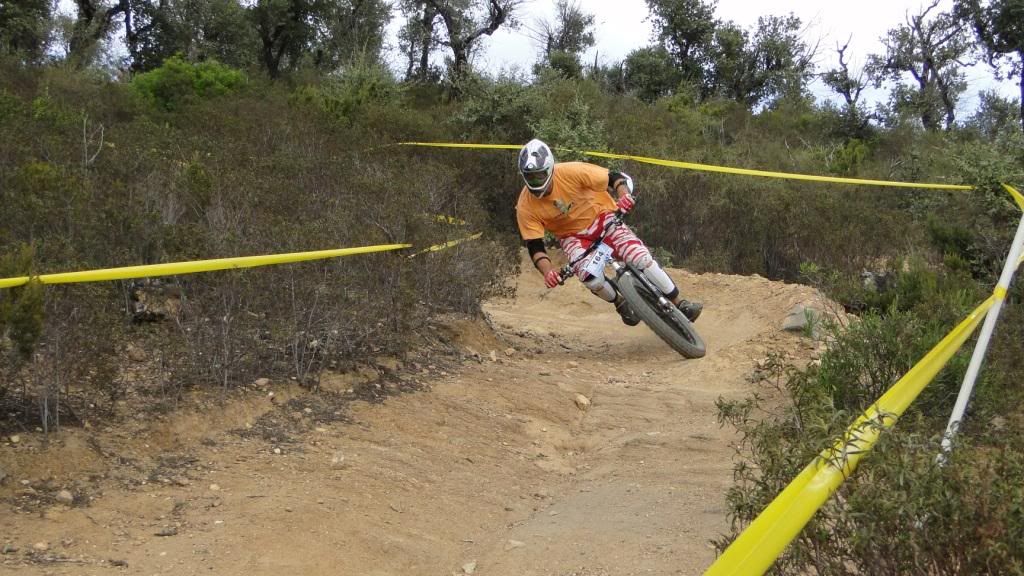 He had done the first run on his normal downhill bike 20-24 cms / 7.8-9.5" travel front & rear and decided against running a Sandman because the top section was too rough: a succession of big and fast bumps that ate up all of his fully's suspension travel. To race a hardtail over that would mean painfull death...
But after a few runs he realised that he couldn't go for a top finish anyway because it was apparently a well-known descent and the locals literally knew the place of each and every pebble, rock and root. His 5-6 training runs weren't enough to overcome that disadvantage, so he decided to try out the Sandman and just have fun.
Which he did - whoohooo !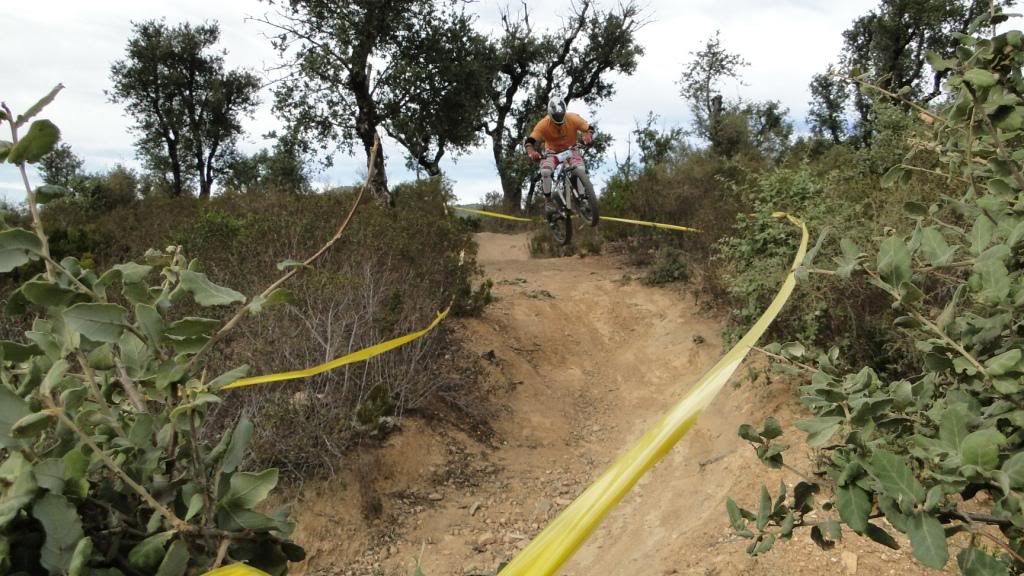 Saturday morning it was the Sandman Outback tandem who was readied for racing. Luc and Jan had agreed to take the beast out to play. The start was very early at an ungodly hour (just as the sun was rising). It was an impressive sight so see more then 250 tandems (!) barreling down the first corner, I reckon the first teams would have been at around 50 km/h or 31 mph down that turn.
The Sandman team had a starting number way at the back of the pack so they decided to chill out and have fun, here Jan is waving at the camera.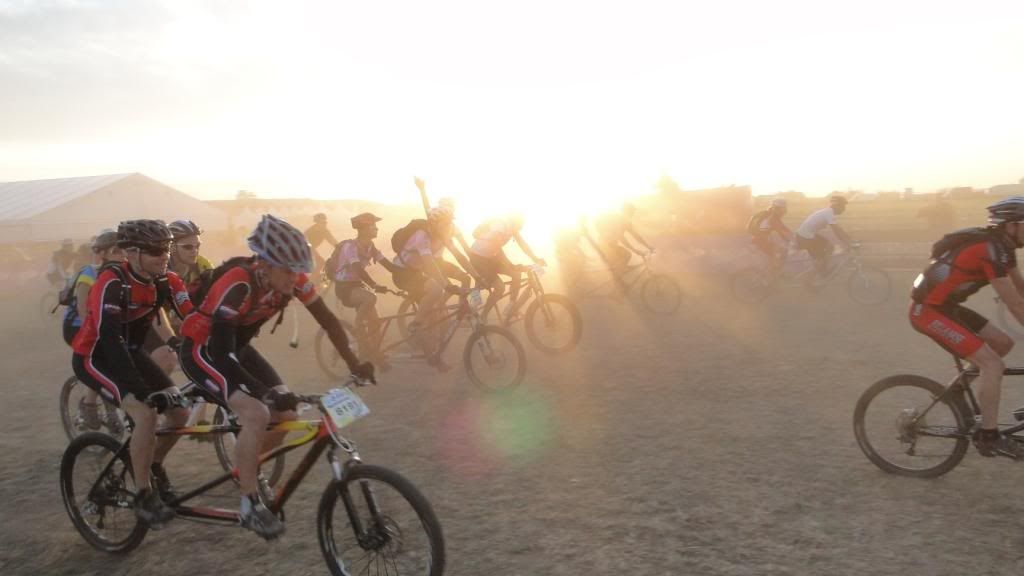 They slowly made their way to 163th place out of 229 finishers, with two pair of lungs filled with dust...
After the tandem race we all hightailed it to the other side of the hills for the downhill qualifying and race. The previous evening we had gotten our hands on a few Surly Nate tires and had put them on Simon's bike.
By the time we got there, the timed qualifying runs were over and it was funny to see the looks on the faces of 3/4's of the racers when they realised they had to line up behind Simon and the only hardtail in the entire downhill field - precious
.
That in fact was the general reaction from other racers during the whole week: "... wtf... is THAT in front of me... ?!?".
Simon was very happy with the Nate tires: endless grip in the turns and very good braking power.
He faultlessly ran his race, but unfortunately there isn't an official result on the Roc's website yet. But there's no reason why he wouldn't have kept his place within the 1st quarter of the racers' field. Respect and great to see what a standard Sandman is capable of in good hands !
In the meanwhile, Milton was loosening his muscles while checking out the neighbourhood. He came across this odd looking meadow...
Try this out at you're own risk, we NEVER gave you this idea !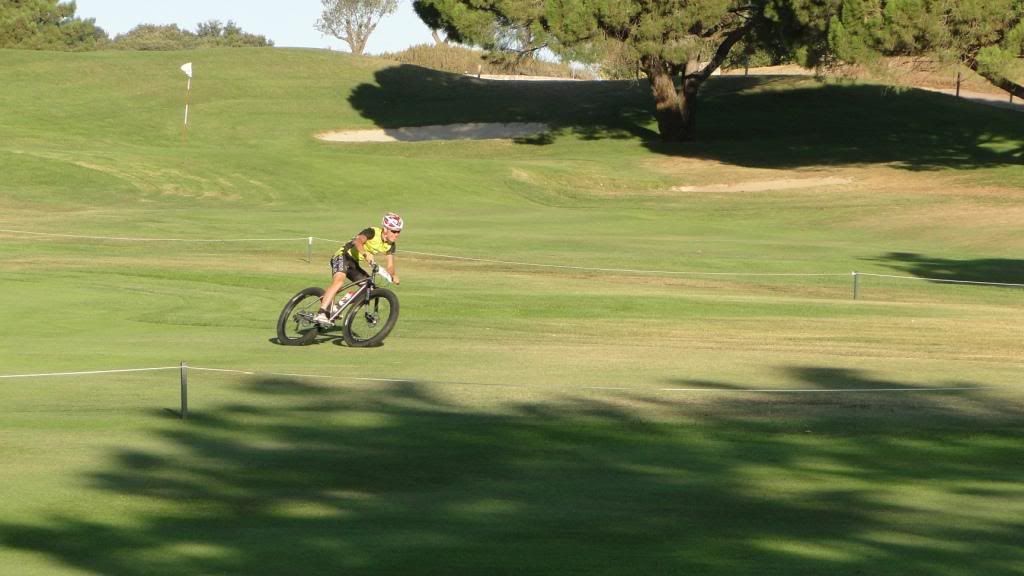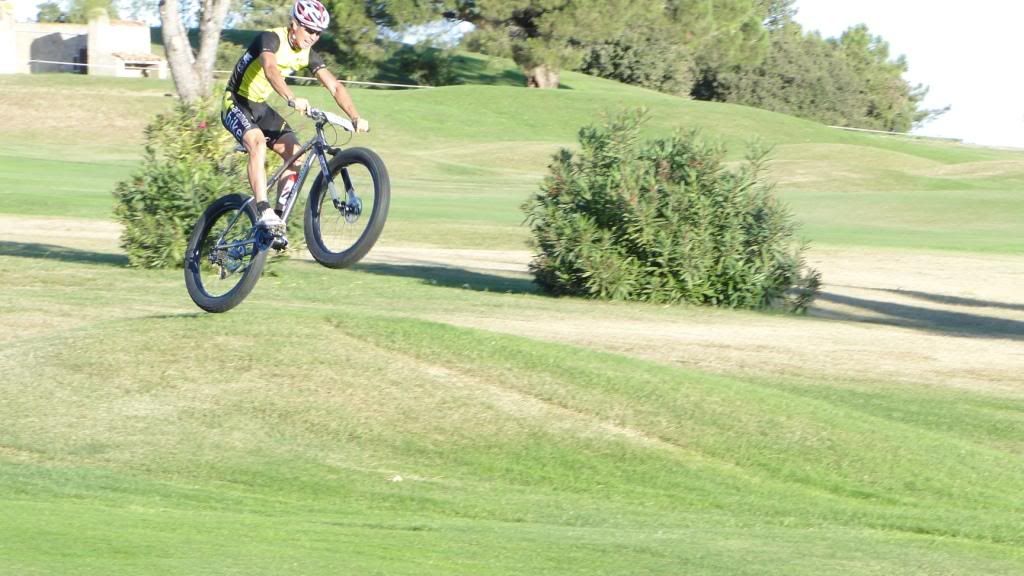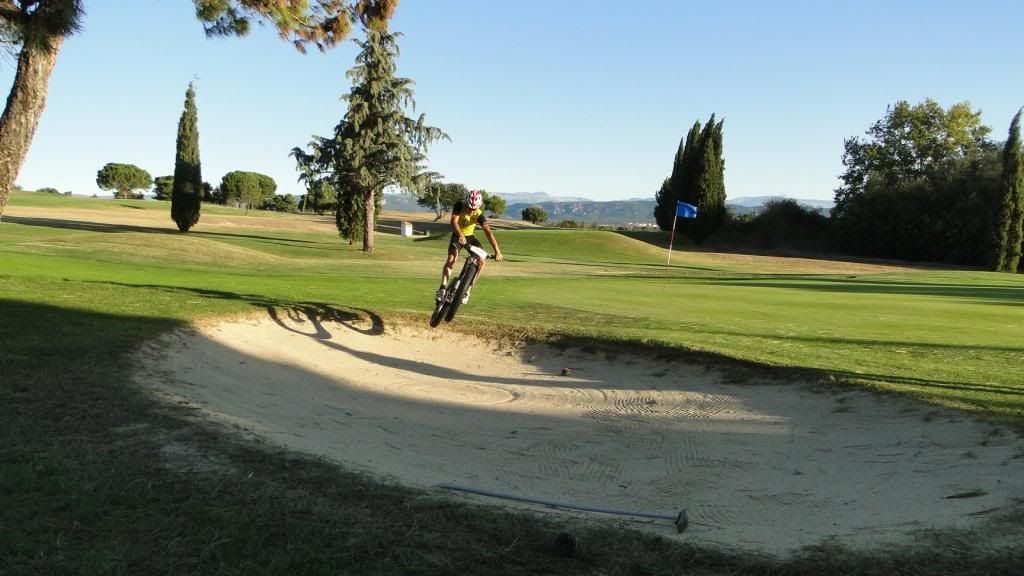 After the Roc Down, it was basically done for the day. But all of a sudden Jeff, a friend, came by our rented house telling us that there were still some free slots for the "Roc Ruelles" at Roquebrune, a village nearby. Huh, whassup.. ?? Jeff replied "I think it's a streetrace at night, teams of two racers". Oh... well... ok, let's do this !!
I hurried to enter two teams. Simon teamed up with Martin, Jeff with Rudi. Milton wanted to compete too, but as I was the only left available and being so out of his league (read: way below
) we decided for the reasonable thing and leave him to rest for the big XC race of the next day. I took a camera to record everything for the next of kin...
We hurriedly put on a pair of new Black Floyd slicks on Simon's bike and went speeding to the start.
This race proved to be a totally wild & crazy experience, a street race along the narrow and steep cobblestone streets & alleys of the village, through "tunnels" under the houses and up and down stairs.
We were welcomed by the speaker yelling in his microphone "ahh, the Belgians from Sandman bikes are here toooooo....". Wild, we made ourselves a reputation in just a few days - never mind that most of the racers were non-Belgians
!
The race format was simple: 70 teams, two series of 35 teams each. The best 15 of each series go through to the final. The series is 30 minutes, about 2 minutes a lap. The final is 20 minutes. Only one team member can race, switching between team mates after each round or later. The only rule is that teammates should touch each other when relaying. Oh, ok.... the guys quickly went for a reconnaisance lap before the start of the 1st series.
I wasn't able to take many pictures, but I filmed a lot. Video footage will follow.
Here 3 of the 4 Sandman "crazies" coming down a flight of stairs during that training lap, Jeff at the front. Already getting dark.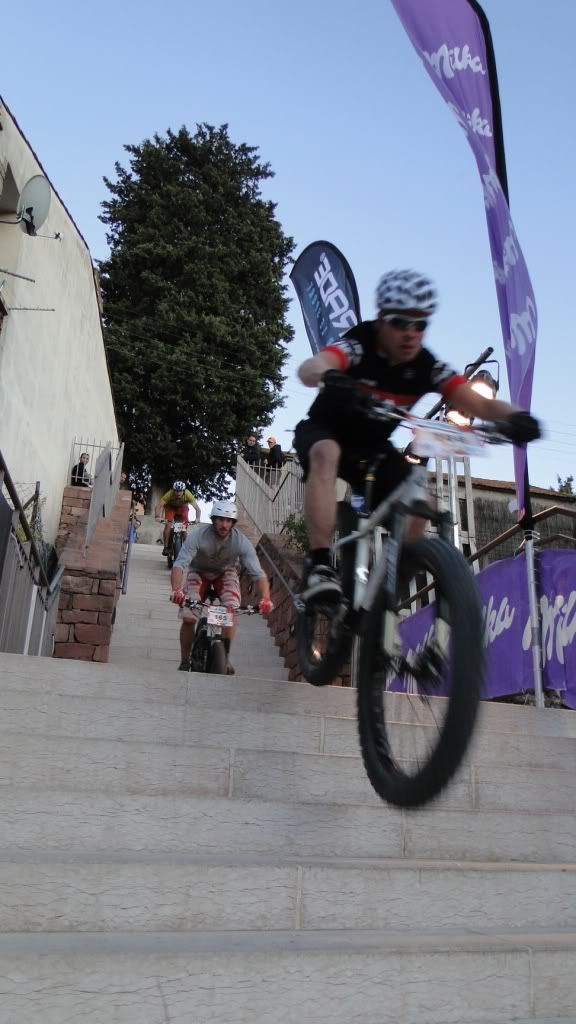 Then it was gawking at the 1st series (luckily we were in the second, so we could watch & learn). It's pretty wild to see 35 guys going flat out, bumping shoulders, full speed into a turn where there's only room for 5 !
Then 2 minutes "silence" - never mind the blaring music and the cheering crowd - and see them barreling down stairs, turning on the start/finish straight and launching their already speeding teammate into the first turn with a shove or a pull. Everybody just going flat out 100% of the time. Adrenaline pumping !
Then it was our turn. Martin and Simon rode a spectacular race, the ooh's and the aah's from the public grew louder with each passage - Martin being a born showman. They finished 6th in their heath. Rudi and Jeff finished 20th, so they were out of it.
Here the ultimate streetbike, with the Nate tires on. Simon was a bit uneasy on it at first because he couldn't find the limit of the grip they offered. He was used to speedsliding his bike into tight corners but no matter what he tried, he couldn't get them to slide so he didn't know where the limit was. He managed to shave off all the rubber "hairs" on the sides of the new tires, just the last ones at the outermost edges were left...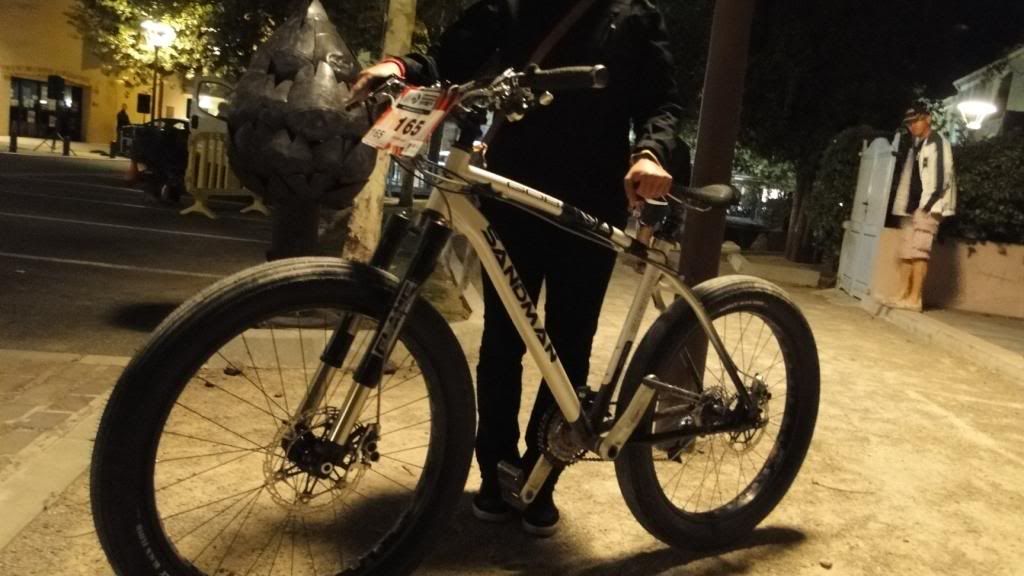 Here's Martin barreling down the cobblestones and sliding into a narrow tunnel under some houses. He always went drifting in there going at least 20 km/h, down some stairs at the entrance.
He also regularly jumped the second half of the big stairs, landing way into the street but still somehow managing to flow into the start-finish line with the hooting and hollering crowd instinctively retreating - easily the most spectacular biker of the whole bunch.
They managed 9th in the final, 3 tenths of a second behind the 8th. To the consternation of Simon who swore that he had overtaken the guy just before the last finish line.
Not bad for a spur-of-the-moment race we had not planned nor prepared for.
Here are our two "street warriors" after the race, which they had enjoyed immensely. We went to have dinner at a local restaurant afterwards.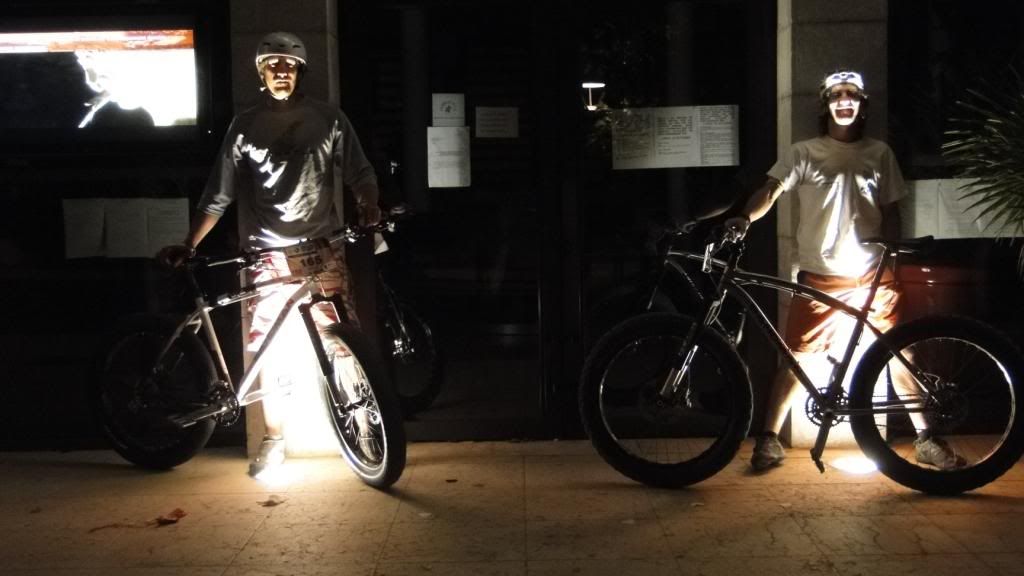 Great race format, such a street race. Big fun, next year we'll be back :thumbsup: !!!
Then on sunday came the big one, the Roc d'Azur itself, an 56km/35 mile XC race with a 1700m/5600 ft positive denivelation.
Milton was less gung-ho compared to the marathon two days earlier. He had a bad starting number in this race, somewhere in the 300's. To undo that disadvantage in a short XC race with such a field of strong participants (world champions and all) seemed impossible to him so he decided to take it easy and enjoy himself.
We had positioned ourself as spectators along the course at several points quite early into the race and saw him pass a few times around 80th place.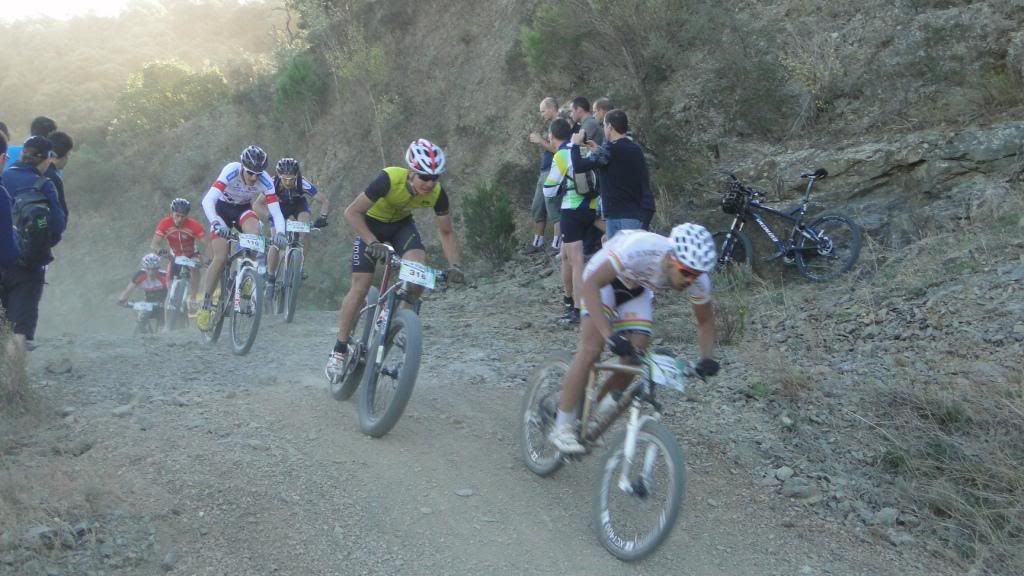 Seriously eating dust on the singletracks.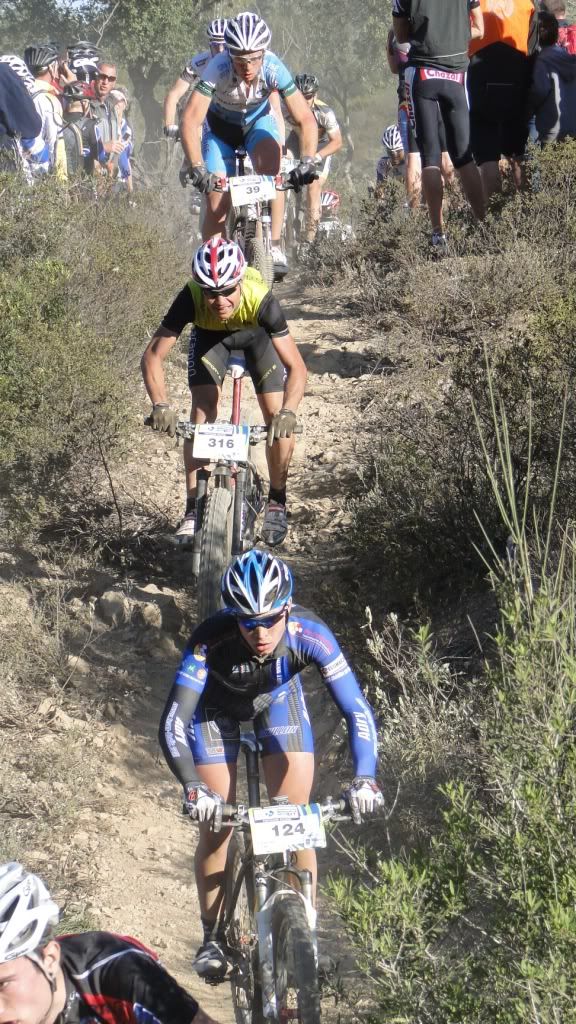 Almost at the end of the race, there was a brief passage on a beach where I wanted to get a picture of Milton pedalling where everyone was running. But he surprised me by passing much earlier in the field then anticipated, by the time I got my camera out & running, he was already gone. But we caught him on the final stretch to the finish, speeding alongside the road and we filming next to him out of the car. He already had complained after the marathon that the bike only had a 34-12 cassette - he needed a 11t sprocket !
Here he crosses the line happy as a clam and still very fresh in 39th place, out of 3411 finishers, with an average speed of 20.4 km/h - 12.7 mph !!!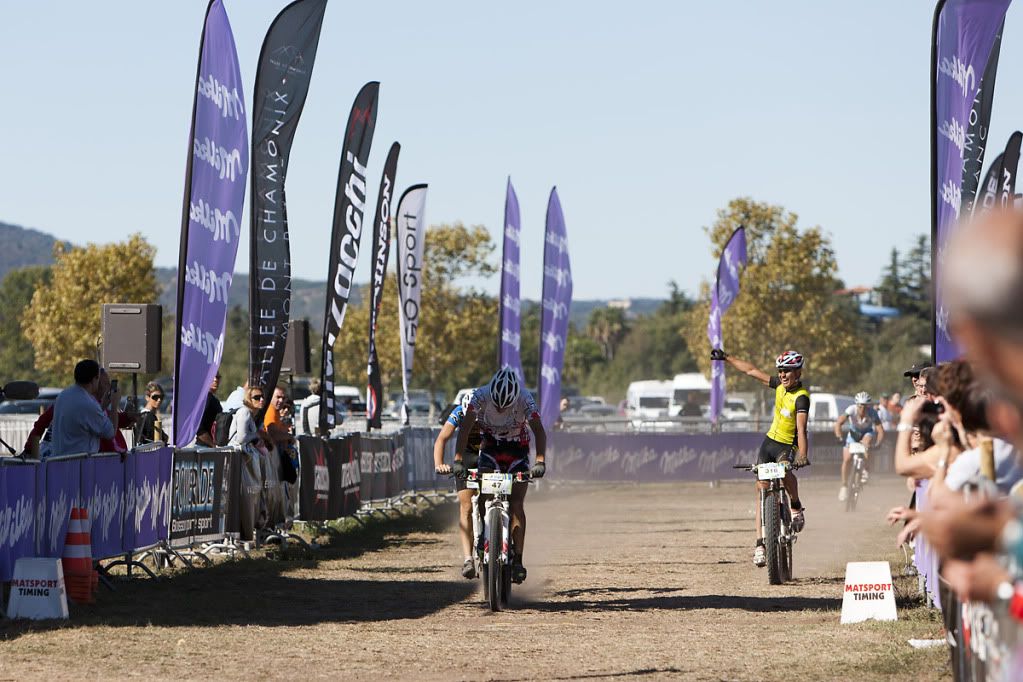 His approach to this race was totally different, caused by his bad starting position and the XC race format which is not his favourite. This time he went at it almost relaxed, no stress, just wanting to enjoy the race. Not trying to follow everybody uphill and not screaming down, but going at his own pace and relaxing downhill. The good thing about "relaxin' downhill" on a Sandman is that you still overtake almost everybody else
.
By mid race he started to put power to the pedals and from there on never looked back, he overtook everybody in sight and nobdoy overtook him anymore on the uphills (and nobody ever did on any downhill).
He had a smile wide as the finish line and said this race changed his outlook on mountainbike racing completely and he realised that with a Sandman you have to race differently compared to a classic mtb: relaxing downhill, thus saving energy for the uphills, carrying way more speed into the turns...
He was much fresher then his fellow competitors afterwards, he changed clothes and we strolled for hours through the expo area afterwards enjoying looking at the newest gear and watching totally crazy dirt jump competitions (those guys are... nuts).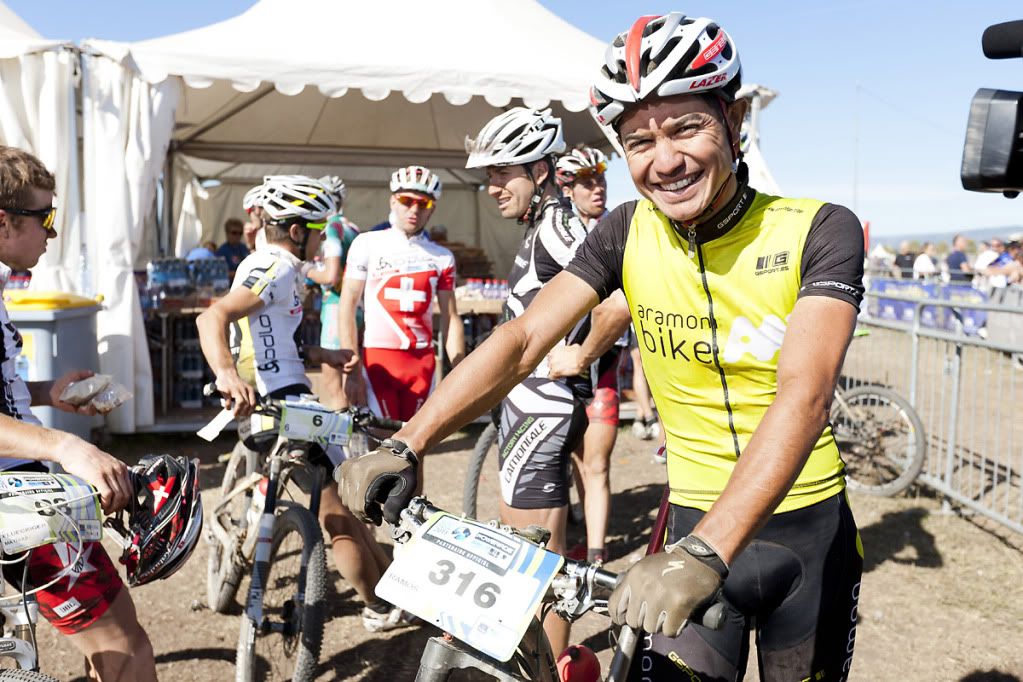 He's looking into participating in the Ruta de los Conquistadores on a Sandman
.
A big thanks to Milton, Martin, Simon, Jef, Rudi, Luc and Jan. For their openness to the fat bike racing concept, for their results, for their showmanship and especially for their nice company during these race days !
As for the gear we managed to break... one pinch flat by Simon in the enduro race and the bearings in the Hope headset of Martin's bike didn't seem to appreciate some of his incredible staircase jumps
. For the rest zero mechanical problems.
And I'd like to point out that all racing bikes were basically indentical: apart from Miltons's rear hub, the only differences in setup were personal preferences of the racers and consisted of no more then handlebars, seatposts and tires.
By switching those few components the bikes competed succesfully in international XC, marathon, enduro, downhill and street races of a very high level.
Simon and Jeff rode alu Gobi's. Martin rode one of the early ti prototypes with a more curved top tube and Milton had a new series Hoggar ti frame at his disposal. All decked out with prototypes of the wide German A forks.
Rudi was commandeered into the impromptu street race on his old alu Atacama with a Maverick SC32 fork.
Oh yeah, almost forgot: if you'd want to, you can also ride on snow with a Sandman :thumbsup: But who would want to do just that, when so much fun is to be had all year long ?
Me, I've lost my heart at that street race, next year I want to participate too
. Wait until you see the video of this year, Martin is editing it now.