Discussion Starter
·
#1
·
Took friend Scott w/ an Iphone along so we could map it out. 15+ miles/ around 2400 feet of elevation gain. We all had a good time and slept pretty well last night.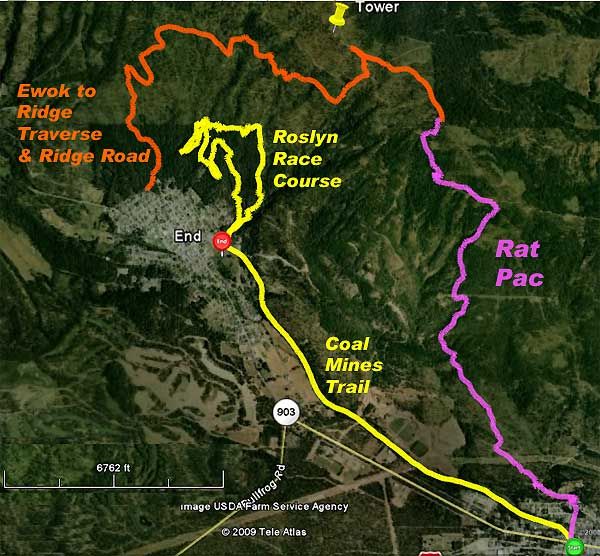 The boys at the top... husband decided while pushing his bike up to the ridge road that he was going to call this ride "Little Girl", lol.
There's major repairs going on the first hill of the race course, but other than that just about everything is looking better than ever. Rat Pac was still sporting one 'surprise', dunno how everyone else is taking this one....
Coming down Rat Pac we got onto a stretch that I ride serveral times a week at lunch. There's one little section that has a sharp switchback/drop to the right that leads into another tight switchback curling around a tree to the left. This is a tricky bit, as the tree roots slope the turn to the outside and the soil is too soft to create a berm. Basically your bike wants to fall off into the grass and brush to the outside. I've had a lot of trouble on this turn and consider it a good day when I can 'clean' the turn without putting a foot down, but that usually requires going very slow and picking my way over it.... probably nothing for your collective mad biking skilz, but still for ME it's a good challenge.
Of course Scott didn't have a clue, and the trail builds up a good bit of speed there, and the first switchback being heavily brushed he couldn't see what he was getting into. He was ahead of me just far enough that I could still see him on straight sections coming into the first turn.... then I suddenly heard:
"AAAAGGGH!" *whumfp*
through the brush from the other side of the switchback.
I'm SO gonna burn in hell for this, but I'll admit it... I immediately burst out laughing because I just KNEW that tree had eaten Scott before I even got around the corner. Fortunately the ground there is really soft, and he didn't bung up his ribs worse than they already were from a fall he'd taken earlier this week.