Discussion Starter
•
#1
•
So Rockshox are at it again with air spring changes. Here's a recap.
The
2015 Rockshox Pike A1
and
2016 Lyrik B1
used self balancing air springs where positive and negative chambers were equalised by a notch inside the stanchion. This notch met the air seal near top-out which filled the negative chamber but didn't pressurise it higher than the positive.
These early forks were plagued with air leaks from the negative chamber into the lower legs. Caused mostly by too much clearance between the air shaft and the black plastic seal-head. So shaft deflection could burp the seal and pressurise the lower legs.
This is why people were sliding zip-ties down past fork seals.
Rockshox released a
new seal-head
with bigger seal to counter this leakage. It worked and came in most 200H service kits. Vorsprung have identifying pictures here:
https://vorsprungsuspension.com/pages/luftkappe-installation-setup
A very good and popular upgrade for these was the Vorsprung Luftkappe. This replacement piston does three things.
1. It moves the piston seal down relative to the equalisation port to create a higher negative compression ratio. This reduces top-out forces to zero.
2. It increases negative volume through a domed cap (which reduces positive volume as a side-effect) so the negative spring effect extends deeper into travel.
3. It removes the need for a top-out bumper which further increases negative air volume.
The net result of these changes was a straighter air-spring curve. The first half of the stroke became a lot more linear from top-out through the midstroke. Using higher air pressure but getting better small bump response and mid-stroke support.
At this point in time the Debonair name was being used by Rockshox in their rear shocks (with high volume, dual layer, positive and negative air-cans) and also for the Lyrik and Yari (same chassis) which had longer stanchions and 10mm longer negative air chamber than the A1 Pike.
Rockshox took this opportunity around 2018 to release their first Debonair upgrade.
They replaced the, previously removable, air piston with a riveted on plastic moulding with air channels to allow negative air to flow into the shaft. Using that internal volume to increase negative air volume. The air seal position stayed in much the same location keeping the compression ratio and positive/negative balance pretty much the same (near zero at top-out).
The big engineering change was the stanchion end-cap seal-head. It was now machined aluminium (more precise than moulded plastic) and featured a DU guide bushing to keep shaft/seal alignment and prevent leaks to negative. This allowed less seal crush which reduced friction.
All round a good upgrade. Doesn't have the same volume increase or compression ratio as a Luftkappe but was a drop-in upgrade that people bought in huge volumes to solve their forks previous problems. Solid win for Rockshox.
The big criticism of this Debonair was the forks wouldn't sit at top-out. Just the weight of the bike would sag it and Rockshox own sag indicator stanchions had their customers getting concerned they'd got less than they paid for.
Roll on today with Debonair 3 (that's my name, not RS's).
https://www.pinkbike.com/news/first-ride-rockshoxs-updated-debonair-air-spring-pond-beaver-2020.html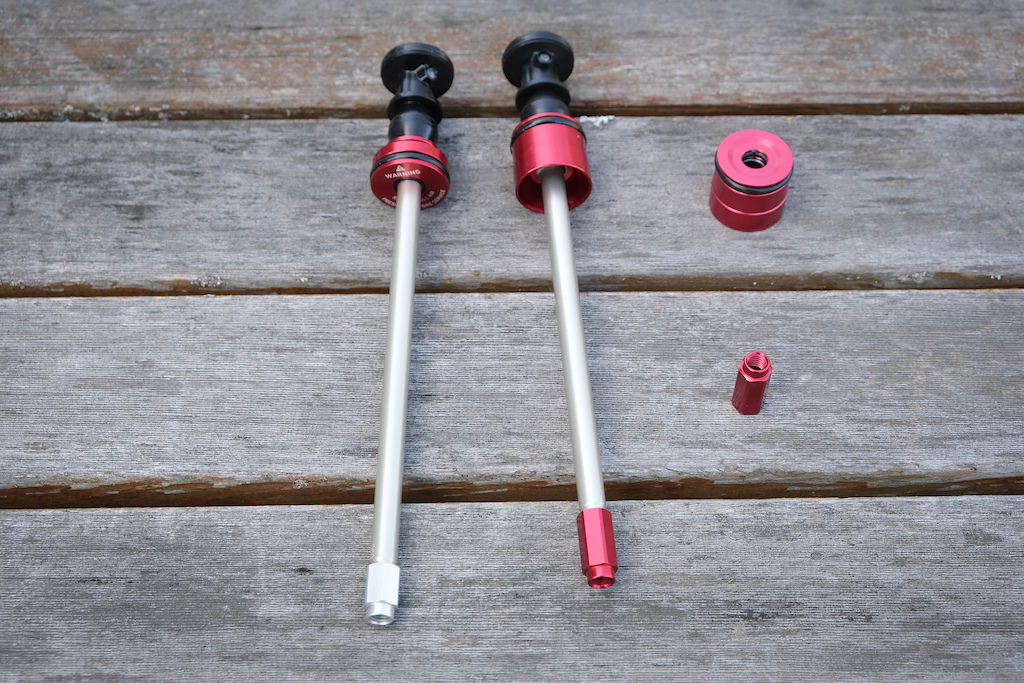 There are two physical changes to this air shaft over Debonair 2.
1. Longer shaft foot.
2. Higher end-cap seal-head.
The longer shaft foot does exactly one thing. It makes the shaft longer to move the lower legs down. This fixes the customer concern that their zero point has eaten a few mm of travel.
The higher placed end-cap seal-head is required to fit the longer shaft foot. Without that the longer shaft foot would hit the end-cap at bottom-out. Causing damage, shock and noise. In addition RS have taken more negative volume. Ostensibly to reduce positive pressure ramp up in the lowers during deep compression.
The downside to the higher end-cap is a reduced negative chamber volume. Expect this to be ignored or glossed over in initial releases.
The expected ride changes:
1. The fork will sit higher on it's travel indicators solely because the lowers have been spaced down.
2. The lower negative volume will make the fork firmer off the top and ride higher still.
3. Softer mid stroke (less support) due to the reduced negative volume.
4. Less progressive due to lower leg pressure build-up? That's going to be hard to isolate on ride tests.