Discussion Starter
·
#1
·
Hello,
first of all a short introduction: I am from germany and using my bike mainly for commuting (road/gravel). Making around 4000-5000km/year. Recently I bought a Salsa Fargo because I was curious about the dirt drop bars and quite confident that this will lead to a more comfortable and pain free ride.
The frame is great. The only thing I am missing are proper rack mounts - instead you need to use the Salsa rack which is capable of only 15kg. There is no other option, not even from Tubus (I asked them).
But now coming to my actual topic: I would like to share my experience about the three bars I've tried so far on this bike: Salsa Woodchipper, Salsa Cowchipper and Soma Gator.
I build it originally up with the woodchipper bar but finally it was not convincing. But step by step:
Salsa Woodchipper
Con: Cannot be adjusted to use hoods AND hooks
Pro: Lines on the bar help to adjust brifters on same level
Pro: 7075 Aluminium
The Problem here is, as you can read in different other reviews in the internet, that you cannot mount the brifters in a way that you can reach the lever from the hoods as well as from the hoods. Or, the only way to do this is to have a 45° angel of the drops which is not comfortable at all. I tried so many different angles and brifter positions so that I finally decided to try another bar: the Cowchipper
Salsa Cowchipper
Con: Hooks are not comfortable due to the bend
Pro: Hooks and Hoods can be used with reaching brake lever
Pro: Lines on the bar help to adjust brifters on same level
Pro: 7075 Aluminium
I liked the cowchipper more actually because I could manage it to adjust the brifters so that the brake lever could be reached from hooks and the hoods. BUT: The bend in the hooks is not really comfortable. I did not have a problem with the narrower drops at least but if you do more mountainbiking I don't think its sufficiently flared.
Soma Gator
Pro: Hooks and Hoods can be used with brake lever access
Con: No lines helping to mount brifters on same level
Con: Only 6061 Aluminium (if this is a con at all...)
Finally I decided to try a third bar to which I could not find much in the internet. What maked me certain that this bar will work was the smaller radius in the hooks. That is what I've expected to be better in comparison with the woodchipper. When I was thinking about "what would make a woodchipper more usable from both positions?" then it was a smaller radius. And indeed, it seems to be the solution here. As you can see on the picture, the radius is significantly smaller. I could immidiately find a proper brifter position having the drops on around 23° pointing downwards. Its not perfectly comfortable on the hoods though, but for a short time to relax its OK. The ramps are pointing downwards, this is what makes it a bit difficult for the hoods. But I am satisfied now and I don't think that I'll try another one.
By the way: my preferred position is hooks!
I hope this helps soe of you who are in the same situation like I was.
From top to down: Gator, Woodchipper, Cowchipper

From left to right: Gator, Woodchipper, Cowchipper
From left to right: Gator, Woodchipper, Cowchipper
Upper: Woodchipper, lower: Gator
Woodchipper
Cowchipper
Gator
What you can see on the next pictures is that the brifters on the Gator are extremely tilted: (this does not mean that it is a problem, its just to make you aware)
Woodchipper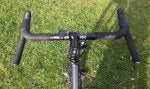 Cowchipper
Gator