Discussion Starter
·
#1
·
A few weeks ago I was invited by my friend Chris to do the Race to the Sunset in Bismarck, ND. He was in contact with a guy down there who was looking for a few people to put a team together. After tweaking my schedule a bit I was in!
The race weekend starts with an optional "Hot lap" time trial. I love suffering so I was going to do that as well. Only problem was that the TT started at 6:00, and I don't get off of work until 4:00. It's a two hour drive to Bismarck, so I knew that I would be cutting it close. I rushed down out of town as soon as I could after work, even wearing my bike shorts for the drive to save time at the trail. I pulled in with minutes to spare before I had to hit the trail. With almost no warm-up, I was able to pull a mid pack time out of my a$$. Chris's time was over a minute faster putting him in the top ten riders. A very impressive accomplishment given some of the competition.
About the competition. We had none other than Kelly Magelky (2nd in 24 hour World championships) and some crazy fast dudes from CO who came out to play. And that brings up this question. Why is it that almost every race that I go to West of the Mississippi has some dudes from CO slumming at it? Don't they have enough races out there?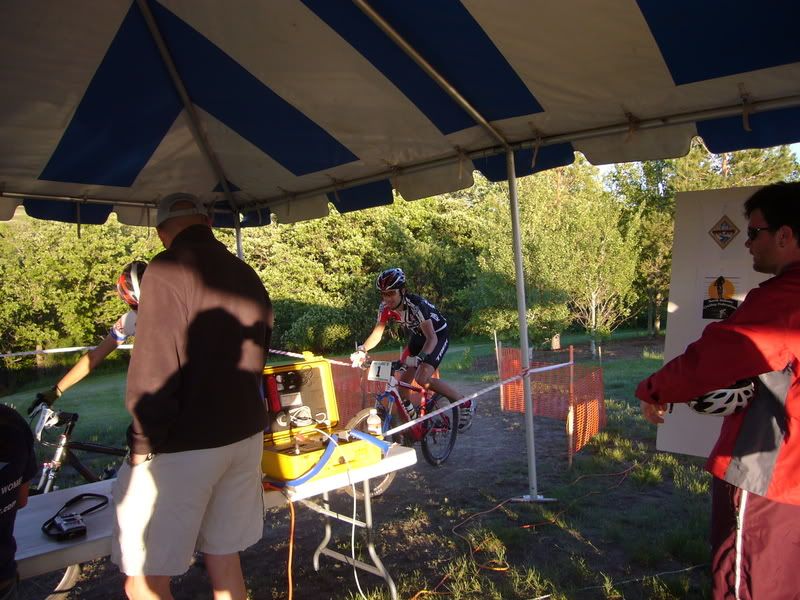 Kelly Magelky passing through the transition area. He road over 130 miles in twelve hours and had a smile on his face the whole time.
Saturday morning we hit the trail and met up with the rest of the members of our team. Chad our team captain ,and pretty fast guy, was an all around cool dude. His family was pretty awesome too. They even braught out snacks and sandwiches for the team. The other members of the team were Andre (roadie on a MTB), Mark (Noob but fast), Steve (No sh!t it was this dudes third ride ever), Chris (fast fast fast), and me (resident old dude).
For those keeping score I used "dude" twice in that paragraph.
As our fastest rider, Chris was chosen to lead off, Chad took the middle slot, and I was last. We were each going to pull two lap stints as we were more experience riders and had a higher level of fitness. Andre, Mark, and Steve filled in the middle pulling 1 lap stints and put in some pretty impressive times considering their level of experience.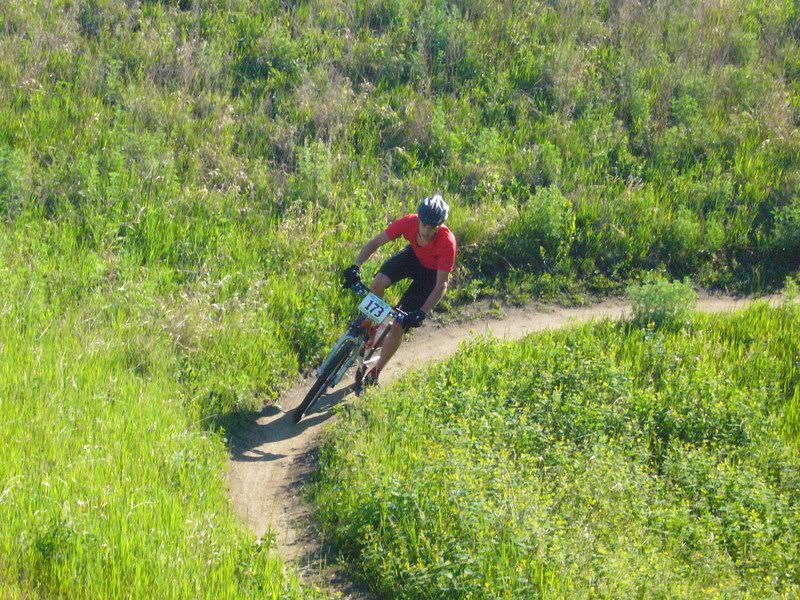 Chris rounding a turn near the end of his first lap.
Andre bursting out of the trees.
Chad catching another rider near the end of his lap.
Chris started us off in great shape putting us in fourth place behind some very strong teams. After we had all pulled our first laps we were still in the top five or six spots and looking good. But then disaster struck. On Chris's first lap out on his second stint he crashed hard about 1/8 mile from the finish. He managed to finish the lap with a smoking time, but the damage was done. Off to the ER he went. When he got back, we found out that he had broken his right hand, broken a finger on his left hand, and torn up his AC on his right shoulder. Considering how torn up he was, I think that it was amazing that he finished the lap the way he did. That's one tough dude.
Chris back from ER.
With Chris out, it was up to the rest of us to man up and take a few more turns. And that we did.
https://i7.photobucket.com/player.swf?file=https://vid7.photobucket.com/albums/y253/Frozenspokes/June-08035.flv
Me in what is possibly the shortest MTB film ever made.
The noobs really manned up and pulled very respectable lap times keeping us in the hunt for a top five finish.
Steve (Left) and Mark (Grey) at the post race dinner.
Chris hung out until the end, cheering us on (or at least asking us to open his beers for him) and we even managed to get Chad out with a few minutes before the cutoff to get in that all important extra lap. But in the end, the competition was too strong for our rag tag bunch and we faded to around 7th or 8th. (I'm not sure, the results have yet to be posted and they only gave the top three at the awards ceremony).
I look forward to this race again next year. I just hope that Chris heals up soon. I know that it's going to suck for him being off of the bike for most of the short summer up hear in ND.