The "Cerrillos del Coyote" Race - 3 races in 4 weeks HURTS!
<?xml:namespace prefix = o ns = "urn:schemas-microsoft-com
ffice
ffice" /><o
></o
>
I keep getting beat in my races - by Pro's, dammit! April has been a hell of a month. The 3rd installment of the NMORS (New Mexico Off-Road Series for the non-locals) took me south to lovely <?xml:namespace prefix = st1 ns = "urn:schemas-microsoft-com
ffice:smarttags" /><st1
lace><st1:City>Socorro</st1:City>, <st1:State>NM</st1:State></st1
lace>. Traditionally a hot, dry venue for a metric century - but this time hosting a more typical XC event to "fit in" with the XC series perhaps, with the longer race taking place during the Fat Tire Fiesta in the fall. At least it wasn't snowing today!
<o
></o
>
This race would be something of a departure in format from my usual personal race routine. I planned to wake up at 430AM, leave Santa Fe by 5AM, pick up a fellow racer in Albuquerque, then continue on another 1.5 hours south to Socorro. Upon arrival, we'd pick up our race number and packet, warm up and then RACE! No pre-ride, no real preparation in that I had a few good hard workouts in the past week (usually pretty laid-back prior to a race), and no "evening before the race hanging out", one of the more enjoyable parts of racing/camping/etc.
<o
></o
>
Sounded like a good plan, right? It'd get me home by <st1:time Hour="16" Minute="0">4PM</st1:time>, making for a quick daytrip race/event. Cheap, quick, and left some weekend left to work on the house and all. Of course it didn't take into account the fact I may have thought my alarm clock was broken, going off at 430AM for some crazy reason, but somehow I scooted out of bed, and into the clothes I laid out the night before - hopped into the car (also pre-packed) and hit the road. 45 minutes later I still didn't feel awake, and it was only about 34 degrees when I left - chilly! Thankfully I'd be dropping thousands of feet in elevation by the time we got to Socorro, but it was still a tad nippy at the plaza, where they'd be staging the race out of.
Course map: (we did the big loop - counterclockwise)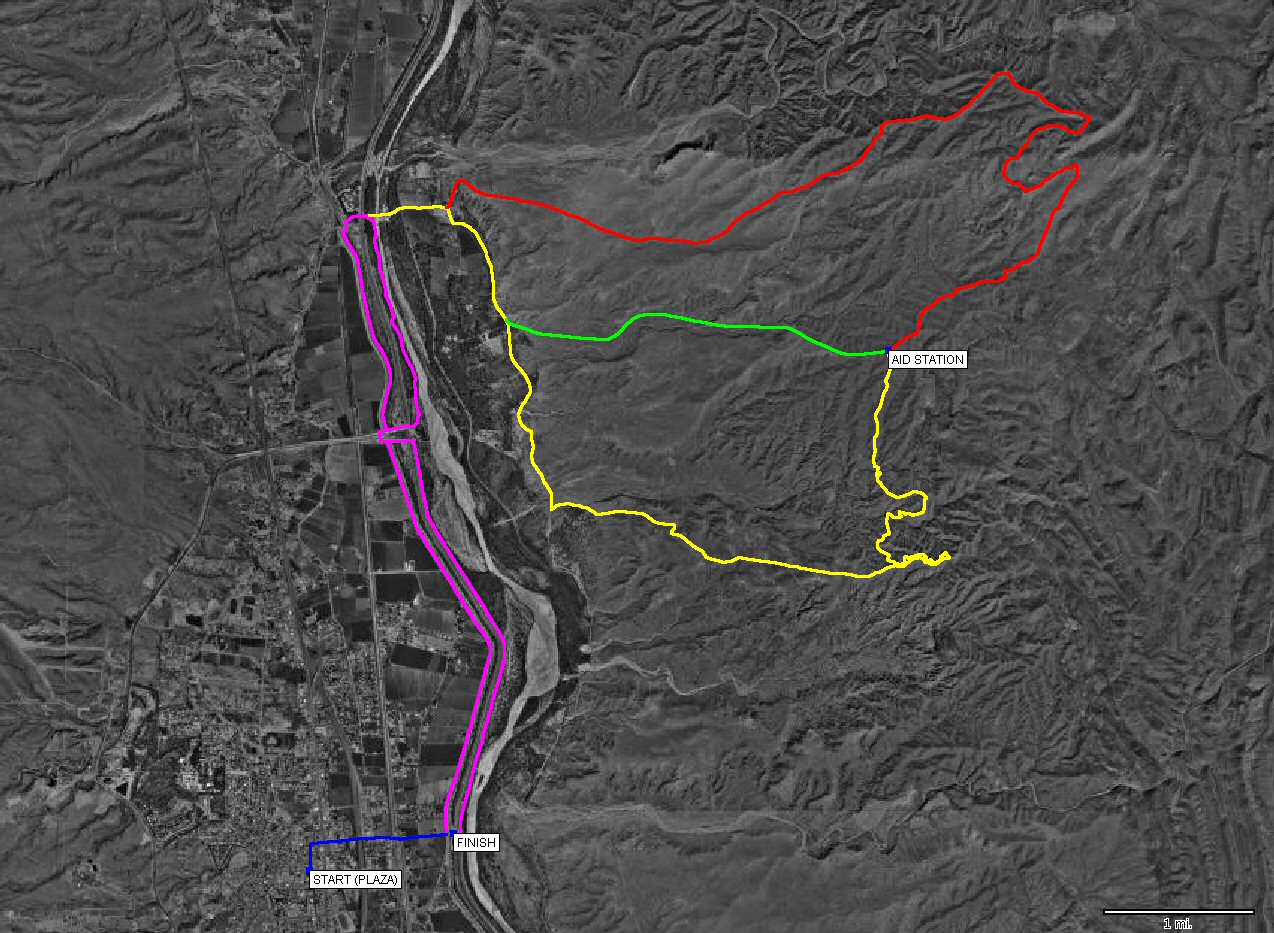 The routine is pretty established here - get dressed, put tube & extra link in jersey pocket, bottle in bottle cage for warm-up, bigger bottle ready for the race, GU flask filled & diluted, bike dialed in and so on. Through the warm up I never really felt all that warm. Then in the few minutes before start time, I rode around town with a few of the guys (both pro's, and in my group because there are rarely enough pro's for their own class in the NMORS) loosening up some more. We cruise over to the start area, get the briefing (open roads some times, yellow line rule, traffic possible, etc...) and roll out in a neutral road start. We cross the main drag in town, over some RR tracks, and are led to the edge of town towards the first leg of the course, a long, straight-ish dirt road along an irrigation canal. As soon as we turn onto this portion, the police escort peels away, and it's ON!
<o
></o
>
The two pros, Adam and Damian, and the sole Semi-Pro, Randy (team mate) and I, form the front of the pack, spreading things out into a decidedly road-style line. We trade pulls out along the way for a few miles, getting our legs revved up, and it seems weird to me that NONE of the rest of the "pack" are moving up to "help" pull along here. They sent all the age groups of Pro/Experts off together, so the field was pretty big, but it was us 4 doing all the work. I stayed well below the red line while pulling through, and tried to keep an eye to the rear while drafting. They were all there, but we were the designated leaders at this point, I guess. As soon as the course hit some harder terrain, or some sand, the four of us would crank the power up a notch. We started shedding people here, but still had a big group. A fifth fella pulled in ahead of me, and I told him feel free to draft and sit in, but he'd better take a pull at the front soon. Not sure he understood this decidedly roadie tactic/courtesy, but I didn't really care, as when the front guys powered ahead of him, I came around, snapped by him, and accelerated up the hill catching the wheel of one of the original 4 guys. Seems we had already put the hurt on the bulk of the pack, so I settled into a groove, letting 2 guys pull ahead, while I was between them and the fourth fella, for now. The course began climbing rougher jeep roads and then turned onto some burly, loose singletrack. Seems they had just cut it in, and it showed. It was hard to find a groove at first, but once I did it felt great! I passed Randy, as he'd had some wicked chain-suck issues and was fixing his bike. I know he'd come by as soon as the trail opened up a bit. A while later, just after crossing a loose arroyo crossing, there was a wicked steep hill that kicked up just ahead, and Adam came around and went for it. He rode part of the way up, but the loose tread tossed him off his bike, and he ran on up. Randy came around, trotting up the hill too, so we all crested close together - watching the blue jersey of Damian slip further and further ahead. Randy took off - looked like he was actually going to chase, Adam rode on, and I settled into a steady dirt road climbing rhythm. The 4 of us sort of spread out at this point (me batting clean-up, of course!), and were passing sport and beginner riders here and there - for some reason they'd been sent off 10 and 20 minutes ahead of us. The back 1/3rd of the course was mostly rolling climbs and descents - far rougher than I had anticipated and was feeling a little abused on the hard tail. I never had the sense that anyone was closing on me, but I did keep a good, sustainable pace from here out. As we slowly arced across the backside of the course, it seemed to start heading back downhill - and the city was in sight WAY off, to the north and east, across the river (<st1:City><st1
lace>Rio Grande</st1
lace></st1:City>) and irrigation ditches. Some of this backside was FAST and hairy. High speed rollers, very rough & rocky terrain, and some off-camber and sandy turns. Felt like mountain biking now!
<o
></o
>
Finally hit the long flat dirt road back to the finish area, and no one was in sight behind me, and there were a few puffs of dust ahead that appeared to be riders. We wound are way down next to the river, heading north, in some grown-in areas on a sandy road, then popped up onto the road that would complete the race. Seemed like a LONG, tempo, lonely ride with my forearms down on the bars, heading into the wind and slightly uphill next to the ditch. Maybe 20 minutes or so, picking off the faster sport riders completing their race along the way, and it was done. Damian won, then Randy, then Adam, then me. Not bad company, getting beat by three strong pro/semi-pros. The winning time was about <st1:time Hour="13" Minute="41">1:41</st1:time>, and I was only a few minutes back from that. In retrospect, had I pre-ridden the course, I'd have had a better idea of how much to hold, and how much to push - as on the back 1/3rd of the course I stayed pretty conservative - not wanting to go hard, then blow as I've done before.
<o
></o
>
We spun out the legs a bit, rolled back to the town square and got changed. They started posting results in no time, and indeed, I snagged 4th in our combined group. Points/Series wise it'd be a first, I think, for the 30-39 expert group. Possibly a 2nd if they put Randy in our expert group. Tough to tell in these smaller events sometimes. Whatever the formal points outcome - it felt like a good day overall! To have stayed anywhere in the neighborhood of such strong, fast guys felt like an accomplishment in and of itself!
<o
></o
>
Next stop: Chalk Creek Stampede, Nathrop, CO<o
></o
>