Discussion Starter
·
#1
·
Snow is a fickle thing, 3 inches of good snow is good riding, 3 inches of bad snow is hiking with a bike. You really never know which way its going to go until you get out there. That said, I watch the forecast constantly, looking for that perfect opportunity to ride, these oppotunities are fleeting and you need to sieze them when they come along. I feel badly for all you warm weather dwellers, never getting to do a double wheel slide into fresh snow, or riding up an impossibly steep, icy climb with studded tires. Yeah, there's this cold thing to work out, but as the saying goes, there's no such thing as cold weather, just cold clothing. It only takes a few times out in the cold to figure out what works for you - once you have that figured out - easy money.
I had the opportunity to do two snowy night rides this week. We got 3-4" of fluffy snow this past weekend. I figured with the foot and cycle traffic at the local place it ought to be packed down enough to ride. There was some risk in this endeavor as if it wasn't packed down it would be one of those hiking with a bike scenarios. I got four brave souls to head out with me, after a brief board discussion around the merits of studded tires (it was generally agreed studs would be unnecessary), we found the conditions to be excellent - packed powder with rocks sticking through. Yeah we had to walk a few of the steeper inclines, but no big. The payback on the downhills was incredible, two wheeled slides, and you dump off into the untracked snow to really get those wheels floating. I'm an avid downhill and back country skiier and the riding on Tuesday night was much like skiing, very fun and very different than riding on dirt.
Tuesday into Wednesday brought rising temps and an inch or two of slush/rain/ice followed by dropping temps. Sounds yummy eh? A friend sent me an email ruminating over the best approach to remove the solid inch of ice on the driveway. I told him I was going with the hippy shovel (the sun). All I could think about was how those packed down trails were going to be glare ice!
I put up the call for a ride on a few local boards, but no takers this time so it was a solo adventure last night. There was no question about this night - studs were a must. Once the cold weather comes around I mount up my home made studded tires with Stans on my back up bike so I'm ready to go when the situation arises. As expected the trails were solid ice for the most part, there was a bit of breakable ice, but mostly just solid goodness. As I rode along I was trying to think of an analogous activity. I think I came up with one - bobsledding.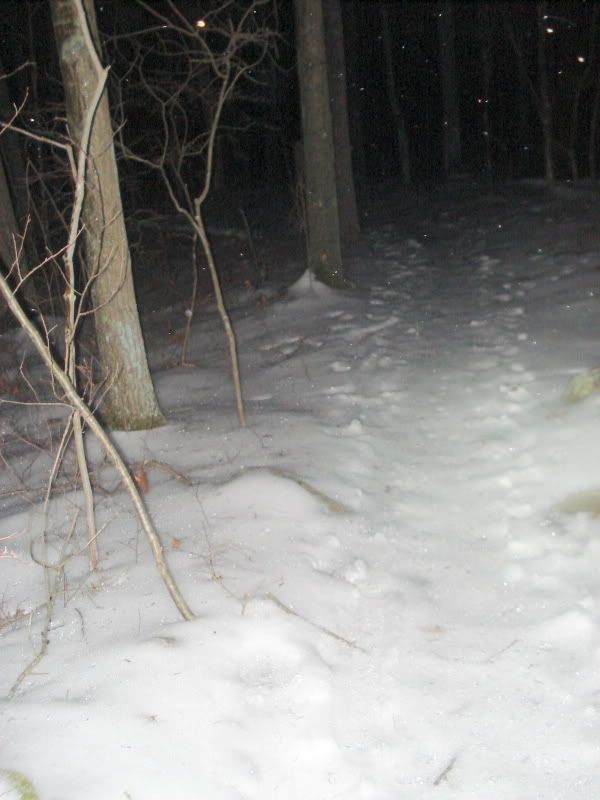 Now I've never bobsledded, so this is a guess but, there's this packed down trail you stay on it and it rolls fast. There's plenty of wheel sliding going on, but its more controlled than the packed powder from Tuesday. Traction is not an issue and the only hills I couldn't climb were due to the engine being a bit off. One of the few times of year where you can lock up your rear wheel and slide around the corners - so much fun. The release with studs is very predictable so after your first or second corner it's easy. I doubled back on the way back to the car and I as I climbed back up I saw some of the studded tire slide marks from my descent and it brought a second smile to my face remember how much fun that was coming down.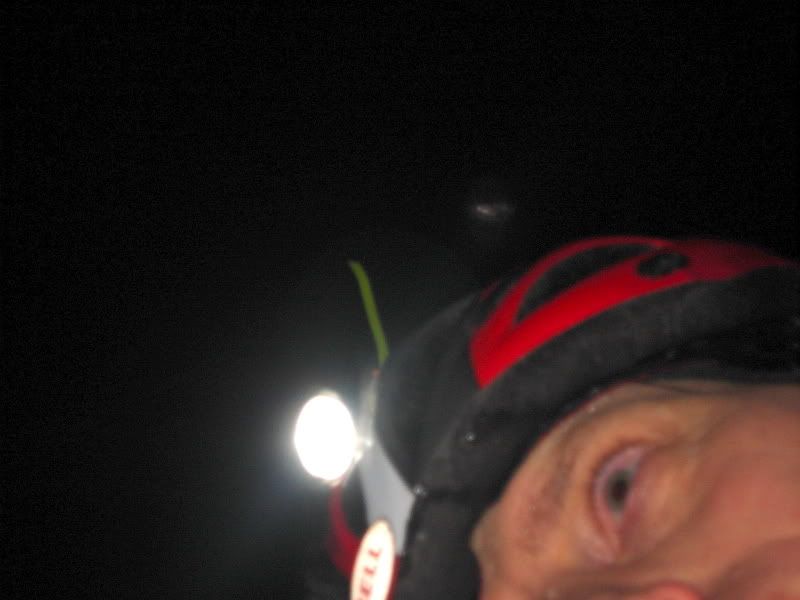 It was a 3/4's moon last night and it was partly cloudy, I turned my light off for some of the climbs enjoying to solitude, the eery shadows cast across the ground and the moonlight glinting off the ice covered trees. I tried (oh boy did I try) to capture this with my camera, but there's just not enough light for my stinky P&S. Trust me it was surreal.
As I rode along there were a few passing snow showers, every once and a while a flake would be at the right distance and angle to reflect my HID light back at me and look similar to another rider in the distance. While I was thoroughly enjoying my solitude, each time this happened I had this glimmer of hope that I'd be able to meet a like minded soul out there and hoist a mighty high-five for our good fortune to be out on such a great night. Alas, it was not to be and I saw no other riders, tracks or even cars when I left or got back to the car. Suckers.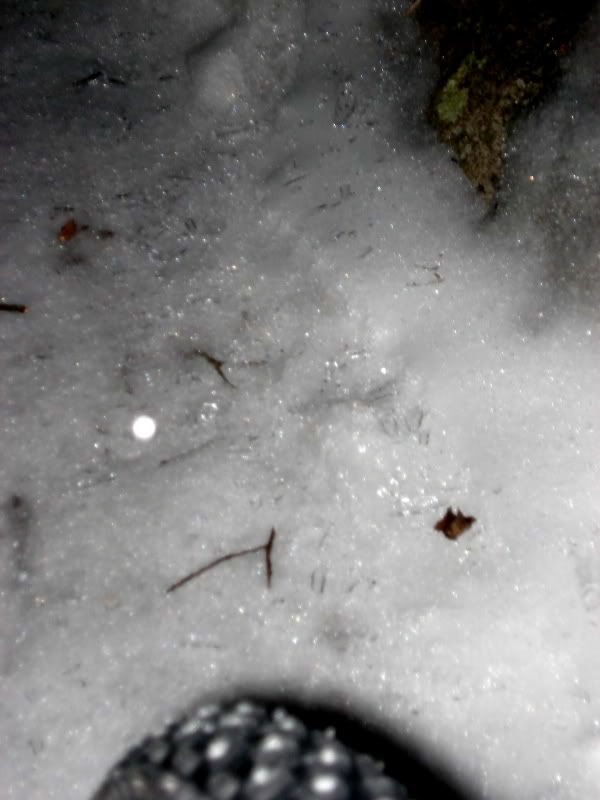 So another night filled with perma-grin. Gawd I love mountain biking....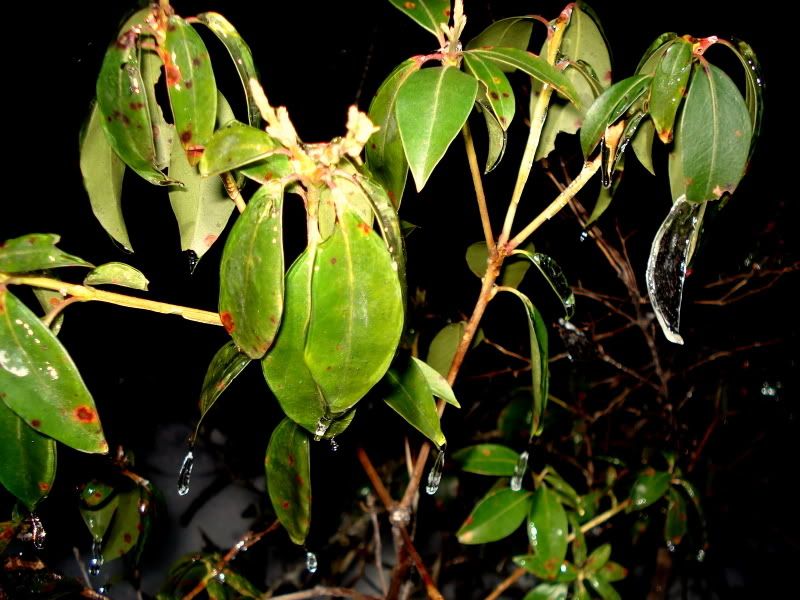 John