Discussion Starter
·
#1
·
Well I've been reading up a lot on bar lengths and have heard a million different theories. I currently had a 27 inch wide FSA Maximus bar on my bike and felt it was way too narrow, even though a 27 inch bar is considered a little on the wide side. I did a little research and wanted to try and really wide bar; if it was too long I could always cut it down.
Even companies who make "all mountain" bars are still make them too narrow; usually less than 28 inches. So I noticed at a downhill race I was at recently that a lot of DH riders were using the Race Face Atlas FR bar; 785 mm wide or a little shy of 31 inches.
It's not too heavy, about 340 grams (40 grams lighter than my FSA bar and 4 inches longer) and comes in a bunch of funky colors. Sweep is 4 deg. up, 8 deg. back and a nice a low .5 inch rise. I was sold. I got in in blue.
I though of physical advantages weighing out the disadvantages: more leverage, better shock absorbtion, stability, etc. But I also considering clipping a tree and getting tossed to the ground.
So I paired it with my Thomson 70 mm stem and after installing and riding around the block I thought I had
really
overdone it this time.
Despite this I figured I had to ride it before cutting it down, but I was certain I would be hacking a little off.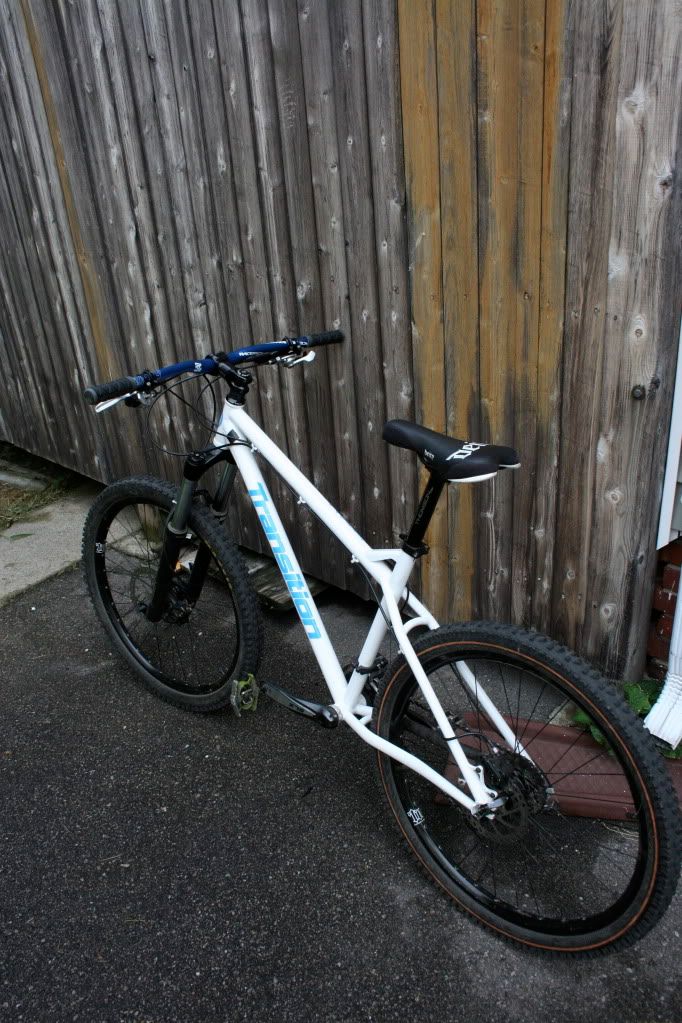 Well I got it on the trail and really was really feeling great on the super wide bar. Leverage is huge. When climbing up rocky, rooty sections it is much easier to muscle the front end over obstacles. Descending, the advantage is obvious; stability is awesome. The bar really changed the character of the bike. Its feels much more stable and sure footed at speed. Cornering is also faster and more fluid. Lots of fun of fast sweeping singetrack.
I also like the ability to mount my shifters outside my brakes and push my brake levers further from my hand. I like just using one finger to brake and not hitting my brakes or shifters when I don't want to.
Downsides? Sure. The wide bar is like a pair of fat powder skis. Tough to turn quickly and at slow speeds. When you lose your momentum or start getting tired, it's a considerable amount of effort to turn the bike when climbing or poking slowly through tight singletrack.
I haven't had an issue with sneaking in between tight trees......yet. It's an obvious downside but I'd like to ride the wide bar more before declaring its too much. I don't think I'll be cutting it down anytime soon.
I do recommend going super wide for any all mountain riding, especially if you've got wide shoulders and/or looking for more downhill stability.