After months and months of waiting on the frame (ordered in February, delivered in June), I finally got a good start on building up my cross (or monster cross) bike. Still have some work to do (tape handlebars, add cadence sensor, rack, saddle bag, etc.). The road brake levers and BB7 discs seem to work well together. The RetroShift shifters work great, rear (10sp. is indexed) and front is more or less friction shift. So far the Schwalbe Marathon Mondial tires (700x40) seem to work well, albeit heavy. Also have a set of Conti CX-Speed tires (700x35) that should be at least a pound lighter than the Mondails.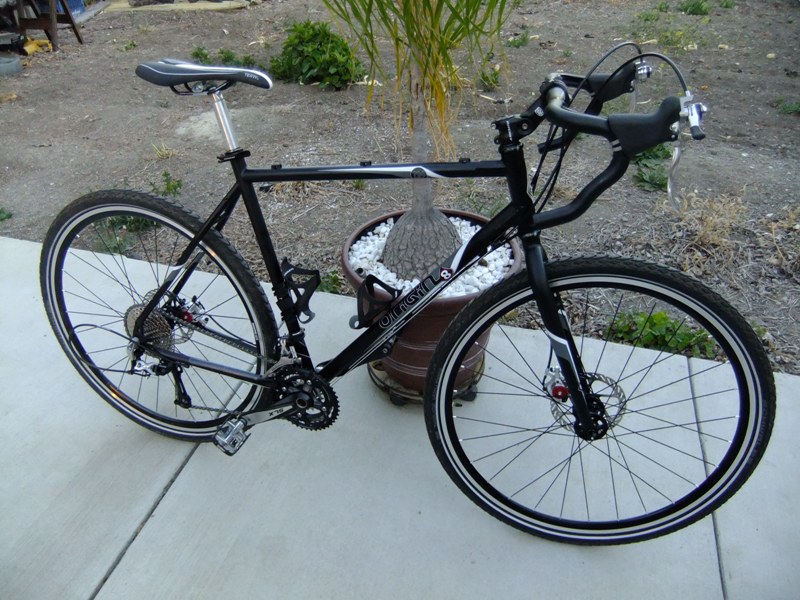 More build info below:
-
Monstercross Bicycle Build
After finishing up a few odds and ends, took it out for a 20 mile test ride and it feels good. On one of my regular flat loops, w/ 9 miles of dirt, I was a little faster than my best time on the touring bike, and this was with very rough riding from the hikers walking on the trail after the recent rains. A little bit of tread noise on the pavement, but not annoying. Think I need to drop the tire pressure a little, running 50 psi now, will try 40 and see how that feels.
The disc brakes feel really good, added in-line barrel adjusters at each caliper. The rear shifter works fantastic, just clicks from cog to cog. Used Gore sealed cables throughout, so the braking and shifting performance should not degrade over time.