Discussion Starter
·
#1
·
Howdy all! I've been trying to read through the forums to see if I could find an answer but haven't had much luck yet. Got an old bike, 2000's something Trek 820, with some even older shocks that are well outside of their prime. I understand that throwing them out is the most practical thing to do but... the bike was $20 and finding a cheap pair of 26" threadless forks that support rim brakes been a challenge thus far.
So, I'm looking at a spring conversion because after seeing the elastomers crumbled inside there that just seems stupid. Unfortunately I know squat about shocks that RJ the Bike Guy hasn't recently taught me. This is what I've found so far for about $50: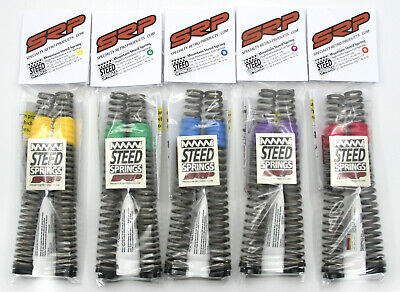 1995 and 1996 RockShox Judy XC, SL, DH and Specialized FSX. If you are unsure of your forks travel here is a rough guild. The 1995 and 1996 Judy XC, SL and FSX can standard with the 2" or 2.5" of travel.
I can reasonably intuit that I drop the springs on top of the little plastic caps that were in the bottom of the forks, not in the picture, and then screw the rest of the stack down on top of that. I've got both tubes cleared and clean but when I opened them they were bone dry and I don't know if I am supposed to add fork oil or not? Nothing I have seen about spring conversion mentions it. I'm hoping grease is the right answer as otherwise I need to start worrying about seals and then I'm moving closer to the garbage heap.
Anyone got any experience with these old things that might have some advice? I'll even take a pointing in the right direction for some cheap forks. Performance is not a huge concern. Urban riding with anything even slightly better than bottomed out old fork behavior would be fine.
Thanks all!