Yeah, So I'm new to the whole MTB scene. So I started searching around for a bike, test riding all that I could asking a crap load of question at the LBS.
We got the wife a Trek Skye SL and got myself a Motobecane Fantom 29PRO.
The Trek looks just about perfect for my wife. She said it was the most comfortable out of all that she test rode and it came in white. She was on cloud nine when she found out they had white. I'm pretty sure she will just use it to cruise around town on, which is fine with me. There are a bunch of paved trails that run through all the cities close us. We will hit those up. Now we need to get a baby hauler.
Out of all the bikes I test rode, The 29 bikes felt just...um....How do you say...oh yeah, awesome! They felt girthy, portly, had some mass to them, just flat out...fun. I BMX'ed when I was younger and always wanted a BMX cruiser (24"). I'm pretty sure I got the equivalent in a MTB. I am looking at as I got the best of it all. That's how I'm looking at it, probably wrong, but until I can change my own mind about it...I'm sticking to it. :thumbsup:
Here is my bike...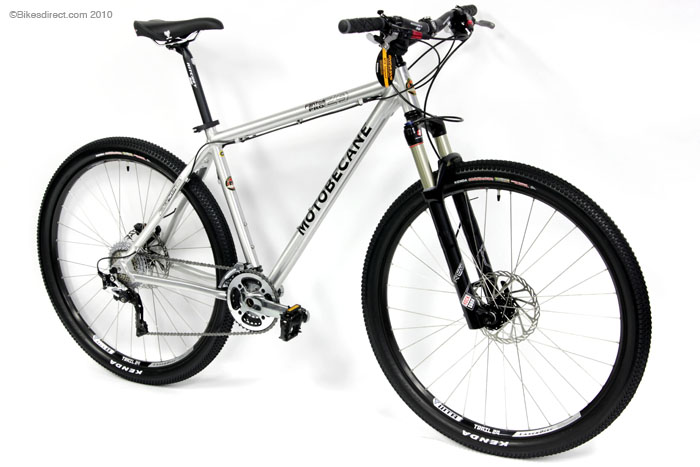 https://www.bikesdirect.com/products/motobecane/fantom29_pro_xi.htm
Frame MOTO29X Aluminum with TrailTuned PowerStay Design, DualProfile Downtube with reinforced Gusset, replaceable rear derailleur hanger
Fork Reba 29" RL Travel:100mm w/Pop Loc remote
Crankset FSA Afterburner Hollow-Forged Aluminum arms, 24/32/42T, (15 ~17:170mm 19~21:175mm)
Bottom Bracket FSA MegaEXO external bearing
Front Derailleur Shimano XT 10SPEED DynaSYS, 31.8mm clamp
Rear Derailleur Shimano XTR SGS 10SPEED long cage, DynaSYS for 30 Speed (M980SGS)
Shifters Shimano XT DynaSYS 30 speed trigger shift
Cassette/Freewheel Shimano DynaSYS SLX KCS-HG81-10 11-36t 10Speed
Chain Shimano SLX KCNHG74112, for 30 speed
Hubs Gravity Disc, Precision bearing with Quick Release
Spokes Stainless steel
Rims WTB Lazer disc Trail 29" 32h w/single eyelet, Black anodized Aluminum
Tires Kenda Small Block Eight 29x2.1, 120TPI Folding KEVLAR bead
Brakes Avid Elixir R Disc Brake 185mm Avid Cleansweep rotors
Brake Levers Avid Elixir R Disc Brake
Headset VP-A88, threadless 1 1/8 in
Handlebar Black Finish Aluminum Ritchey COMP Rizer 20mm * 620w * 6° Alloy DIA:31.8
Stem Black Finish Aluminum Ritchey COMP Ext. 110mm * 6° Alloy BAR BORE:31.8 threadless
Tape/Grip WTB DualCompound
Saddle WTB Rocket V comp
Seat Post Black Finish Aluminum Mountain 27.2mm x 350mm
Seat Post Clamp Super Light Alloy with Quick Release
It's got fairly good components. I have been reading that the spokes, tires and hubs are garbage. I'm 5'7" and 250lb's.
That is about it. This is just kinda my introduction. Just looking to have some fun out there with my wife and friends.