Discussion Starter
·
#1
·
Hi there!
I need some advice, but first a little background.
I did not have a bike since 2002, I moved across continents and there were other problems I have to deal with. in my teens I used an old GIANT GSR200 with sold axles, to my surprise it is still being used by a family member (gotta by 20 years old now!).
A friend of mine gave me a bike with no brakes, the story is that he did not like how the disk brakes work so he threw them out and was planing on building a custom bike but later find out its cheaper to just buy a different bike. and he was left with this one with no brakes so he presented it to me.
So my question could you guys advice on a brake setup? I will be mostly on concrete/asphalt and gravel roads. I do not need anything hardcore, but don't want to buy total garbage either.
I would also like an advice on new tires, currently there the installed tires have a thread with rubber blocks (mud?) I need something with low rolling resistance for the roads specified higher as I am completely out of shape.
So asphalt/concrete/gravel roads. I am 240lbs, 6.2 (110kg 188cm)
Here are some pictures of the bike and break calipers: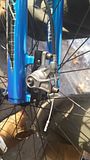 Best Regards!
Karol
PS. is that a moderately decent bike?