Discussion Starter
·
#1
·
IN DIY sub as well (by mistake)
Well the light geek in me got the better of me. At first just built the sphere, not good enough. 80mm thick foam sphere (lots of research digging on how to do it). But set up to do bike lights and flashlights. The upside of having action cameras and doing a couple reviews of them, plenty of extra gopro style mounting parts.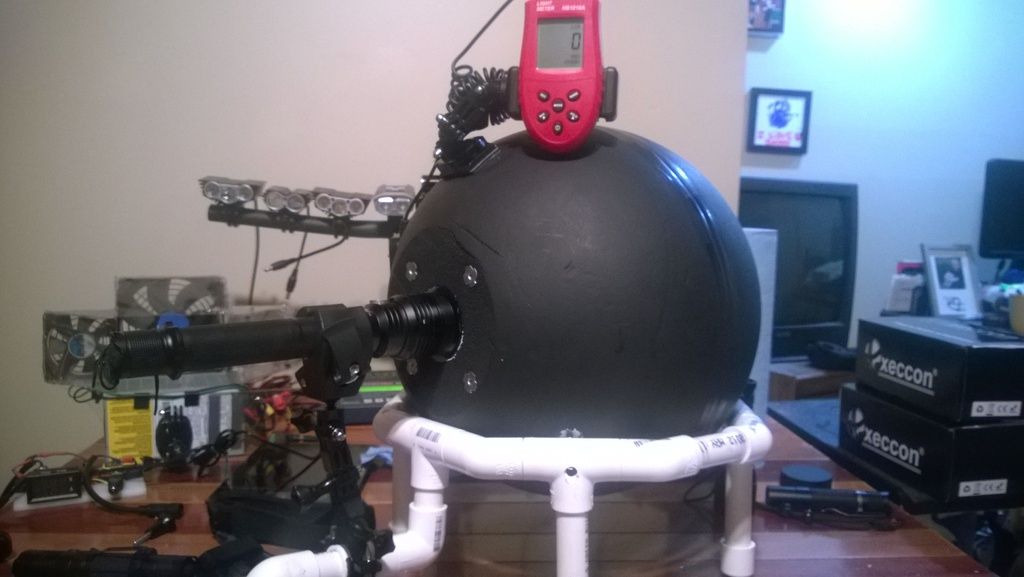 Wanted to be able to run bike lights for extended periods with proper air flow. So added a "cooling tube". The upside of 80mm thick walls, can do all kinds of stuff without affecting the integrity of the inner sphere. press in t nuts and some foam safe CA can do amazing things. YES THE TUBE IS EASILY REMOVABLE. And you can see it, but I made adapters plates to close up the whole around the lights, quickly changeable with tube off. Tube is just held on by 4x M4 short screws into the t-nuts.
You can see at the interface to the sphere there is inlets on all 4 sides, all tapered to "scoop" air in towards the lights heads then back over them. Fan is set on "suck" through the tube. Preliminary testing has been great so far.
For convenience I moved my Voltage/Amp display onto the sphere base. Both fan and display are on DC connectors, then I made a "y" for each to plug in separately. Then own wire coming off with standard DC connector again to plug into my normal PSU or a wallwort so sphere can be totally stand alone and easier to move upstairs or to the garage.
And totally finished: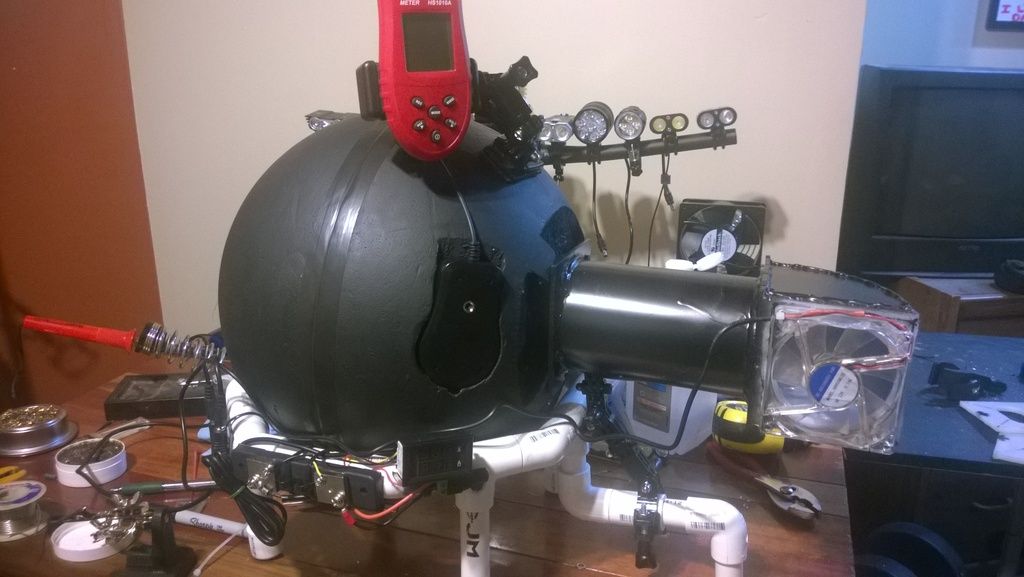 Then, in honor or Andy dubbing my contraption to generate air flow for testing thermal management of light heads the "Wind Tunnel", I found a BIG 120mm 12V fan at radio shack on clearance for $9, hehe. New Anemometer should be here tomorrow (didnt want to bug my friend to borrow his again). Fan set to "suck" through the tub as it gives the most evenly balanced air flow through the tube.
.
NOW HERE'S THE REASON THIS BELONGS HERE
Work in progress, but now youll be able to see full comparisons of every light I have, I review, I build, whatever. If its a bike light or flashlight I end up with, it will end up on these sheets. Plan to do run time graphs of output and everything. Taking alot of time to build the sheets, relearn how to do graphs and all that, but its coming along. Then have to run the tests on everything (that I feel is worth testing).
Lumen Outputs of my lights
I do have a stock Yinding I need to put back together, but that's the only "unmodded" light I have that's not listed but can be functional.