Discussion Starter
·
#1
·
I was frustrated with my growing collection of bikes taking up too much space in my basement and every time I'd go to grab the bike I wanted I had to move 3 other bikes out of the way. I looked at buying a rack but everything I found was way overpriced and many of the racks had questionable reviews. I decided that there must be a cheap and easy way to store my bikes so I could access any of them without taking up too much space or costing an arm and a leg. Below are some pictures of what I came up with.
The frame is 2x4's with 2x2 cross bracing. Everything was "glued and screwed" together with the exception of the 2 "platforms" that hold the upper bikes; these were nailed on using galvanized steel framing braces. This unit was sort of a prototype to see if this would work and if I'd be happy with the design. I may modify the rack in the future to include a shelf in the upper portion of the A's to store bike pump, chain lube, and other bike accessories. Although the upper bikes stay on the rack just fine, I added bungee cords to secure them just in case of Godzilla attack. Safety first!
It's not beautiful but for $25 it gets the job done. Your comments and questions are welcome.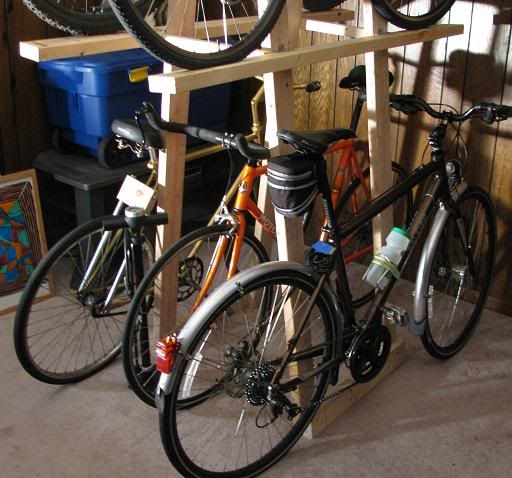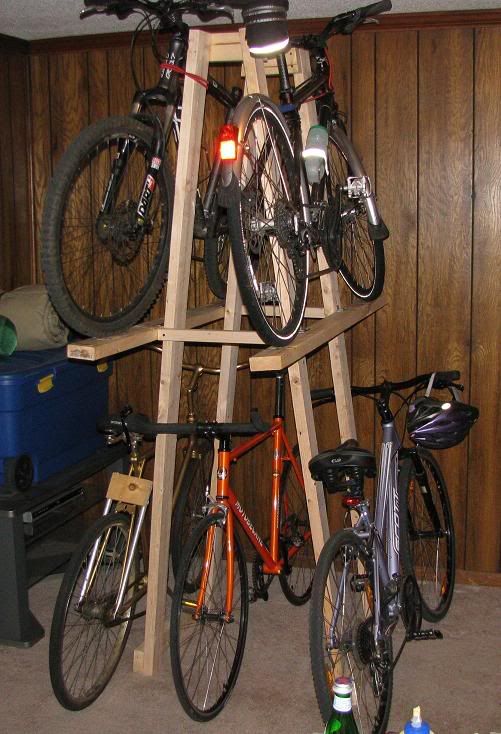 Pedal on,
-HandsomeRyan