...well, at least I strongly suspect I can now claim the gold in the "40 Year Old Male 20-inch Wheel Folding Bike" class.
As mentioned in an
earlier post
, I promised I'd report back about how I made out at Conyers on the wee bike so here's a quick report. I've now ridden there twice. My first outing was Monday a week ago. I rode that like I'd ride most anywhere else new, just exploring around, stopping occasionally to check the map, take some pics, eat a snack, and whatever-- which is to say, not race style, just out riding. Ended up doing two laps that day, albeit in somewhat disordered fashion (rode the front half, then the slickrock half twice, then the front half again). Today I rode another two laps, but this time figured if I'm on the Olympic race course, gosh darnit, I might as well go like it's intended and ride them nonstop, and turn on the clock and see what I could do. That changed the vibe of the ride, and while I'm anything but a hammerhead, in this case anyway that seems like the "right" way to ride Conyers.
Overall, the trail lived up to its reputation of being relatively climby (about 1100' per 8 mile lap), and having two halves that are dramatically different.
The first half is mostly buff swoopy singletrack, with numerous short ups and downs punctuated by 3 or 4 longish grinder climbs, including one in the full sun that must be a real nauseator in the summer. The downs on this side have minimal bumpiness to them and even I could let her rip down most of them. My recorded max was 21.5 mph somewhere on this side. I kept imagining that the big bike brigade (i.e. everyone else) must really get to grinnin' down this stuff! Was also thinking about how weird it must have been to have those TV cameras all over the place, and needing to look good on TV while passing by. Nearly ran off one of the bridges while mugging for one of those imaginary cameras once. Except for occasional brain farts like that, I didn't have any trouble cleaning everything on the front side. Strenuous but fun--perfect 20er terrain for me, really.
The second half is where Conyers gets really interesting and distinctive. I think I read somewhere this is the second-largest block of quasi-slickrock (granite) in the east, behind Dupont. There is indeed quite a lot of it here, although I found the character of it not as enjoyable as that at Dupont. Long stretches of it seem like wavy gravy, making you bob along annoyingly while not providing a corresponding level of technical interest. There are several really compelling sections though, particularly, the "inner loop" which you enter by first traversing laterally across a ways (confusing to figure out the first time), then down including a little rock drop that looked like a certain endo for me so I hopped off the bike each time (
wuss
), then back up a long steep face that seems to be the heart of the matter, then, surprisingly, up one more kinda muddy trench, before finally bombing down a bumpy downhill back onto dirt.
Here's a pic of approximately the upper third of that "long steep face". If you look closely, you can see my bike parked near the top.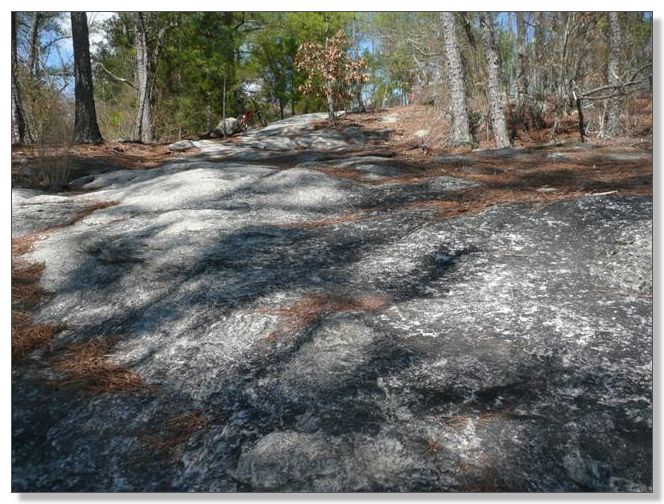 I've attempted this four times now, and made it to the "crux" just below the top each time, but never quite got it all the way. My first two attempts last week really had no chance. I was gassed by the time I hit that part and just flamed out. But today, I felt like I really coulda/woulda/shoulda made it both times, but just got the balance a little off and had to dab--a quick push about 3 feet upslope, then back on my way. So I guess I'm not quite ready to go "pro" yet (as somebody suggested in the other thread if I made these climbs) but I'm pretty happy to have at least come as close as I did.
This bizarro creature awaits those who make it to the top. I guess every trail needs a mascot!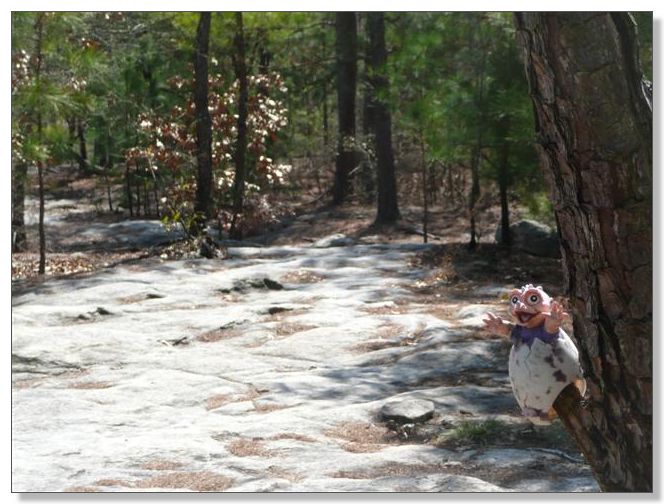 After exiting the slickrock, things normalize for a while, with some nice grunty singletrack that's a fair bit rootier than the front side, a challenging log crossing in the middle of an uphill that I eventually figured out I could make if I took the "longitudinal" log rather than getting stuck on the "lateral" log, and one short but intense climb I never quite made, getting stuck every time at exactly the same root step up. Grrr. Can't just granny over that thing, simply not gonna work. Somehow I'd just have to build up enough speed on that climb to carry the back wheel over, but sheesh man, that's a steep approach?!?
So that's two spots I haven't yet conquered on the backside but at least felt close to. But there's one final big climb that's the longest and steepest on the course, and I doubt I'd ever make it on this bike. It comes near the end of the lap and seems designed to punish racers and test their resolve. Surely this has a nasty nickname like the Terminator or something??? Nice. I flamed out on this sucker on all four attempts, where it turns even sharper uphill and adds in roots and rocks. Unlike the big slickrock climb, I couldn't restart in that rough stuff and just had to push the last 30 yards or whatever it is on up. Too bad because I'm sure that's a very satisfying technical climb to clean. Kudos to anybody who makes this little beastie, lap after lap.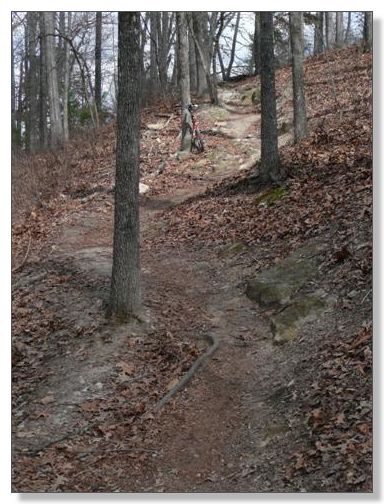 After that comes a section which seems almost flat but must be rather downhill because I was going surprisingly fast for being totally winded. Interestingly there are a couple of nice jumps on this stretch, which I reckoned must claim a few victims not quite recovered and alert after that big climb. Finally there's another wavy gravy stretch of slickrock that, surprisingly, dumps out right onto the golf course (if you stay between the yellow lines--hint: turn left about 30 yards back).
Anyway, back to the headline of this post and my so-called lap record. Did two timed laps today. Both registered exactly 7.93 miles on the trusty bike 'pooter (which tells me I'm being just a
little
too consistent in my line choices!). The first was done in 1:05:03. The second, after about a 10 minute break at the car to chow some raisins and slam some Mountain Dew (seriously), clocked in at 1:06:41. I was pretty surprised to see the second was not that much slower than the first, because it sure felt slower. It must be really impressive to watch the serious guys lap this course in 40 minutes or so.
So that's my little bike story for today, and I'm sticking to it. Hope you enjoy the writeup. Highly recommend anyone visiting Atlanta give Conyers a whirl. Might be my last mountain ride for a little while, as my work here in the ATL is almost done and we're planning to head for either Corpus or Hatteras and do a little windsurfing while it's blowy season. Gonna be interesting to work something other than leg muscles again for a while!