Discussion Starter
·
#1
·
My Whirlwind Tour!
All the planets were in line for me to head out to the Western slope. Work had me going to a meeting in Moab, UT on 7/11 and I had already booked time to hang with the AMB-CO boys. I'll even include Gary (GeeDub) in on the group since he has two properties here.
The plan was to leave work around 3:00 on Friday and head to Salida to meet up with Shawn and spend the night before Saturday's big ride. My boss comes into the office at 2:00 and asks what I am still doing here. I said I was working until 3:00. He says, "get out of here". OK. So I head out on a very easy ride along 285 to Salida. Not bad at all. I pull up to Shawn's house around 4:30 and get acquainted with him and his family. I still find meeting fellow mountain bikers for the first time an enjoyable experience. It's like an immediate bond through a common object. Shawn was gracious enough to let me stay in in house and even put his son on the couch so I would have a bed. I can't say enough thank you's!
Shawn decides it would be great to go for a ride and stretch the legs since the sun was still out. Never one to pass up a ride, we head out to his local trail just down the street (not that there are that many streets in Salida). He assures me it will be an easy ride. I don't think weather was factored into the easy part. It had been raining for a couple of days and the trails had changed dramatically. Easy became a loose rocky ascent to the big S mountain, then a loose rocky exposed downhill to the bottom. Hmmm... Not technical huh? I managed to fall a couple of times but it's all part of the fun and challenge of a new trail. It wasn't a long ride, but the climb and technical workout were enough to workup a sweat and get the endorphins pumping. I forgot to bring my camera, but it was a very nice ride.
Back at the house, showered and hungry we all go out for a great dinner at one of the top Salida restaurants. I had the pork chop with bacon and apple relish. Best meal of the weekend and since arriving in Colorado.
Thanks again Shawn for putting me up in your home. You certainly didn't have to do that for a stranger. I'm looking forward to many more rides now that your residing in the Denver metro area.
The rain started on Friday night and Saturday morning, it's still coming down. No emails canceling our intended ride at Monarch / Agate with Matt, Gary, and Tom so we head out in my SUV. We're hoping the rain doesn't go all the way to the peak, but when we reach the top it's still coming down hard. The temperature is 47F when we meet up with the rest of the crew. We're all huddled inside the tourist trap on the crest deciding what to do. Tom and his friend have already been riding up half the trail. They both look worn out from the climb, cold, and wetness. The rest of us think of excuses to abandon the ride. We all decide that a mechanical induced hypothermia would certainly ruin the day. Not wanting to abandon riding all together, Matt suggests heading down to Gunnison and riding Hartman's Rocks. Even if it is raining, the decomposed granite should drain. It's a plan! Since I have to head to Chateau Gary after the ride, I take Shawn back to Salida to grab his car and we head back to Gunny.
We meet up at Matt's new house (nice!), watch his son do Ninja flips on his head, and head out to the Hartman's trailhead. As we arrive, so does the rain. Determined to ride we suit up and head out.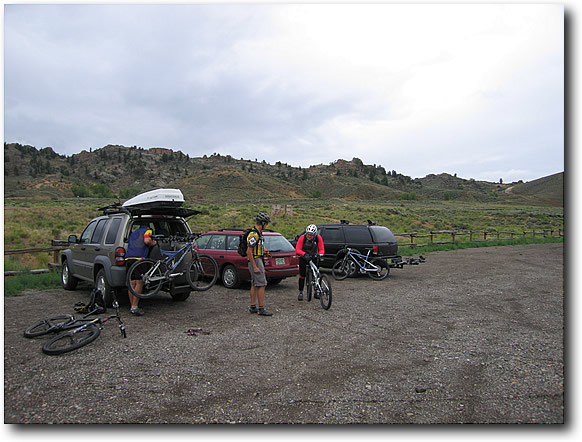 It's me, Shawn, Gary, Matt, and his friend Garrison. Panic sets in as I am now flanked by Matt (Rocket Man), Gary (Legs of Steel), and Garrison (19 years of no fear and few beer years). At least I have Shawn to back me up, at least until the downhills.
I'm not even going to guess at the trail names, but as usual in Colorado they are mostly up. I watch Matt do what he is famous for, climb.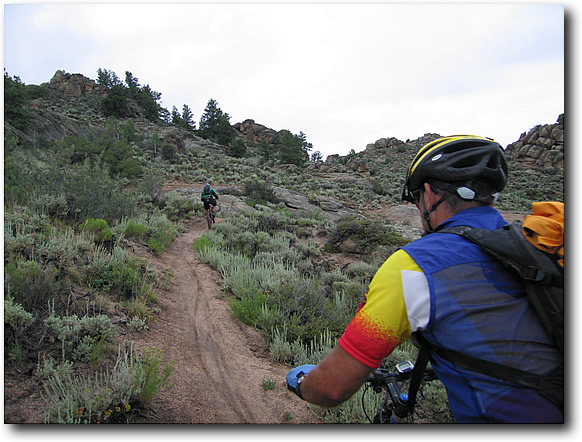 The trails are actually sandy in a Colorado way. It's the tiny pea stone stuff and finally my new tires prove their worth. I wouldn't consider the trails steep and I would really like to try them in a singlespeed when I get the gearing changed.
Matt takes up position on the hill to scout out the enemy territory.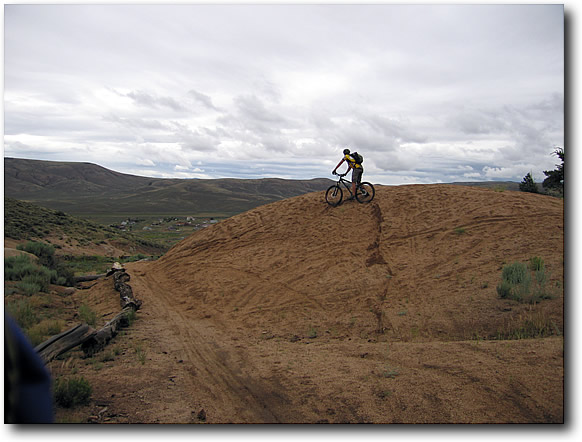 We continue to climb and the trails become a little more rocky. Even with the rain, it's an enjoyable time on the trail.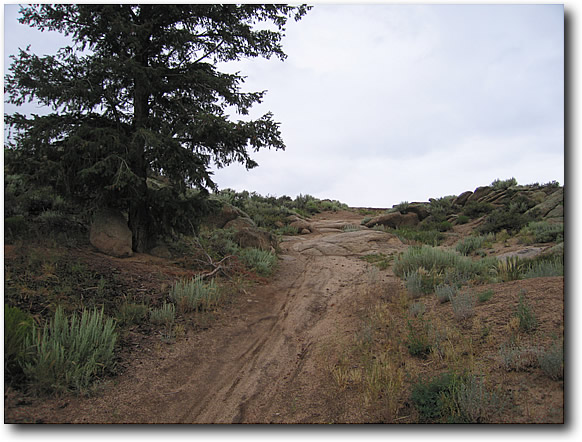 While Shawn can certainly kick my ass on the downhill, I do manage to climb a little faster. I think we can work out a plan here. Teach me the downs and I'll teach him the ups.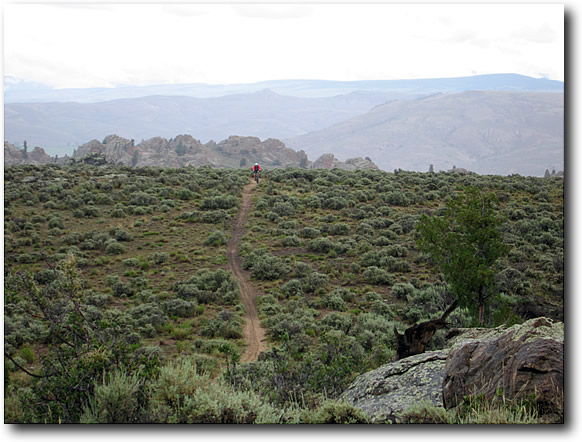 We reach the top and the damn weather ruins my picture!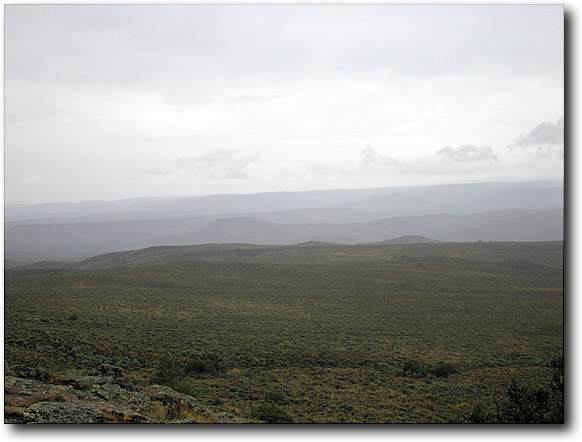 Now the fun starts. Time for some slippery downhill, but first Garrison shows us what rubber bones and no fear are all about. He pulls off a smooth two foot drop landing it like butter. Not to be out done, we talk Matt into trying. Little does he know it's really a plot to slow him down. He hit's the drop but on the tranny it looks like he snags the strap of the Camelbak on his seat (my observation of Shawn's picture). It's a rough landing but he's still on the bike. The only problem is the rails of his seat snapped. Ha! The plan worked! Well, maybe not as Garrison works in an LBS and fashions a quick fix from a tube and zip ties. Damn! Even with a broken seat, Matt kicks out butts all the way back to the car.
This is what is called salvaging a raining day ride! Great fun with great people!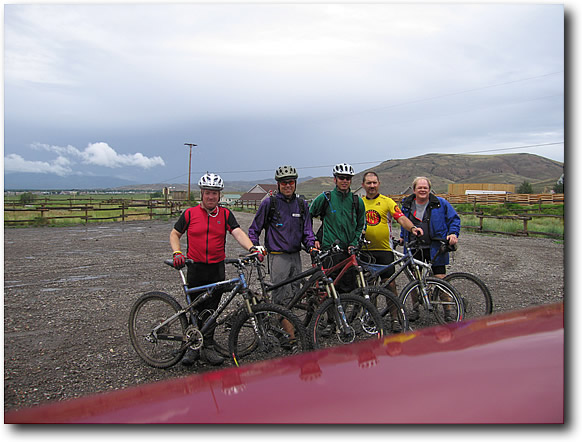 Gary and I say our good-byes and head to his cabin (well, trailer for now). On the way we take a detour through Florida. Well, it seems like it given the wind and blinding rain. We drive and drive, and then head up a dirt road to about as far from civilization as one can get. Nice! Yeh, I make a few jokes but in reality it's a really cool piece of land and he had the forethought to purchase it at a steal years ago. Kudo's to Gary!
It's still wet and raining, but we head into Ridgeway to BBQ the rib-eyes I brought with me at his friend's house. Once again a pal pulls through and let's me stay on the couch in the trailer instead of sleeping on the air mattress in my car. It was very comfortable.
Sunday's plan was to meet up with Craig Brossman and friends for a ride in Durango. Once again, rain in Colorado was to put a damper on that. 320 supposed days of sunshine and I pick one of the weekends that fall within the 44 days of rain. Sucks! We try to salvage the day with a ride in Moab since I have to go there anyway. The radar shows rain. Gary opts out and I head to Moab. Here's some of the views around Gary's remote hood.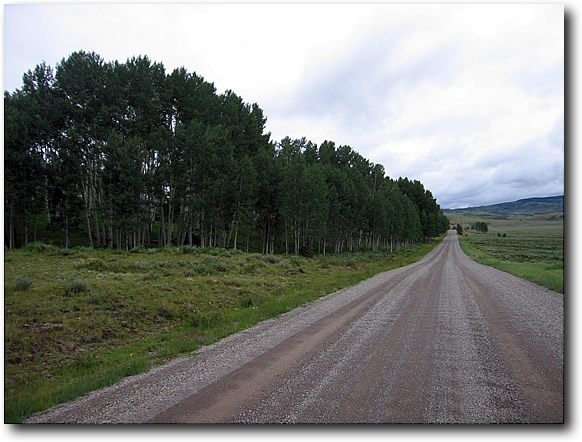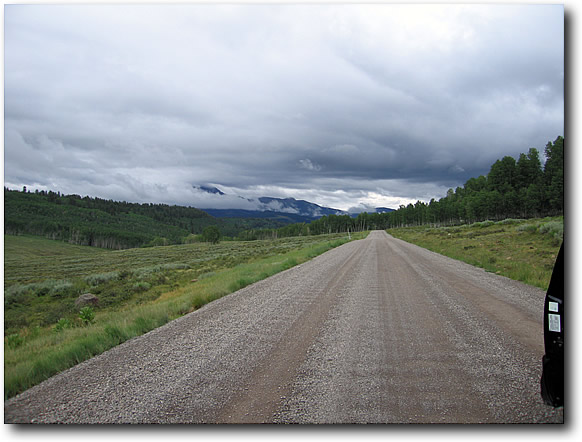 The ride to Moab is a rainy one but a very pretty route.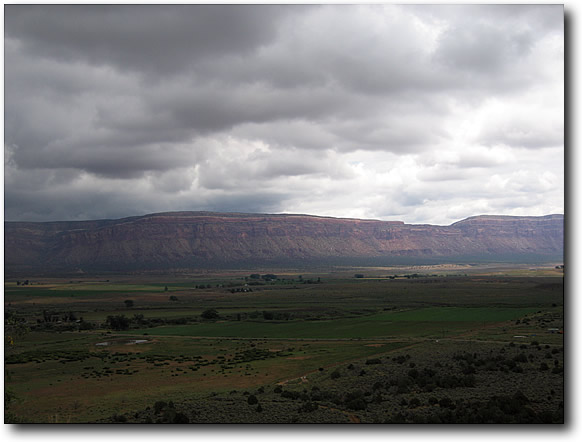 The choice was to camp out the one night or see if I could get another night at the B&B where I was to stay for work. I opted for comfort. The proprietors were very nice and let me stay a day ahead of time. The Inn was beautiful just at the base of the Lasal Mountains. I drop my bags in the room, change into riding gear and head to Moab with the hope that the desert will live up to it's reputation. Sure enough, as soon as I hit Route 191 on the other side of the Lasal's, it's clear blue sky! Today's destination, Slickrock. Yeah, I know. With all the great trails in Moab why on earth would I want to ride in a skateboard park. My reasons:
1. I've never ridden there.
2. I figured I couldn't get badly hurt and piss of my boss.
3. I was riding alone and didn't want to get lost.
4. It was close to the Inn.
It's 84F and sunny when I head off onto the trail.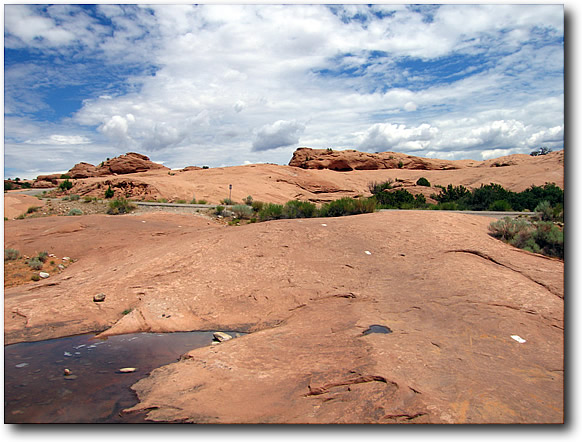 Within five minutes I realize why they say to bring lots of water and avoid a midday summer ride here. It might be 84F in the air but the sun bakes off these red rocks like a convection over. Sh!t, it is hot!
I don't know why people consider this easy. Between the heat and the steep climbs it beat the crap out of me. A couple of drops caught me off guard, but I stayed on the bike and rode for what seemed like an eternity. Did I mention it was HOT?
I only saw a few others on the trail.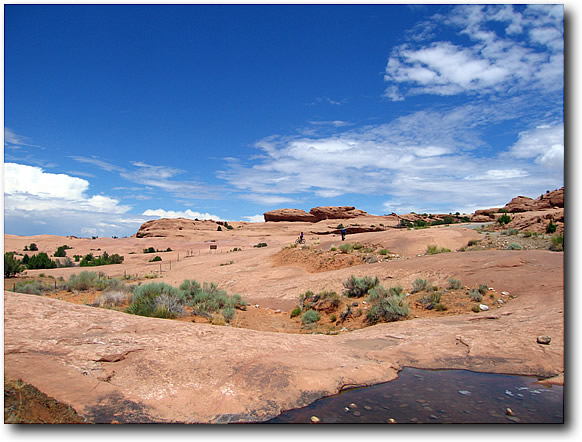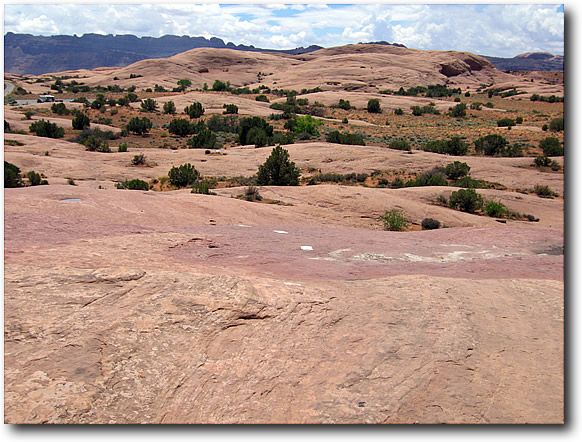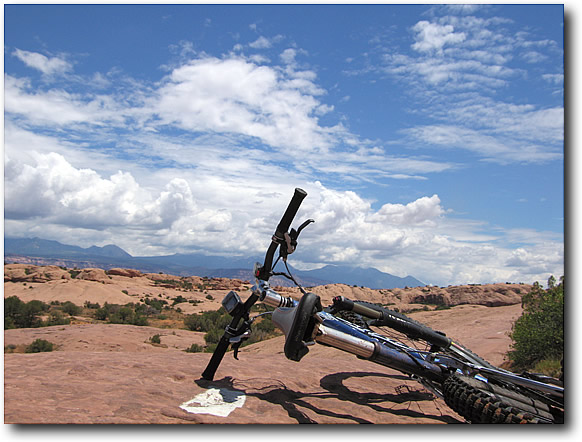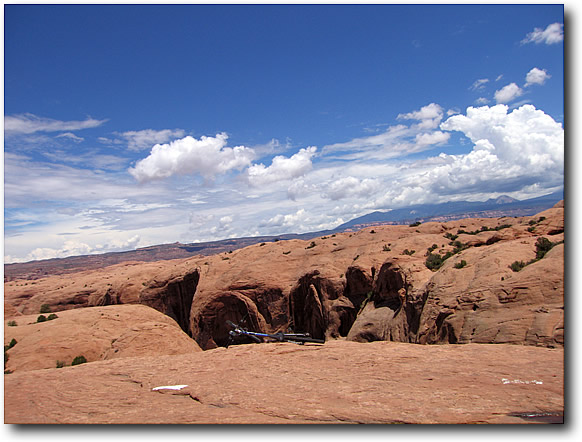 The water is starting to get low and I'm thinking, when does this SOB end?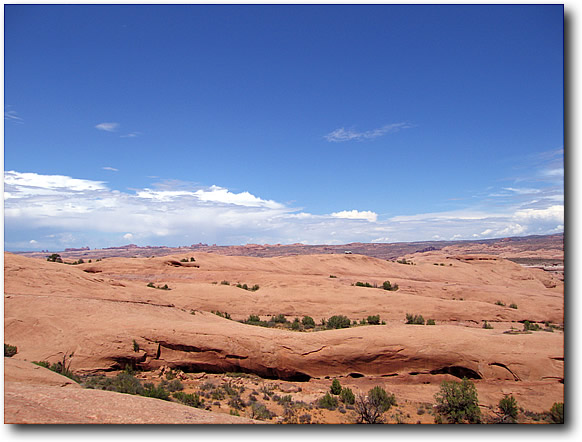 Regardless of what people say about this trail, I did enjoy the views.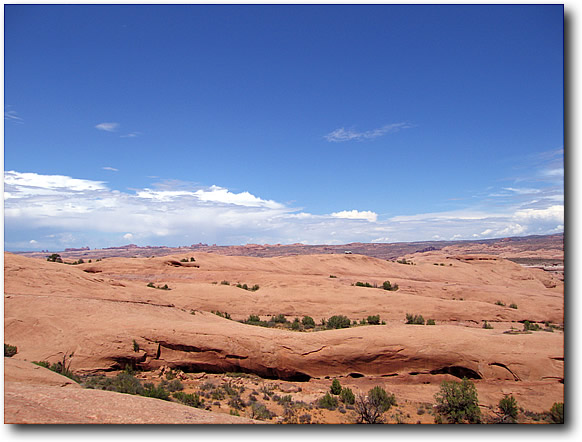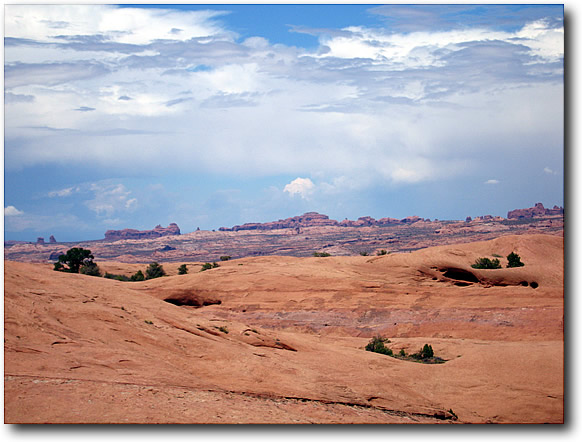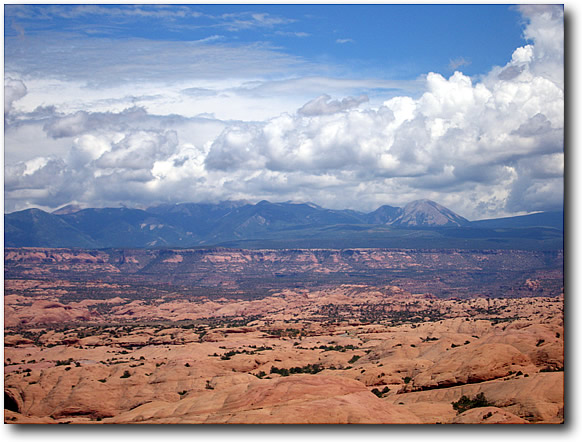 With water rationing in effect, I decide the shorter way out is back the way I came... wrong!
None-the-less, I did manage to get the standard slickrock photo.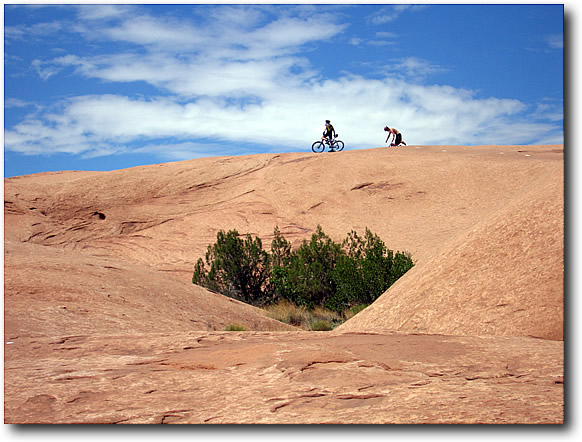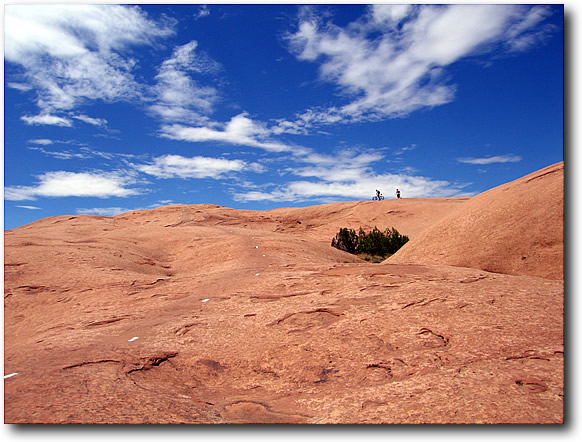 Finally back at the car, I down two one liter bottles of water in 30 seconds. There, I can say I road slickrock.
Dinner at the Moab Diner and back to the Inn for an incredibly peaceful night.
Monday morning and I have about five hours before the rest of my colleagues arrive for work. I figure there's not enough time for a good Moab ride but needing a fuse for the Sirius radio puts me in town. I pick up the fuse, get some gas, and look at the dirty truck. Too much off-roading and the thing needs a car wash. Ah! What luck! A new type of car wash only found in Moab.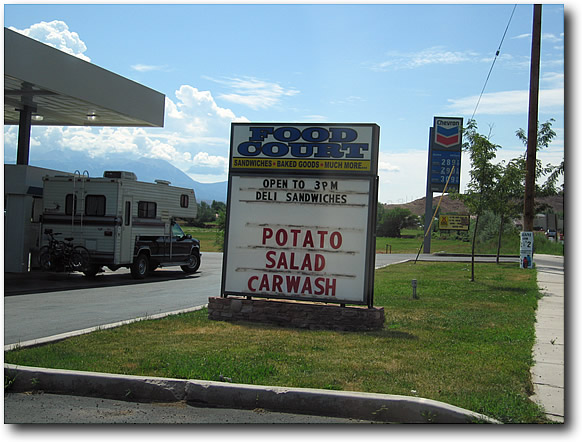 The mayonnaise left a nasty cloudy coating on the truck though.
Back at the Inn I ask for the local singletrack. I'm given top secret information (it's on private land) and told not to photograph it. I'll honor that request, but I have to say it is a beautiful local just outside of Moab at the Lasal mountains. Here are some pics of the trail leading to the TRAIL.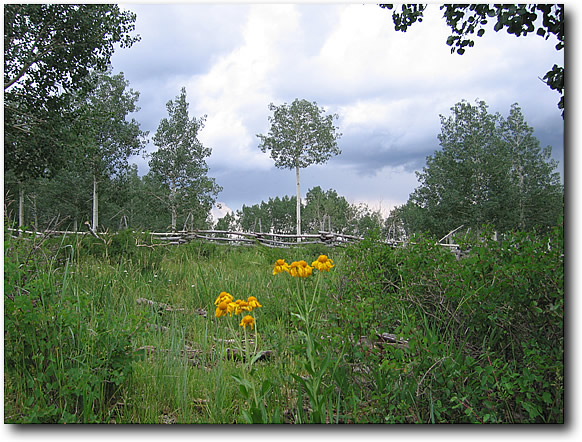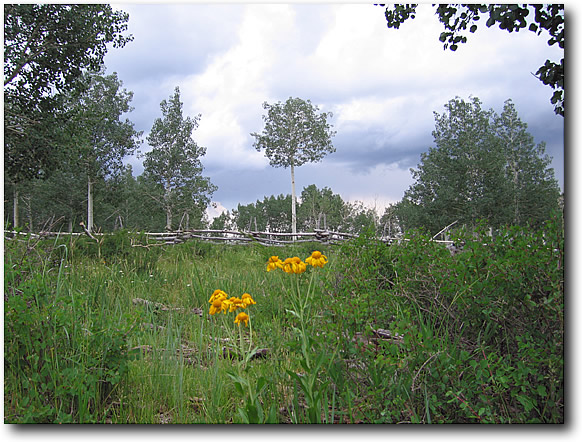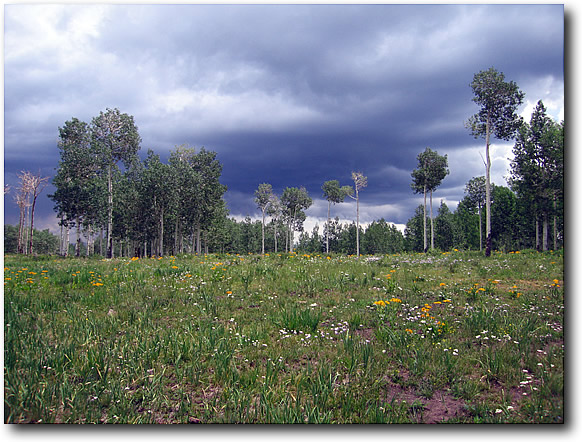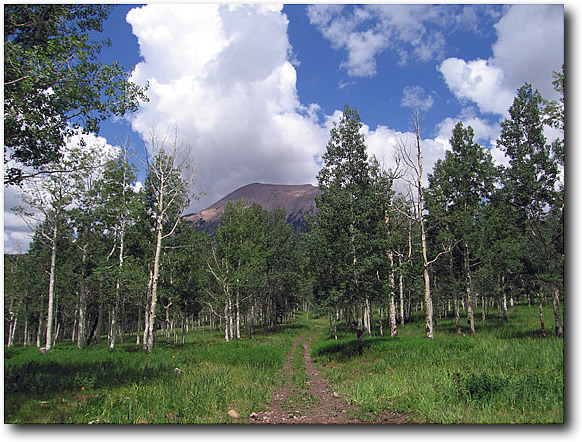 It produced views like this: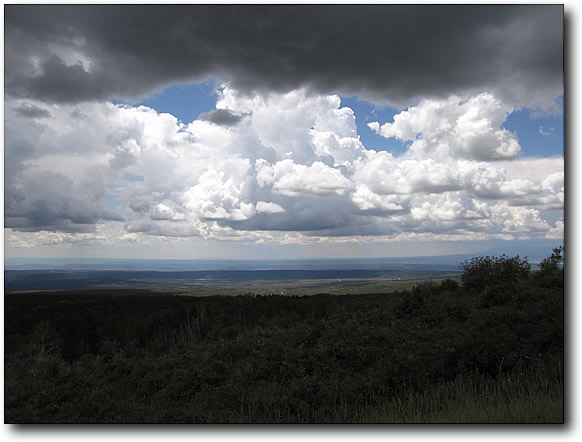 Alas, the storms were rolling in and I had to cut my ride short and head back to the Inn. On the way, baby beef decided to pose.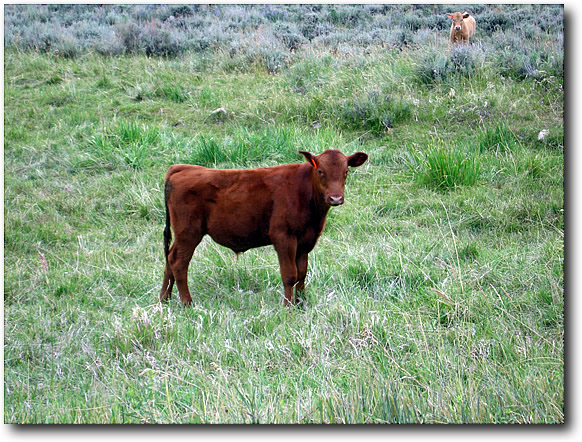 What an excursion! A lot of driving, some great riding, and a yearning to return soon.