Discussion Starter
·
#1
·
I have this posted in the Niner Forum but it's also a SingleSpeed and I'm assuming that people that don't own Niners don't go to that Forum very much so here is my Niner SIR 9 SS.
Best bottle cage bolts in the business.
Silver Niner stickers on the Manitou Tower Pro 100mm fork.
Chillin' in the garage.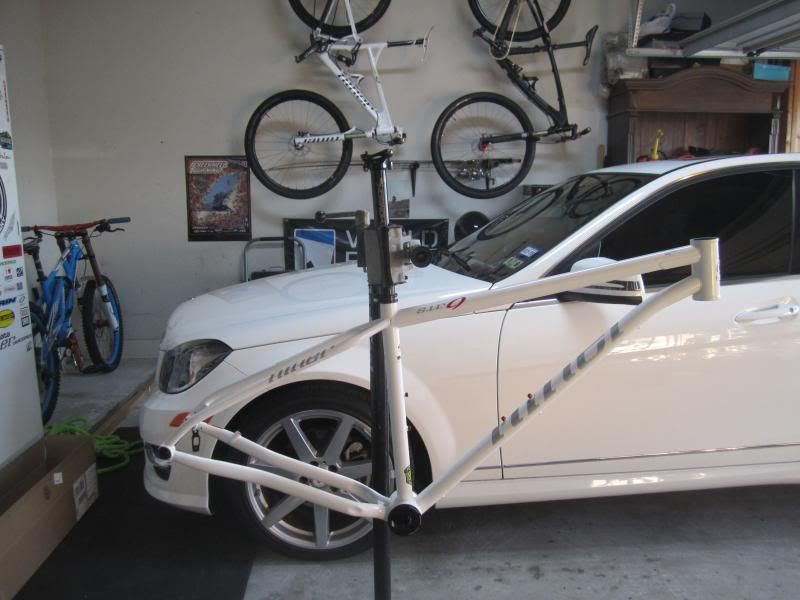 Frame, EBB, Maxle, seatpost clamp and bottle cage bolts.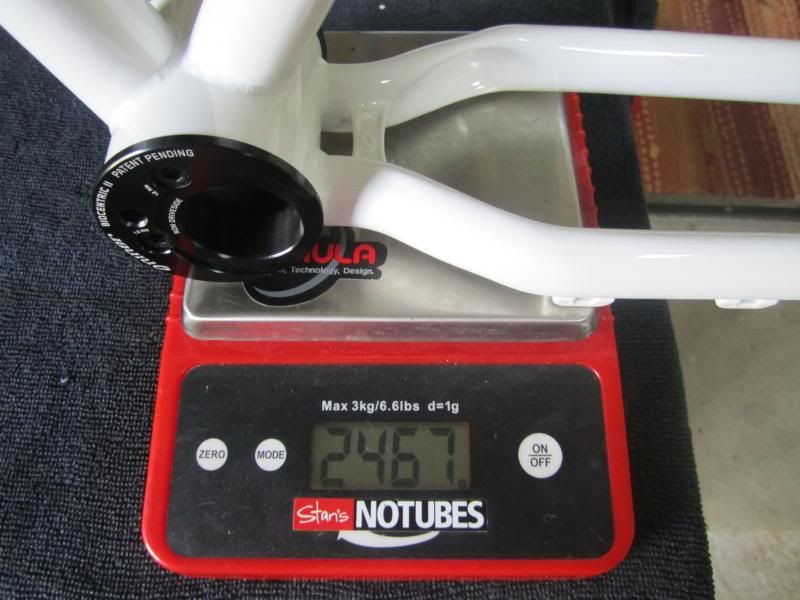 Fork with uncut steerer tube.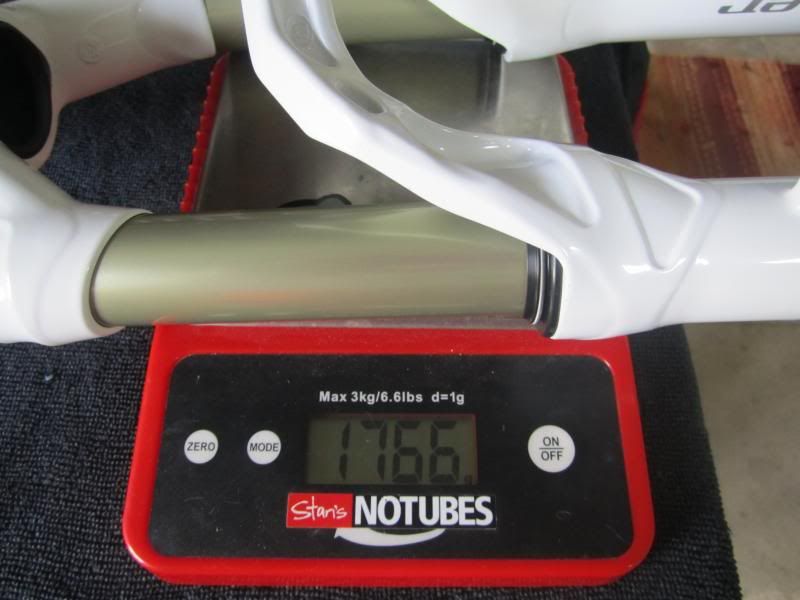 KCNC Ti Pro Lite Scandium post with Ti bolts. I will cut this after I get the bike set up.
Endless 17t red alloy cog.
Halo bolt on front skewer with Control Tech Titanium rod.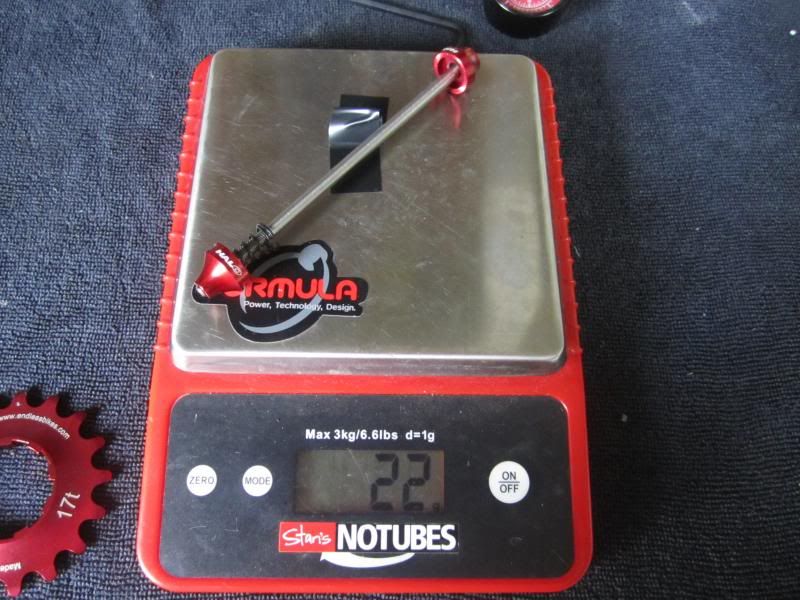 Front Formula R1 Racing brake with carbon lever blade.
Rear brake, same.
KCNC foam grpis with bar end plugs. Grips alone weigh 10g.
Parts of Passion 10mm headset spacer.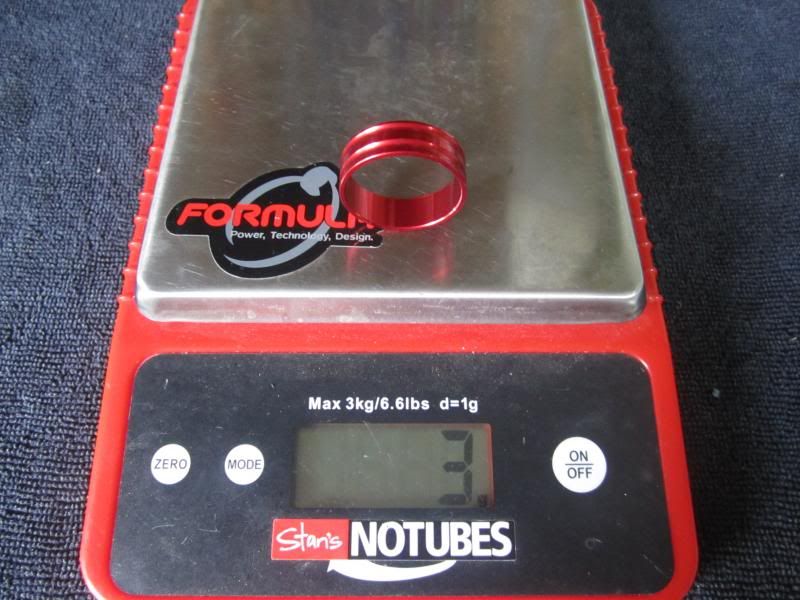 Fouriers top car with 30mm countersunk alloy bolt.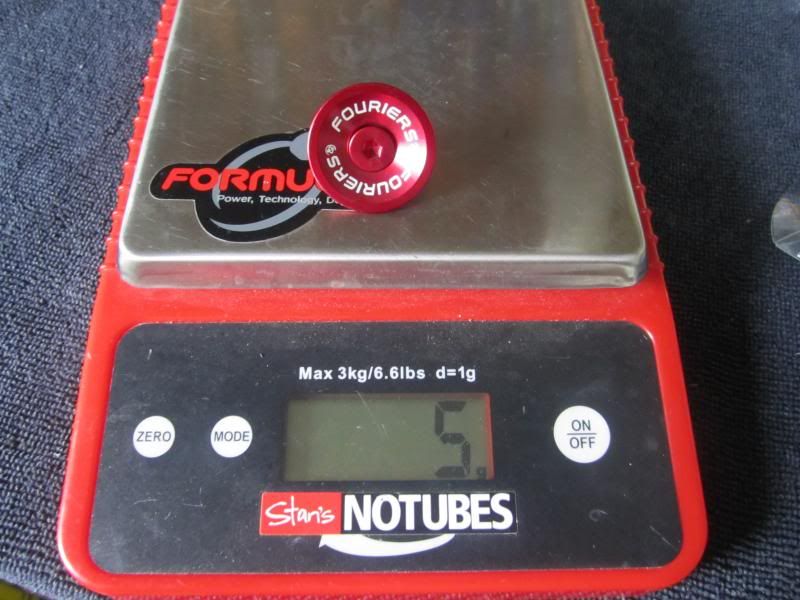 Duke alloy tubeless valves with Purely Custom locknuts and KCNC caps.
Post mount brake mounting alloy bolts. You can only use these on post mount and before everyone gets all huffy on me I've been doing it for 5 years without problems.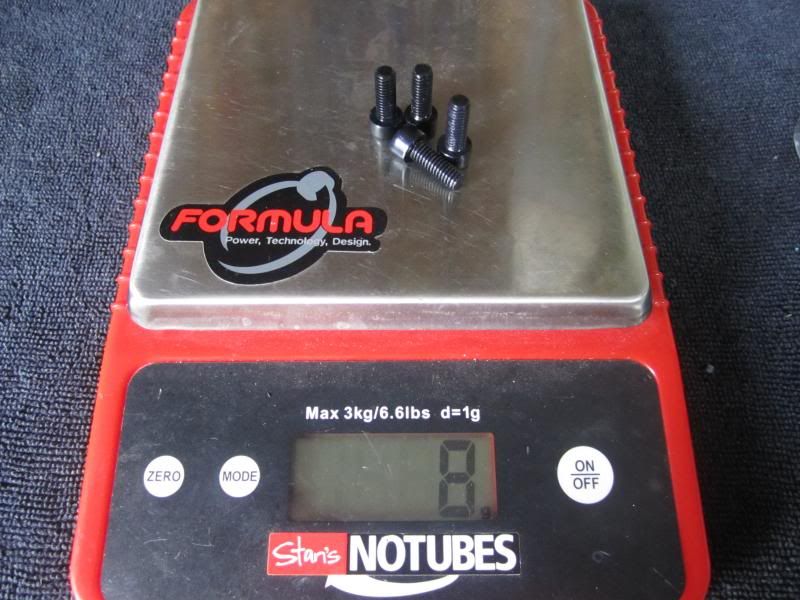 Ashima alloy brake rotor bolts.
Purely Custom single speed cassette spacers and Yes they say Mr.Kock on them. There are lighter ones out there but these are Cool!
Uno 80mm stem with black Titanium bolts and eBay carbon 680mm wide bar.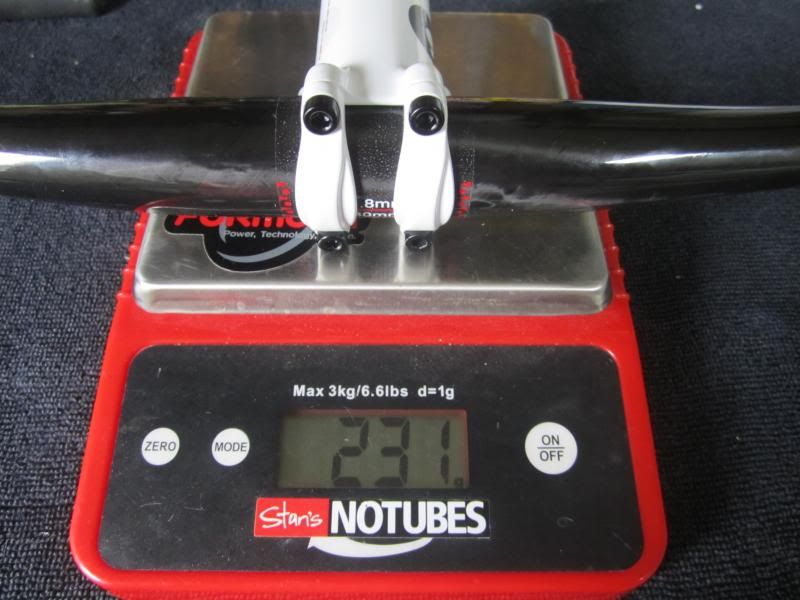 KNC X10SL chain cut to length.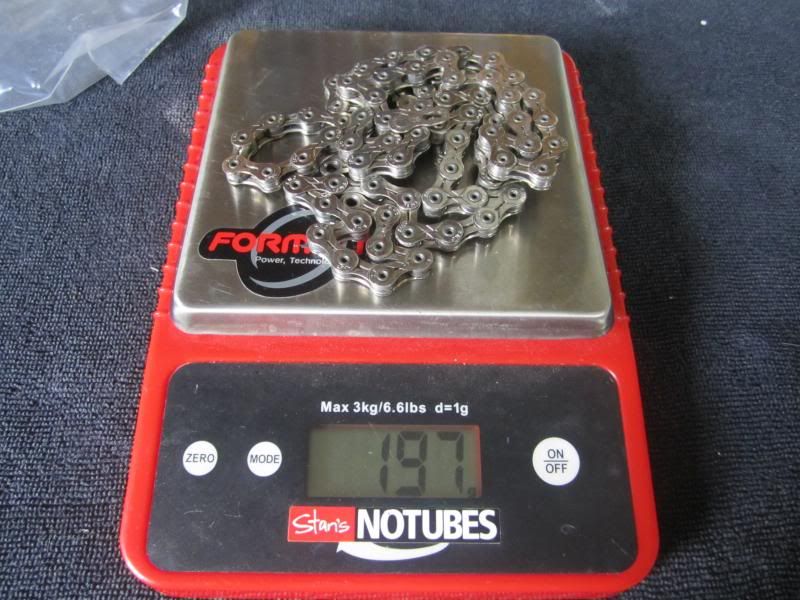 Circus Monkey front hub. I am building the same wheelset that is on my JET 9 with a slightly (23g) heavier rear hub for Maxle and that other wheelset weighs 1401g with Yellow tape and valves.
These American Classic 101 rims are supposed to weigh 381g a piece so when they are lighter it makes me happy.
I was going to go with a Chris King or Cane Creek headset but this one says Niner on it and is only slightly heavier.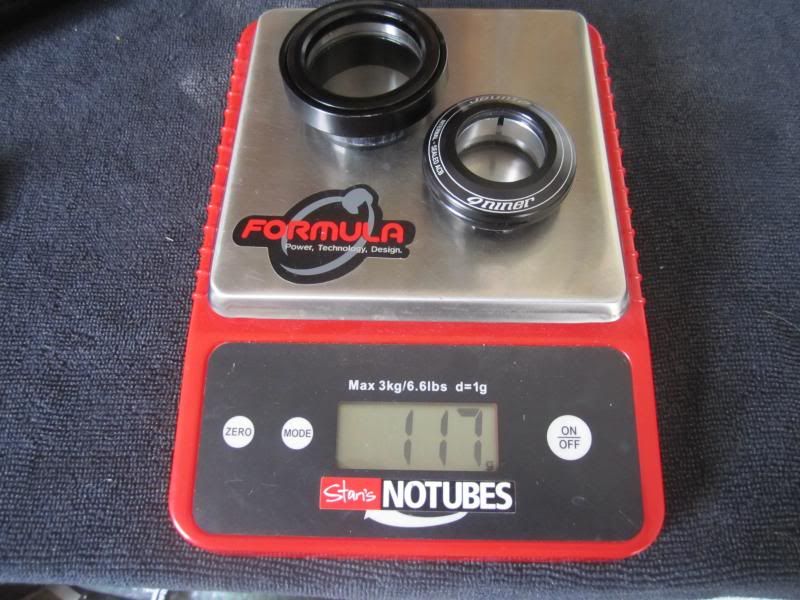 I Love this rear brake position.
Front end shot.
Hanging at the Bike Shop.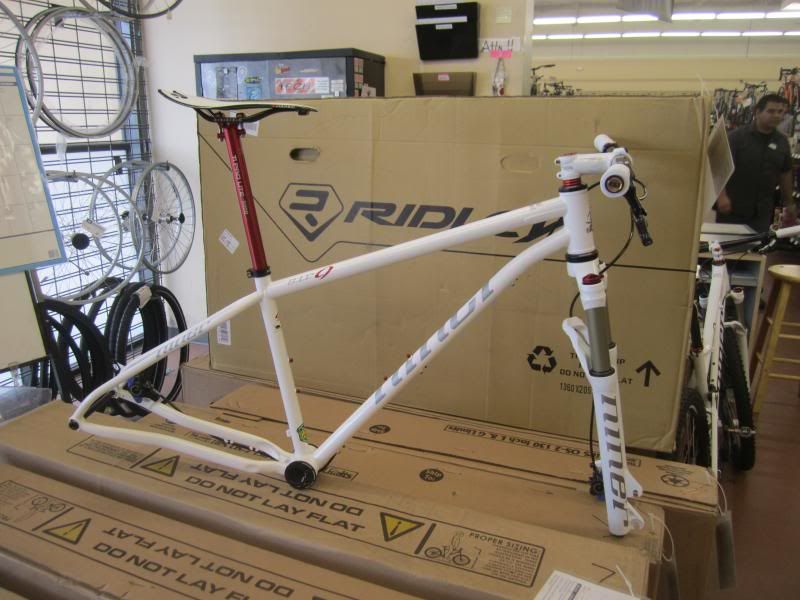 Colnago saddle. I bought one for my JET 9 too.
These grips will be dirty before I ever ride them.
Here are my SIR (under construction) and my JET. If you have been paying attention you will notice that my JET and SIR will have almost the exact same build. The forks, stem, bar, headset cap, saddle, brakes, rotors, rotor bolts, chain, cranks and BB, tires, wheels, pedals and grips will be the same. Only the seatpost and headset will be different and I'll get rid of the cassette, shifter and derailleur and derailler cable. The JET 9 weighs 21lbs. 15oz. with the bell and my 2 Ti egg Beaters. I think the SIR frame weighs nearly 3lbs less than the JET frame so I think it will be under 20lbs for a suspension forked Steel SS.
Here is one of my rear tires. I bought 2 the rear Rocket Ron on the JET will become the front on my SIR and the Thunder Burts will be rear tires on both bikes.
I tore my left calf muscle at an Mtb Festival 2 weeks ago so I'm off the bike for another 6 weeks. I'm only waiting on RaceFace Next SL cranks with a 32t direct mount ring and the bike will be ready to ride. I on the other hand will have to wait. Anyone wanna come beat this thing up for me?