Discussion Starter
·
#1
·
Hello all. so... i'm bored again, and i have this laying around.
it's a single-speed folding hybrid. i use it to go to the store and ride with my fiance around the neighborhood (basically anythign too clam for the MTB and too short to require putting on road bike shorts). I'm thinking of turning this thing into a geared touring type bike that i can use to possibly commute to school and moreso kind of a do-all bike.
this is what it looks like folded.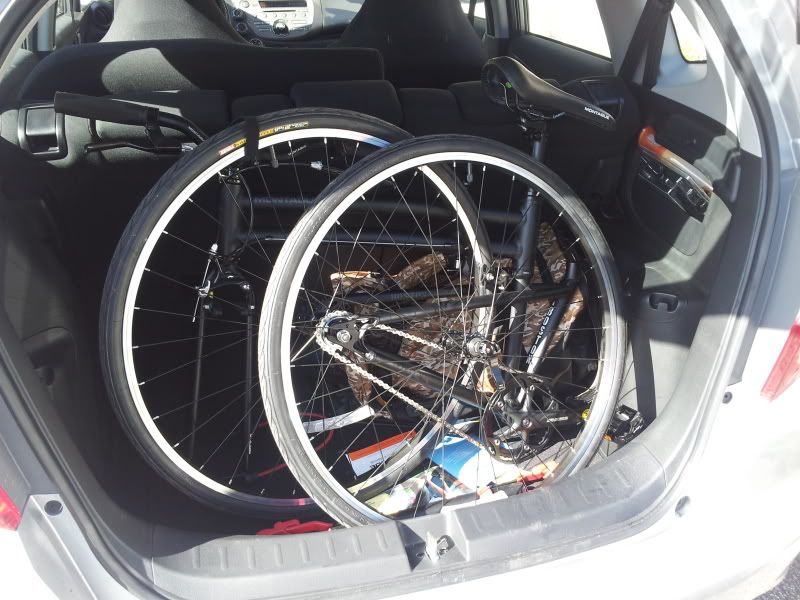 i got this idea when i put a pannier rack i had on the bike and ot worked. it folds up perfectly.
so, here are my ideas for changes:
Fork:
something i can put a meatier tire in, my ideas are either
(1) possibly chinese carbon rigid, this would require running a disc brake up front, which is OK, because i am going to change the wheels as well, but i don' tknow
(2) find a headshock type fork that will take a rim brake
(3) a cheap suspension fork. this is the most comfortable option but also the heaviest.
Bars:
i'd like to run some sort of horn bar but, due to the folding mechanism (i'll post more pictures later) this might be impossible. so i'll proabbly go with a riser bar or a folding handlebar to stay with the theme
Gears:
it's set up single speed right now, but i'd like to run it geared. probably just 8x1 to 10x1 depending on what i can find cheap/used. i will be using a derailleur hanger meant for a horizontal dropout.
wheels:
since i need to change the hub to take a cassette, i will just look for somethign inexpensive, stiff, and strong.
Brakes:
something that'll fit a CX type tire or at least something not terribly skinny
Seatpost:
here's where it gets weird. i want to run a dropper post without a remote. this will maintain the foldability of the bike, yet i can return the saddle to the same position every time i unfold it. it seems like 30mm is an awkward size for a seatpost (it's what's listed) so i will take the caliper to it when i get a chance.
i'm just posting this here to hopefully get some good ideas and track my progress. i will start ordering parts once i look into what i have in my parts bin at home.
first thing i will buy is a BB since i have a set of SRAM cranks that will go on it as the first mod and i'll probably put my WTB silverado saddle on there as well.
stock specs:
Specifications
Color Matte Black
Frame: Custom drawn 7005 Series. Aluminum tubing with horizontal dropouts and FIT System..
Fork: Full Cro-Mo, with CLIX™ Wheel Release System Ramped Dropout.
Rims: Alex. Alloy, 32 hole, Black. 700c.
Tires: ebay green tires
Hubset: Formula. Alloy, with CLIX™ front quick release. "Flip flop" Rear.
Spokes: 14 Gauge Stainless
Saddle: Areo Performance with "Center Gap".
Seatpost: 30.0 X 300mm Alloy.
Handlebars: Riser style 30mm rise. 530mm wide. Alloy.
Stem: Kalloy, Alloy Direct Connect, 7 Degree Rise.
Crankset: SR Suntour. Alloy 42T chainwheel with Integrated chain guard. Alloy 170mm crank arm.
Brakeset: Promax. Alloy. Dual Pivot Caliper brake with Alloy levers.
Bottom Bracket: Sealed Cartridge
Frame Size: 21"
Folded Size 36" x 28" x 12"
Approx Weight 24lbs