Discussion Starter
•
#1
•
I recently decided to take a gamble on an electric bike kit conversion and it turned out as good as I hoped it would.
If you have done any searching for electric bikes, they generally are exceedingly cost prohibitive and I simply can't justify them being that the point is to save on gas/wear-and-tear on your car. Most of them cost thousands of dollars and many of them look like ugly townie bikes. Clean Republic offers a 10mi lithium-ion, 250watt kit that you can bolt up to your regular bike for a little over $500. My only gripe with them is they can be a little difficult to get a hold of (calls going to VM even during their short business hours) and slow to reply by email. And it did take a while for them to finally ship it out - I guess they get backlogged during bike season but they don't communicate that to you until you bother them.
Anyway, overall I'm pretty happy with the outcome.
Here's my little video review of it:
And some pic whoring: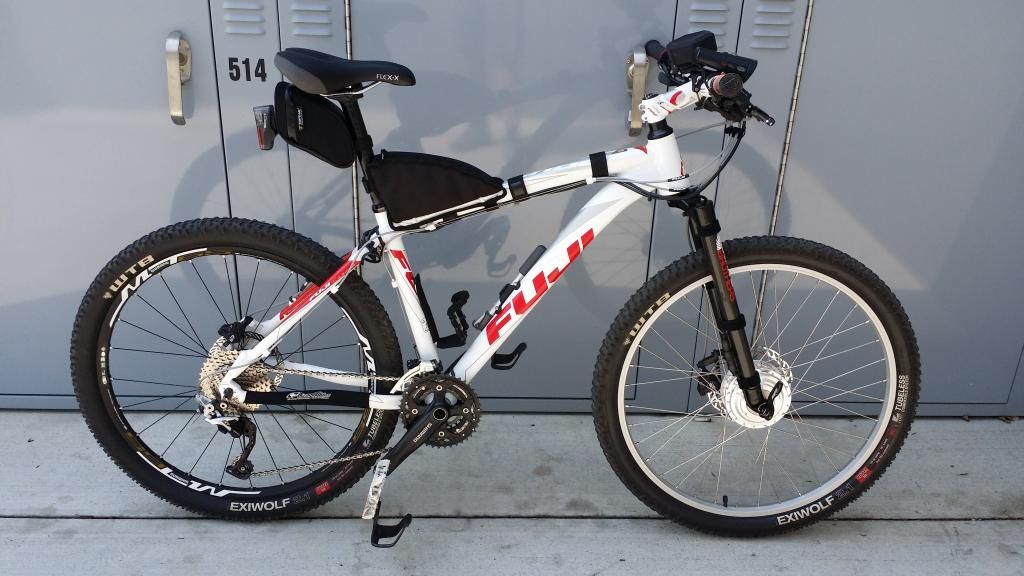 One of the things I love about it is that it really doesn't look that much different than your standard mountain bike. The electric'ness of it is pretty stealth! In fact, my friend and I were discussing whether a ranger would even notice if you took this on a paved trail from which a "motorized" vehicle was not allowed. Furthermore, it only adds about 7lbs to the bike total (with the 3lb, 10mi lithium battery pack) and can still be ridden like your standard bicycle (motored hub is on a freewheel). It's also very quiet which contributes to the stealth factor.
In this current configuration, it does max out at about 18mph (on flat land pavement) which is a little unfortunate because that is the speed I can regularly sustain on mountain bikes for long distances, anyway. I was hoping to sustain a higher avg speed. My commute times are slightly better, but only by a couple mins where it helps me sustain that speed up over the few freeway passes I have to cross that normally slow me down. As long as i stay within the motors working RPMs, I do however arrive to work FAR FAR less sweaty and tired. I also no longer get frustrated when streetlights force me to stop and kill my momentum.
I'm much more inclined to not try and "make it" which sometimes in hindsight, I've noted, that it was stupid. So for me, it makes my commute inherently safer.
Everyone who's tried it absolutely loves it. I think really the only thing that keeps this from taking off is the price. $500+ dollars for something "unnecessary" is just a pricey pill to swallow even if you can afford it - I really think if they can some how get this motor/battery combination down to the $300 dollar price range, you might see these on causal bikes. The kind of bikes your mom and dad would buy for the weekends. It's a great encourager for those loved ones who aren't very physically capable and are discouraged to go out for a bike ride on the weekends. It also would be a great equalizer if you're tired of waiting around for them all the time.
Here's a couple pics of my buddy zipping around a parking lot who's obviously way too big for my bicycle, lol!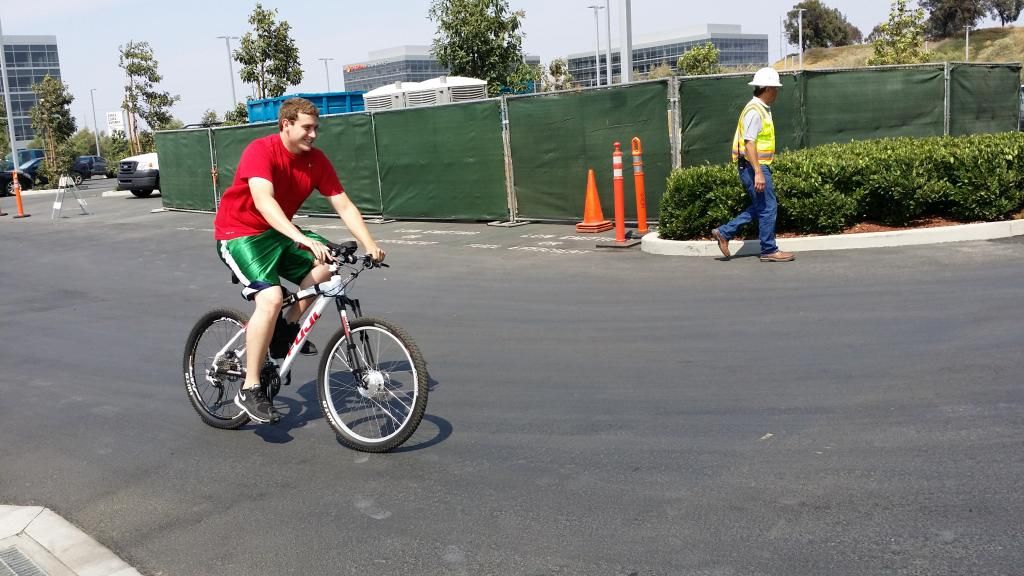 Ear to ear grins all around.
So to conclude, if you had heard about this kit and are on the fence about it, you can count me as someone who recommends it! Although, I'd recommend a bigger wheeled bike for that higher assisted speed. Now i wish I didn't sell my motobecane ti 29er. That would have made a perfect commuter bike with this electric motor!